Just when you thought Duplicator couldn't get any better, it has!
At some point, you've probably thought to yourself: website management is too complicated. Whether you're running a blog or small business, you won't want to waste time during backups and migrations.
Well, Duplicator Pro 4.5.10 is here to help. We've added a new widget to your WordPress dashboard so you can make backups faster and easier.
These few extra minutes might not seem like much, but they can help you reach your goals. When you don't have to worry about unending maintenance tasks, you can publish more content, grow your audience, and get more sales.
But a dashboard widget is not the only new feature you can look forward to! Read on to find out exactly what to expect from this Duplicator update.
Make Fast Backups with the New Dashboard Widget
Your WordPress dashboard can be very helpful when you want to make quick changes. Right now, you'll have widgets for creating post drafts, checking your site health, and reading comments.
Duplicator Pro 4.5.10 will include a new custom dashboard widget. Immediately after you log in, you can back up your website by creating a new package: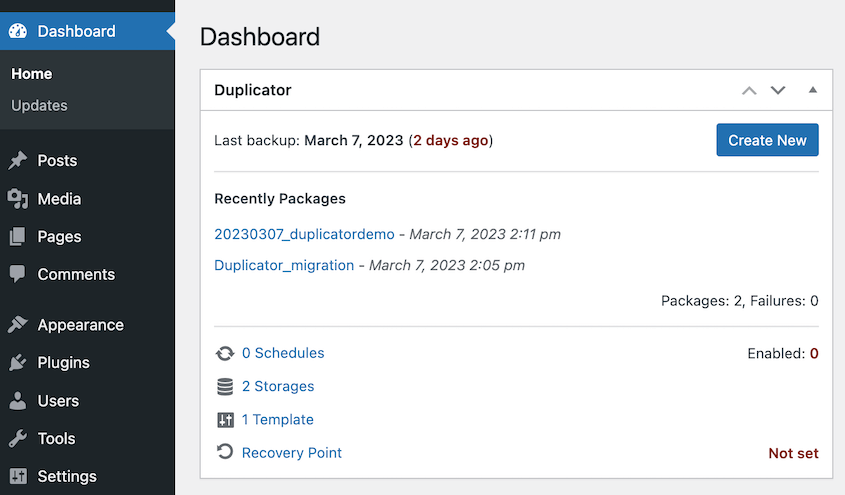 Plus, you'll see a list of your previous backups. This way, you can make sure your site data is always safe and accessible if something goes wrong.
Accidentally overwritten an important file? No problem. Using your handy list of backups, you can restore it without losing any data.
One way to protect your site against data loss is to set a recovery point. The bottom-right corner of the widget will let you know whether you already have one. If not, click on Recovery Point to assign a recent backup to restore.
To avoid creating manual backups, you can build automatic backup schedules. In the widget, you'll see how many you have enabled (if any). This feature will also show you whether any scheduled backups failed.
Ultimately, the new Duplicator widget makes it faster and easier to manage your website. Without any extra clicks, you can see whether your site is being regularly backed up. This can ensure you're optimizing your site's health!
Set a Custom Recovery Folder
It's almost inevitable for something to go wrong on your site if you don't have the right security. You might face a cyber attack or critical error that locks you out of your dashboard.
Before this happens, Duplicator can help you set a recovery point. Then, you'll have a ready-to-use recovery URL that can completely restore your site.
However, your hosting provider might block your recovery URL. As a security measure, some web hosts don't allow PHP scripts inside folders like wp-content.
By default, Duplicator sets the recovery folder to wp-content/backup-dup-pro/recovery/. To make sure you'll have a functional recovery URL, we created a way for you to set a custom recovery path: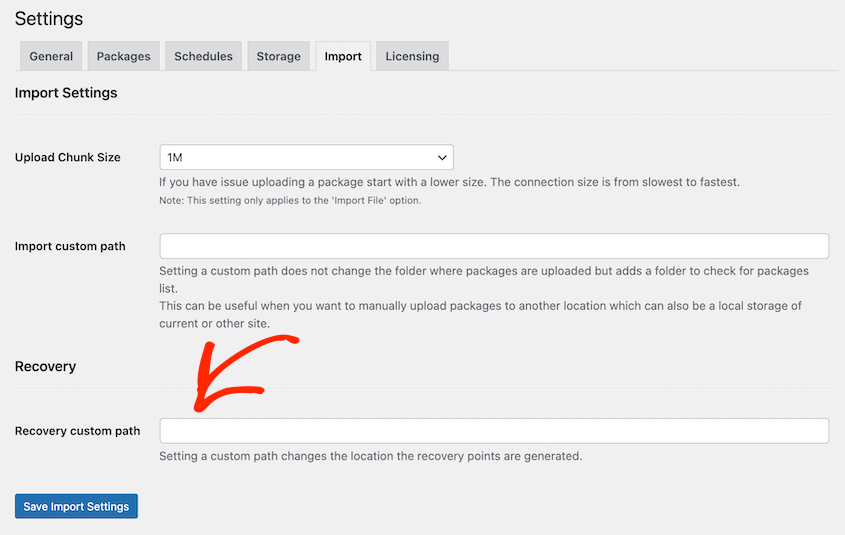 Once you change this path, Duplicator will save your recovery points in a different location. If you ever need to recover your site, you can simply import your data from this folder.
Keep Your License Key Protected
If many different users can access your website, it's a good idea to boost your security. One way to do this is by making your Duplicator license key invisible.
After you install Duplicator Pro, you'll activate a license key. Previously, this was always visible in the plugin settings. Now, we added the option to protect it with a password.
You can choose to make all of your license information invisible. Alternatively, you'll have the option of only displaying the license type. This will show your plan, number of activated sites, and any advanced features: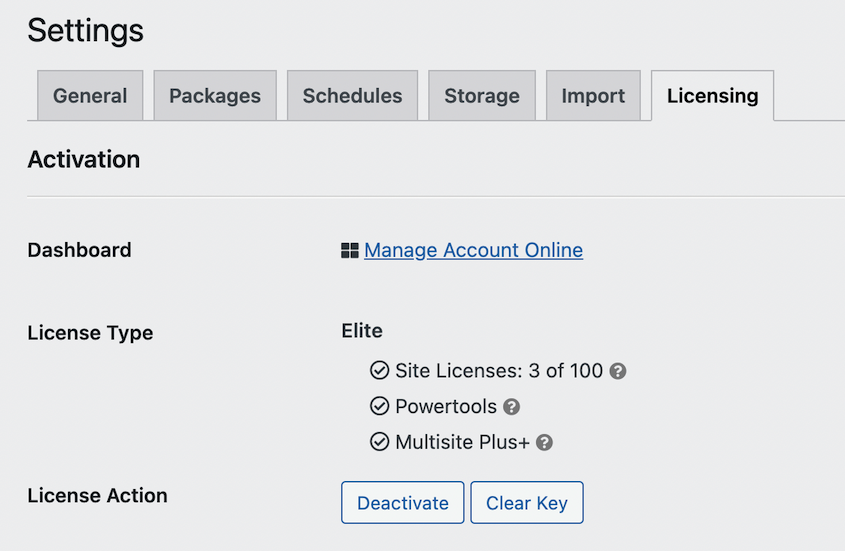 To protect your license key, simply select Info Only or License Invisible. Then, add a password that only you know. Once you retype it, click on Change Visibility: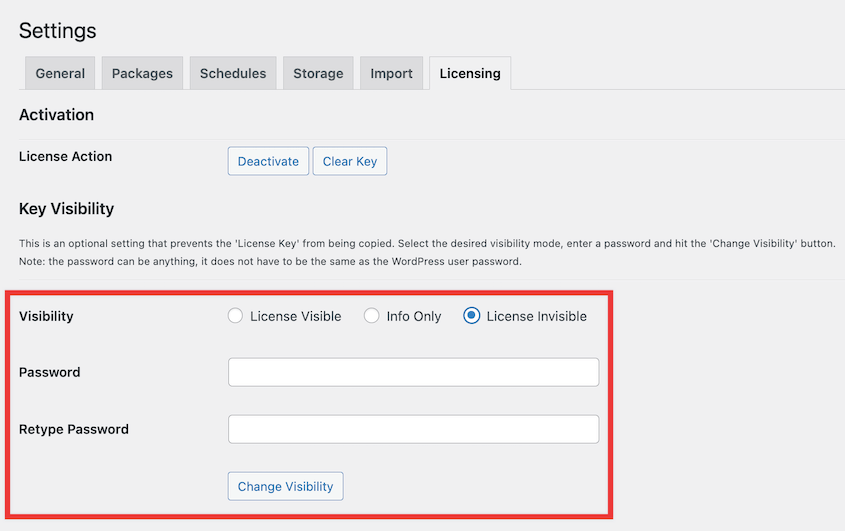 When you change your license key's visibility, other people who manage your site can't copy your license key. Unauthorized users won't be able to start using Duplicator Pro on other sites without your permission.
This can prevent you from overpaying for your license. You can limit the number of sites you're using while keeping your premium tools secure.
Easily Change Multisite URLs During Migration
Along with backups, Duplicator can also help you migrate your website. With Duplicator Pro, you can seamlessly move multisite networks to a different server or domain name.
When you set up a WordPress multisite, your subsites will default to one of two top-level domains:
Sub-domains: site1.domain.com
Sub-directories: domain.com/site1
However, you might want your subsites to have unique domains. This is called custom domain mapping. In this new update, we made it easier to assign custom subsite domains when you migrate a multisite.
First, you can import your multisite using Duplicator. Then, simply enter the URL for your source site and redirect to a new one: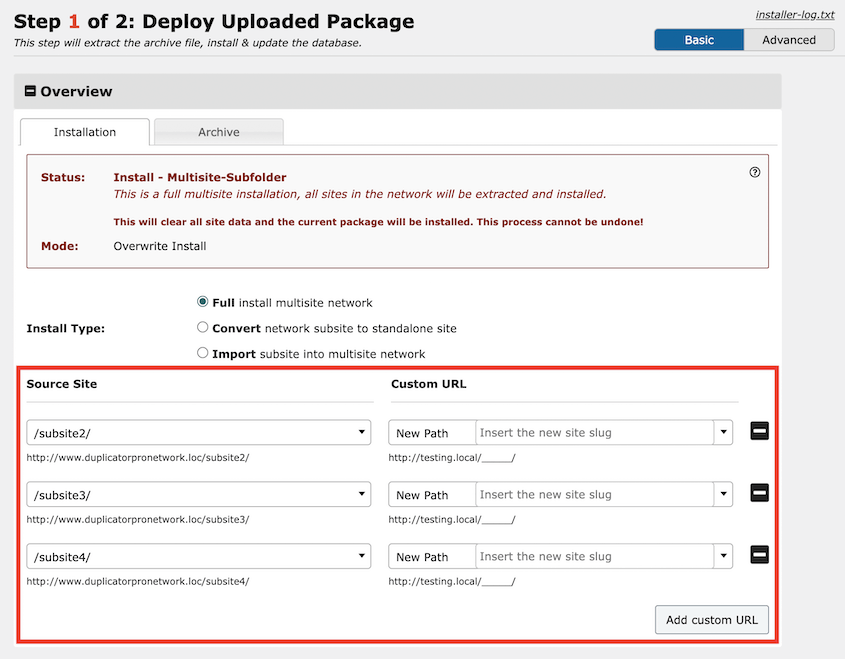 You can continue to add new paths for each of your subsites. After Duplicator runs its installer, your multisite will be set up with the new URLs.
Simplify Site Backups and Migrations
Did any of these new features catch your eye? The good news is that Duplicator Pro 4.5.10 is available right now! Be sure to update your plugin to try out the dashboard widget or invisible license keys.
If you're not a part of the Duplicator family yet, what are you waiting for? You can download Duplicator Pro to start making backups and migrations a breeze.
Keep in mind that we're here to help. If you still have questions about this new update, feel free to contact our support team!