Are you not sure how to restore WordPress from a backup?
Once you have a backup of your WordPress website, you can restore it at any time. This can remove any errors in your files or database and return your site to normal.
In this tutorial, we'll show you how to restore WordPress from a backup!
Why You Might Want to Restore WordPress From a Backup
After you start your first website, you might worry about growing your audience or creating new posts. However, it's also important to back up your website regularly.
A website backup is a saved copy of your WordPress database and files. This acts as a safety net when something goes wrong. If you see an unexpected change or error, you can simply restore one of your saved backups.
Here are some reasons why you might need to restore your website from a backup:
Hacks or cyber attacks
Plugin or theme conflicts
Coding errors
Unsuccessful software updates
For example, your live site might display the White Screen of Death (WSOD). If you want to restore your WordPress theme, you'll need to find a backup where it's functioning correctly. Once you restore this version, your website will be back up and running.
Essentially, site restore options can prevent you from troubleshooting unexpected errors. You can simply go to a recent site backup, restore it, and immediately solve the problem.
How to Quickly Restore WordPress From a Backup (Beginner's Guide)
To make sure you don't lose important website files, you'll want to create a restore point for your site. Let's discuss how to easily restore WordPress from a backup!
Method 1: Restore WordPress From a Backup Using a Plugin
One simple way to back up and restore your website is to install a WordPress backup plugin. This prevents you from having to manually edit your site files or database.
Step 1: Install Duplicator
Duplicator is a powerful and flexible plugin for making database and file backups. You can use this tool to schedule website backups, save your data to the cloud, and restore your site when you need to: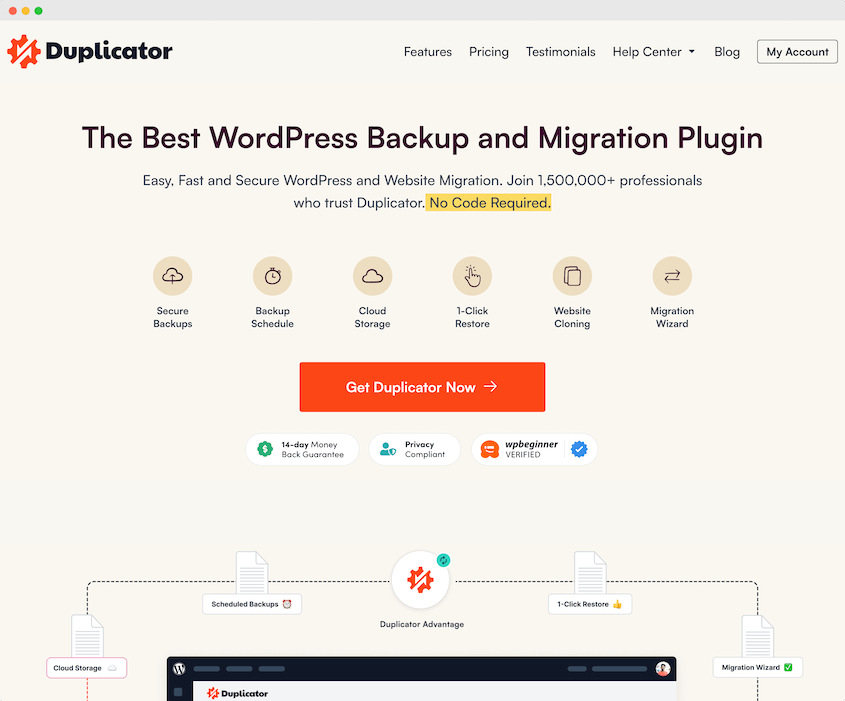 Along with backup and restore options, here are some more helpful features available in Duplicator Pro:
Step-by-step migration wizard
Streamlined installer
Custom search and replace
Supports large sites and multisite networks
Supports managed WordPress hosting
Developer-friendly features
Email alerts
To start restoring your site, select a subscription for Duplicator Pro. This will include the recovery point feature for emergency site restorations. Once you check out, download the plugin.
Now it's time to add Duplicator to your WordPress dashboard. For more information, check out this how-to guide on installing and activating plugins.
Before you start using the plugin, go to Duplicator Pro » Settings » Licensing. Under Activation, paste the license key you received during registration: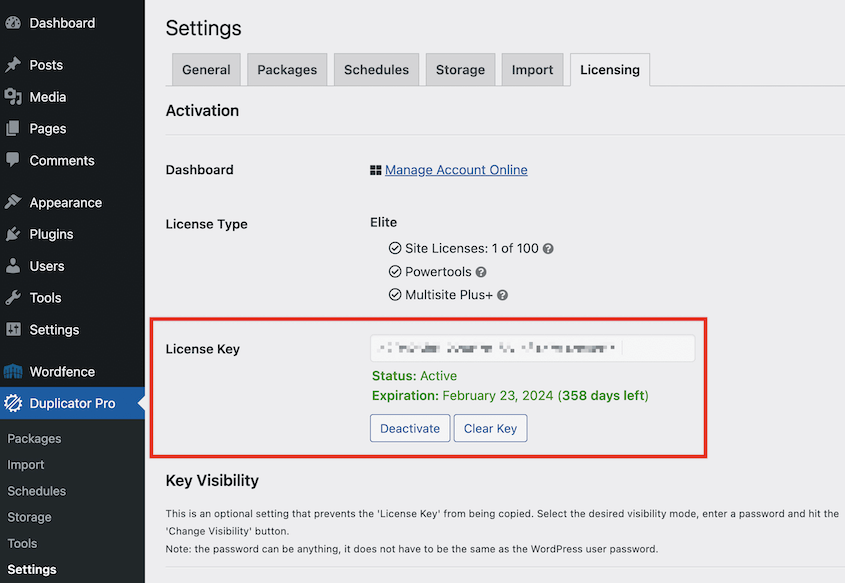 Then, click on the Activate button.
Step 2: Create a Backup
After you activate Duplicator, you can create your first recovery package (or backup). This will save a copy of your site in a zip file. It includes your core WordPress files and MySQL database for easy restoration later.
First, build a new package by navigating to Duplicator Pro » Packages » Create New: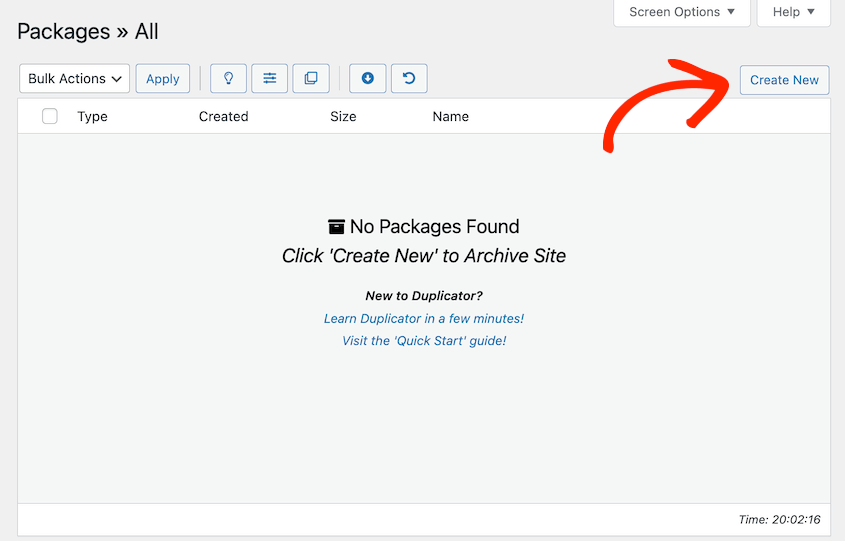 At the top of the page, give the package an identifiable name. This will help you locate it later. Alternatively, Duplicator will generate a random name for you: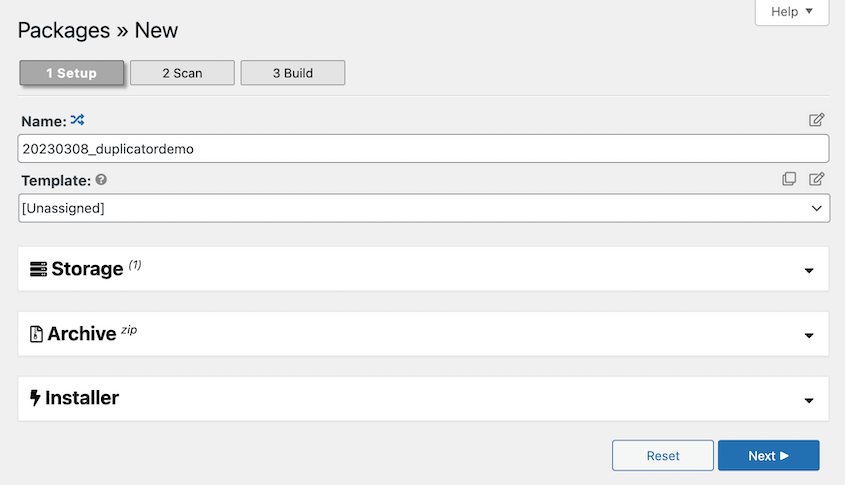 Then, you'll see options to customize your Archive and Installer files. However, don't filter any database tables, core WordPress files, or directories. To create a full backup of your site, leave the settings alone.
Be sure to select Local in the storage dropdown section. Although Duplicator has cloud storage options like Google Drive, Dropbox, and Amazon S3, you won't be able to use them as recovery points: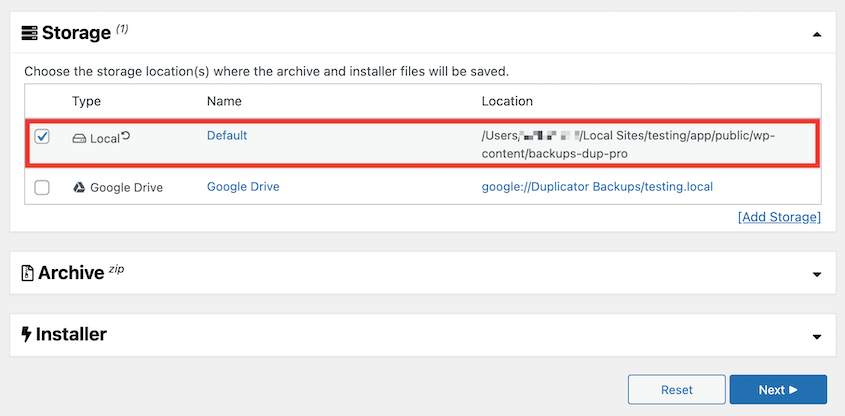 Once you continue to the next step, Duplicator will scan your website. If you receive Good notices, your backup can be used as a recovery point: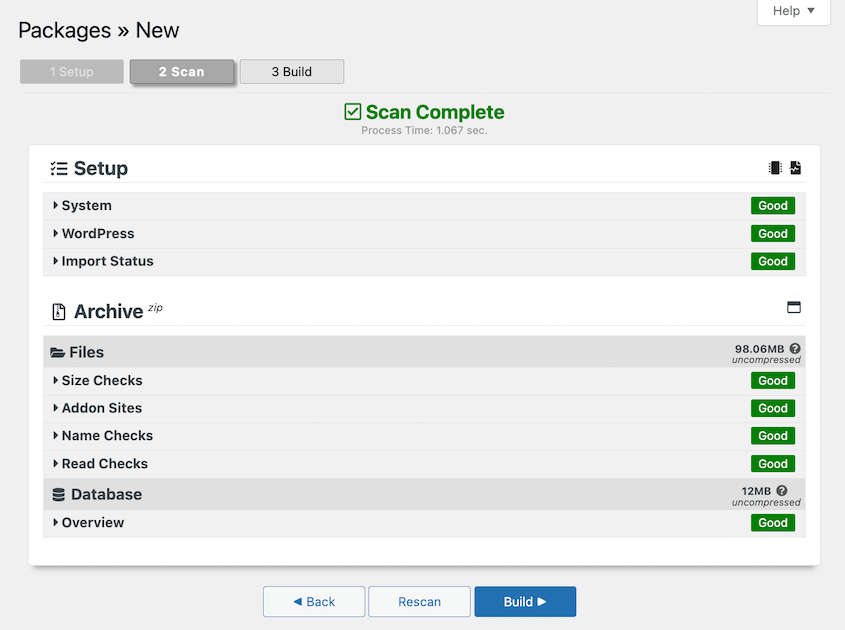 To finish creating your backup, hit Build. The plugin will automatically start performing a file and database backup.
Step 3: Set a Recovery Point
Now that you have a backup of your website, you can set it as a recovery point. When you need to restore WordPress, your website will revert back to these saved files and database settings.
To use a recovery point, open the Packages page. Find your most recent backup and expand it using the arrow on the right-hand side:

This will give you an overview of your backup files. In the Options section, select Recovery Point: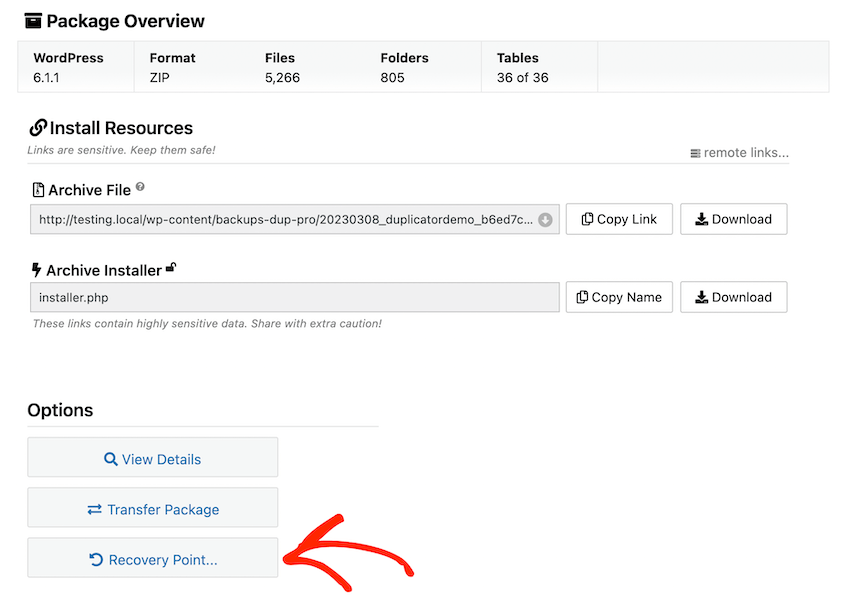 Note: If you don't see this restore button, you'll need to change your package's settings. Make sure to avoid filtering any core WordPress files or database tables. It'll also need to be stored locally.
Then, a pop-up window will open with different options for your new recovery point. If you're ready to immediately restore your WordPress site from this backup, hit Set & Launch Recovery Point Install: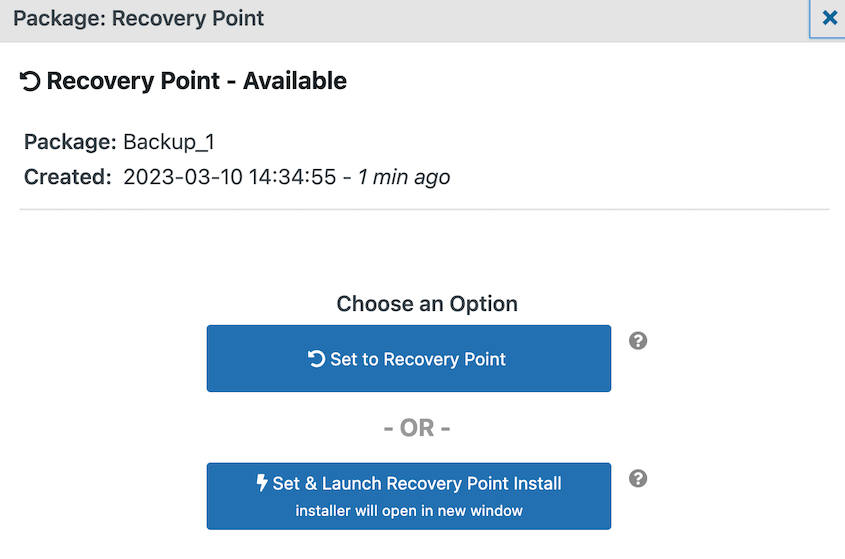 This will immediately launch the recovery wizard in a new window. Alternatively, the Set to Recovery Point option will assign the package as the active recovery point. After this, continue to the next step.
Step 4: Launch the Recovery Wizard
If you set a package as a recovery point, you'll see a new icon by the package's name. With one click, copy the recovery point URL:

Open a new browser window and paste the URL. In the Duplicator recovery wizard, evaluate any flagged validation notices. This will tell you if your site can be properly restored: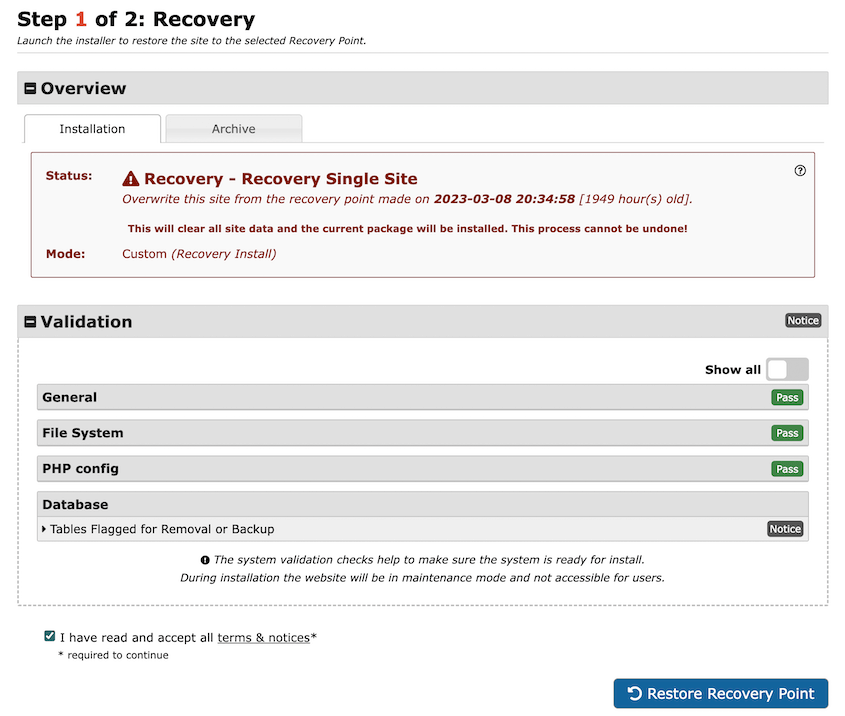 After this, accept the terms and notices and click Restore Recovery Point. You'll have to confirm the installation since it will modify your current site: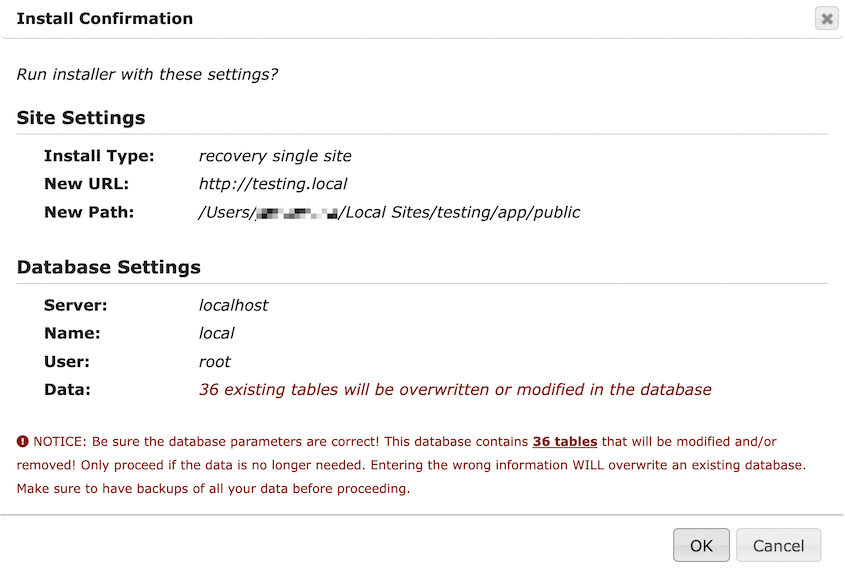 Duplicator will take a few minutes to revert to your backup. When it's finished, you can see reports about the uploaded files: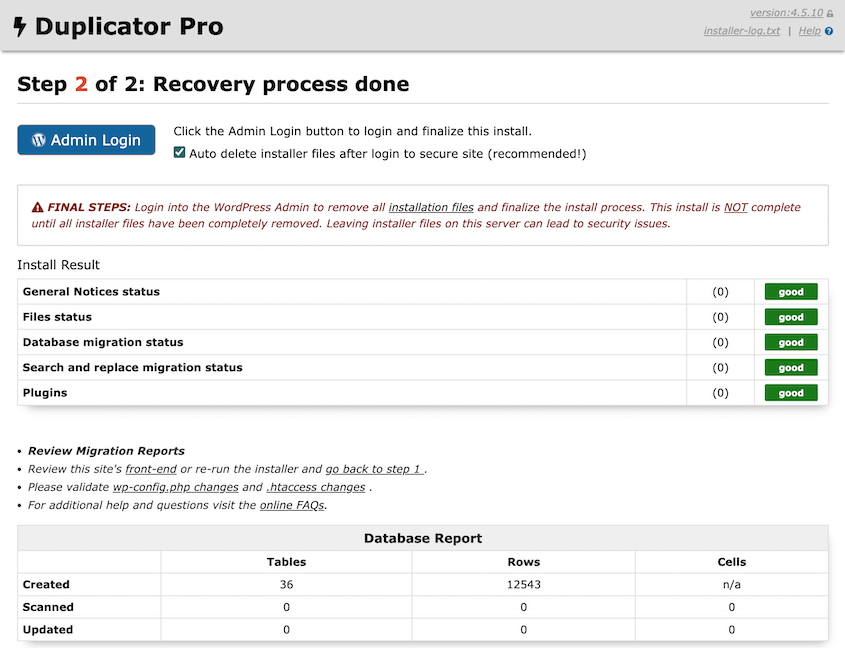 Now you can access your restored website! To do this, simply click on the WordPress Admin Login button.
Method 2: Manually Restoring WordPress From a Backup
Sometimes, it can be harmful to install too many plugins on your website. If you're trying to limit your plugin use, you can manually restore your backup files. 
However, you'll need to have some experience with your WordPress files and database. For complete beginners, we'd recommend using Duplicator to simplify the restore process. Plus, this can ensure that you don't lose any data to user error.
Before you get started, you'll need to do a manual backup of your database and site files. Once you have these files on your local computer, you can re-upload them to WordPress.
Step 1: Import Your Database
During a manual restoration, you'll have to re-upload both your saved database and WordPress files. Let's start by importing an error-free copy of the database.
Usually, your web hosting provider will allow you to log in to phpMyAdmin through your control panel. Alternatively, it may provide an easier way to manage your databases. If you're using cPanel, for example, find the MySQL Databases button: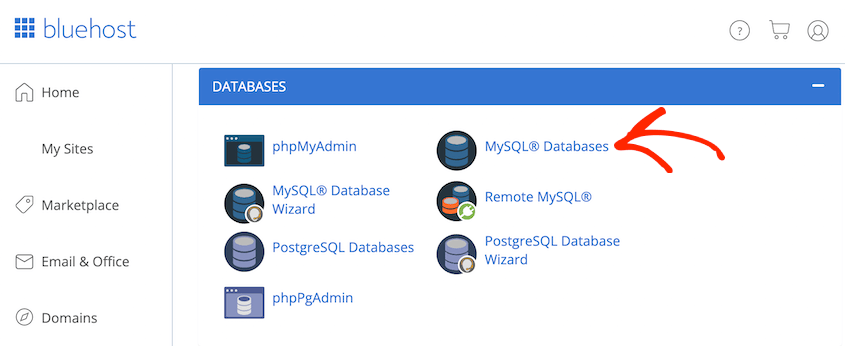 Next, create a new database. This will be the location where you upload your saved database: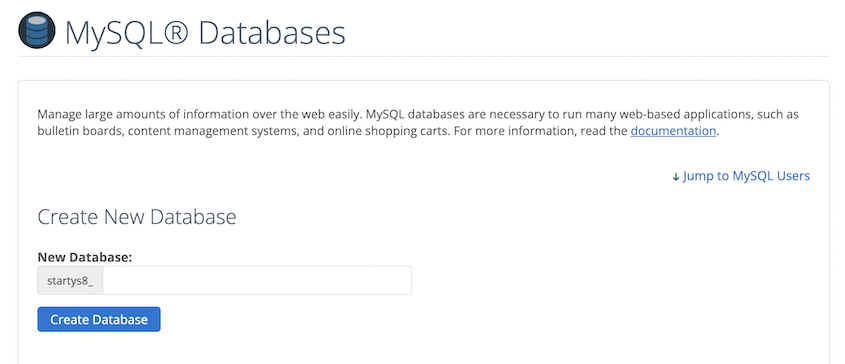 After this, add a new MySQL user. Be sure to pick a new username and password, especially after hacks or cyber attacks: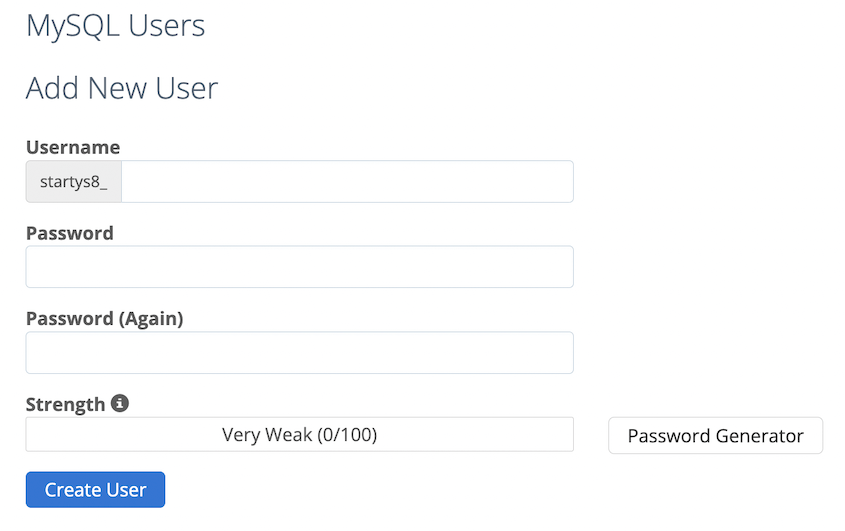 Now, find Add User to Database. Here, select the user and database you just created: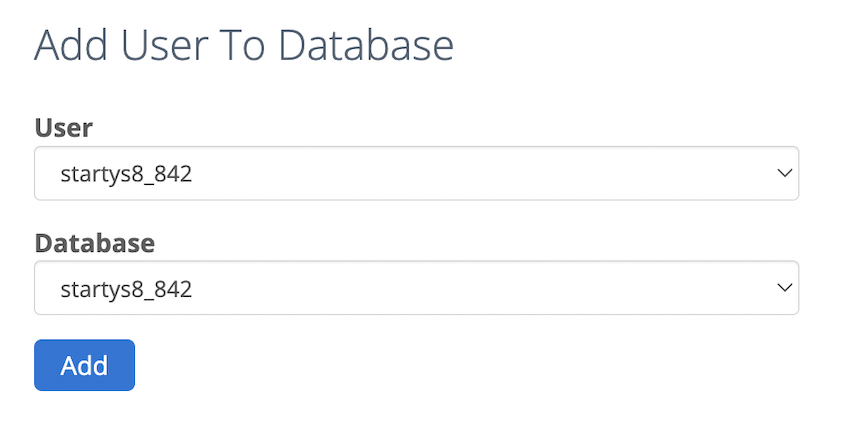 Once you have a new database and user, go back to your WordPress hosting account. You'll need to find the phpMyAdmin login button: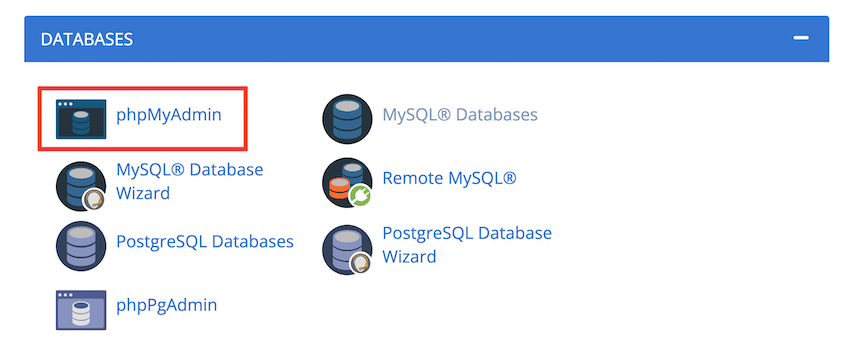 This will open your database manager. Select your new database name and click on Import:

Under the File to import section, click on Choose File and upload your saved database file. It should be in a zipped SQL file: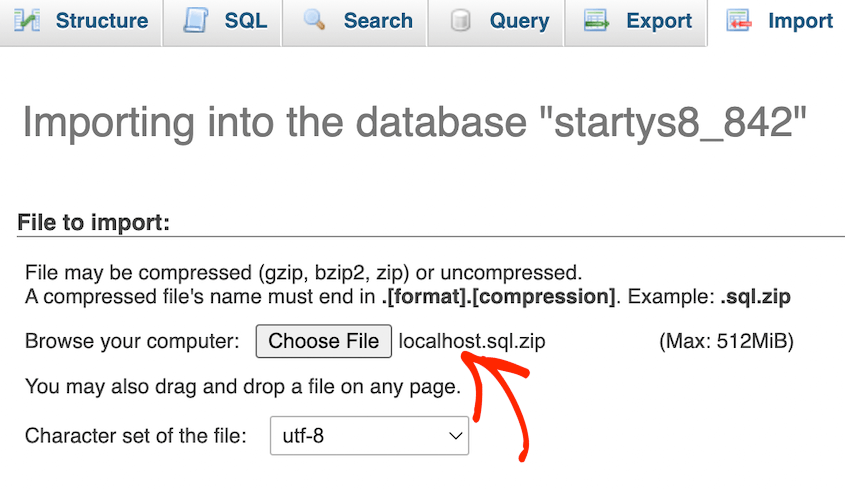 Once you hit Go, your database will be restored! As a final step, open your wp-config.php file and find your database information:

You'll need to update the database name, user, and login credentials to point to the new database.
Step 2: Upload Your Backup WordPress Files
To get your site up and running again, it'll also need functioning WordPress files. Once you have a backup saved, open a File Manager or File Transfer Protocol (FTP) client. Usually, your host will have a preferred method for managing site files.
For this tutorial, we'll be using FileZilla, which is a free SFTP/FTP client. First, connect to your website using your host's name, username, password, and port:

You'll know your site connects when you see data in the Remote site box. Here, open the public_html folder. Select all of the files, right-click on them, and hit Delete: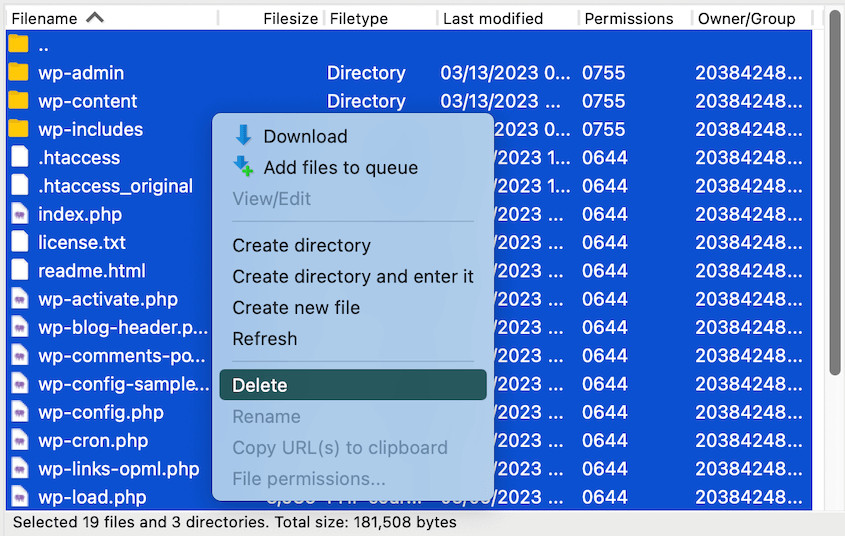 Now you can simply drag and drop your saved backup files from your local computer to the public_html folder. If they upload properly, FileZilla will label it a Successful transfer.
Tip: If you don't have a saved backup of your site, you can download a new WordPress installation from WordPress.org. Then, upload these files to your empty root directory. However, keep in mind that the new wp-content file won't have your custom plugins or theme edits.
Method 3: Restoring WordPress With cPanel
If your web host provides cPanel, this has an easy way to restore WordPress. All you'll need to do is find the Files section and hit Backup: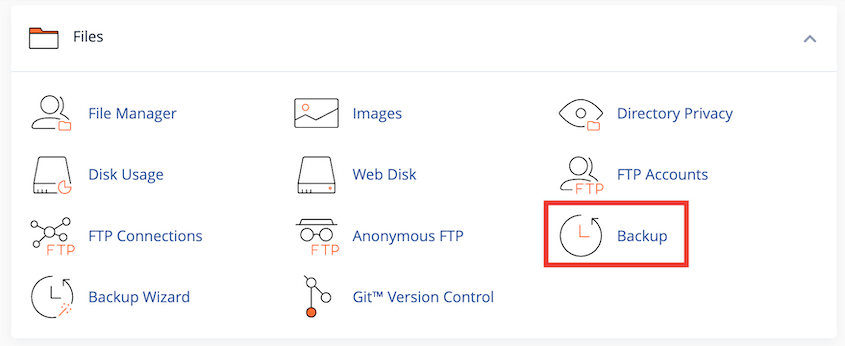 Then, you'll see a variety of backup and restore options. If you downloaded a copy of your home directory with cPanel, you can upload this file under Restore a Home Directory Backup: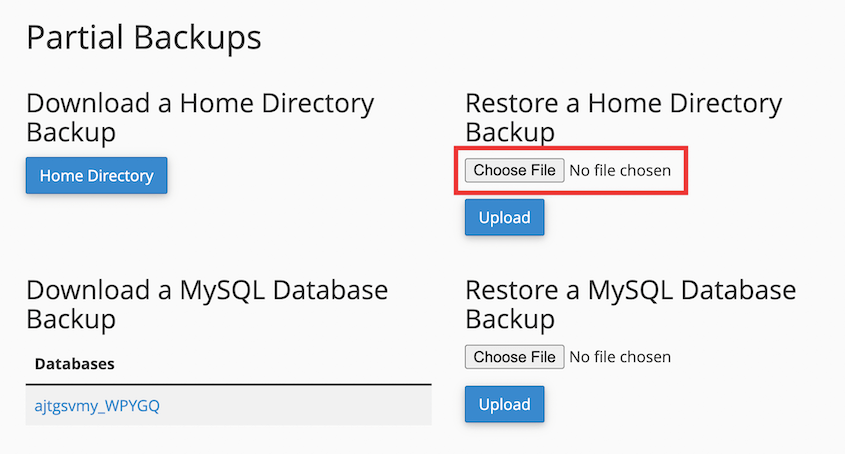 To restore your database, upload a backup to the Restore a MySQL Database Backup option.
After you upload both of these site components, you'll fully restore your WordPress website!
Frequently Asked Questions (FAQs)
How do I restore WordPress from a zip backup file?
You can restore WordPress from a zip backup file by creating a package with Duplicator Pro. Then, set this package as the recovery point and copy the recovery URL. If your site crashes, paste this URL into a browser window and follow the steps to recover your site.
How do I restore a WordPress backup on localhost?
To restore a WordPress backup on localhost, build your locally hosted website. Next, install Duplicator Pro and find the Import page. Upload your backup and use the Duplicator recovery wizard to import all your data into the local site.
Where are my WordPress backups stored?
Your WordPress backups could be stored on your local server or on a third-party cloud storage location. With Duplicator, you can choose exactly where you want to save backups. It'll provide many different storage options, including Google Drive, Dropbox, Microsoft OneDrive, and more.
How do I back up and migrate my WordPress site?
You can back up and migrate your WordPress site by installing the Duplicator Pro plugin. This tool allows you to compress your entire site into a single zipped archive file. Then, you can save this as a backup or easily transfer it to a new host, server, or domain name.
How do I restore my WordPress site without the database?
To restore your WordPress site without the database, create a package with Duplicator that only includes your WordPress files. Be sure to uncheck the database option in your custom package components: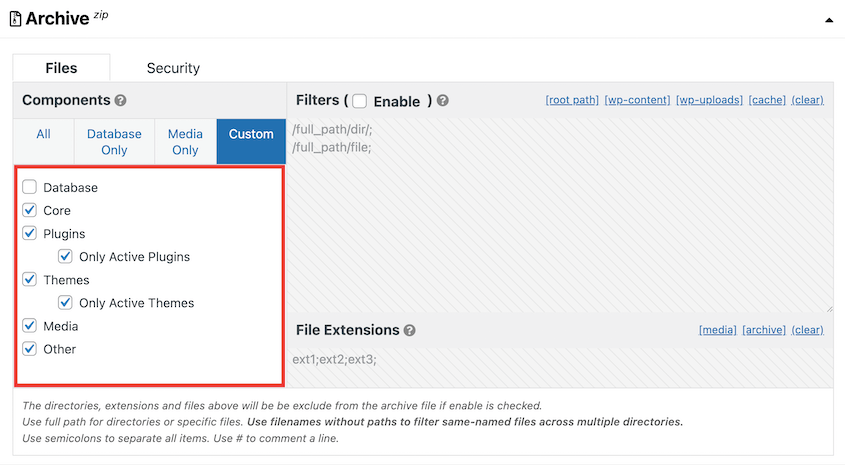 Continue building the package and download it. If you ever need to restore this backup, upload the package's archive file to the Duplicator Import page: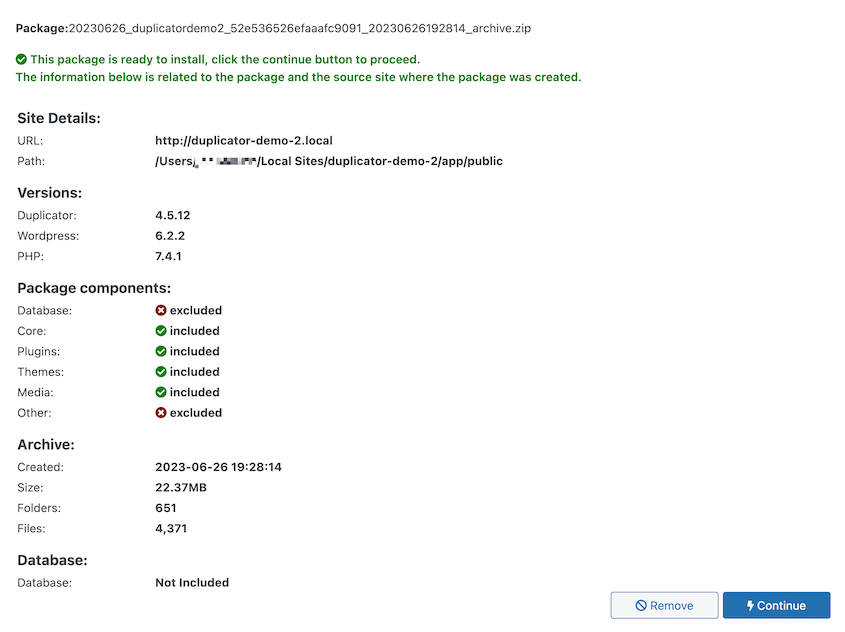 Once you continue with the installation, Duplicator will only overwrite your files. It won't perform any actions on the database.
For more details, check out our tutorial on how to import files in WordPress.
Conclusion
By following these steps, you'll be able to restore WordPress from a backup!
Here are some extra WordPress tips and tricks to get the most out of your website:
When you need to get your website back online, there's no need to worry. Download Duplicator Pro to easily restore your custom WordPress site!