Need to set up WordPress auto backups?
If you automatically back up your website, you'll routinely store a copy of your site. This is a great way to maintain your site's functionality and keep your content secure from any unexpected errors.
In this article, we'll show you how to automatically back up WordPress!
Why You Should Automatically Back Up Your Website
Whether you run a blog or e-commerce business, it's essential to back up your website. Put simply, a backup is a saved copy of your site. It includes all your WordPress files and any data in your database.
As a WordPress website owner, you'll need to create regular backups. This is a security measure in case anything goes wrong. If you experience data loss, malware, or hard drive failure, you can simply restore your most recent backup files.
To protect your website, you can start manually backing up your site. However, you may not remember to do this consistently. It's often much easier to set up automatic backups.
With an automated backup schedule, your site files and database will be backed up every month, week, day, or hour. Depending on how often you want your data saved, you can customize your WordPress auto backups to meet your needs.
How to Automatically Back Up WordPress (Beginner's Guide)
Automatic backups can keep your website from being vulnerable. Without further ado, let's discuss how to create an automatic backup schedule! Don't worry, we'll walk you through this process, step by step.
Step 1: Install Duplicator
By itself, WordPress doesn't back up your site. To start saving your data, you'll need to install a backup plugin like Duplicator. This is a feature-packed tool that allows you to create manual backups and automatic backup schedules: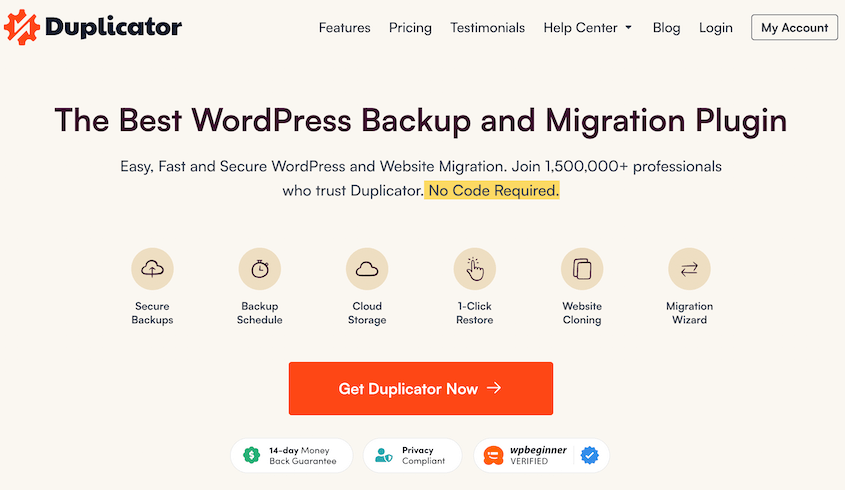 Duplicator is one of the best WordPress backup plugins because it has backup options for large sites and WordPress Multisite networks. Plus, every backup package contains a standalone installer. This makes it easy to restore a backup when you need to.
Plus, Duplicator can do much more than backups. It's also a migration plugin, so you can use it to move your WordPress installation to another host, server, or domain name. This can also be helpful when you're moving content to a staging site.
To start automatically backing up your WordPress site, choose a subscription for Duplicator Pro. There is a free version of the plugin, but the premium version includes the scheduled backups feature and remote storage options.
Then, you'll need to install and activate Duplicator in WordPress. For help, read this guide on how to install WordPress plugins.
After this, find Duplicator Pro » Settings » Licensing. In the License Key field, paste the license key you were given with your purchase: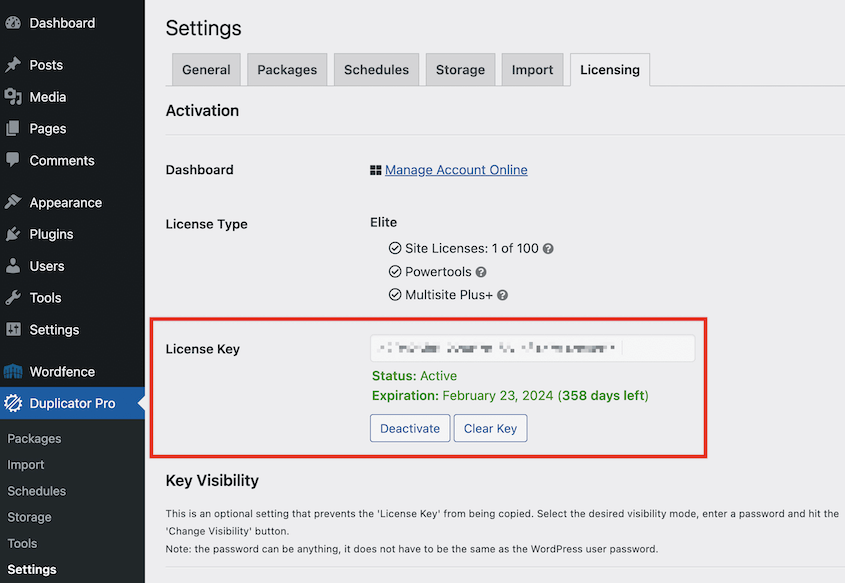 Click on Activate to finish the setup process.
Step 2: Create a Backup Template
Before you create a WordPress auto backup schedule, you can build a template for it. In Duplicator, templates control how a backup package is built. You can customize your template with specific files and database tables that you'd like backed up.
First, head to Duplicator Pro » Tools » Templates. Here, you'll see a default template. This will automatically build a complete backup of your entire site: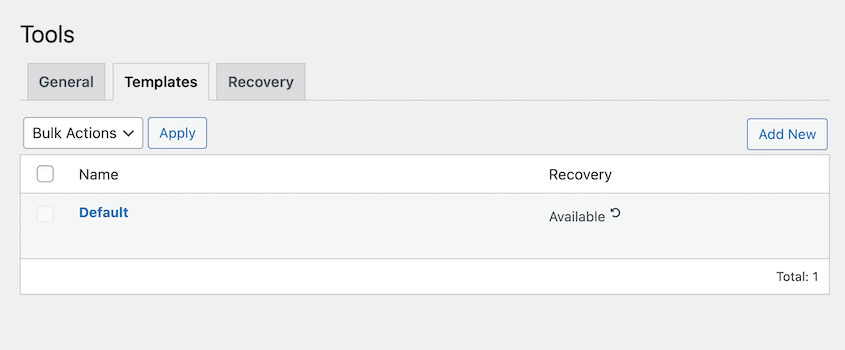 If you want your automatic backups to include all your files and database tables, continue to the next step. However, you might want to create a custom template for backups. In the top right corner, click on Add New.
At the top of the page, name the template. Then, you can edit the archive file to only include the data you want to be backed up. For example, you could do just a database backup: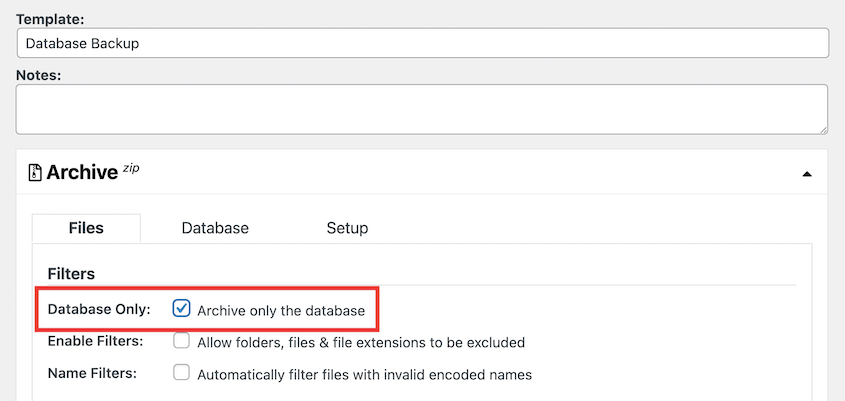 When you're happy with these settings, hit Save Changes.
Step 3: Add Storage Locations
By default, Duplicator will save your site backups to a local server. However, it also supports FTP, SFTP, and SSH storage. You can also set up cloud storage to Google Drive, Amazon S3, Dropbox, and OneDrive.
If you want to use any of these third-party storage locations, you'll need to connect them with Duplicator. To do this, find Duplicator Pro » Storage » Add New:

Then, give it a name. Using the Type dropdown, select the cloud service you want to use. For this tutorial, we'll be using Dropbox: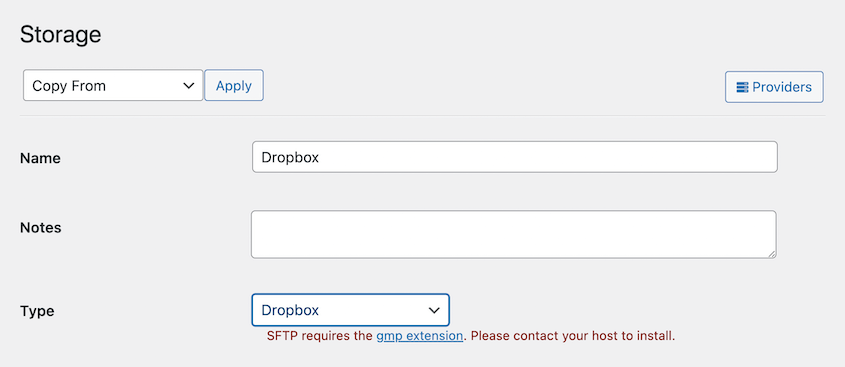 After this, click on the Connect to Dropbox button:

Now you'll see the steps to complete the third-party storage authorization. To connect Dropbox and Duplicator, you'll need to hit Authorize Dropbox:

This will open a new tab in Dropbox. You'll have to confirm that Duplicator will make changes to your Dropbox account: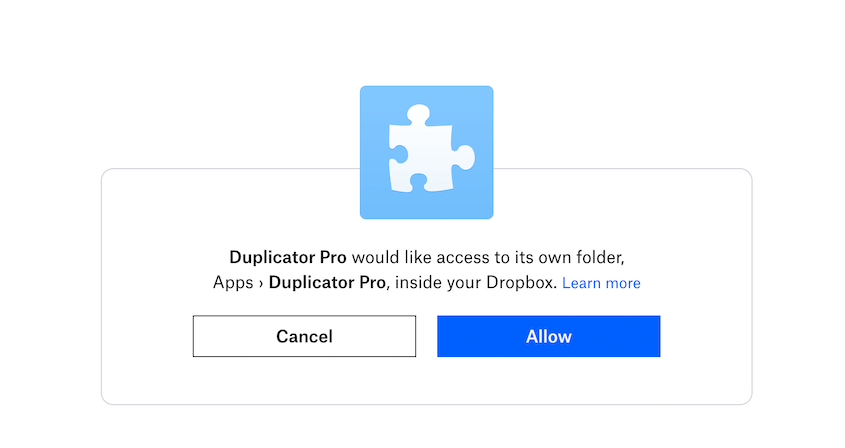 You'll then receive an authorization code: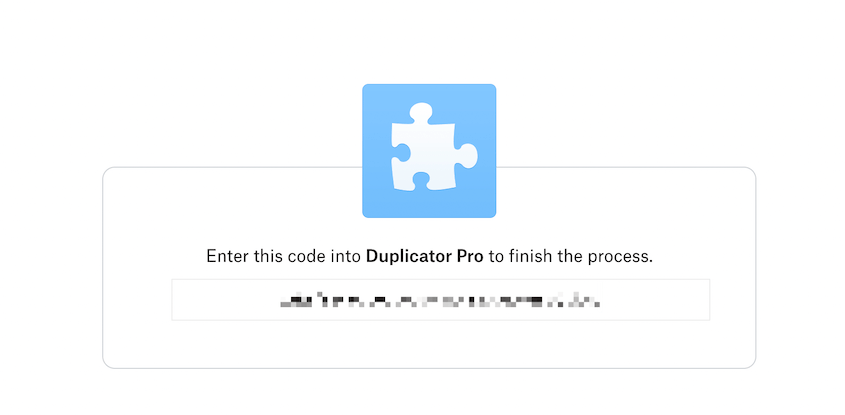 Go back to your WordPress dashboard and paste the code in Step 2. Lastly, hit Finalize Setup:

Now you can automatically save your backups to a cloud storage service!
Step 4: Create a New Backup Schedule
When you need to automatically back up your website, you can easily set up a schedule in Duplicator. For the first step, go to Duplicator Pro » Schedules » Add New: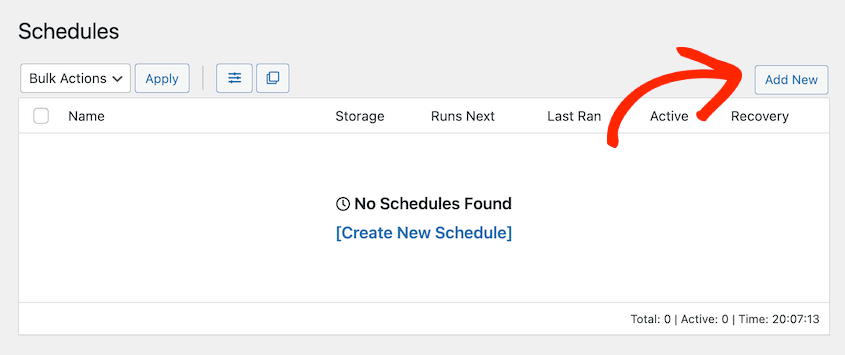 On this new page, you can name your backup schedule. Then, select a template. This can be Default or the custom template you created earlier:

Next, choose a storage location. You'll see a list of options that you've already authorized:

Then, you can customize when your backup will run. Duplicator gives you the option of monthly, weekly, hourly, or daily backups: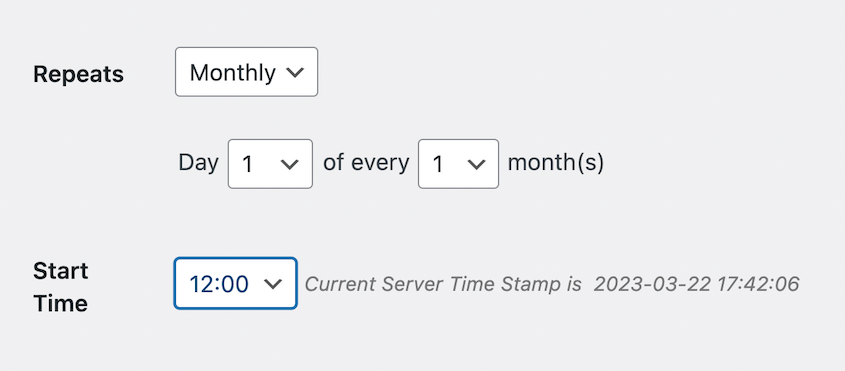 You'll also need to select a Start Time. This will start the backup process at a certain time of the day.
After you make these changes, scroll to the bottom of the page. Check the box next to Enable This Schedule: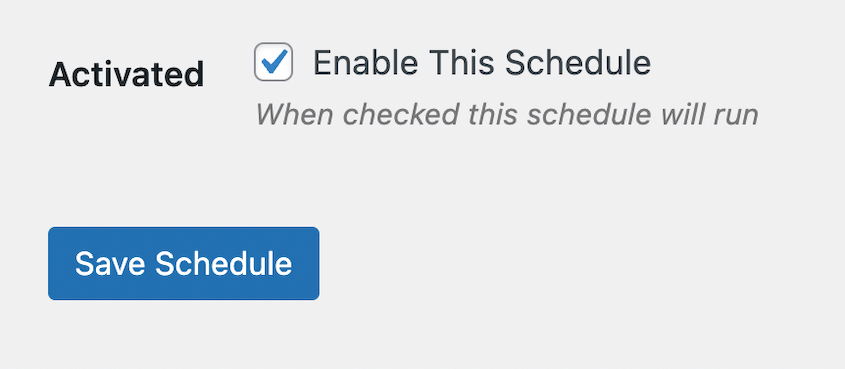 Finally, save the schedule. You can view your new WordPress auto backup on the Schedules page:

Using these details, you'll know when the schedule was last run and when your site will be backed up again. When the time comes, your backup archive and installer will be available as downloadable zip files. This gives you a reliable backup to fall back on if needed.
Frequently Asked Questions (FAQs)
Before you create a backup plan for your website, you may still have some questions. Let's answer some frequently asked questions about WordPress backups!
What is the best WordPress backup plugin?
Duplicator is the best WordPress backup plugin for scheduling automatic website backups and storing them in off-site cloud storage. You'll also be able to create manual, real-time backups of your site. These backup features will give you peace of mind that your data is secure.
Alternatives: UpdraftPlus, BackupBuddy, BackWPup, BlogVault, WPVivid, and Jetpack Backup (VaultPress) can also perform backups of your WordPress site. To decide between them, check out our comparison of the top WordPress backup plugins.
How do I back up my WordPress website without plugins?
Your web hosting provider usually provides a way to back up your website without plugins. Alternatively, you could manually download your files from cPanel or an FTP client. Your WordPress database can be exported in phpMyAdmin.
How do I do a daily backup in WordPress?
To back up your WordPress site daily, start by installing Duplicator Pro. Then, create a new backup schedule and set the frequency to Daily.
Conclusion
We hoped this helped you create your first WordPress auto backup!
Are you automatically backing up WordPress to prepare for a migration? Check out our guide on how to migrate your website without downtime!
Do you want to never worry about manual backups again? Download Duplicator Pro to set up automatic backup schedules!