Are you looking for the best WordPress maintenance service for your website?
WordPress maintenance service providers tend to any basic tasks like updates, backups, and security. As a site owner, this can give you more time to grow your business or build your audience.
In this post, we'll recommend some of the best WordPress maintenance services!
Our Top Picks for Best WordPress Maintenance Services
Here's a quick look at our list of best WordPress maintenance services! Tune into the rest of the article for an in-depth comparison.
| | | | |
| --- | --- | --- | --- |
| Maintenance Service | Free Version? | Premium Pricing | Best For |
| Duplicator | Yes | $49.50/yr | Automatic backups and simple migrations |
| WP Buffs | No | $66/mo | Website edits, ongoing security, and speed optimization |
| Codeable | No | Variable based on the project | Finding a freelance WordPress expert |
| GoWP | No | $39/mo | Freelancers or agencies who need to outsource maintenance |
| Maintainn | No | $990/yr | Security monitoring, web design, updates, and backups |
| Valet | No | $1,500/mo | Larger websites that need hosting, web design, and content creation |
| WP Maintainer | No | $99/mo | Updates, backups, and security montioring |
| FixRunner | No | $59/mo | Speed optimization, cloud backups, and uptime monitoring |
| Siterack | No | $5/mo | Basic cost-effective WordPress maintenance |
What Are WordPress Maintenance Services?
WordPress maintenance services involve paying a provider to manage your website. You could ask them to perform recurring tasks like regular backups and software updates. Other plans might include extra WordPress security or performance optimization.
Why Do You Need a WordPress Maintenance Service?
After you create your first WordPress website, you'll notice that you have many extra tasks on your plate. You might think you're only responsible for growing your audience or getting new sales.
However, there are routine maintenance tasks that also need your attention so that your site stays secure and healthy.
A self-hosted website on WordPress.org needs consistent updates to the core software, themes, and plugins. To ensure you never lose your data, you'll also want to create full site backups at least once a month.
It can be frustrating to handle all of these tasks alone. If you want to dedicate your time to other areas of your site, consider buying a WordPress maintenance service.
Essentially, WordPress maintenance services will take care of any website task that you don't want to do. Depending on the provider, they could manage backups, fix errors, boost security, monitor uptime, and even increase page speed.
This can be a great option for beginners who want a more hands-off approach to website management. Ultimately, this can give you more time to focus on the more enjoyable parts of being a website owner. You'll be free to write posts and interact with your visitors without worrying about maintenance tasks in the back of your mind.
9 Best WordPress Maintenance Services
If you want to hand off your backups or updates to a professional, you might want to find a WordPress maintenance service. However, it can be difficult to figure out which one is right for you. Let's round up the most popular options to help you!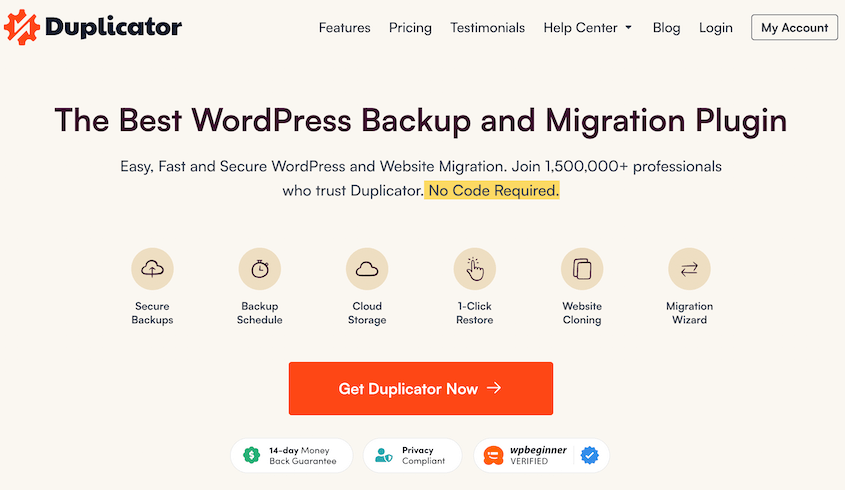 Duplicator is a WordPress plugin that makes it easy to manage basic tasks on your website. It's capable of performing backups, migrations, and cloning without needing you to handle any coding.
One of Duplicator's best features is its automatic backups. If you want to avoid wasting time with manual backups, you can simply set a date and time to back up your site: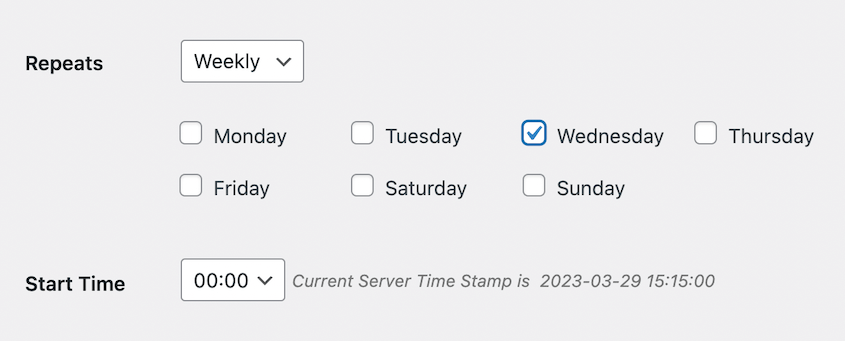 Once you save the schedule, you won't ever have to worry about backing up your site yourself!
Duplicator can also perform many other tasks you might find in a WordPress maintenance service. For example, it makes it easy to migrate your site to another location. You can simply create a backup and then drag and drop it into the second site: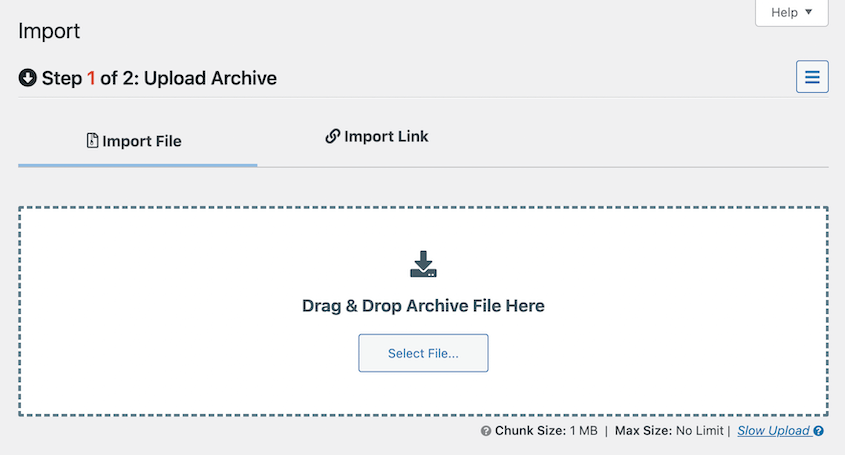 If you're a freelancer who manages sites for clients, you can use Duplicator as a backup and migration tool. To prevent clients from having to create backups, find Settings » Access: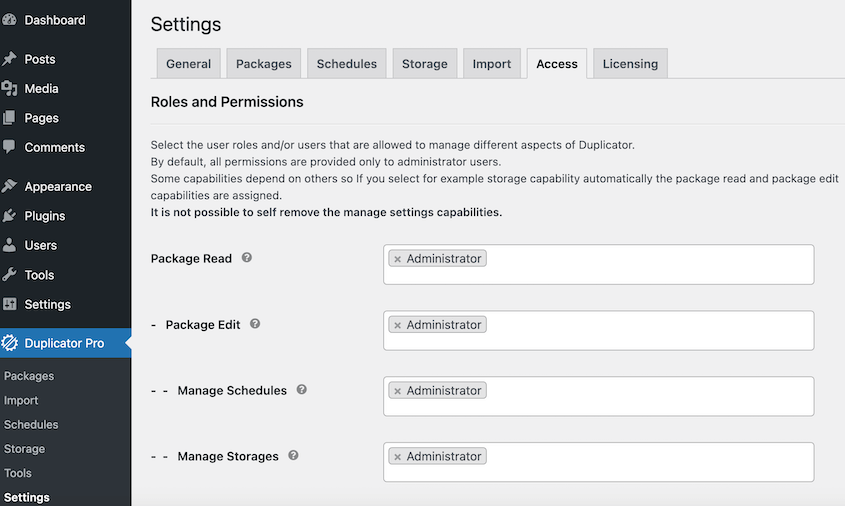 You'll see a list of Duplicator's features and who can use them. For example, you might want to remove Duplicator completely from your client's dashboard. In this case, add only your user email address to the Package Read field:

Here are some more helpful features included in Duplicator Pro:
Complete and database-only website backups
Cloud backup storage to Google Drive, Dropbox, Amazon S3, and OneDrive
Server-to-server imports
Supports Multisite networks and large sites
Easy-to-use migration wizard
Drag-and-drop import
Streamlined installer
Supports managed hosting
Backup encryption
Pricing: Duplicator Pro starts at $49.50 and has many beginner-friendly ways to manage your website. Most WordPress maintenance services charge upwards of $100 per month. In comparison, Duplicator can be a more affordable option.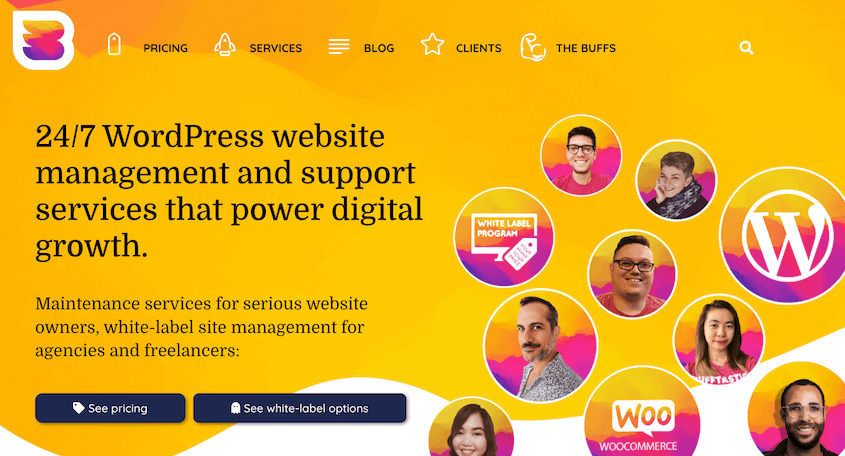 If you want your website maintenance completely taken off your hands, consider trying out WP Buffs. This offers full site management and support services for WordPress websites.
With WP Buffs, WordPress experts will be at your disposal 24/7. They are there to help you troubleshoot errors, edit content, and tweak your web design. You'll be able to make unlimited requests, so you can fully optimize your website.
Your WP Buffs team will also optimize images and use browser caching to speed up your website. Additionally, you'll never have to update WordPress or create backups yourself. 
Key features:
File and database backups
Ongoing security
Emergency 24/7 support
24/7 website edits
Weekly WordPress theme, plugin, and core updates
Speed optimization
Malware removal
iThemes Security Pro plugin
Pricing: WP Buffs has WordPress site maintenance plans that start at $79 per month. You can also choose to pay annually, which drops the prices to as little as $66 monthly. Plus, there are custom plans available for when you need more complex attention.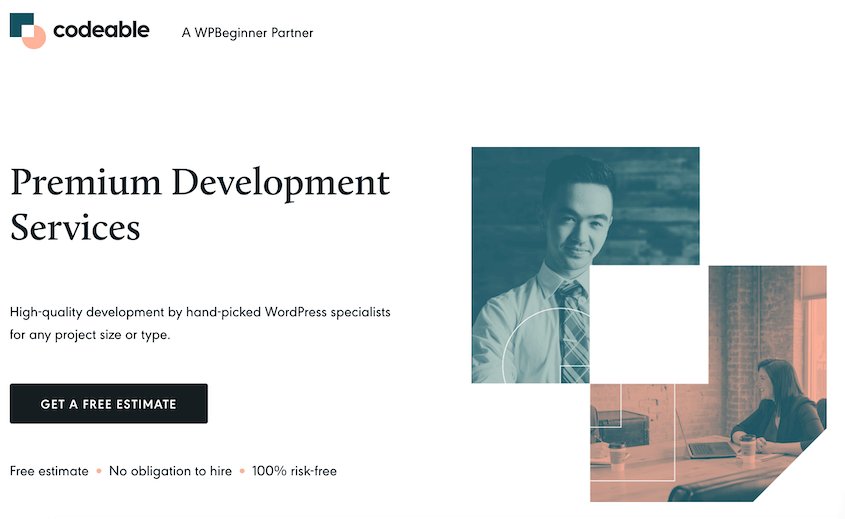 Instead of getting a general WordPress maintenance plan, you may know exactly what service you need. In this case, Codeable can help.
Codeable is a platform where you can find a specific developer for any scope of job. You can be matched up with experts who can resolve 404 errors, migrate your website, develop a custom WordPress theme, and more. 
Key features:
Vetted WordPress experts
Recommends 1-5 experts for specific projects
Free estimate
No bidding
Same-day response time
28-day bug fix warranty
Partial and full refund policy
Escrow system
Pricing: Codeable bases its pricing on the complexity, urgency, and scope of your unique project. However, it estimates $80-120 as an hourly rate.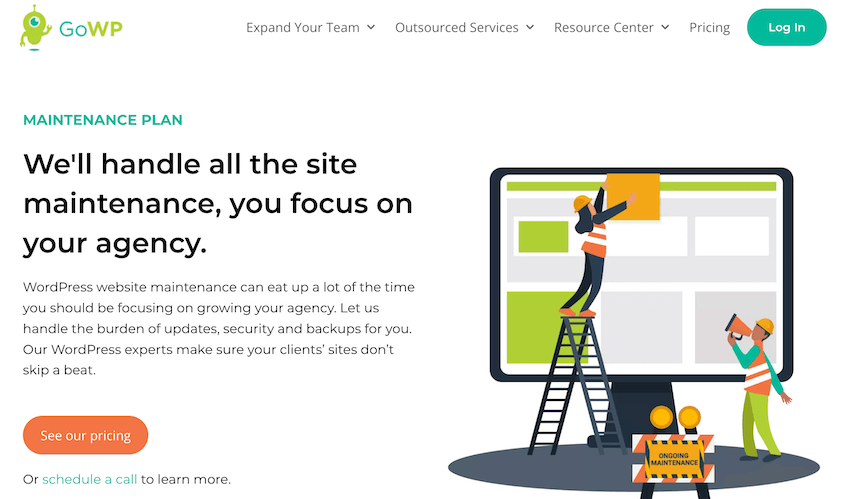 Another popular WordPress maintenance service is GoWP. Unlike the other options on this list, GoWP is designed for freelancers and agencies that manage their clients' websites. Basically, you can outsource updates, backups, and security so you can focus on growing your client's business.
There is a white labeling option, which allows you to remove GoWP's branding from the maintenance dashboard and replace it with your own. Even the weekly maintenance reports sent to your clients will have your brand colors and logo.
Key features:
WordPress core and plugin updates
Visual Validator to preview updates
Security monitoring
Daily off-site backups
Maintenance dashboard plugin
Monthly maintenance reports
Pricing: GoWP's maintenance plan only costs $39 per month for one site. They also offer content edits, landing page builds, and dedicated developers if you want to upgrade.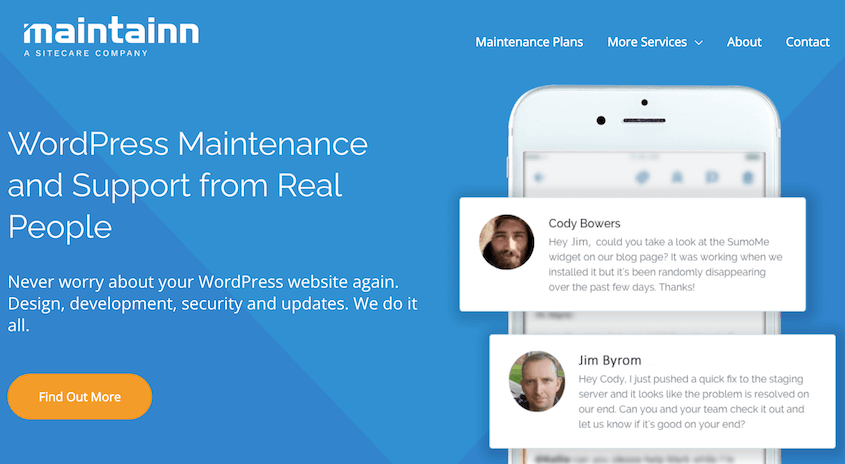 Maintainn has a team of WordPress experts that focus on providing ongoing maintenance and support. The company has 24/7 security monitoring, so you never have to worry about hackers or cyber-attacks.
With Maintainn, you'll have full coverage of your web maintenance tasks. Along with basic updates and backups, Maintainn offers data migrations and custom development. This ensures your website looks and functions exactly how it should.
Key features:
WordPress updates
Off-site backups
24/7 security monitoring
Hacked website repair
Weekly service reports
E-commerce support
Pricing: Maintainn maintenance plans start at $990 per year. This basic service comes with weekly updates, security monitoring, and production updates. If your site is hacked, this will cost $99 per incident.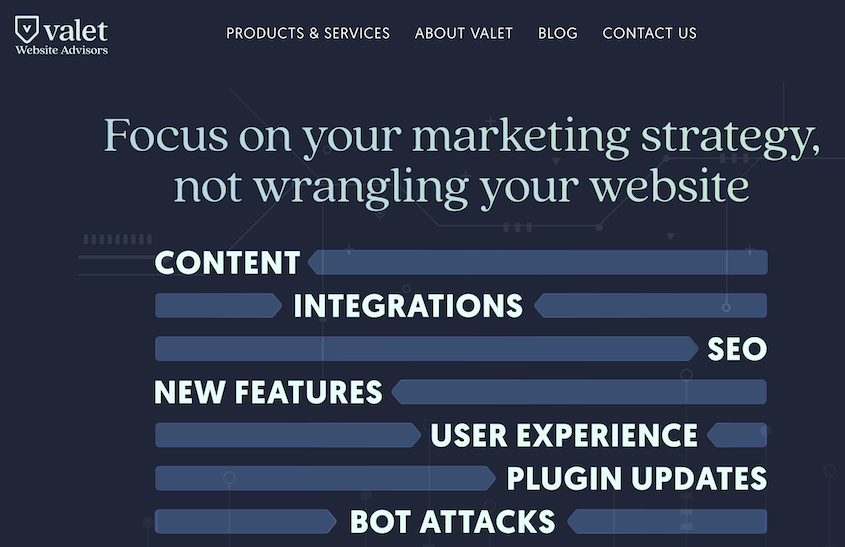 Valet is an agency with full services for any type of website. It not only supports WordPress maintenance but web hosting, SEO, content creation, migrations, and more.
With Valet, you'll get to be hands-off when it comes to technical issues. Valet will test your page speed, monitor for malware, and even check for plugin vulnerabilities. When all of this is handled behind the scenes, you can stop wasting time and get better use out of your website.
Key features:
WordPress updates
Malware monitoring and removal
Page speed testing
Backups
Plugin vulnerability monitoring
Digital marketing dashboard
Pricing: Valet's basic maintenance package costs $1,500 per month. If you need help with your WordPress multisite network or e-commerce store, the premium support plans go upwards of $3,200 monthly.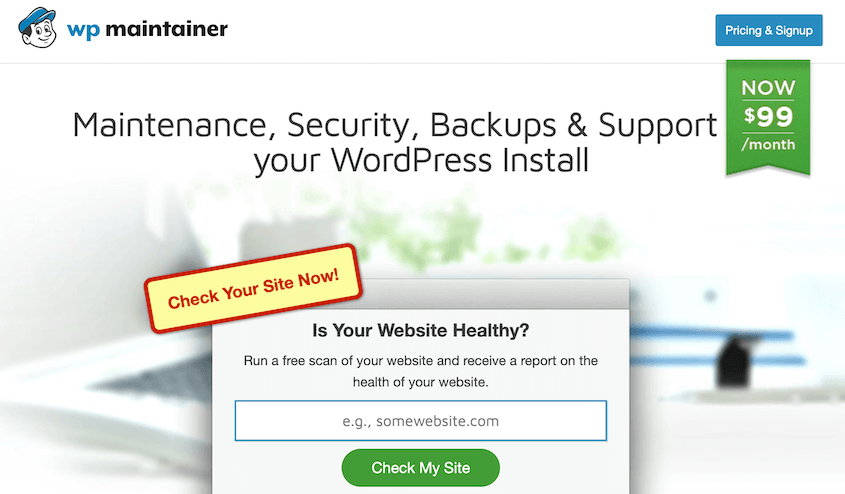 Similar to other website maintenance services, WP Maintainer will provide all types of updates and scheduled backups. However, it also offers security monitoring from Sucuri, which is a well-known security platform for stopping cyber attacks with firewalls.
With WP Maintainer, you'll enjoy monthly WordPress support. A full team of developers will be at your disposal to do anything from installing a new plugin to optimizing CSS on your site.
Key features:
WordPress, plugin, and theme updates
Scheduled site backups
Website security monitoring and malware cleanup
Migrations
Discounted WordPress development
Pricing: You can start using WP Maintainer's services for $99 per month. You can also have one of their professional developers tweak your site for $99 an hour.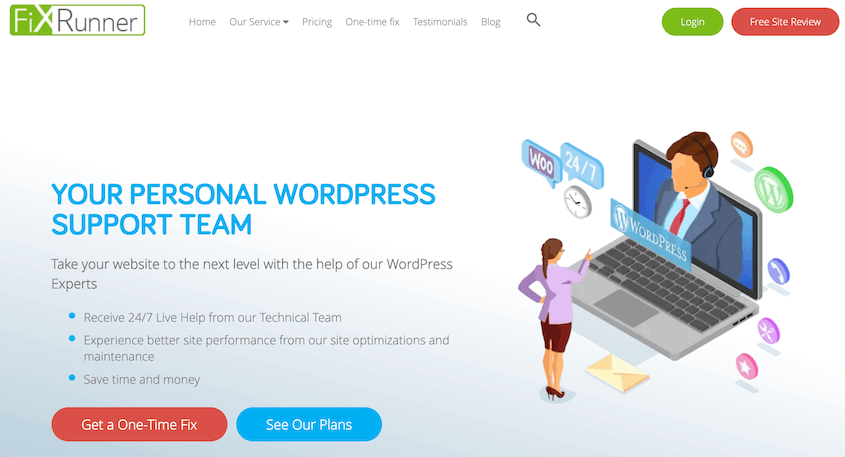 FixRunner is an affordable WordPress maintenance service provider with comprehensive coverage. It offers speed optimization to improve your site's user experience and search rankings. Plus, FixRunner's maintenance plans include ongoing tech support like backups and 24/7 security.
Sometimes, you'll experience an unexpected critical error or cyber attack. When you need emergency support, FixRunner provides a one-time fix. Their WordPress experts will log into your site, debug the issue, and get your website back up and running.
Key features:
Daily website backups
Backup restore options
24/7 security
Bi-weekly reports
Speed optimization
Pricing: You can start taking advantage of FixRunner's services starting as low as $59 per month. Even the basic plan has speed optimization, uptime monitoring, and security scans. If you just need a one-time fix, you can get 30 minutes of expert help for $49.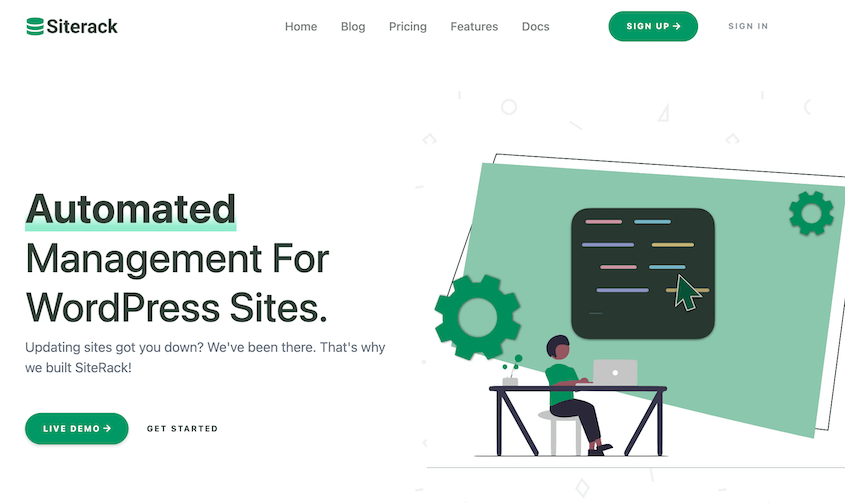 For a more affordable option, we'd recommend Siterack. This service provider allows you to automate maintenance tasks such as updates and backups.
Unlike other maintenance services, Siterack features AI error detection. Your site will be scanned daily and you'll be alerted if any problems arise. Plus, this error scanning will process every millisecond during software updates.
Key features:
Daily backups
Uptime monitoring
One-click restorations
Automatic backups before updates
AI error detection
Malware scans
White-label options
Pricing: For only one site, Siterack costs $5 per month. Since this includes all of its features, Siterack can be a good choice for bloggers or other small business site owners.
Frequently Asked Questions (FAQs)
Is there such a thing as a maintenance plan for WordPress websites?
Yes, a WordPress maintenance plan includes basic tasks like backups, migrations, security, SEO, and more. A provider will manage these areas while you can dedicate more time elsewhere.
What is the average cost of WordPress maintenance?
The average cost of WordPress maintenance usually falls between $100 and $200 every month. Some providers offer support plans for as little as $50. If you want a more affordable option to make your site maintenance much easier, consider using Duplicator Pro.
When should you do website maintenance?
You should do website maintenance at least once a month. This involves backing up your site files and database, performing software updates, and monitoring your security. However, it's a good idea to perform these tasks as often as you can to ensure your website continues to run smoothly without downtime.
Should I get managed WordPress?
Managed WordPress hosting can be a good alternative to WordPress maintenance services. Along with hosting your site, your provider will take care of updates, uptime monitoring, performance optimization, and security scans. These plans are more expensive than basic hosting but can save you some time when it comes to maintenance.
Conclusion
By now, you've probably found the best WordPress maintenance service provider for your needs!
Do you want to become a WordPress expert so you don't have to rely on maintenance providers? Here are some tutorials that will help:
Are you ready to automate your ongoing WordPress maintenance? Download Duplicator Pro to start scheduling automatic backups!