Do you want to start selling WordPress maintenance plans?
Every website owner needs to perform routine maintenance tasks like monthly backups, security checks, and even a full migration. Providing WordPress maintenance services can be a good way to generate recurring revenue for your new business.
In this tutorial, we'll show you how to start selling WordPress maintenance plans!
What Are WordPress Maintenance Plans?
A WordPress maintenance plan is a service where you provide ongoing maintenance on a client's website. This could involve any recurring task from backups to extra security protection.
What Is Included in WordPress Maintenance?
WordPress maintenance is a general term that could include any upkeep on a website to keep it functioning well and secure.
Here are some features that could be included in a WordPress maintenance plan:
Website backups: Many website maintenance plans come with consistent backups. This stores a copy of your website so that it can be restored after hacks or critical errors.
Security monitoring: To ward off hackers, site maintenance services can focus on WordPress security. These support plans can set up firewalls and conduct malware scans.
Migrations: After a site grows, it's almost inevitable to have to move it to a better server. To avoid doing this incorrectly and potentially losing data, site owners can have their content migrated for them.
Cloning to a staging site: Performing untested WordPress updates on a live site can potentially break it. Instead, WordPress maintenance service providers can set up a staging site and conduct safe troubleshooting.
Search Engine Optimization (SEO): By improving a website's SEO, it'll rise higher in search rankings and bring in new visitors. However, this can take time. Many people turn to SEO experts for help along the way.
Analytics: Although tools like Google Analytics provide easy ways to analyze traffic and conversions, site owners might want professional help. You can start managing your clients' analytics reports and make suggestions on how to improve the website.
Multiple site management: Keeping track of the back ends of multiple sites can be overwhelming. Your WordPress support plans can consolidate websites into a Multisite network and help owners manage it.
WordPress core, theme, and plugin updates: Software updates are necessary to avoid errors and security vulnerabilities. Many maintenance plans include these website updates.
Uptime monitoring: Downtime can spell doom for any website. To make sure visitors can access their sites at all times, site owners often look for uptime monitoring services.
Performance optimization: Speed optimization can be the key to preventing visitors from leaving a site. Many maintenance plans offer features to boost page speed, which improves user experience.
Web hosting: To get a site online, hosting plans provide server space and dedicated resources. Often, website care plans can feature WordPress hosting backed by WordPress experts.
Website design: As a beginner, designing a website can be difficult. Because of this, you can easily find a web designer or WordPress developer that can develop new websites from scratch.
E-commerce maintenance: You can provide support for small businesses like WooCommerce stores. This could involve content updates, database management, core updates, security measures, and more.
As you can see, the options are limitless when it comes to WordPress maintenance plans. You can always find new clients who are looking to focus more attention on other areas of their website. By taking care of routine maintenance, you'll make their role much easier.
The Benefits of Selling WordPress Maintenance Plans
Now that you know what WordPress maintenance is, let's talk about why you should start selling your services.
First things first, WordPress is the most popular Content Management System (CMS) on the internet. As of 2023, it powers over 43% of all websites. If you start offering WordPress-specific services, you'll have a large customer base.
Before starting a business, you'll want to know that it can generate recurring revenue. Fortunately, every website owner needs consistent maintenance. For example, they might need to perform weekly backups to make sure their data is safe.
You can give your clients peace of mind by taking care of these recurring backups for them. They can subscribe to your services and start focusing on other areas of their personal sites.
Once you have your business up and running, you'll be able to build positive relationships with your clients. You'll take care of their daunting maintenance needs and earn positive referrals.
How to Sell WordPress Maintenance Plans
Anyone can start selling WordPress maintenance services. However, you might not know what to include in your plans. To help you, let's walk through some different services you could easily perform for your clients.
Set Up Automatic Backups
If your clients are new site owners, they might feel daunted by backups. Often, manually backing up a website involves some technical skill. To make this process easier, you could set up automatic backups for them.
Don't worry. You don't have to be an expert in backups, either. To start offering hands-off backup services, simply install Duplicator on your client's site: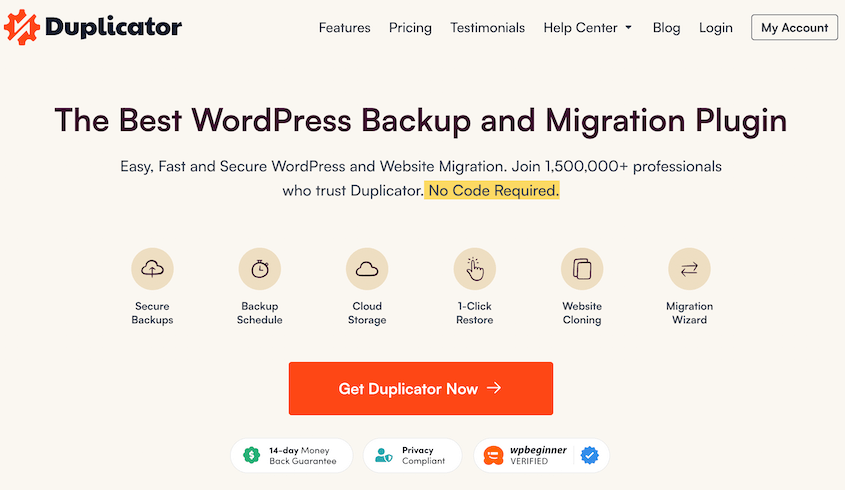 Duplicator is the best WordPress backup plugin. It allows you to create full (or database-only) backups without touching any code. Plus, Duplicator makes it easy to set up automatic backups so you spend less time managing your client's site.
First, select either the Duplicator Pro or Elite subscription. Then, install and activate Duplicator in your client's WordPress dashboard. If you need more details, check out this in-depth guide on installing WordPress plugins.
Next, navigate to Duplicator Pro » Schedules » Add New: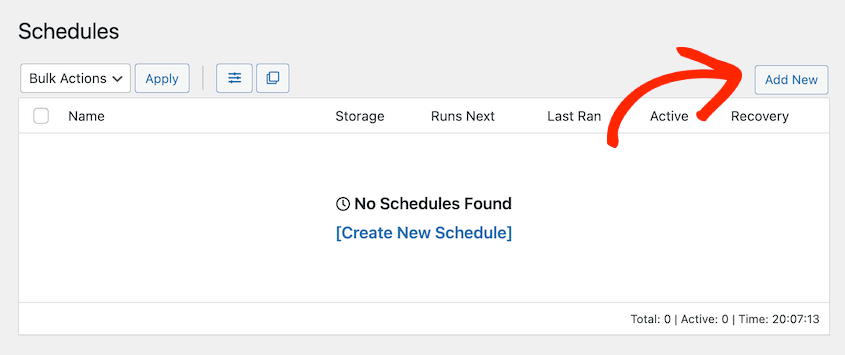 On the next page, name the backup schedule. By default, Duplicator will perform a full backup of the entire website. If you want to customize these options, you can create a custom package template:

Then, choose a storage location. You can either save backups to the local server or connect a new cloud storage service:

Lastly, customize when you want the backup to happen: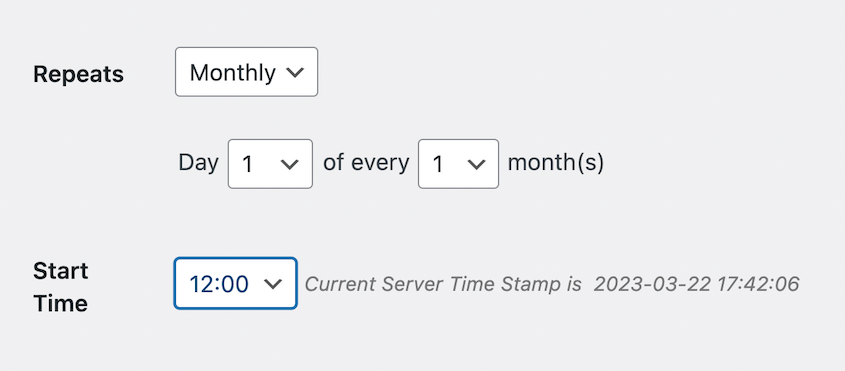 Check the box next to Enable This Schedule and save it: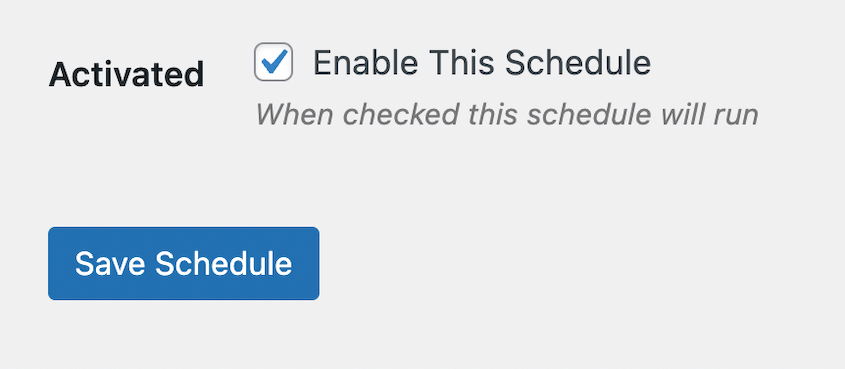 If a client wants you to handle their automatic backups, you can remove these settings from their dashboard. To do this, find Duplicator Pro » Settings » Access: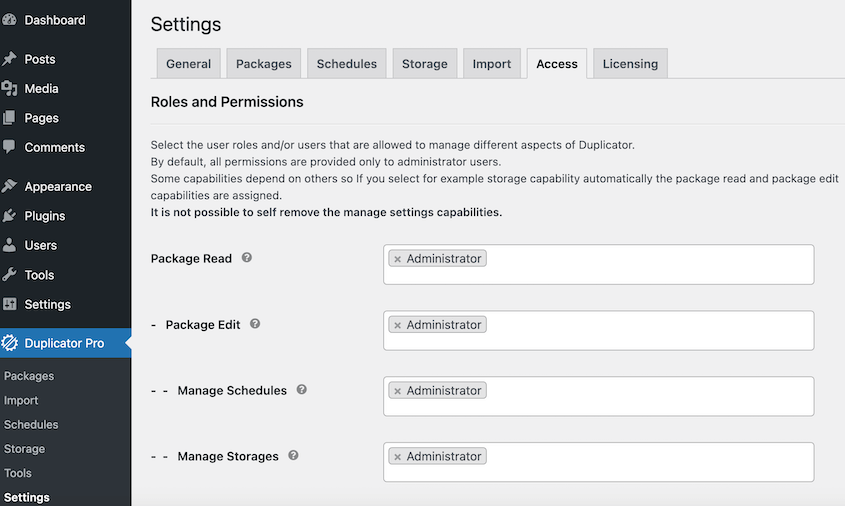 These new advanced permissions control exactly what a client can do with Duplicator. On this page, go to Manage Schedules. Enter your user email address or a specific user role:

Your client still be able to see Duplicator installed and create new backups, but they can't edit your set schedule.
Offer Site Migrations
Clients may be able to handle their daily backups, but migrations can be much trickier. During a manual migration to a new server or domain, there are many opportunities to break a site. Rather than taking this risk, website owners can come to you for migration services.
Fortunately, Duplicator has backup and migration features. It allows you to easily move WordPress sites with a simple drag-and-drop interface.
Once you install Duplicator on your client's site, you'll probably want to limit your client's access to import and export features. This will ensure that no one accidentally overwrites the site without permission.
To do this, visit the Access settings page. Find the Package Import and Package Export fields:

Remove the Administrator role, since your clients will likely be assigned this user role. Instead, enter your user email address. Once you save these settings, your clients won't see any import or export functionality in Duplicator.
Then, you're free to migrate the site with Duplicator. First, go to Packages » Create New: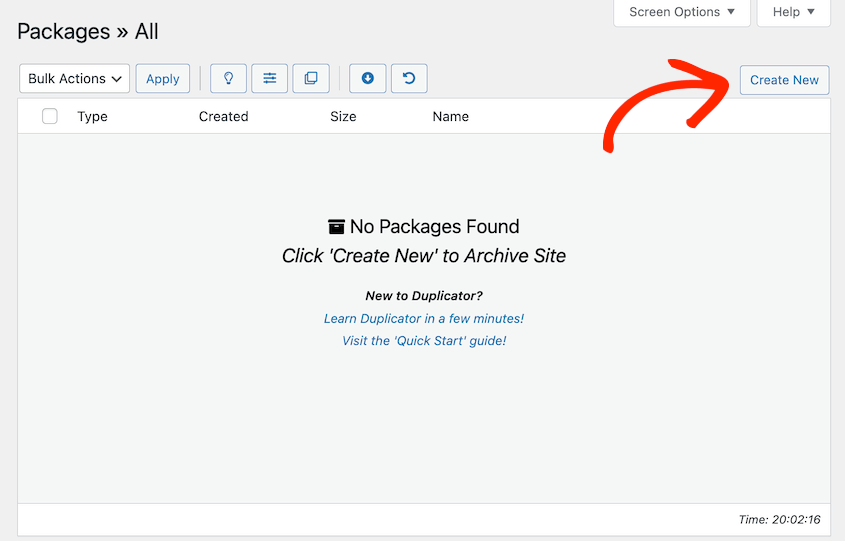 Name the package and click on Next: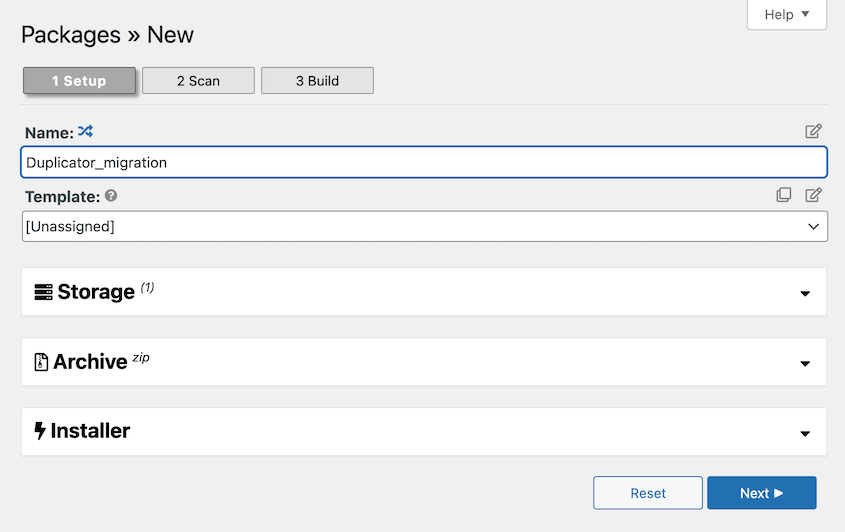 Duplicator will automatically scan your client's site for any issues: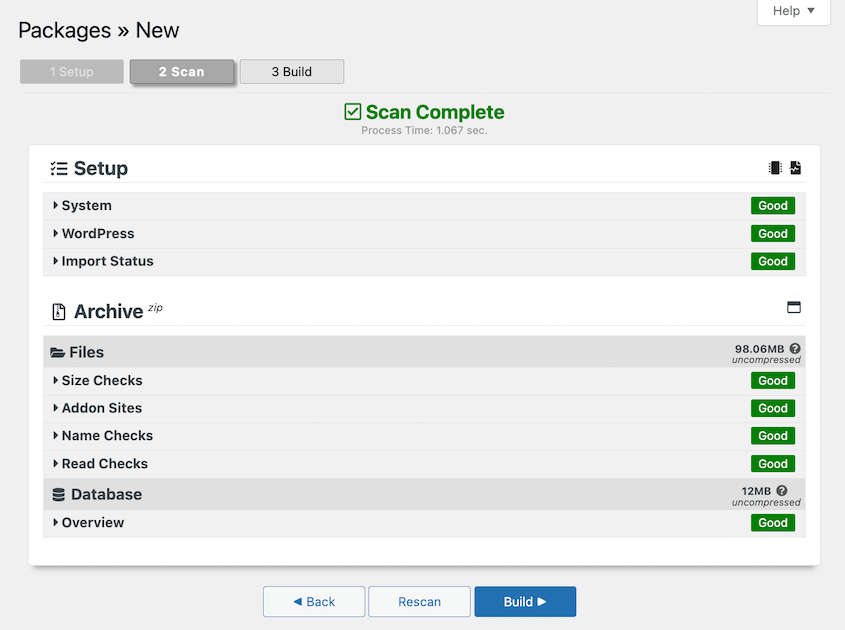 After you hit Build, you'll see the backup on the Packages page. Here, select Download » Archive (zip):

This zip file will contain all of your client's site files, plugins, themes, and database tables. To migrate this data, install Duplicator on the destination server. Then, head over to Duplicator Pro » Import: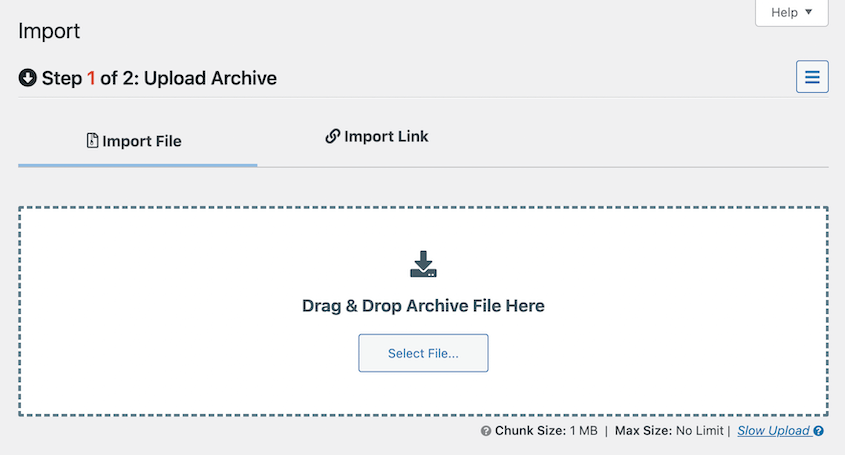 Drag and drop the archive file into the import box. You can then use the Duplicator installation wizard to finish migrating the site!
Tip: If your client wants to move to a new domain name, this requires a few extra steps. To achieve a smooth transition without broken links or traffic drops, check out our tutorial on migrating to another domain.
Provide Cloud Backup Storage
Another feature you could include in your WordPress care plans is cloud backups. Instead of potentially overloading a client's hosting plan by storing backups locally, you could send their backups to the cloud.
By managing this for your clients, they'll have peace of mind that their data is safe. Since it's stored off-site, a backup can also be restored at any time. This avoids losing any backups due to server errors.
With Duplicator, you can easily link your preferred cloud storage location to your client's site. Here are the services you could use:
Amazon S3
Dropbox
Google Drive
OneDrive
FTP
SFTP – SSH
To connect one of these, go to Duplicator Pro » Storage » Add New:

Name the storage location. Next, use the Type dropdown to select the provider: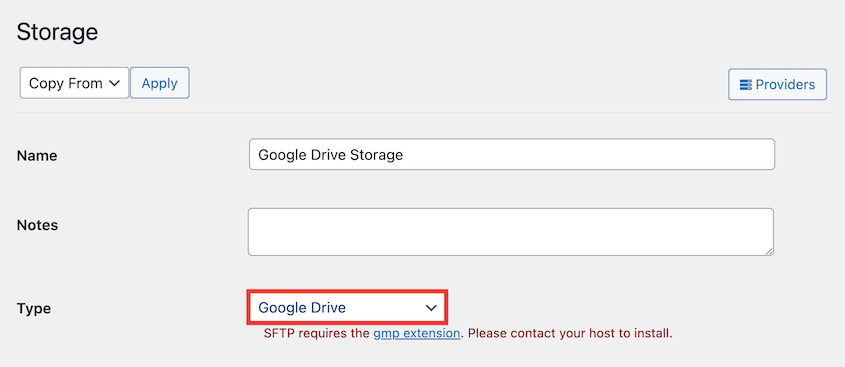 Then, you'll need to authorize Duplicator to send backups to the off-site cloud storage service. For Google Drive, click on Connect to Google Drive:

You'll also have to go through a few authorization steps. By hitting Authorize Google Drive, you'll receive a code that you can paste into these settings:

Once this setup is complete, consider setting a limit on the number of packages your client can store in your Google Drive folder. By customizing the Max Packages amount, old backups will be deleted once the limit is exceeded:

You can also hide your cloud storage information from clients, which will secure your account. In the Access settings, add your user to the Manage Storages field:

After you save these changes, clients can select your cloud storage option, but they can't view any details about it.
Frequently Asked Questions (FAQs)
Before you start selling WordPress maintenance plans, you may have some questions. Let's answer them!
How much do I charge for WordPress website maintenance?
You can charge a minimum of $20-30 per hour for the maintenance you put into your client's website. Web maintenance usually requires an average of 5-10 hours of work per month, so you can start your subscription pricing at $100 per month.
What should I offer for website maintenance?
You could start offering automatic backups, migrations, and cloud storage in your WordPress maintenance packages. By installing Duplicator Pro, you can easily perform these services even without technical know-how. This takes care of many important tasks for website owners.
How do I sell maintenance on WordPress?
You can sell maintenance on WordPress by purchasing a subscription to Duplicator Pro. You'll be able to install Duplicator on your clients' websites and use this tool to handle backups, migrations, and even cloning. Plus, its new advanced permissions will allow you to customize exactly which Duplicator features a client can see and use.
Conclusion
Hopefully, you now have everything you need to sell your WordPress maintenance plans!
Is your client asking you to move their large website to another server? Check out our comprehensive guide on migrating large sites with Duplicator!
Want to launch your WordPress maintenance business and start racking in additional revenue? Download Duplicator Pro to easily manage client backups!