Are you not sure which is the best WordPress backup plugin?
Using a backup plugin, you can save a copy of your website. This way, you'll have an error-free version of your WordPress site to restore if anything goes wrong.
In this article, we'll compare the best WordPress backup plugins so you can find the right one for your needs!
What to Look For in a WordPress Backup Plugin
If you own a website, it's important to perform regular backups. Essentially, this involves saving a copy of your WordPress files and database. When a coding error or software bug breaks your site, you can easily restore a recent backup.
Often, hosting providers will give you a way to back up your website. However, it can be beneficial to have a third-party backup tool. By installing the right WordPress backup plugin, you can access your website even after server errors.
The best WordPress backup plugins make it easy to back up and restore your live site. Here are some features we'd recommend looking for:
Real-time backups
Full backups and database-only backups
Off-site storage
Scheduled backups
Simple restore process
When you install any plugin, you'll want to know it comes with a stellar support system. Before choosing a backup plugin, make sure it provides reliable customer service. This way, you can have peace of mind that your website will be backed up correctly.
9 Best WordPress Backup Plugins (Ultimate Comparison)
Even when you know what backup features to look for, you might not know which plugin is right for you. To help you make the best choice, let's round up some of the best backup plugins!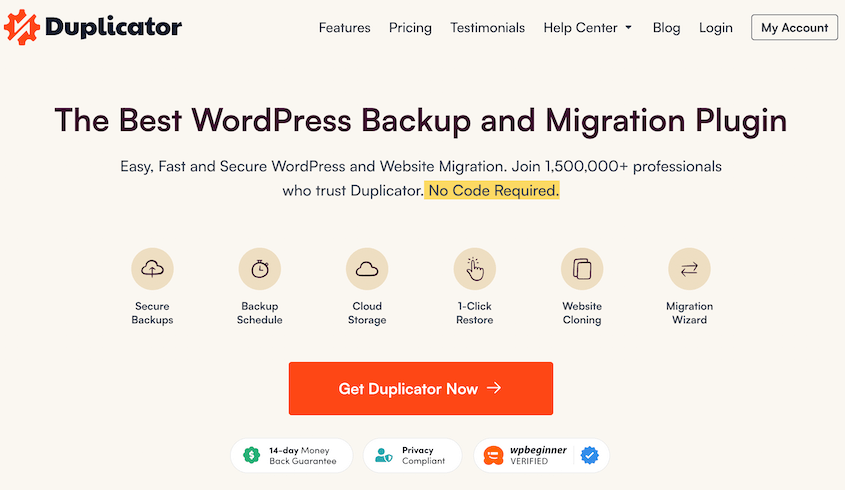 Duplicator is a powerful and flexible plugin that you can use to back up, migrate, and clone a WordPress site. Because of its simplicity and versatility, it has gained over 1 million active installs.
As a beginner, you might not know exactly how to back up your website. Fortunately, Duplicator makes this process easy. Using this plugin, you can create packages that bundle your site files and database: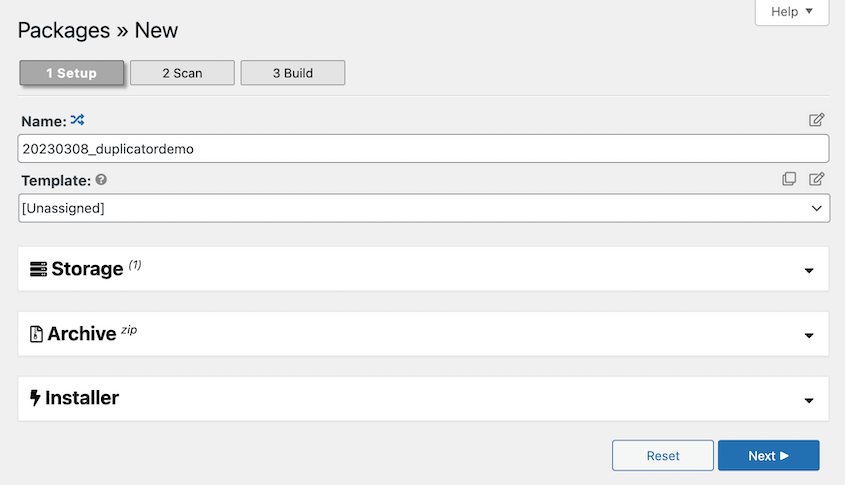 You'll also be able to choose an off-site storage location. Duplicator supports cloud backups to Dropbox, Google Drive, OneDrive, Amazon S3, and FTP/SFTP clients:

With Duplicator, you can customize exactly what data is saved in your backup archive. For example, you might want to only back up your WordPress database. In this case, select Archive only the database:

What makes Duplicator different from other WordPress backup plugins is its standalone installer. When you need to restore a backup, the installer file will automatically launch the Duplicator recovery wizard. This will walk you through the process of restoring your saved backup files: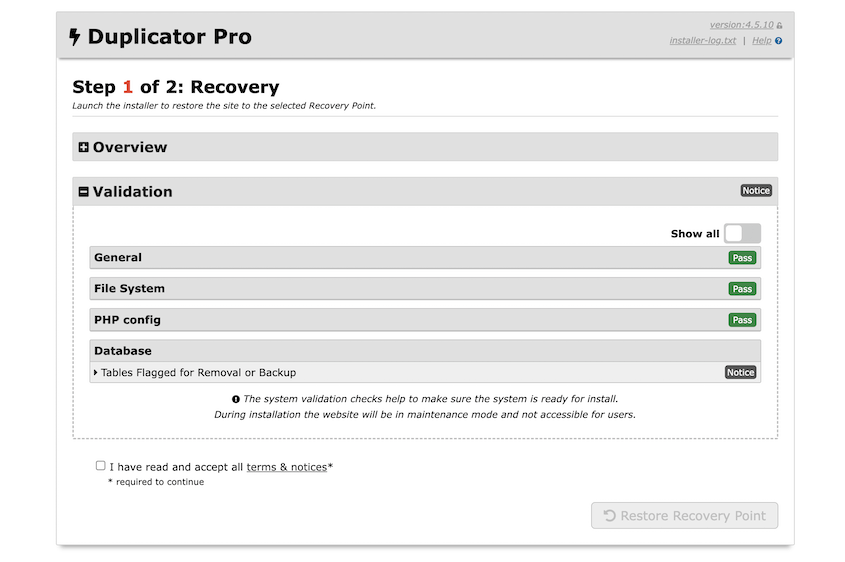 Once you back up your site with Duplicator, you can migrate these files to another server or domain name. This makes Duplicator not only a reliable backup solution but a useful tool for migrations and cloning.
Here are some more handy features you can expect from Duplicator Pro:
Scheduled backups
Cloud storage and API backup options
Customizable pre-configured sites
Multisite network backups and migrations
Large site support
Streamlined installer
Recovery points
Price: Duplicator Lite is a completely free WordPress backup plugin. However, it won't come with cloud storage or drag-and-drop installs. To access these helpful features, our premium plans start at $49.50 per year.

Another popular WordPress backup plugin is UpdraftPlus. You can use this tool to perform both manual and scheduled backups. Either of these options will save a backup of your website files, plugins, themes, and database.
UpdraftPlus allows you to save backups to cloud storage locations like Dropbox, Google Drive, Amazon S3, and Rackspace Cloud. It also has UpdraftPlus Vault, which is a paid storage service.
Similar to Duplicator, UpdraftPlus supports website cloning. However, you'll have to purchase additional tokens to access the UpdraftClone add-on.
Key features:
Backup and restoration options
Scheduled backups
Cloning and migration functionality
Cloud storage
Multisite support
Pricing: UpdraftPlus has a free version with basic backup and restore options. The premium plugin will include advanced features like incremental backups, database encryption, and backups of non-WordPress files. These plans start at $70 per year.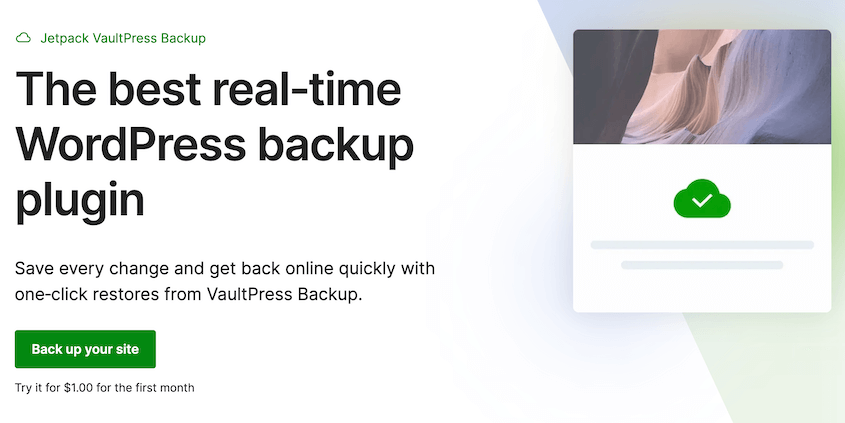 Jetpack Backup, or VaultPress, is a beginner-friendly plugin that simplifies the backup process. Since it was developed by Automattic, the same company behind WordPress, Jetpack seamlessly integrates into your dashboard.
Using Jetpack, you can back up your database and root directory. Even in the Jetpack mobile app, you'll be able to restore your site in one click.
However, keep in mind that Jetpack Backup only performs partial backups. Core WordPress files and additional WordPress installs will be excluded from any backup.
It's also important to note that Jetpack's lower plans will only store your backups for 30 days. If you want unlimited restores from the past year, you'll have to upgrade to the Complete plan for $50 per month.
Key features:
Full, incremental, and differential backups
Real-time cloud backups
10GB backup storage
30-day archive and activity log
One-click restores
Pricing: Although you can find a free version of the Jetpack Backup plugin, you'll have to sign up for a paid subscription to use it. These start at $1 for the first month and renew for $10 per month. You'll receive up to 10GB of backup storage space.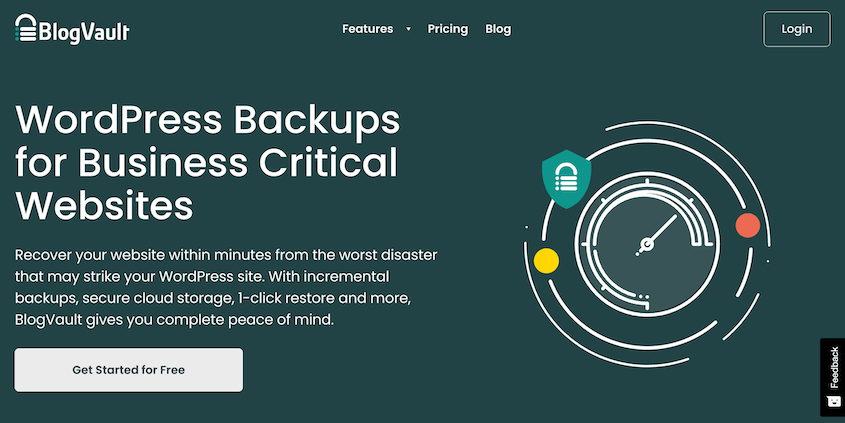 Unlike the other WordPress backup plugins on this list, BlogVault is an SaaS (Software as a Service) solution. Rather than overloading your server resources with bulky backup zip files, BlogVault stores your website data on its dedicated servers. This can boost your loading speed.
BlogVault can also handle websites up to 500GB in size. This includes WordPress multisite networks and WooCommerce stores.
When you need to restore your website, you can test a recent backup. By restoring it on the BlogVault servers first, you'll know it's safe to upload to your website. Plus, BlogVault supports selective restores to only replace the corrupted data on your site.
Key features:
Complete and incremental backups
Off-site backup storage
One-click restores
Real-time WooCommerce backups
Zero-downtime migration
Pricing: BlogVault's subscriptions start at $89 per year. Even the basic backup plan includes cloud storage, multisite backups, and automated daily backups.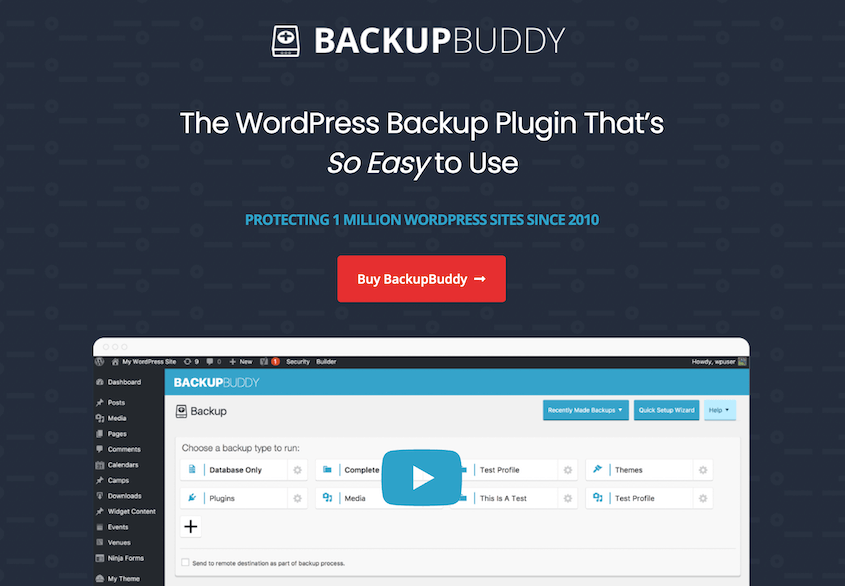 Because it's been available since 2010, BackupBuddy is one of the oldest backup plugins. This tool is capable of backing up everything on your website, including posts, theme files, WordPress settings, and the database.
One of BackupBuddy's main selling points is its simple restore process. Using the ImportBuddy tool, you can restore individual files whenever they become corrupted or changed. Plus, you can roll back your database or your full WordPress website.
BackupBuddy is also a cloning and migration plugin. This will allow you to move to a new web hosting provider or domain name. It even comes with a URL replacement feature to automatically update your site's URLs.
Key features:
Complete, database-only, or files-only backups
Scheduled backups
Off-site backup storage
Restore individual files, database, or complete website
Migration and cloning functionality
Staging site to test changes
Pricing: BackupBuddy starts at $99 per year for a single website. You can also purchase a bundle that includes iThemes Security Pro. This will give you malware scans and other essential security features.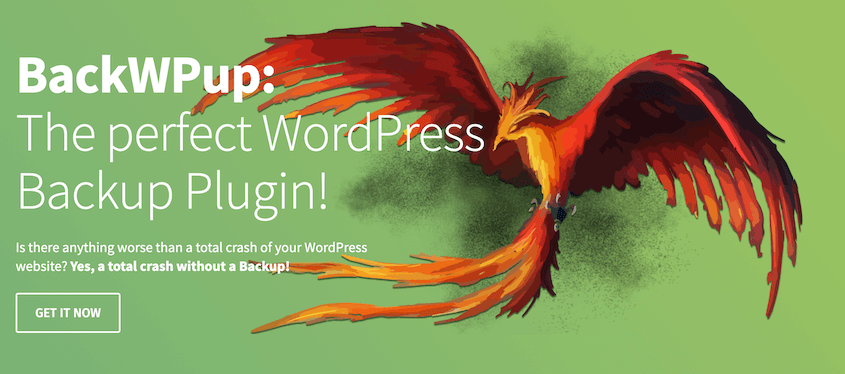 If you're looking for a basic free backup plugin, BackWPup may be an effective solution. This tool can create both file and database backups for your site. Then, you'll be able to store backups in off-site locations like Dropbox, SugarSync, or Microsoft Azure.
However, BackWPup limits a lot of its features to the pro version. BackWPup Pro includes support for Multisite network backups, more cloud storage locations, and automatic restores. You can even download a mobile app and restore your website on the go.
Key features:
Complete backups and database-only backups
Cloud storage
Multisite support
Automatic restores
Mobile app for emergency restores
Migration to a new domain
Pricing: You can download BackWPup for free from the WordPress Plugin Directory. Alternatively, there is a premium version that starts at $69 for one WordPress installation.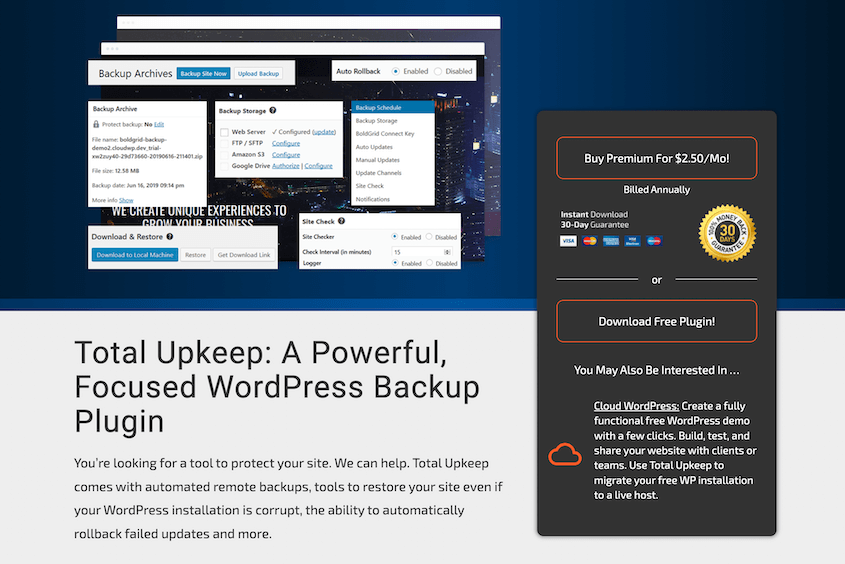 Another plugin with backup and restore options is Total Upkeep by BoldGrid. What makes it unique, however, is its auto rollback feature. Before going through with an update, Total Upkeep creates a backup that can be restored if the update fails.
Total Upkeep also comes with a Site Check tool, which makes it an effective security plugin. It will consistently check for any errors that could crash your site. Once you receive a notification about an issue, you can automatically restore your files and database to the most recently saved backup.
Sometimes, an error will lock you out of your WordPress dashboard. Even when you can't access the plugin, you can use Total Upkeep's restoration script on your command line.
Key features:
Automatic and manual backups
Customized backups
Remote backup storage
Restore options
Migration, cloning, and duplicator tools
Site Check
Pricing: There are both free and paid versions of Total Upkeep. The premium subscriptions start as low as $2.50 per month.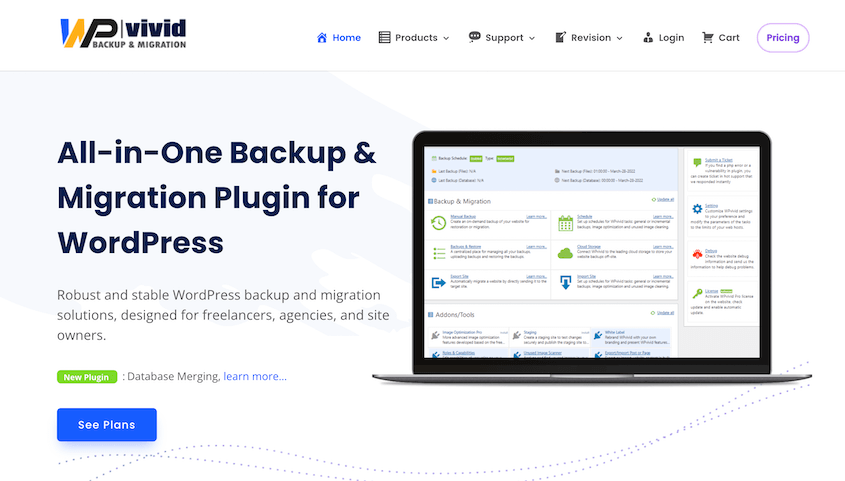 WPvivid has all of the basic features you'd expect from a WordPress backup plugin. You'll be able to back up your website, create staging sites, and migrate your content to another hosting provider. Additionally, there are off-site storage options to save your site remotely.
With WPvivid, you can get an image optimization add-on. By compressing your site's media files, you'll enjoy a faster server. WPvivid will also clean up unused images so that your backup files are lighter.
Key features:
Full, files-only, and database-only backups
Scheduled backups
One-click restores
Cloud storage
Unused images cleaner
Export/import options
Auto-backup before updates
Pricing: The core WordPress plugin is free. For more advanced features, the premium plans start at $29 per year.

In some cases, you might only want to back up your database. With WP Database Backup, you can start backing up your database files and restore them if needed. It also enables you to set up a backup schedule to regularly save a copy of your database.
The main benefit of WP Database Backup is that it's easy to use. You can create new database backups with a single click. The restore process is just as simple.
However, keep in mind that WP Database Backup does not perform a backup of your entire site. To keep your data fully secure, we'd recommend installing a plugin that backs up your files as well.
Key features:
Manual and automatic database backups
One-click restores
Remote storage locations
Sort and search backup list
Backup reports
Pricing: WP Database Backup is free. If you want to access more cloud storage locations or a custom Elementor widget, you can purchase the premium version. This starts at $39 for a personal license.
Decision Time: Which Is the Best WordPress Backup Plugin?
Duplicator is the best WordPress backup plugin because of its comprehensive features. This tool allows you to easily create both full and database-only backups. Plus, you can use Duplicator to set up automatic backups, migrate your website to a new server, or build a staging site.
By now, we hope that you have a good understanding of which backup plugin is right for your needs. If you want to continue keeping your website secure, check out our guide on WordPress backups.
Are you ready to start backing up your website? Download Duplicator Pro today!