Are you not sure how to set up WordPress Multisite, or if you should?
WordPress Multisite is a powerful feature that enables you to control multiple sites within a single WordPress installation. This can make it easy to install the same plugins, perform backups, and apply consistent branding across different websites.
In this post, we'll show you everything you need to know about WordPress Multisite networks!
What Is a WordPress Multisite?
WordPress Multisite is a feature that allows you to manage multiple websites on one WordPress installation. It provides a centralized dashboard from which you can efficiently oversee and control a network of websites.
What Are the Benefits of WordPress Multisite?
Managing multiple WordPress websites can be a daunting task. You'll have to switch between different dashboards, handling individual software updates, backups, and other important management tasks.
Fortunately, WordPress Multisite solves this problem. Here are the main benefits of Multisite networks:
Centralized user management: Multisite simplifies user management, as users can log in with a single account and access multiple sites if they have the appropriate permissions. You can create new users, customize user roles, and send notifications to sub-site admins to build a strong network.
Cost-effective: Having multiple websites using a single hosting account can be a more affordable solution than separately hosting each site.
Enhanced scalability: Multisite allows you to expand your network of websites as needed, accommodating future growth and scaling effortlessly.
Consistent branding: Maintaining consistent branding and design becomes easier with Multisite, as you can apply the same themes and styles across all sites.
Simplified maintenance: Managing backups, security, and performance optimizations becomes more efficient when dealing with a single installation and shared infrastructure.
Ease of collaboration: Multisite fosters collaboration among contributors within the WordPress network, enabling shared access and streamlined workflows.
Improved SEO: WordPress Multisite allows you to implement consistent SEO strategies across all sites, enhancing search engine visibility and driving organic traffic.
Whether you're looking to establish a network of blogs, run multiple business sites, or cultivate a community of niche forums, WordPress Multisite can simplify web management and enhance productivity.
What Are the Disadvantages of WordPress Multisite?
While the WordPress Multisite feature offers many advantages, it also has some potential disadvantages:
Complexity: The setup and configuration process may be more involved, and troubleshooting issues can be more challenging. WordPress Multisite requires a higher level of technical expertise and understanding of the network's specific functionality.
Plugin and theme compatibility: Not all plugins and themes are fully compatible with WordPress Multisite. This can limit the options available for customization and may require finding alternative solutions or developing custom functionalities.
Performance: Depending on the size and traffic of the multisite network, performance can be a concern. A high-traffic site within the network can potentially impact the performance of other sites sharing the same resources. Careful optimization and scaling strategies need to be implemented to ensure optimal performance across all sites.
Dependency on network stability: As multiple sites rely on a single WordPress installation, any issues with the network can affect all the sites simultaneously. A network-wide technical issue or a misconfiguration can potentially disrupt all sites within the multisite network. Regular backups and a disaster recovery plan are essential to mitigate risks.
Limited flexibility: While WordPress Multisite allows for centralized management and consistent branding, it may limit individual site customization. Each site within the network shares the same core files, themes, and plugins. Tweaking the design or functionality of specific sites might require custom development.
When to Use WordPress Multisite
Usually, WordPress Multisite networks are best suited for these types of websites:
Websites with similar content, plugins, themes, and functionality
Websites that share a single server
Network of personal sites like blogs or portfolios
Network of client websites run by developers or web agencies
Let's take a look at a few examples. BBC America has a centralized network for all of its shows. There is a main website, along with several subsidiary sites, all within a single WordPress installation: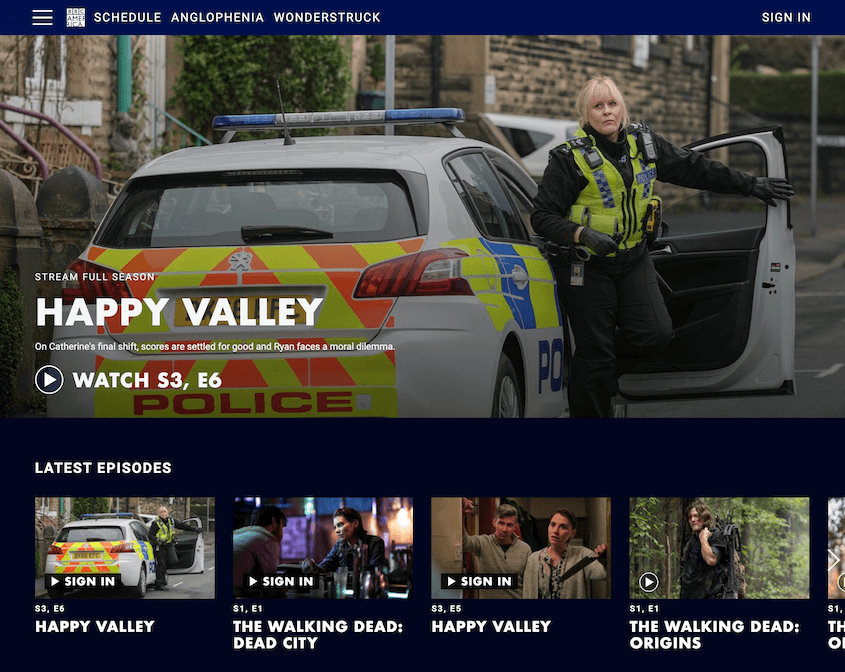 WordPress.com is another popular example. This network contains millions of different sub-sites run by bloggers. Unlike WordPress.org, all of these separate blogs are hosted on the same server: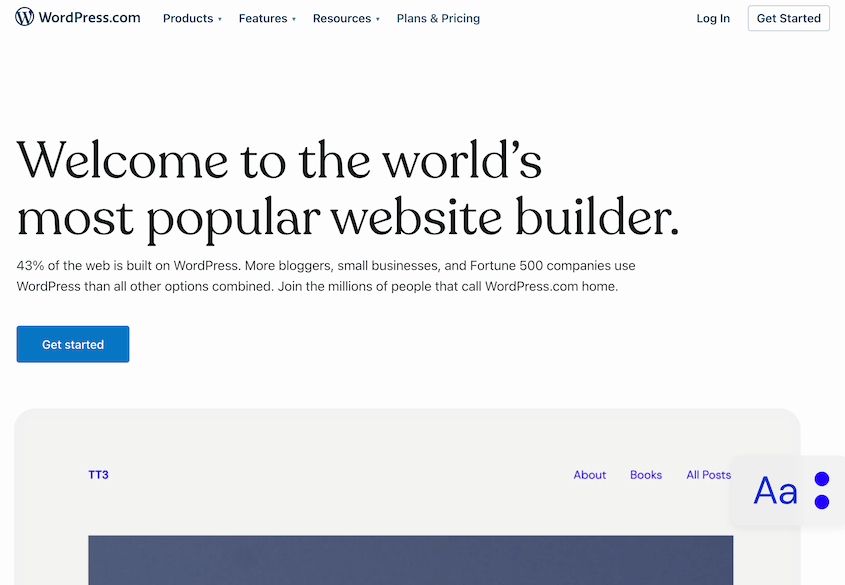 WordPress Multisite can also be useful for educational websites. Harvard Blogs is a network that allows college students and faculty to build their own blogs: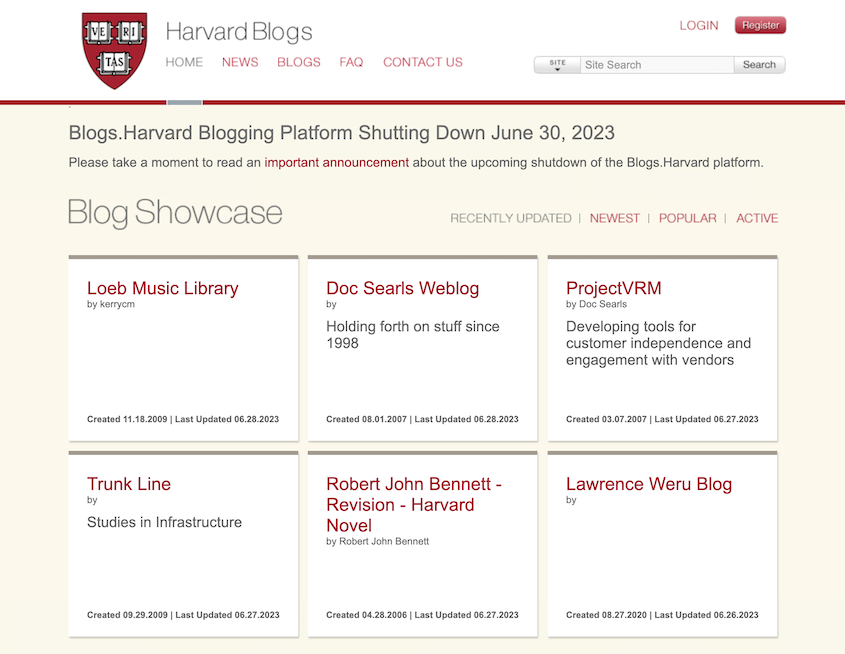 If you build websites for clients, you can use a Multisite network to set up your favorite plugins and themes on the sub-site. When you're ready to go live, you can simply migrate the site out of the network and onto its own server.
However, there are many reasons to have separate WordPress installations. Multisite networks might not be useful for websites with very different content, plugins, themes, or functionality. Plus, your business or personal site may not need to expand into sub-sites.
WordPress Multisite Hosting Considerations
Before you start setting up your first WordPress Multisite, you'll need to consider what WordPress host you'll use. As we mentioned earlier, this can make or break your network's performance.
First, think about your goals. If you never plan on having more than a couple of sub-sites, you can save costs and go with a shared hosting plan.
However, you may want to scale your network even more. In this case, you could benefit from a Virtual Private Server (VPS), managed hosting, or a dedicated server.
If you'd like to consider different hosting options, we'd recommend Bluehost. This hosting provider has a variety of plans, including shared, VPS, and dedicated hosting: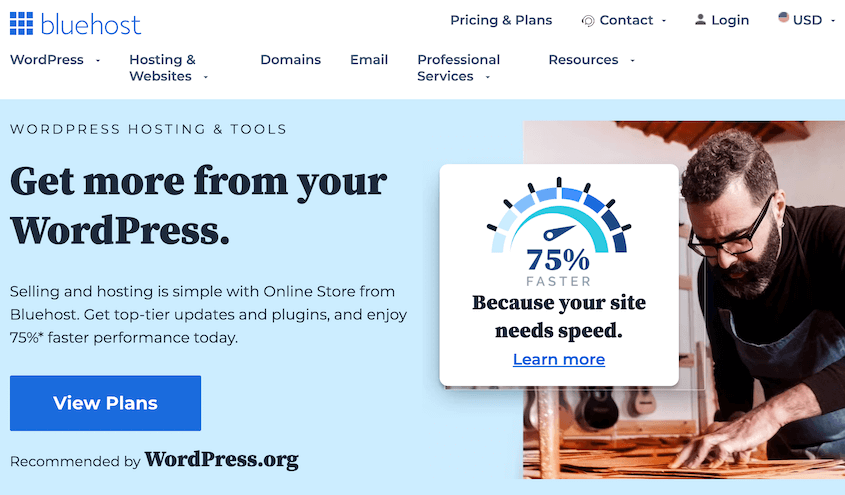 Compared to other web hosting services, Bluehost is an affordable option. No matter which level of hosting you choose, you can launch your new Multisite without breaking the bank.
How to Set Up WordPress Multisite
Once you're sure a WordPress Multisite will meet your business goals, it's time to set one up! Let's walk you through the process, step-by-step.
Step 1: Back Up Your Website
First things first, you'll need to back up your website. If you forget this step, you won't be able to restore your site if anything goes wrong during the network setup.
To easily create a backup, we'd recommend installing Duplicator Pro. This is the best WordPress backup plugin because it supports automatic backups, secure backup encryption, one-click restores, and cloud storage: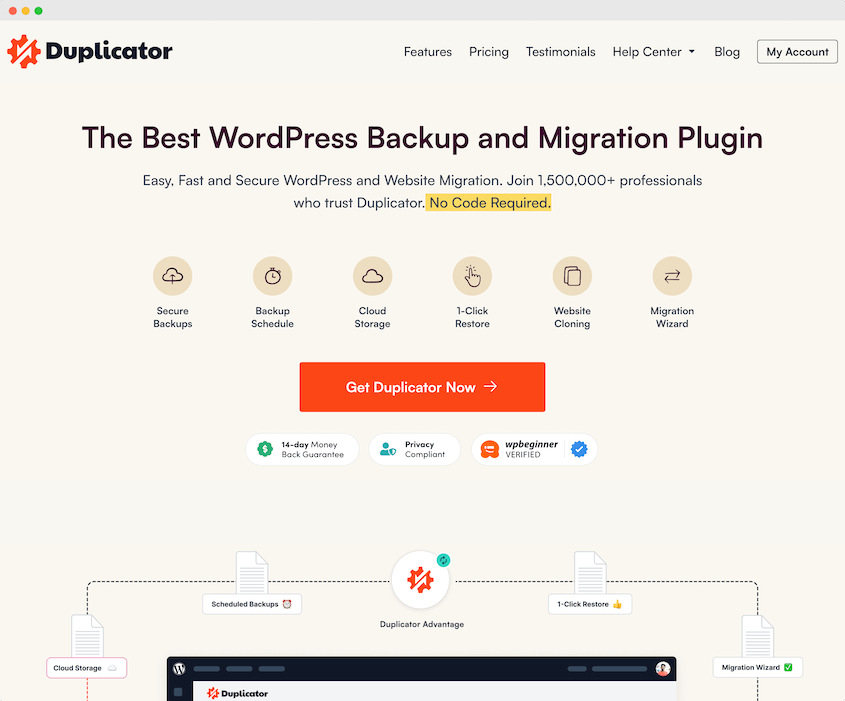 Be sure to select a subscription for Duplicator Pro. Although there is a free version, this doesn't support WordPress Multisite.
After your purchase, copy the license key. Then, open the WordPress dashboard for your original site. Install and activate Duplicator.
For more details, check out this tutorial on how to install WordPress plugins.
As a final step, find Duplicator Pro » Settings » Licensing and activate your license key: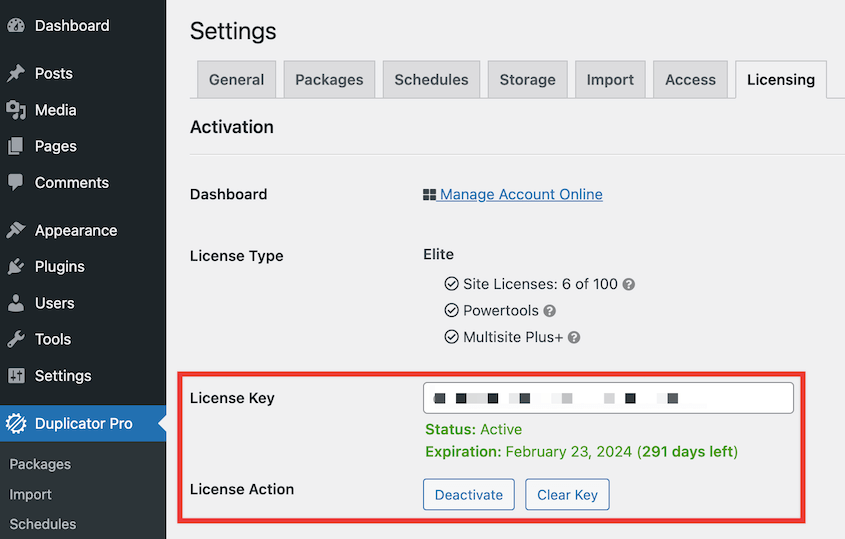 Now you can create your first backup! Simply navigate to Duplicator Pro » Packages » New: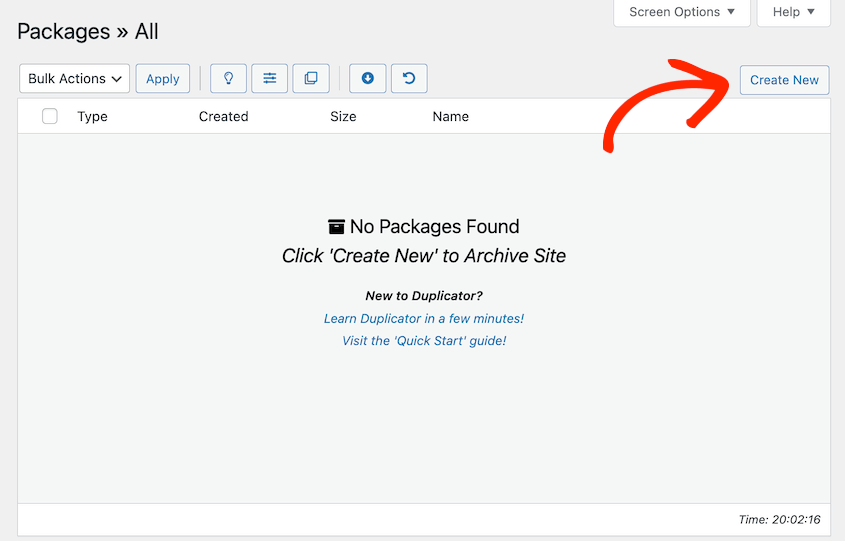 Name the package. Then, expand the Archive section. Here, you can customize exactly what data you want to be saved in the backup: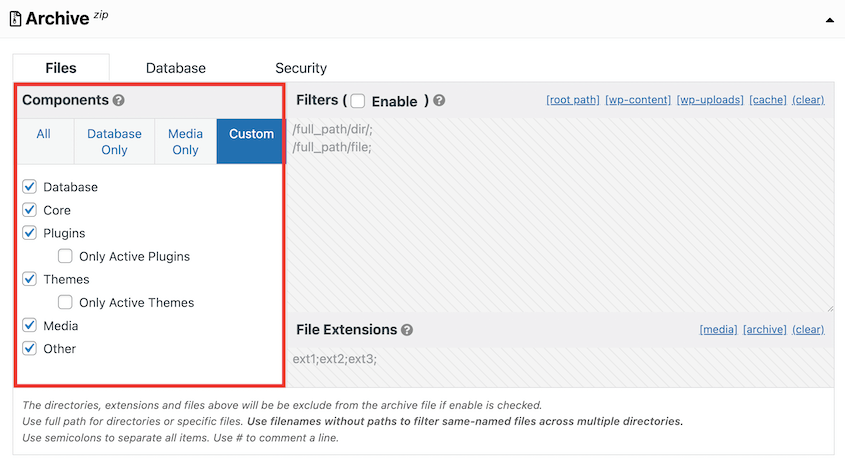 For a full backup, click on the All tab and hit Next. Duplicator will then perform a full scan before backing up the site: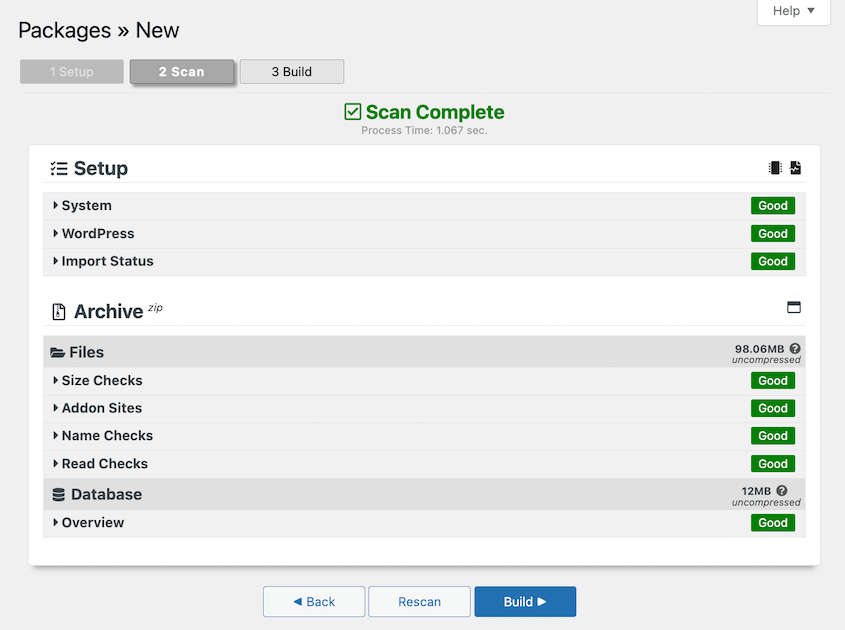 Once you build the backup, click on Download » Archive (zip):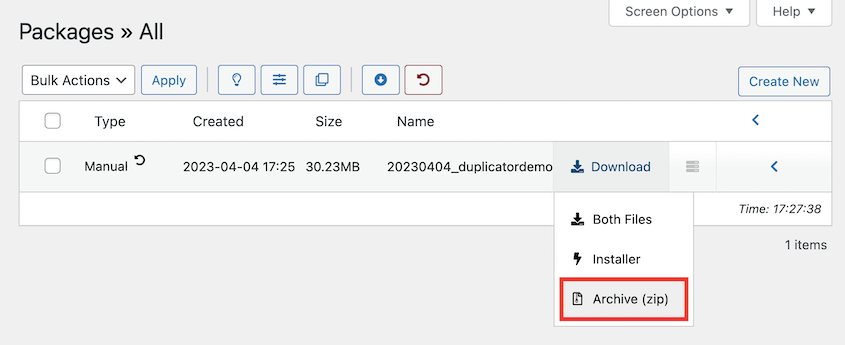 After this, you can continue setting up your WordPress Multisite!
Note: Before enabling Multisite, deactivate all active plugins. After you set up your network, you can reactivate them.
Step 2: Enable WordPress Multisite
In some cases, your hosting provider will set up a WordPress Multisite installation for you. However, you may have to do this yourself.
To get started, you'll need to open your site's files. You can do this by connecting to a File Transfer Protocol (FTP) client like FileZilla or cPanel. This will depend on your web host.
Next, open your wp-config.php file. Right before the That's all, stop editing! Happy blogging line, add this code:
/* Multisite */

define('WP_ALLOW_MULTISITE', true);
Save the file after this change. Then, open your WordPress admin dashboard and find Tools » Network Setup: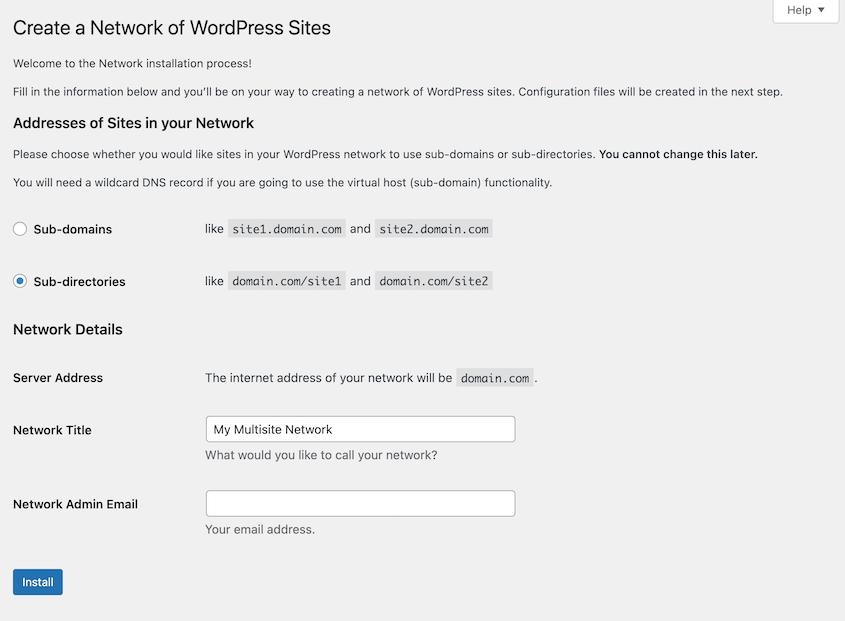 You'll have two options for setting up your sub-site addresses:
Sub-domains: site1.example.com
Sub-directories: example.com/site1
Keep in mind that sub-domains require domain mapping in your DNS settings. Don't worry, we'll walk you through that process later in this guide.
After choosing a site address, you can customize your network's title. You'll also need to add an admin email address. Then, hit Install.
Now, WordPress will provide some code to finish installing the network. You'll need to copy and paste this into your wp-config.php and .htaccess files: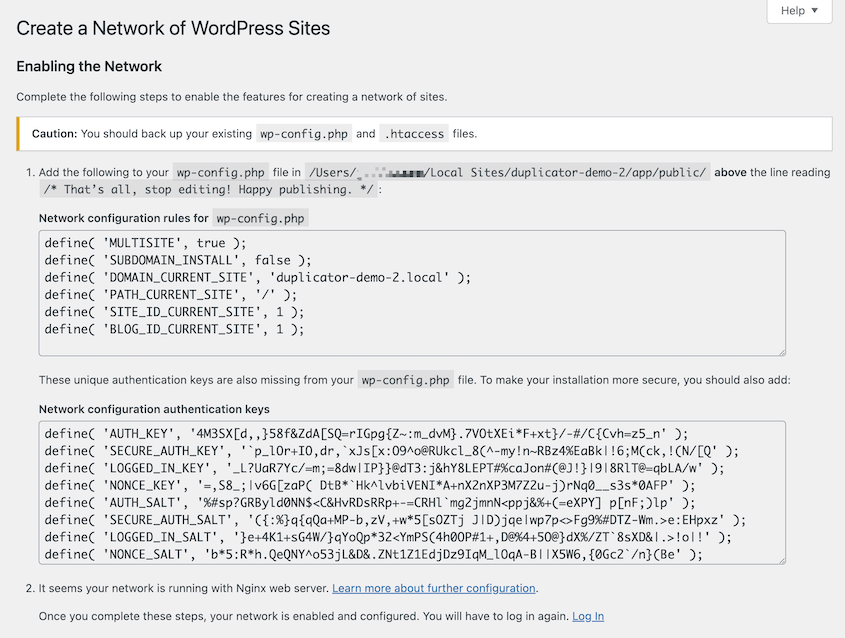 When you log back into your WordPress site, you'll now see a Multisite network dashboard: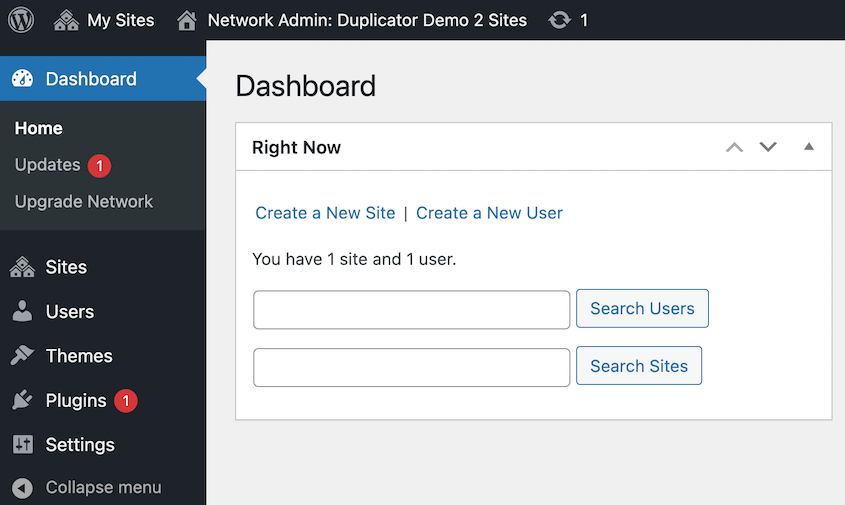 As a network administrator, you can create new sub-sites and manage their individual dashboards. Plus, you can install plugins and themes for the entire network.
Step 3: Create a Wildcard Subdomain
A wildcard subdomain is a DNS configuration that allows you to automatically create and map multiple subdomains to a single domain. This simplifies the process of adding and managing new sites within the network.
To enable wildcard subdomains for a WordPress Multisite network, you need to configure your DNS settings. First, sign into your WordPress hosting account. In this tutorial, we'll be using Bluehost.
Head over to Domains » Subdomains » Add Subdomain. Then, type an asterisk (*) into the field for the subdomain name. Select your domain name using the dropdown menu: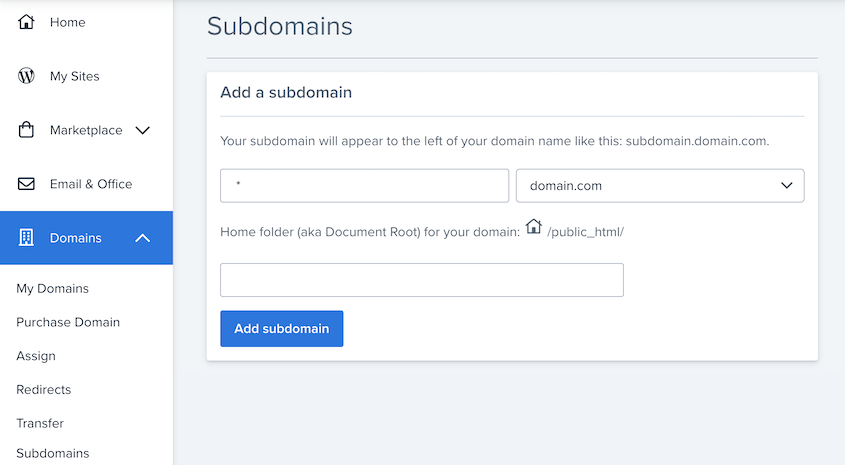 Leave the document root as the default option. Finally, hit Create.
Step 4: Import Sites Into the Network
Now that you've set up your network, it's time to create new subsites! To do this, simply go to My Sites » Network Admin » Sites. Then, click on Add New:

Next, enter the site's address and title. If you want to create a multi-lingual network, feel free to set up your new subsite in a different language. Lastly, choose an admin email and hit Add Site: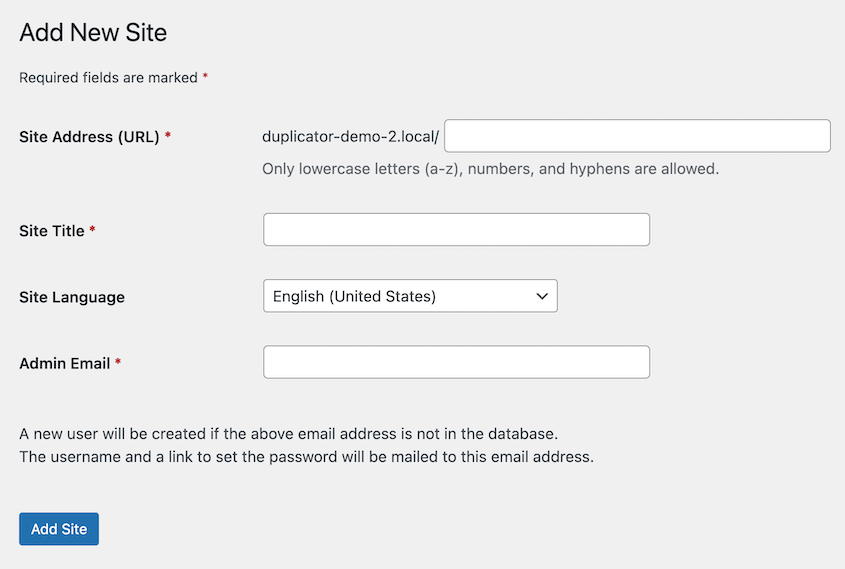 This will create a completely fresh site within your network. However, you may want to migrate an existing site into your Multisite. This can be useful for working on clients' sites as a freelancer.
Duplicator Pro makes it easy to transfer sites in and out of your network. You won't have to worry about data loss or a complicated migration process.
First, you'll need to create a package of the standalone site. Refer to the instructions in step 1 for more details.
On your network installation, go to My Sites » Plugins » Add New. Install Duplicator Pro and activate it for the network:

Then, find Duplicator Pro » Import. Drag and drop your package's archive file into the import box: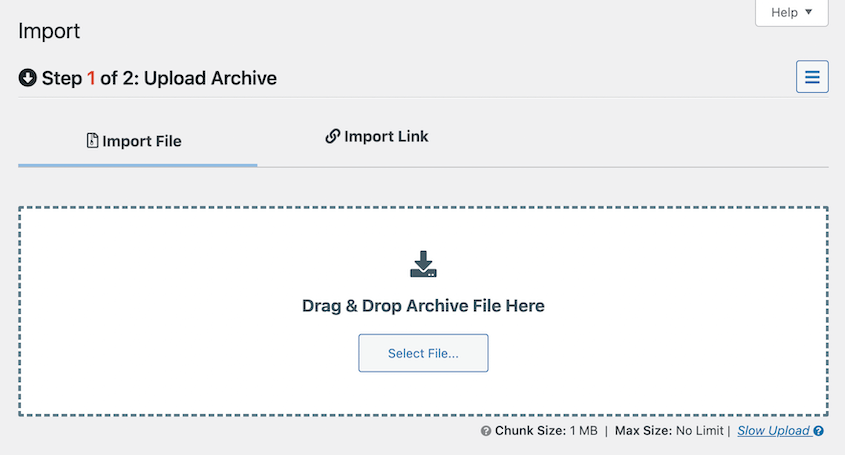 After it uploads, you'll see some details about the original site, as well as what's included in the package. To import it, hit Continue: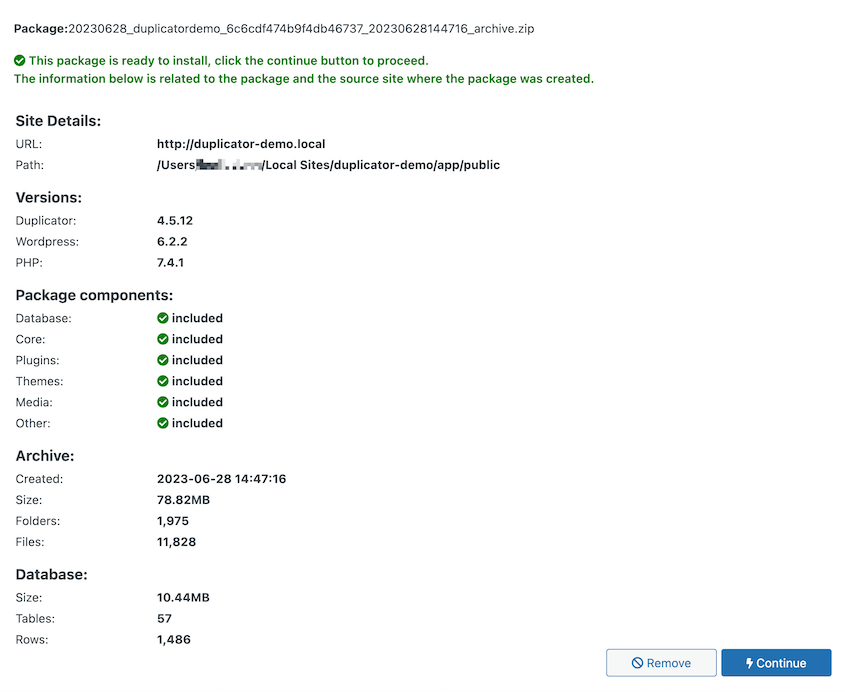 At this point, you could consider setting a recovery point for your network. Select the most recent backup and copy the generated recovery URL. You can use this to roll back your Multisite should the installation cause any issues: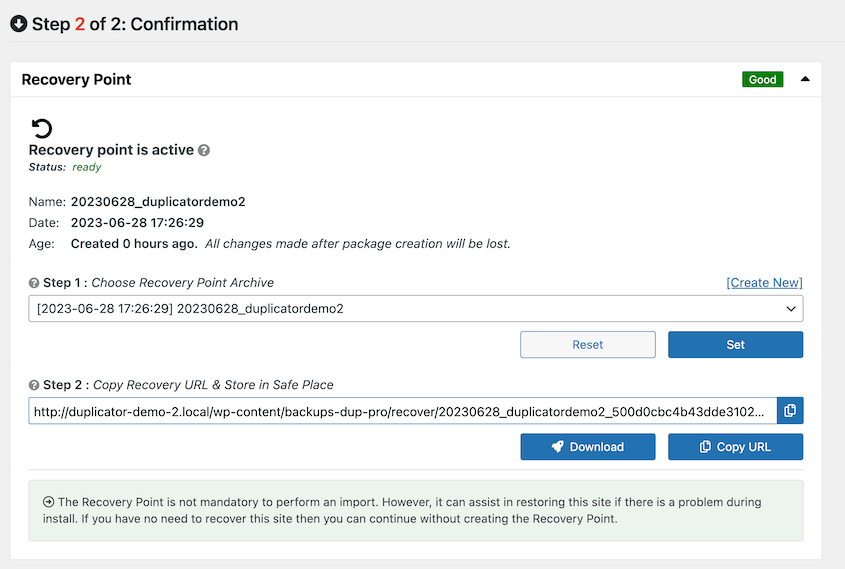 Once you have this safety precaution in place, scroll to the bottom of the page. Here, click Launch Installer:

In the Duplicator installer, you'll see the option to import a single site into your multisite network. Select this, and customize the URL path for the new sub-site: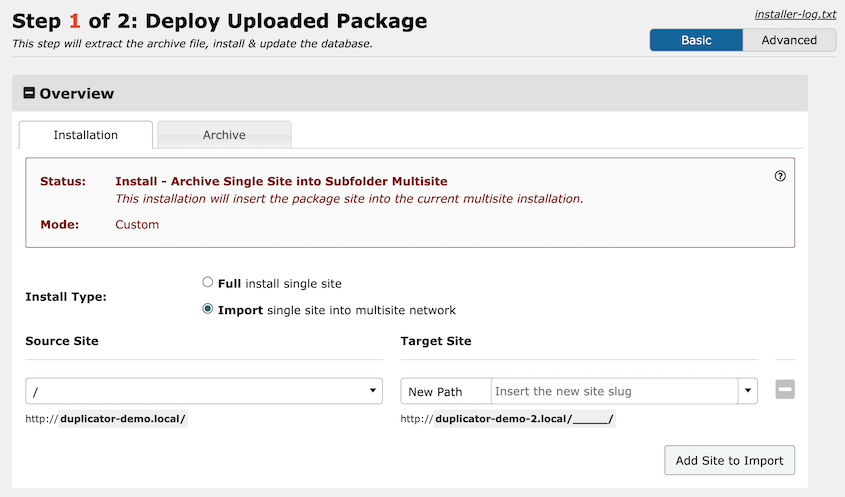 Accept the terms and notices and click Next. As a final step, you'll need to confirm that you have a recovery URL and run the installer: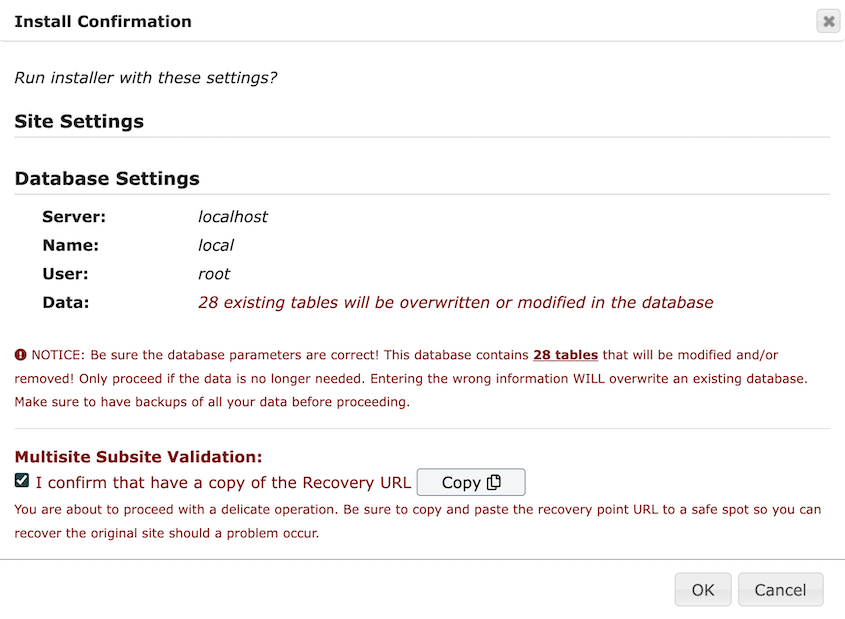 Duplicator will unpack the archive file and import it into your network. Once finished, use the Admin Login button to access your network again: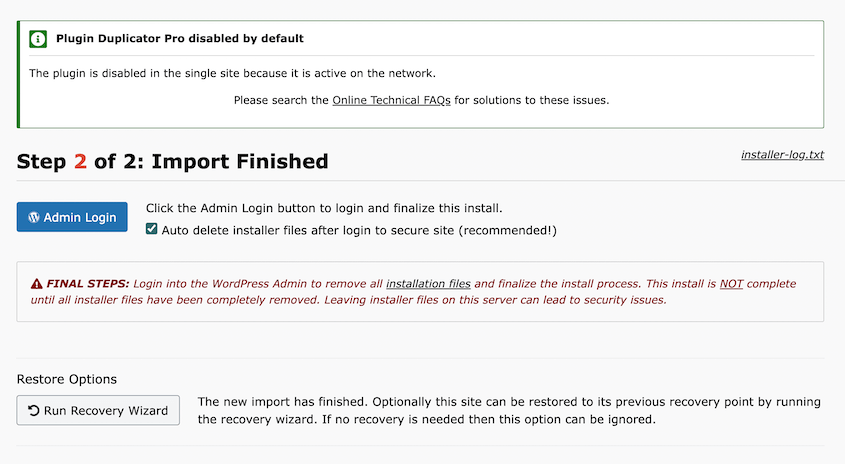 In your network admin, you'll see that you now have the original standalone site set up as a sub-site. It'll have its own dashboard just like every other WordPress site: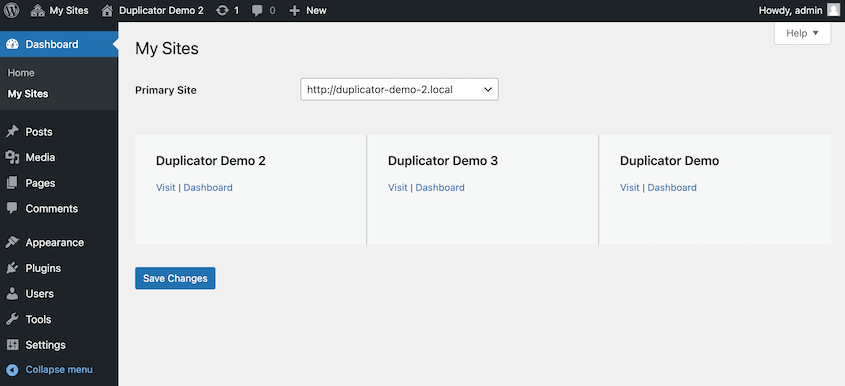 Continue to add as many sub-sites as you'd like!
How to Back Up Your Multisite Network
To make sure you never lose your Multisite network to cyber attacks, malware, server errors, or unexpected glitches, it's important to regularly back it up. Unlike many other backup plugins, Duplicator can save backups of all your subsites, even if you have a large network.
As a network admin, add a new package with Duplicator. You can decide to save backups on your local server or use a third-party cloud storage service like Dropbox or Microsoft OneDrive: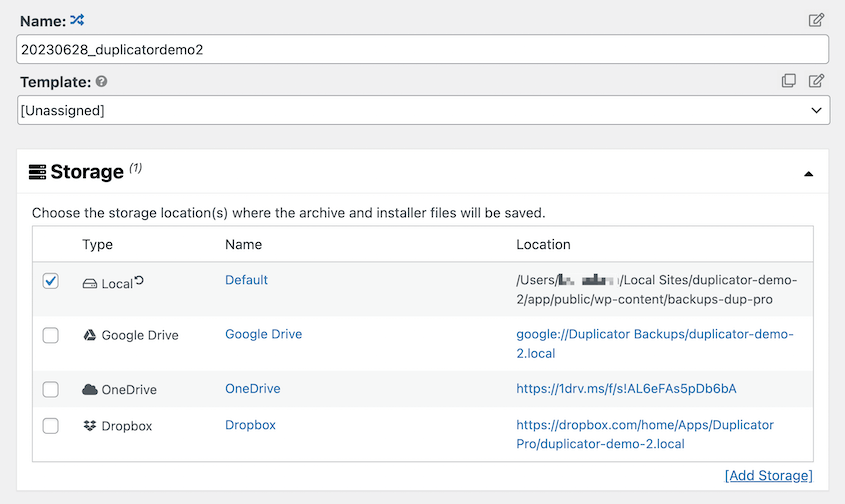 In the Archive section, click on the Multisite tab. This will allow you to select which subsites are included in the backup. To exclude a site, simply move it to the Excluded Sub-sites box: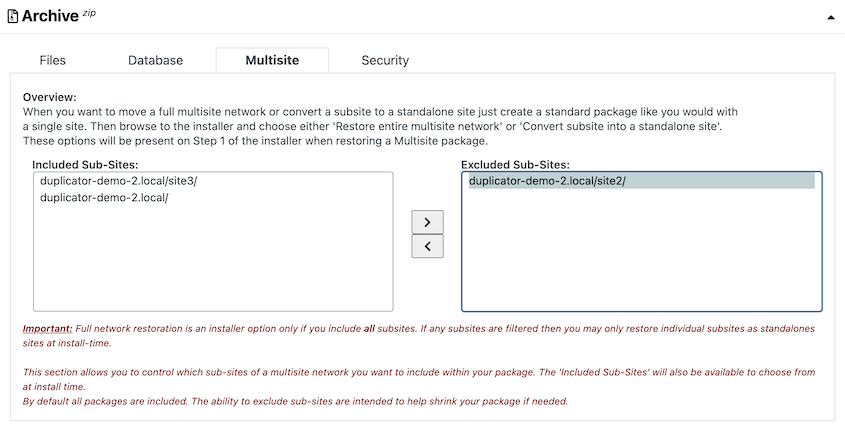 However, you can only restore your entire network if all subsites are included in the package. If you decide to filter them, you'll have to restore each subsite as a standalone site.
After you customize your archive file, hit Next. Review the site scan and click Build: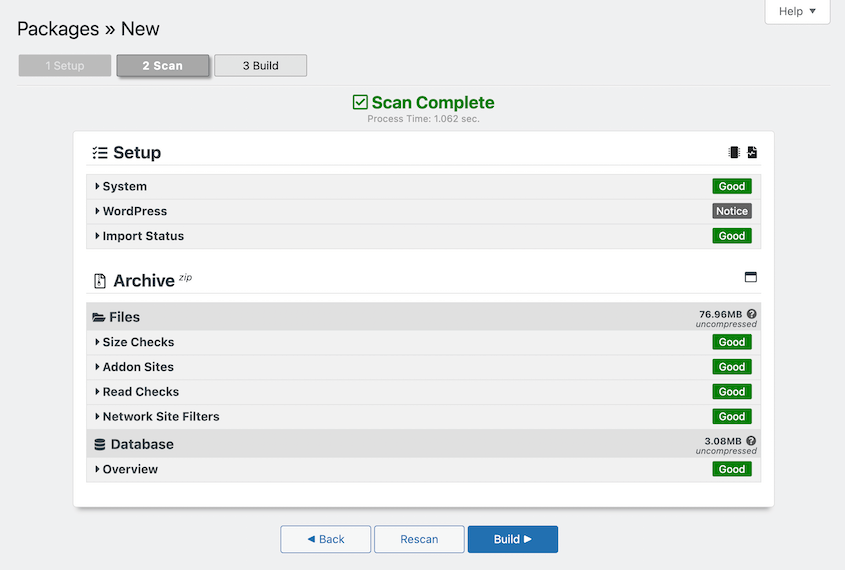 Duplicator will then back up your network!
Tip: As a super admin, you'll be managing updates and other management tasks for the whole network. To make backups easier, consider setting up automatic backups.
Frequently Asked Questions (FAQs)
What is the difference between a single site and multisite in WordPress?
A single site is a standalone WordPress installation that supports one website. On the other hand, Multisite allows a single WordPress installation to host multiple websites, each with its own separate content, themes, and plugins. All the sub-sites can be managed from a central admin dashboard on the main site.
Is Multisite good for SEO?
WordPress multisite can be beneficial for SEO when implemented and managed effectively. It allows for centralized management of multiple websites, potentially leading to improved site structure, easier content management, and consistent branding across sites. However, proper SEO optimization techniques are still crucial for achieving good results.
Does WordPress Multisite use the same database?
Yes, all sub-sites in a WordPress Multisite use the same database. Activating Multisite creates new database tables so that each site stores data separately.
Can Multisite have different themes?
Network admins can install themes and hit Network Activate to make them available to sub-sites. Then, sub-site admins can choose to activate them on their own sites. You can activate one theme on each subsite, but the network settings control which themes are installed.
Conclusion
That's it! We hope this guide helped you learn all about WordPress Multisite networks.
Are you looking for a way to migrate a site into your network without losing its current rankings? Check out our tutorial on SEO migration.
Want to easily migrate websites into and out of your WordPress Multisite? Download Duplicator today to access simple server-to-server transfers!