Are you not sure how to save your WordPress backup to OneDrive?
A cloud storage service like Microsoft OneDrive can be an effective place to store WordPress backups. Rather than overloading your web hosting plan, you can save backups off-site in the cloud. This ensures you always have an available backup when you need one.
This tutorial will show you how to back up WordPress to OneDrive!
The Benefits of Backing Up Your WordPress Site to OneDrive
Backing up your website is an important step in keeping your data secure. If you ever have a critical error or unexpected cyber attack, you can simply restore backup files you have on hand.
One of the easiest ways to create a backup is by installing a WordPress backup plugin. By default, these will usually save your backup on your local server. However, you might want to store backups off-site.
Fortunately, you can use a cloud service like Microsoft OneDrive as your backup storage location. Using OneDrive, you'll be able to access and download your backups even when your site is offline: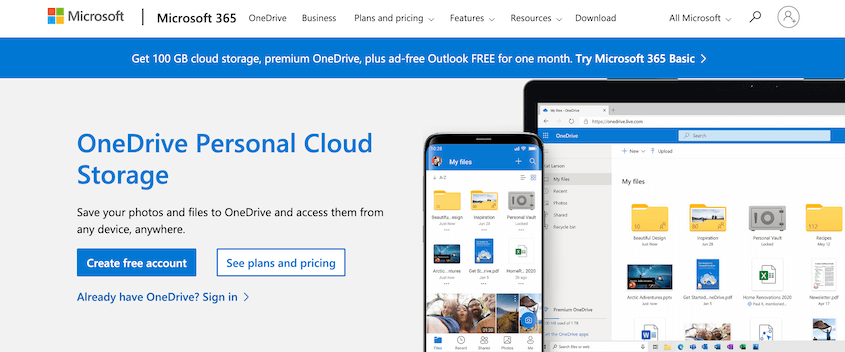 Here are some key benefits of backing up your WordPress site to Google Drive:
Security measures like ransomware detection
Off-site backup storage to easily recover your site after hacks or critical errors
Accessible backups from any device
Offline availability
Opportunities for team collaboration
Various plans to scale your storage space
With a free OneDrive account, you'll have up to 5GB of storage space. If you need room for more backups, you can upgrade to a Microsoft 365 subscription. The basic plan starts at $19.99 per year and comes with 100GB of cloud storage. 
How to Back Up WordPress to OneDrive
After you create a Microsoft account, you might not know how to send your WordPress backups to OneDrive. Fortunately, we'll walk you through every step of the way.
Step 1: Install Duplicator Pro
If you want to start using OneDrive as your cloud backup service, you could manually create a backup and then upload it to your OneDrive dashboard. However, there is an easier way.
Using a backup plugin like Duplicator Pro, you can instantly connect your WordPress website to your OneDrive account: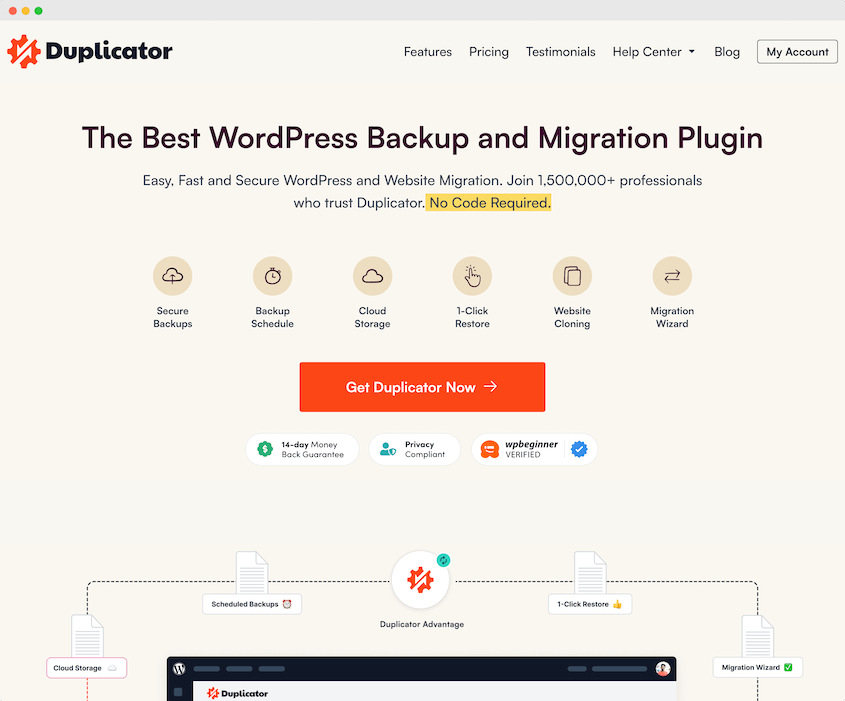 Duplicator is a beginner-friendly tool that allows you to create backups in minutes. It can also automatically save your WordPress backups to remote storage services like:
Microsoft OneDrive
Backblaze B2
Wasabi
Google Cloud
FTP
SFTP – SSH
Along with backups, Duplicator supports migrations and cloning. Using this plugin, you can easily migrate your site to another host, server, or domain name. You'll receive email notifications for any issues along the way.
To start using Duplicator's built-in cloud storage integrations, select a subscription for the Pro version. Although there is a free plugin available, it's important to upgrade so that you can get remote storage options. Unlike other backup plugins, you won't need any add-ons to get cloud storage functionality.
After your purchase, save your license key and download Duplicator Pro. Then, open your WordPress dashboard and install and activate the plugin.
As a final step, you'll need to activate your license key. To do this, go to Duplicator Pro » Settings » Licensing: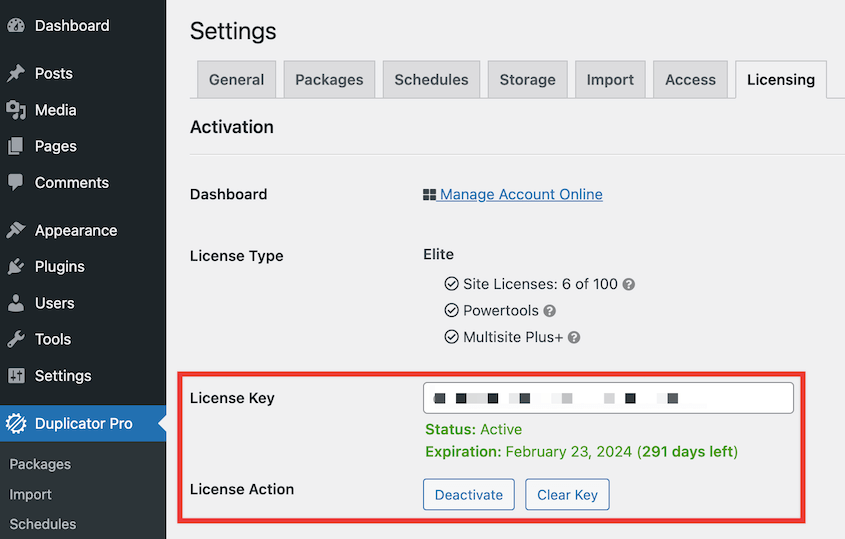 Paste your custom license key and click on Activate.
Step 2: Connect Your OneDrive Account
Although Duplicator supports a wide variety of cloud storage services, you can't start using any until you connect your third-party account. To get started, head over to Duplicator Pro » Storage. Here, you'll see that the default storage is your local server:

Click on Add New to start setting up your OneDrive storage. Give the new storage location a name. Then, select OneDrive in the Type dropdown menu: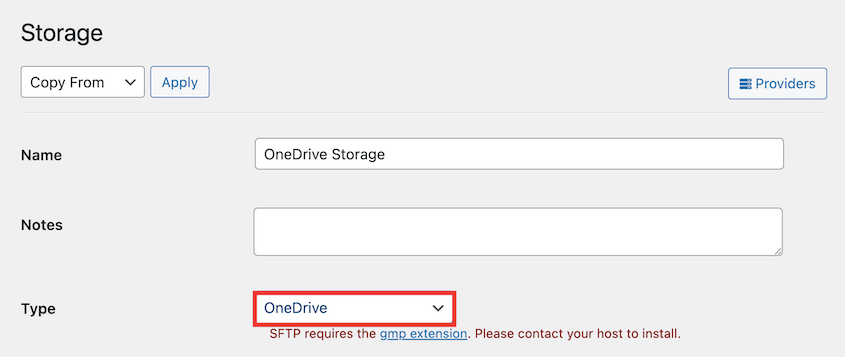 Now you'll need to authorize Duplicator to make changes to your OneDrive account. This will allow backups to be sent automatically to your third-party storage folder. Next to Authorization, hit Connect to OneDrive:

After this, you'll see new steps to authenticate the OneDrive connection. First, click on Authorize OneDrive:

This will open a new browser window, where you'll need to sign into Microsoft OneDrive. When prompted, allow Duplicator to create and update your OneDrive files: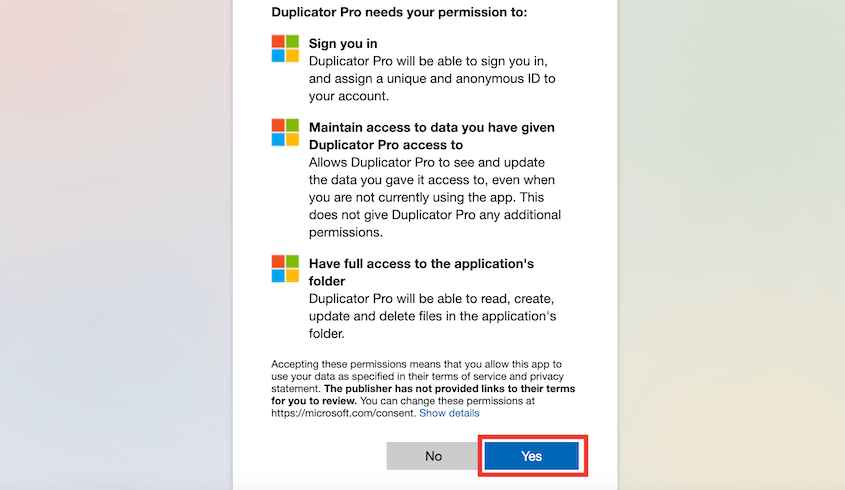 Once finished, you'll receive an authorization code. Copy this and paste it into Step 2 of the authorization guide: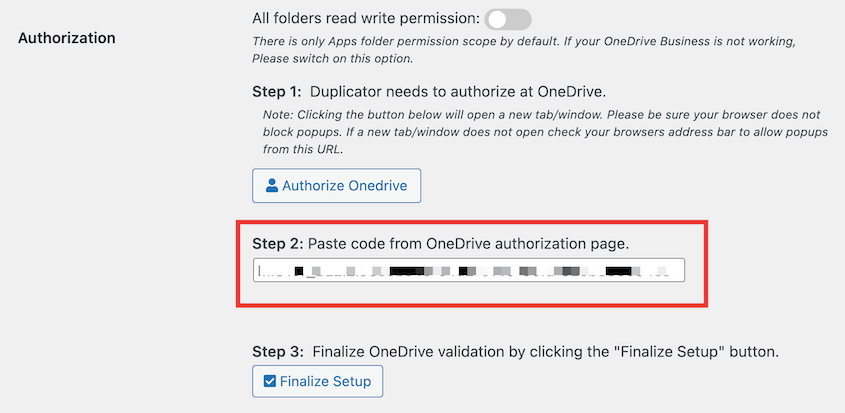 Finally, click on the Finalize Setup button. This will connect Duplicator to OneDrive!
If you have a free OneDrive account, you will only be able to store up to 5GB of backups. To make sure you don't surpass this, consider setting a number of Max Packages:

Duplicator will delete any old backups that exceed this limit. Plus, you won't have to sift through hundreds of backups to find the most recent copy of your website.
Step 3: Create a OneDrive Backup
Now it's time to create your first cloud backup! After you configure your OneDrive account, go to Duplicator Pro » Packages » Create New: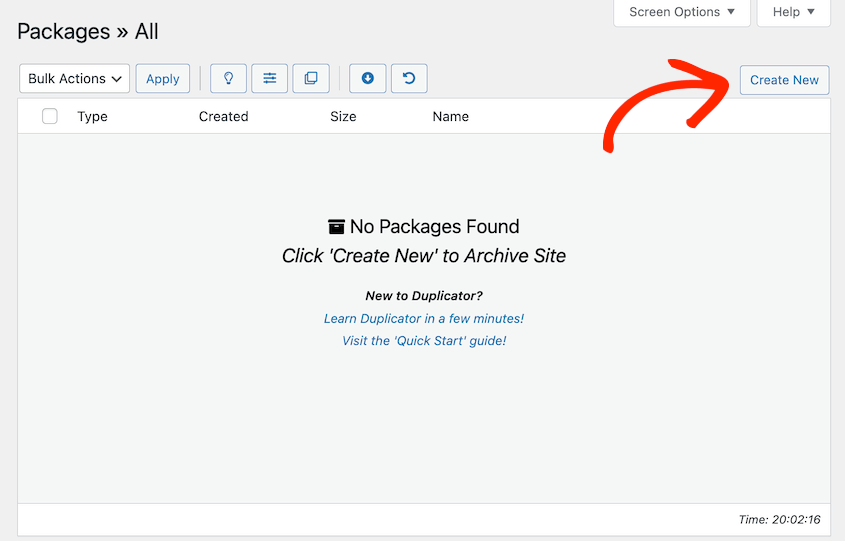 You'll notice that Duplicator automatically generates a name for the backup. However, you can edit this so you can easily find the backup later:

Next, expand the Storage section. From your list of storage options, select OneDrive: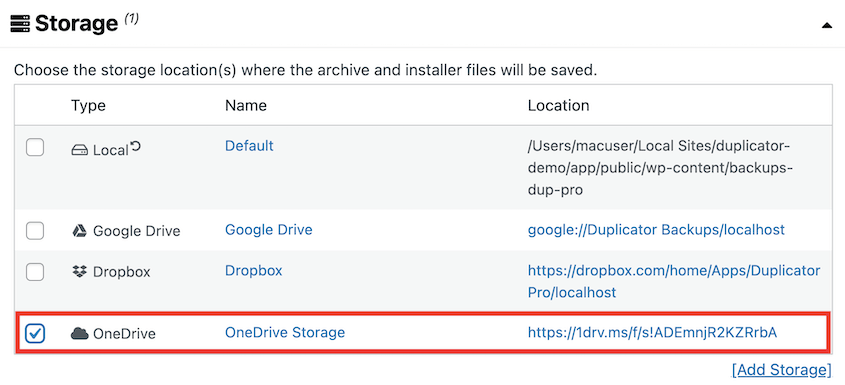 Once you click Next, Duplicator will scan your website. Be sure to look over any notices before continuing: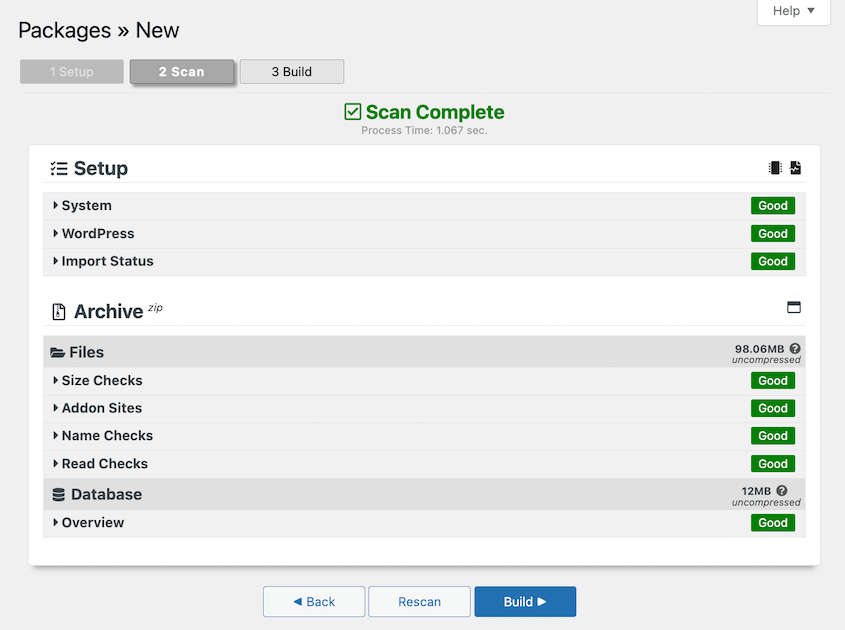 Then, your website will be compiled into a backup. Once the package files are built, Duplicator will transfer them to your OneDrive folder.
Step 4: Set Up Automatic Backups
With Duplicator, creating manual backups is pretty easy. However, you might want to save time with scheduled backups. By setting up an automated backup schedule, your backups will be created and sent to OneDrive without any assistance from you.
To schedule a backup now, head over to Duplicator Pro » Schedules » Add New: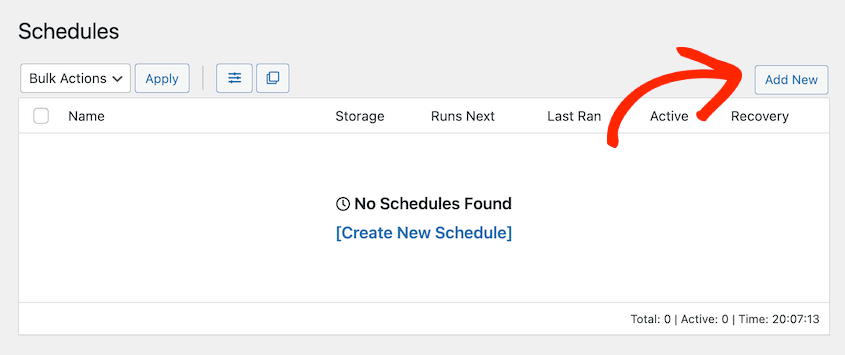 Give your schedule a name. If you want to customize what data is saved in the backup, feel free to create a package template. However, select Default for complete backups:

Under Storage, choose OneDrive:

Now you can customize exactly when Duplicator will back up your site. The plugin supports monthly, weekly, hourly, and daily backup schedules. Using the dropdown next to Repeats, select one of these options: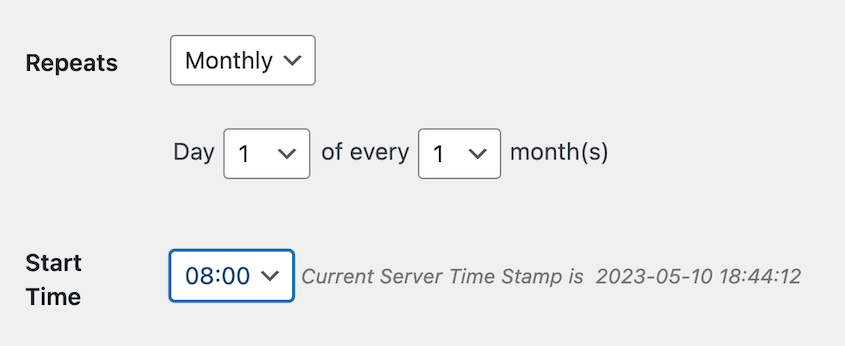 Then, choose a date and time for your backup schedule. Lastly, enable the schedule and save it: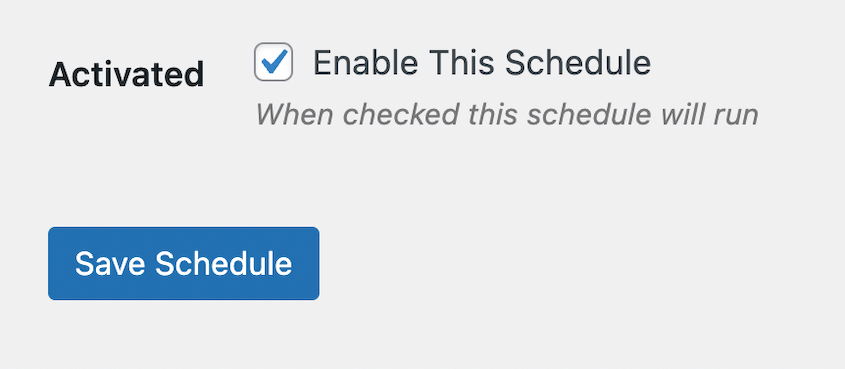 This will keep your site backed up regularly! Since your backups will be sent to OneDrive, they'll be safe from server crashes or other errors.
How to Restore Your OneDrive Backup
At some point, the worst might happen. You could end up losing your site to a hacker or accidentally breaking something in your files. When this happens, you can easily restore your website and get it back online.
Simply sign in to OneDrive and find your Duplicator backup files. There should be an archive and installer.php file for your most recent backup:

Next, select the archive file and download it:

Note: If you can't access your WordPress dashboard, you'll need to download both the archive and installer files. Then, upload them manually to your site using a File Transfer Protocol (FTP) client.
Open your website and go to Duplicator Pro » Import. You can drag and drop this archive file to upload it: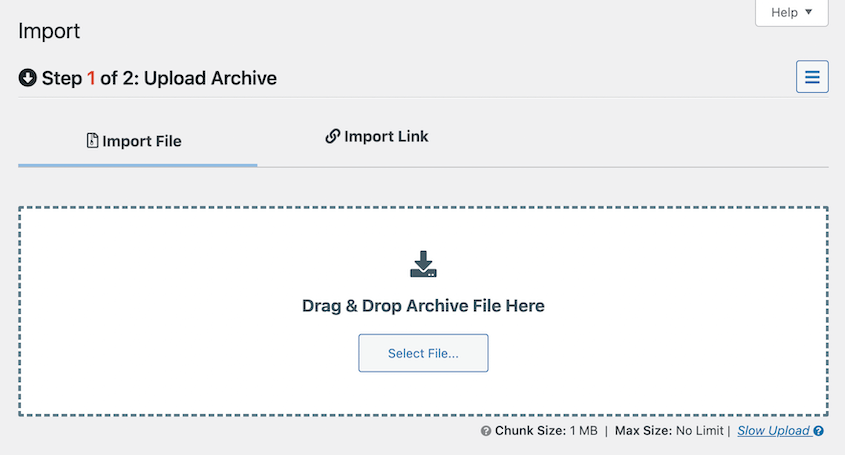 Once it's ready to install, hit Continue: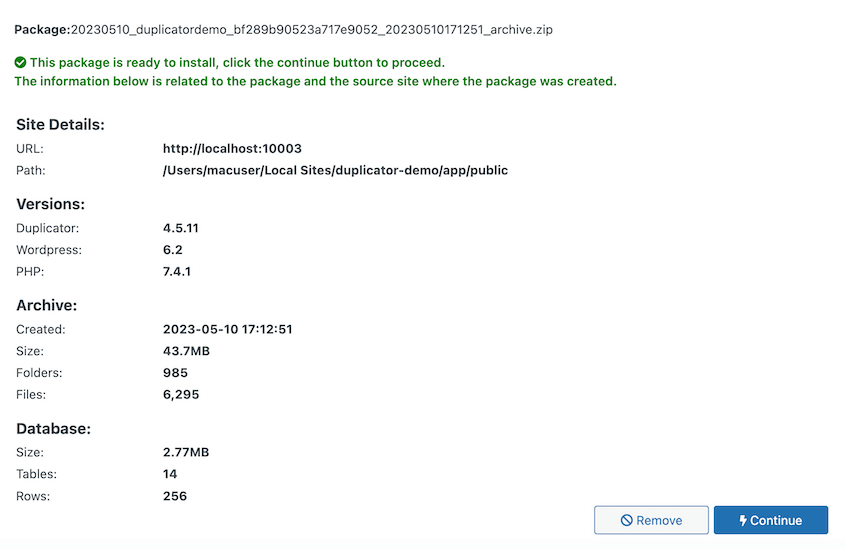 You'll then see some information about the current site. To start the installation, click on Launch Installer:

This will open the Duplicator installation wizard. Be sure to select Restore single site to recover your site backup: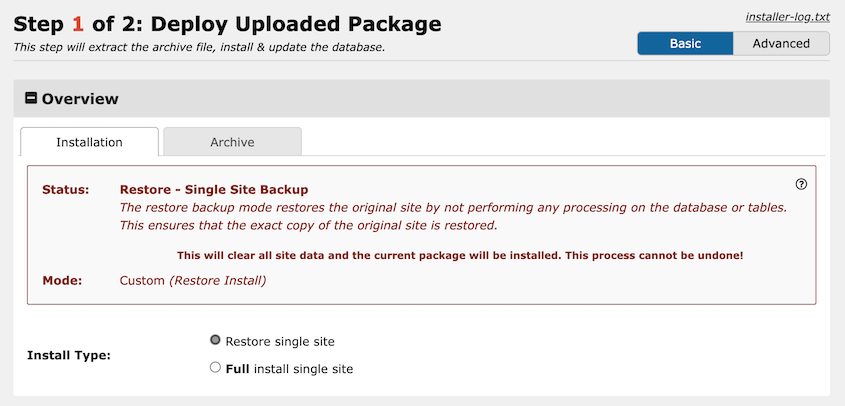 Scroll down to the bottom of the page and accept the terms and conditions. After you hit Next, you'll need to confirm the installation in the pop-up window: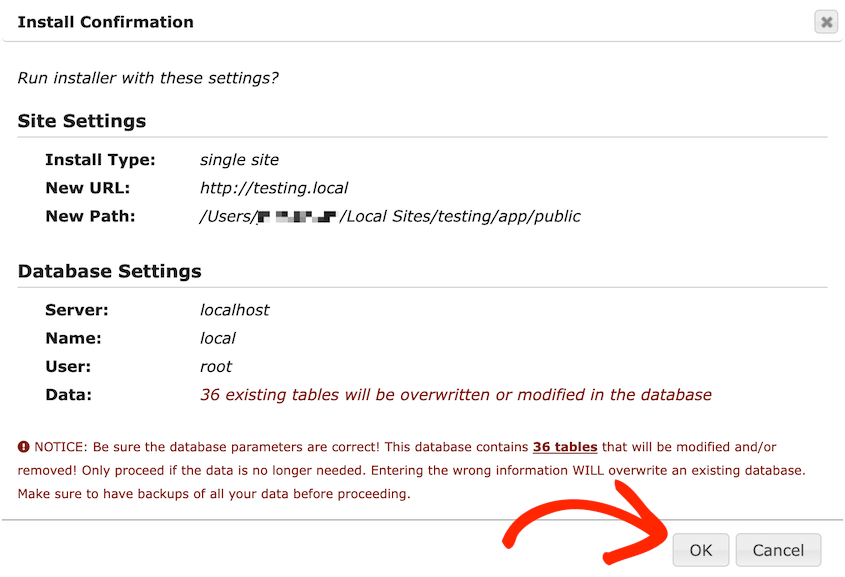 Automatically, Duplicator will import the uploaded backup. When it's ready, use the Admin Login to access your restored site: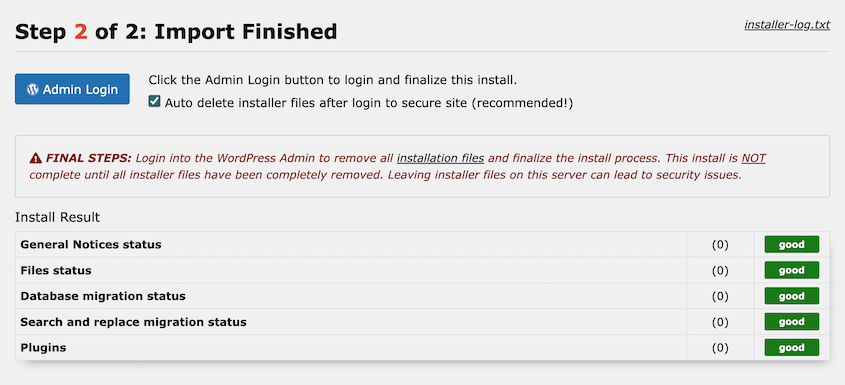 You can do this for any of your OneDrive backups!
Frequently Asked Questions (FAQs)
Can I use OneDrive as my backup?
Yes, you can use OneDrive as a backup service for your WordPress site. You'll simply have to install a backup plugin like Duplicator Pro. Then, connect your OneDrive account and select OneDrive as your preferred storage location.
How do I back up my whole WordPress site?
You can back up your entire site by installing Duplicator Pro. Using this backup plugin, you can package all of your WordPress files, themes, plugins, and database tables into a single zip file. Duplicator can even back up large sites and WordPress Multisite networks. You'll also be able to save your backups to a cloud storage location like OneDrive.
What is the best free backup for WordPress?
Alternatives: UpdraftPlus, WPVivid, and BackWPup are also popular options. UpdraftPlus backups can be sent to extra storage locations like Rackspace Cloud and WebDav, but this requires a paid subscription.
How long do files stay on OneDrive?
OneDrive may delete files if your account has been inactive for 12 months. Your account can also be frozen if you exceed your storage quota. To prevent this from happening, you can use Duplicator to set the maximum number of backups that are allowed to be stored in OneDrive.
How do I back up my WordPress site for free?
You can back up your WordPress site for free using Duplicator Lite. After installing this free plugin, you can create full backups of your site files and database. Then, download them to easily restore your website if you need to.
Note: Duplicator Lite will automatically save backups on your local server. If you want to use cloud storage like Microsoft OneDrive, you'll need to upgrade to Duplicator Pro.
Conclusion
That's it! You've saved your first WordPress backup to OneDrive.
Before you go, you might enjoy these extra tutorials and guides:
Do you want to easily store your backups in the cloud? Download Duplicator Pro to automatically send site backups to OneDrive, Dropbox, Google Drive, and more!