Do you need to migrate your WordPress site to a new domain?
If you want to rebrand your website, you can easily migrate to a new domain name. With a plugin like Duplicator Pro, you'll be able to upload your original files to the new site and completely import your old content.
In this post, we'll give you a step-by-step guide on how to easily migrate a WordPress site to a new domain name!
Why You Might Want to Migrate Your Site to a New Domain
If it's been years since you first launched your site, it might be time for a change. One easy way to rebrand your content is by moving to a new domain name. This means that you'll have a completely different address for your WordPress website.
Here are some other reasons why you may need a new domain name:
A better domain name has become available.
You want to have a Top-Level Domain (TLD) instead of a free domain or subdomain.
You just acquired ownership of a website.
Your current domain name needs to be more readable or memorable.
Whatever the reason, you'll want to find an easy (and safe) way to move your old content. This way, you can quickly update your domain without losing your current audience.
How Domain Migration Affects SEO
Before you decide to change your domain name, it's important to consider Search Engine Optimization (SEO). Currently, search engines have crawled your website for a specific domain. When you change it, this can temporarily decrease your rankings.
After you migrate your WordPress site to a new domain, you'll probably experience lower organic traffic. However, there are ways you can minimize this impact.
Throughout this tutorial, we'll show you how to migrate to a new domain while considering your SEO. Here are some crucial steps to take during the process:
Redirect old URLs using 301 redirects
Notify search engines about the domain change
This might seem complicated, but we'll walk you through every step along the way. By migrating your site the right way, you'll keep your traffic as consistent as possible.
How to Migrate a WordPress Site to a New Domain (With No Downtime)
Before you get started, you'll need to purchase a new domain name. You can do this through a domain registrar, your current web hosting provider, or a new host.
Then, make sure you can access the WordPress dashboard for both your original and new sites. After you find your credentials from your hosting provider, log in by searching for yourdomain.com/wp-admin/.
Step 1: Install Duplicator
As a beginner, you might not want to migrate your WordPress site manually. During this process, you'll have to be familiar with editing your site files. To avoid accidentally breaking your website, consider installing a migration plugin instead.
One of the best WordPress plugins for migrations is Duplicator. With this tool, you can quickly package your current website files and database into a moveable zip file. This prevents you from having to download all of your current site data manually: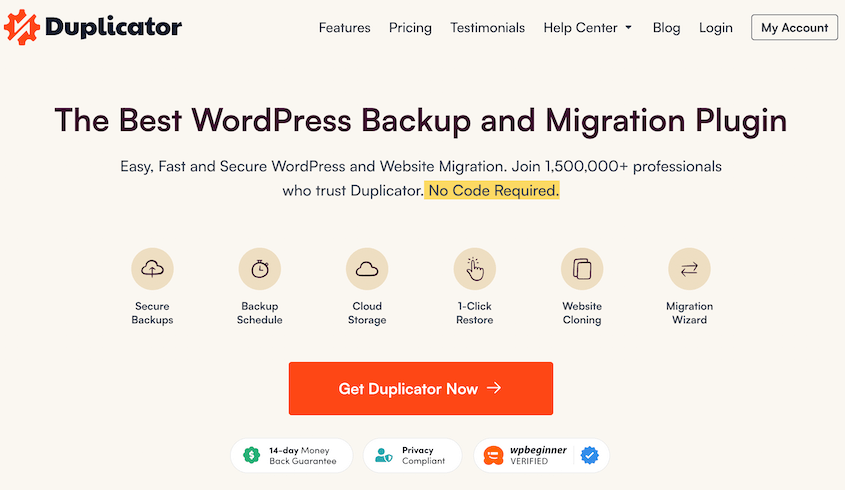 Plus, Duplicator Pro comes with drag-and-drop functionality. After you build a package of your current website, you can simply drop it into the site with your new domain. Using the Duplicator installation wizard, you'll quickly and easily have your old content on a different domain name!
To get started, select a subscription for Duplicator. Although we offer a free version of the plugin, Duplicator Pro includes drag-and-drop migrations. Ultimately, this makes it much easier to migrate your site.
After you check out, open the WordPress dashboard for your old site. Then, install and activate the Duplicator plugin. If you need help, check out this plugin installation guide.
Lastly, you'll need to activate the license key that you received with your purchase. To do this, go to Duplicator Pro » Settings » Licensing: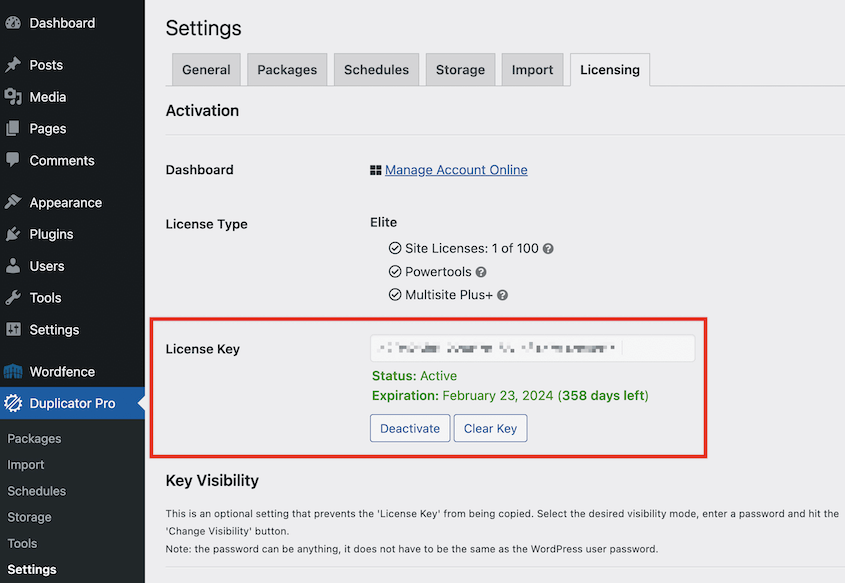 Paste your license key in the Activation section. Once you click Activate, you can start using Duplicator!
Step 2: Build a Duplicator Package
Before migrating your website, you'll need to create a backup. Fortunately, Duplicator is also a backup plugin. You can use it to easily back up your site files and database into a packaged zip file.
First, find Duplicator Pro » Packages » Create New: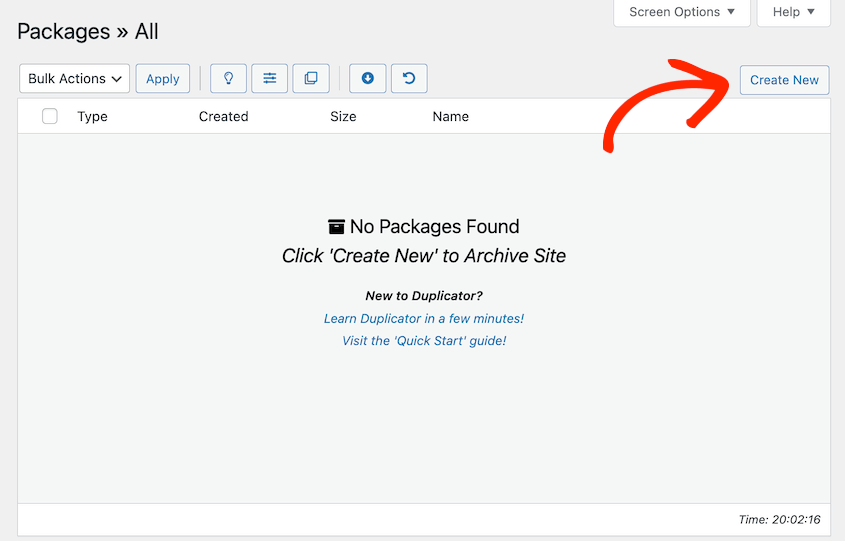 Now, give your package a name. Since you'll be backing up your entire website, there's no need to change any of the package settings. To continue, hit Next: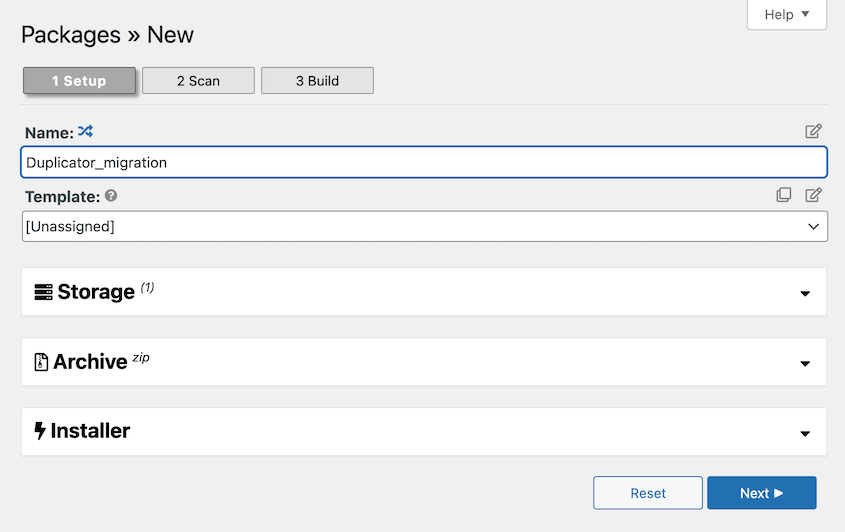 On the next screen, Duplicator will automatically check your website for any issues. This scan will give you a notice when there is something wrong with your site's setup. Be sure to review these notices before clicking Build: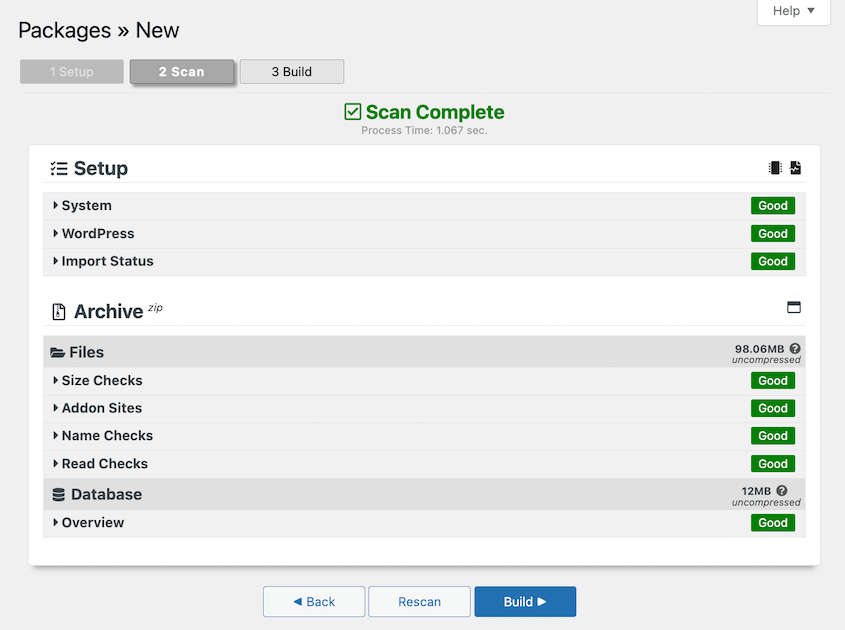 The plugin will then take a few minutes to package all of your website's data. Once finished, you'll see your new backup on the Packages page. Next to the package you just built, select Download » Archive (zip):

This will download your site's archive file to your local computer. The archive will contain your WordPress files, including your plugins, themes, uploads, permalink settings, and other custom data.
Tip: If you're using Duplicator Lite, you'll also need to download the installer file. This PHP file will unpack the archive and perform the migration. However, Duplicator Pro allows you to simply drag and drop the archive file into your new website.
Step 3: Create a New Database
For the next step, you'll need to create a new MySQL database. This is the database where you'll upload your original WordPress files.
Note: If you already created a new database for your new domain, skip this step!
To get started, log into the control panel for your hosting account. Keep in mind that creating a new database might look different depending on your host. In this tutorial, we'll be using Bluehost.
Once you log in, find your cPanel dashboard. Here, you should see a Databases section. To continue, open MySQL Databases: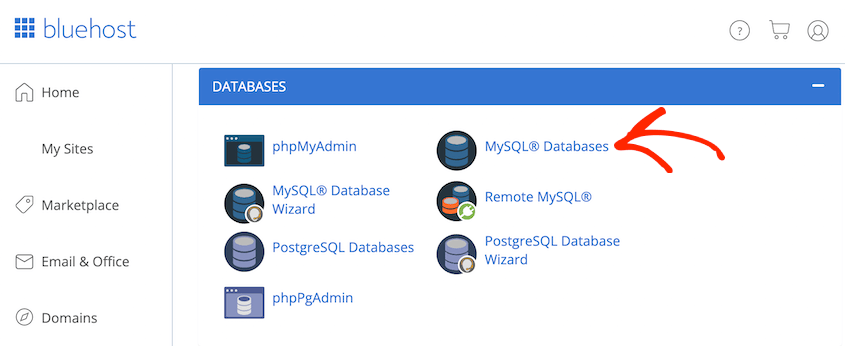 Then, create a database by giving it a name: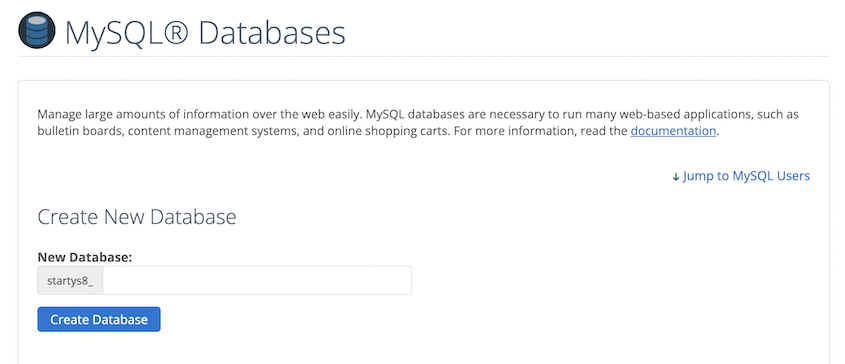 You'll also need to add a new user to the database. Under MySQL users, create a unique username and password for the database user: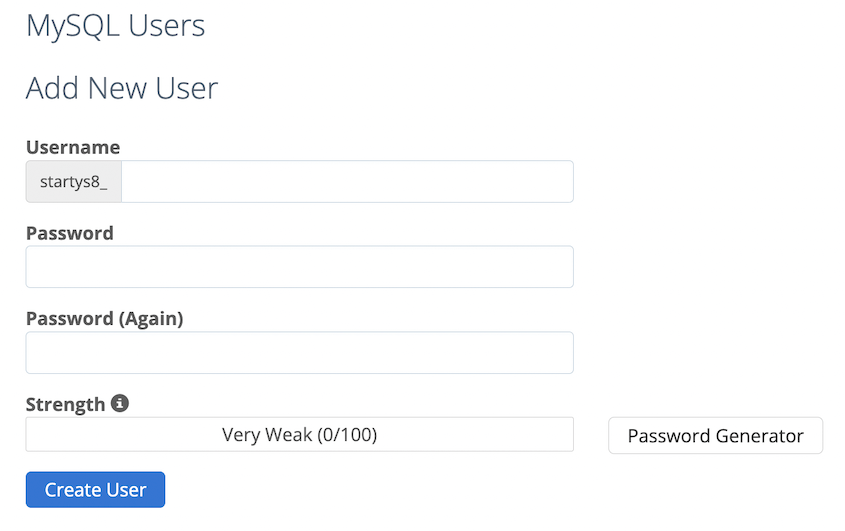 Lastly, find the Add User to Database settings. From the dropdown menu, select the user and database you just created: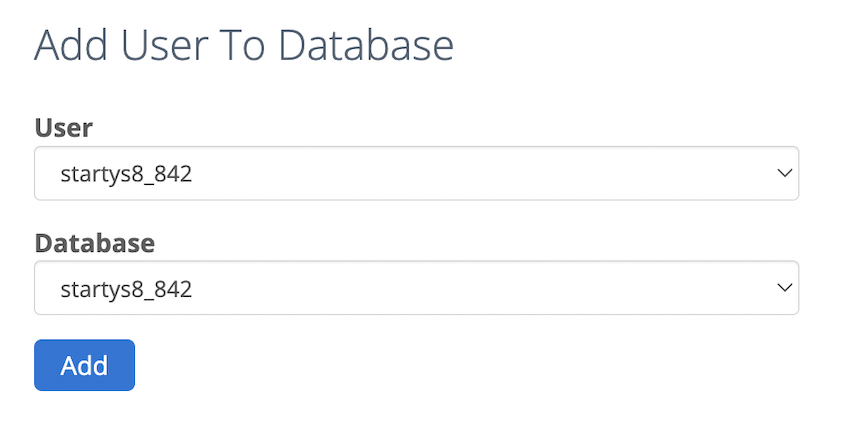 Now that you've created a database, you can continue to the next step!
Step 4: Import Your Website
To import your original website into the new domain, you might think you have to upload the files using an FTP client. However, Duplicator Pro simplifies this process.
First, find your WordPress login credentials for your new domain. Then, sign into your dashboard. Like with your original site, install and activate Duplicator Pro.
On the second site, go to Duplicator Pro » Import. Here, drag and drop your original archive file into the upload box: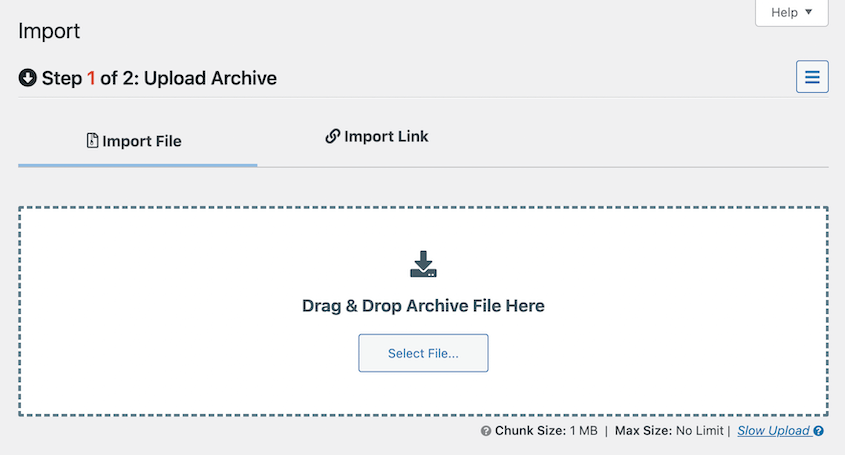 Duplicator will then tell you that the package is ready to install. After this, hit Continue: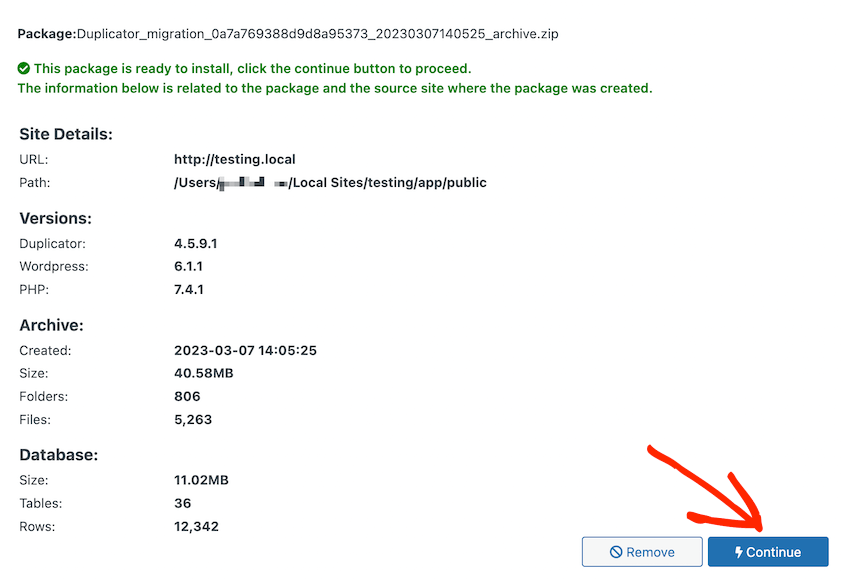 Now, you can consider setting a recovery point. This will restore a previous package of your site if anything goes wrong during the installation.
To do this, make sure you've created a recent backup of the site. Then, choose that archive and copy the recovery URL. If you can't access your dashboard at any point, paste this URL to launch the Duplicator recovery wizard: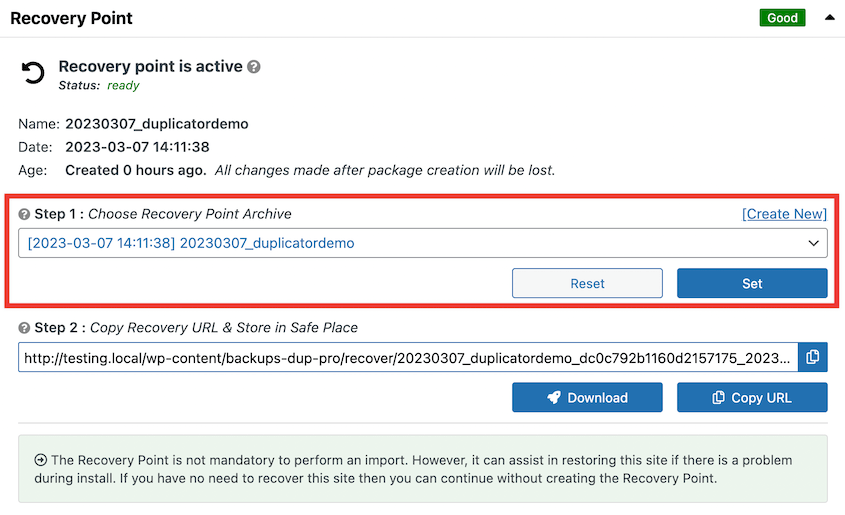 Since you're migrating to a new domain, this second site likely doesn't have any important data in it. You don't have to set a recovery point before clicking on Launch Installer:

At this point, you'll see the Duplicator installer wizard. For the Install Type, be sure to select Full install single site. Then, hit Validate: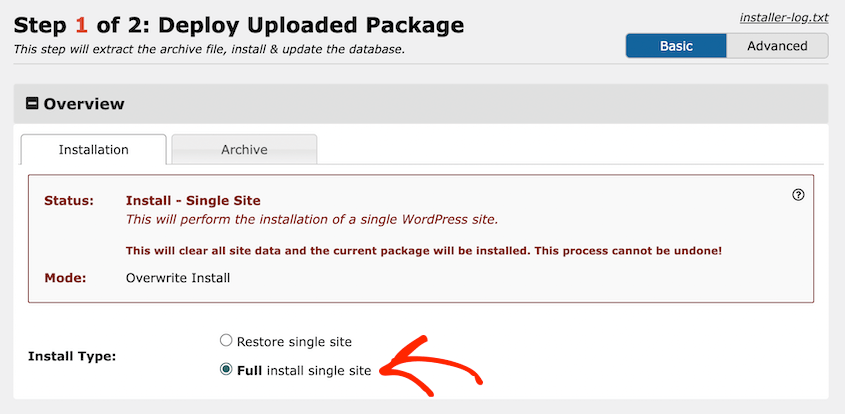 Duplicator will check the installation and give you notices for any issues. To continue, select the terms and notices checkbox and click Next: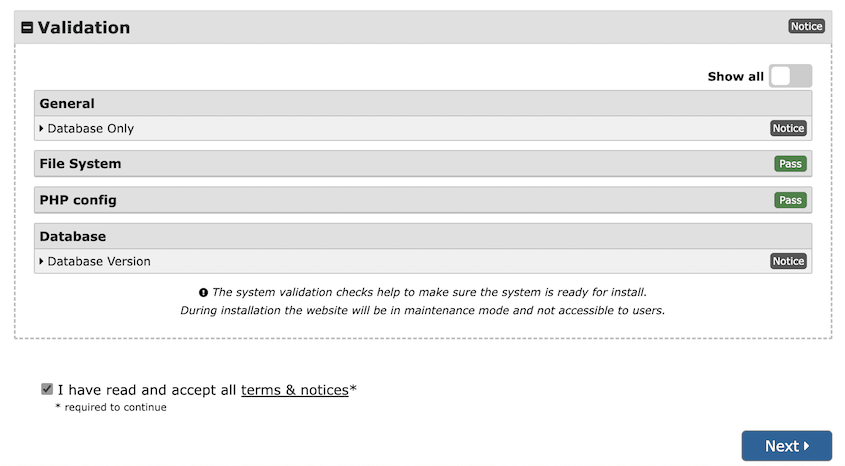 Lastly, there will be a pop-up window explaining that your files and database will be overwritten. You'll need to confirm that you want to continue with the installation: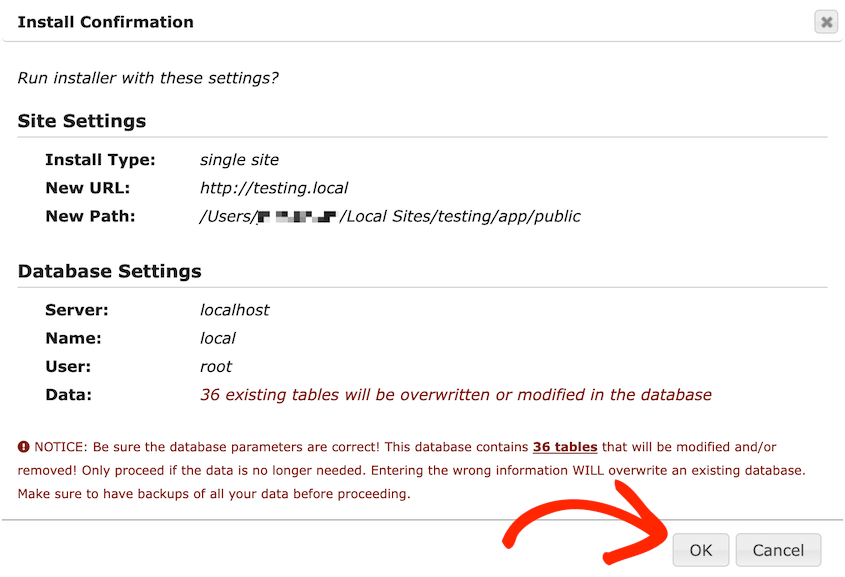 Then, Duplicator will automatically extract the archive file and import your original website. When it's finished, you'll see a review of the install: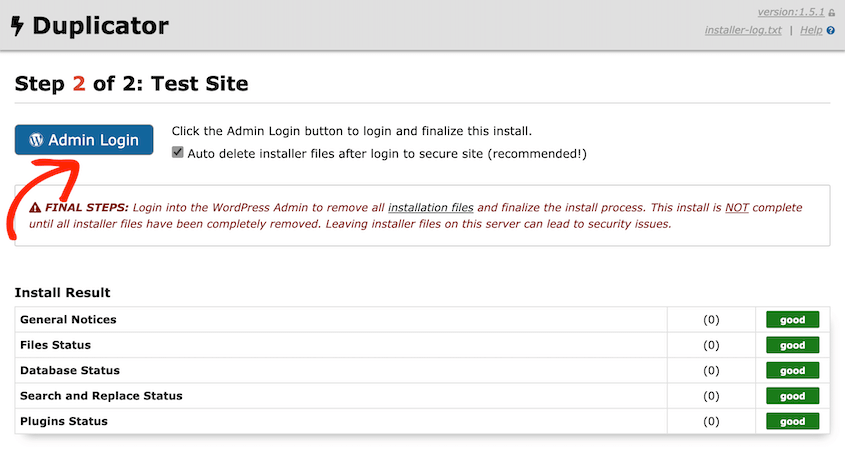 To log into your new site, click on the Admin Login button.
Step 5: Add 301 Redirects
So far, you've successfully migrated your website to a domain on a new server. After you move WordPress sites, you'll also need to redirect your audience. This way, you won't lose any of your devoted followers.
To do this, you can set up 301 redirects. A 301 redirect will take both users and search engines from the original page to a new one.
It also tells search engines that your content has been permanently moved to a new site URL. This ensures that your content continues to rank highly using the new domain.
You could manually create 301 redirects by editing your original site's .htaccess file. However, if you aren't familiar with code, this might be a daunting task.
Fortunately, it's easy to set up redirects with All in One SEO (AIOSEO). This is a powerful SEO plugin with a built-in Redirection Manager: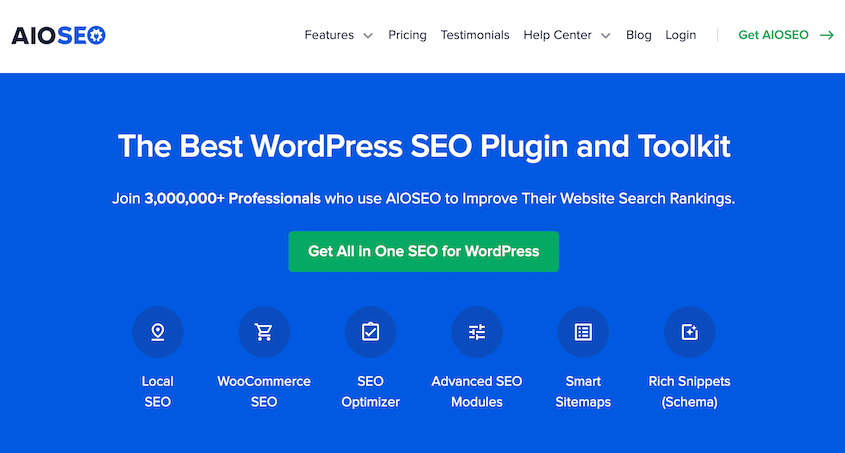 First, sign up for the AIOSEO Pro or Elite plan. After your purchase, download the plugin. Then, install and activate AIOSEO on your original WordPress site.
Before you start using AIOSEO, you'll also need to activate your license key. Go to AIOSEO » General Settings and paste the license key for your plan: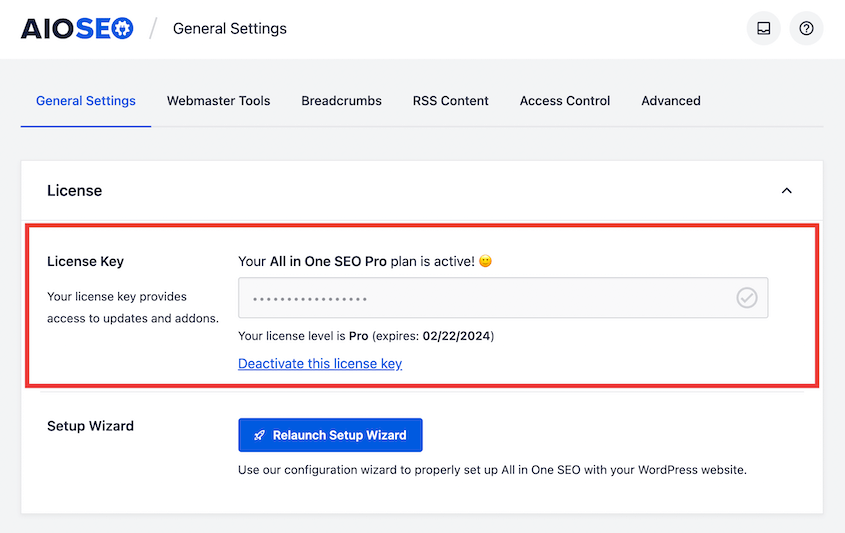 By default, the Redirection Manager will be disabled. To enable it, visit the Redirects page and hit Activate Redirects: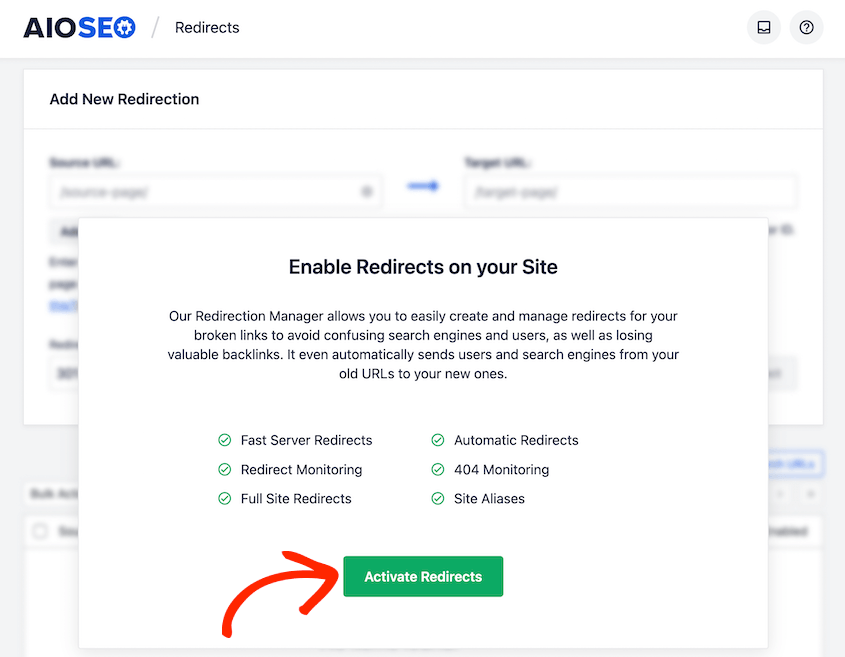 Now, click on the Full Site Redirect tab. At the top of the page, turn on the Relocate Site option: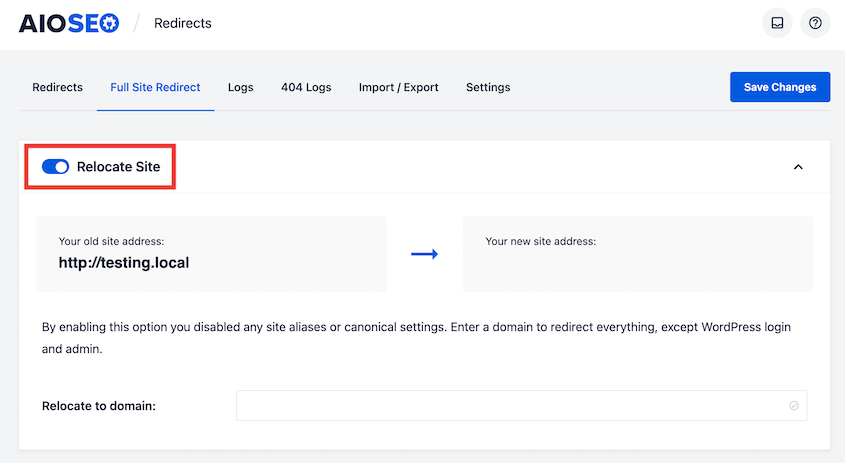 Finally, enter your new domain next to Relocate to domain. After you save these changes, your entire site will redirect to the new URLs with your updated domain name.
Step 6: Inform Google About Your Domain Change
If you want to migrate your website without losing any SEO, you'll need to tell Google that you've made the move. Once you do this, search engines will be able to locate your new site, index it, and display your content in search results.
To quickly update your site's domain, you can simply adjust a few settings in Google Search Console. This is a Google-owned tool that provides data about how you appear in Google searches.
First, add both of your websites as two different properties. If you're not sure how to do this, check out this comprehensive guide on Google Search Console.
Once both domains are in Google Search Console, find the dropdown menu in the top-left corner. Here, select your old domain name: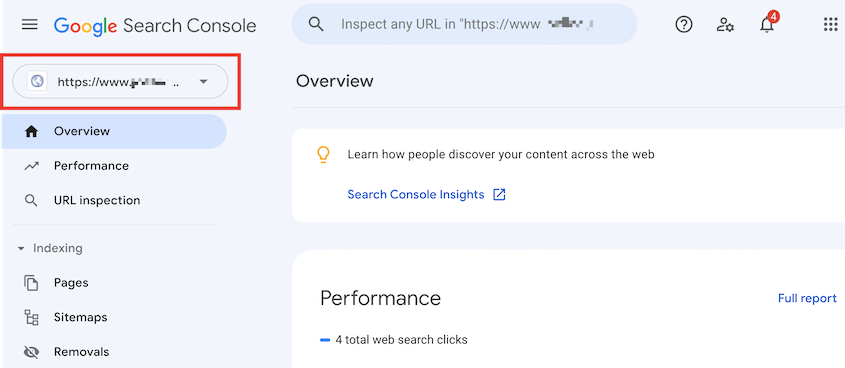 Then, click on Settings. On this page, select the Change of address option: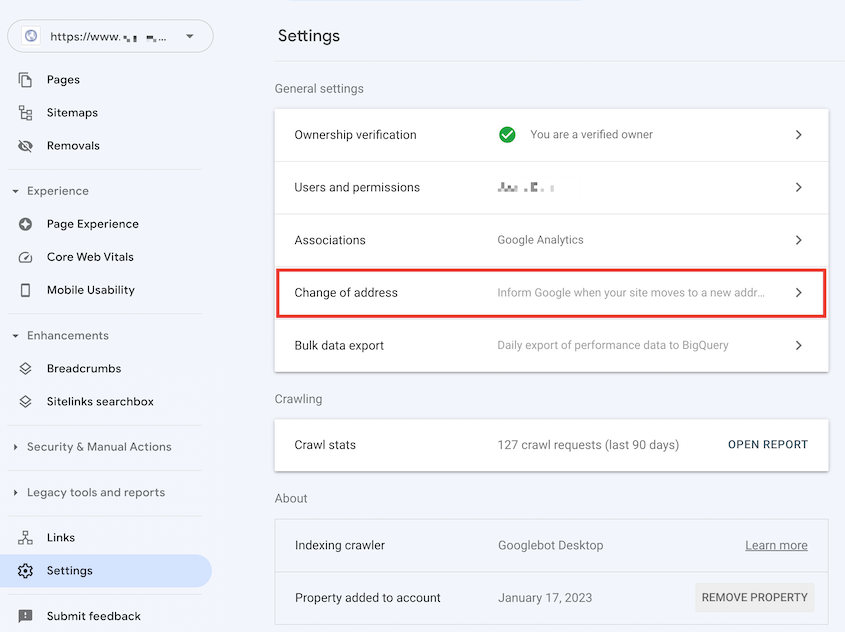 Next, use the Select new site dropdown to choose the property for the new domain: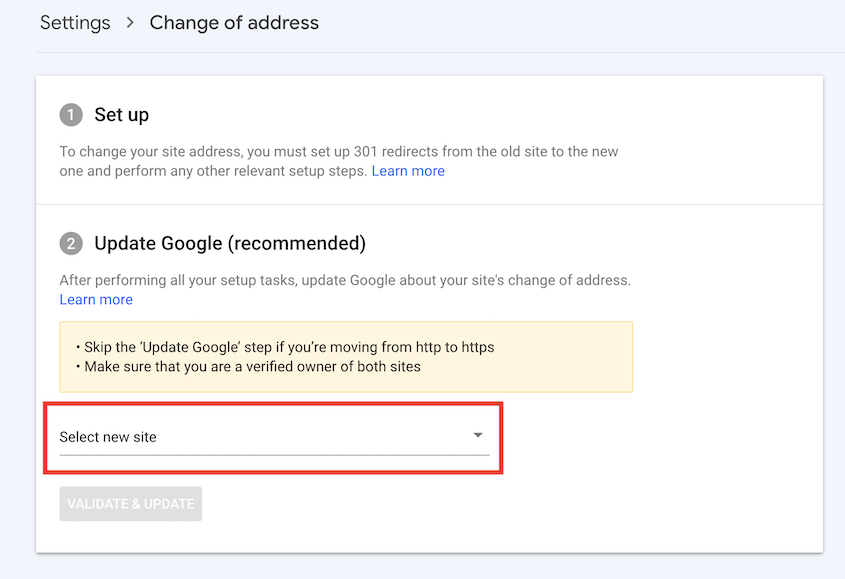 Once you hit Validate & Update, Google Search Console will walk you through the next steps in your domain migration request.
Tip: You may want to also use social media posts to announce your new domain change. This will tell your audience that you rebranded your WordPress blog or small business.
Frequently Asked Questions (FAQs)
Moving to a new domain name can be a difficult process. To make sure you're migrating your site correctly, you may still have some pressing questions.
How do I manually move a WordPress site to a new domain?
You can manually move your WordPress site to a new domain using a File Transfer Protocol (FTP) client and phpMyAdmin. However, keep in mind that this always comes with the risk of accidentally breaking your live site. If you decide this is the best option, make sure to back up your original website beforehand.
First, you'll need to access the files for your original site. Usually, your WordPress hosting provider will have a dedicated File Manager for your account. Alternatively, you can use a third-party FTP/SFTP client like FileZilla.
Then, download all of the files in your site's public_html folder. This is the root directory for your website: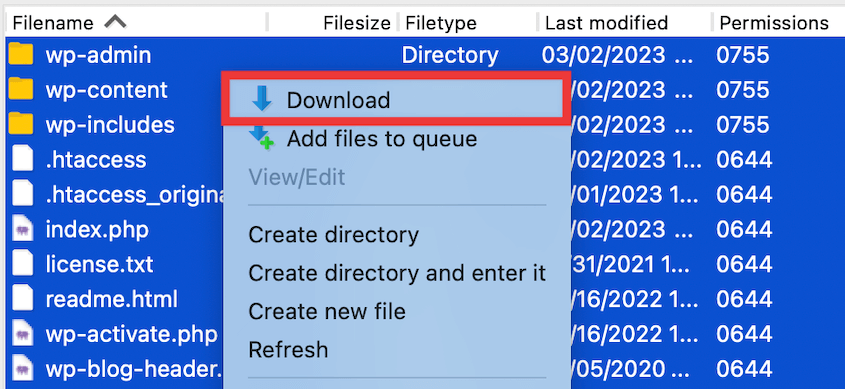 To manually download your database, log into phpMyAdmin and hit Export. This will allow you to download a SQL file with all your database information: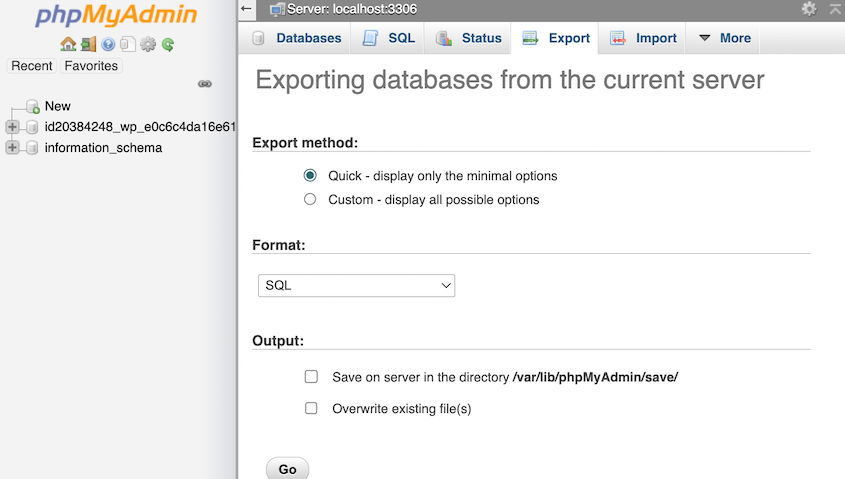 Now, open the files for your new website. Delete all of the files in the public_html folder and upload your original files: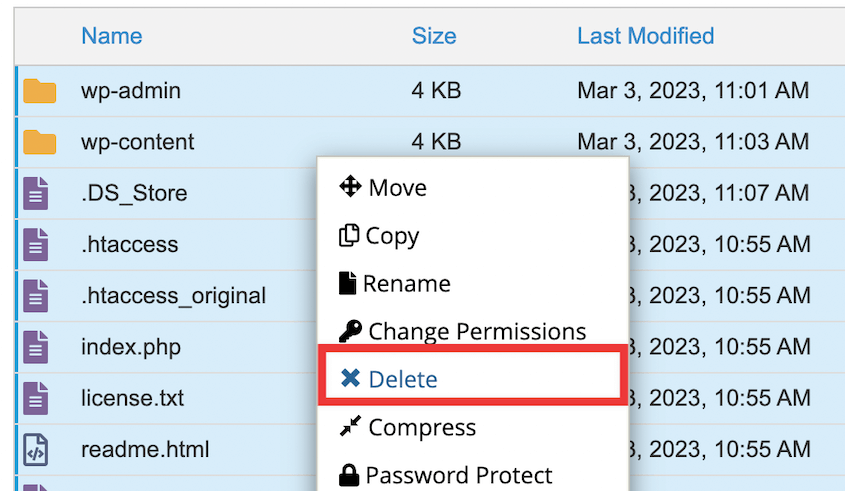 Then, you'll need to create a new database and database user for the new site. You can follow the steps included in the tutorial above.
Once you have a new database, open phpMyAdmin and select it. Then, go to Import and upload your original database in a zipped SQL file: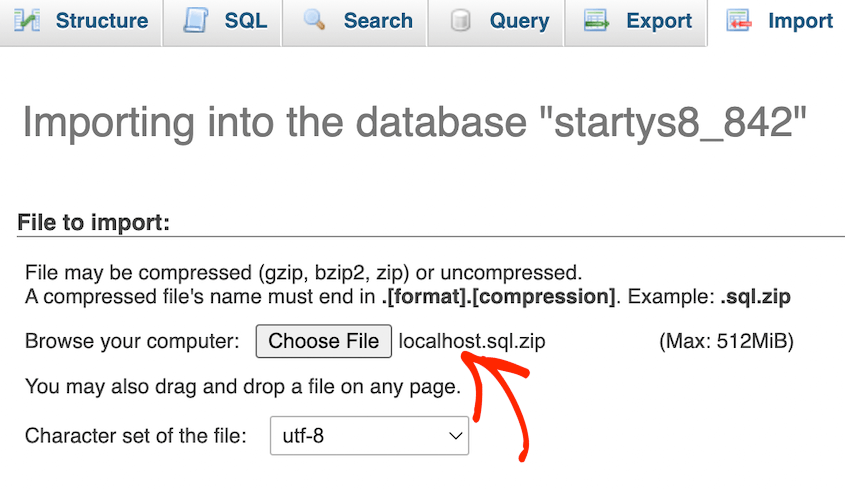 Next, open your new site's wp-config.php file. Find the db_name, db_user, and db_password values and update them. You'll also need to replace any mention of your old domain name:

Finally, you may need to search and replace mentions of your old URL on the database. To do this, you can download a plugin like Better Search Replace.
How can I move my WordPress site to a new domain for free?
You can move your WordPress site to a new domain for free by downloading the free version of Duplicator. After installing and activating the plugin, create a new package. Then, download both the installer and archive files.
Now, open the files for your new site. Similar to a manual migration, empty the root directory and upload both of your Duplicator files: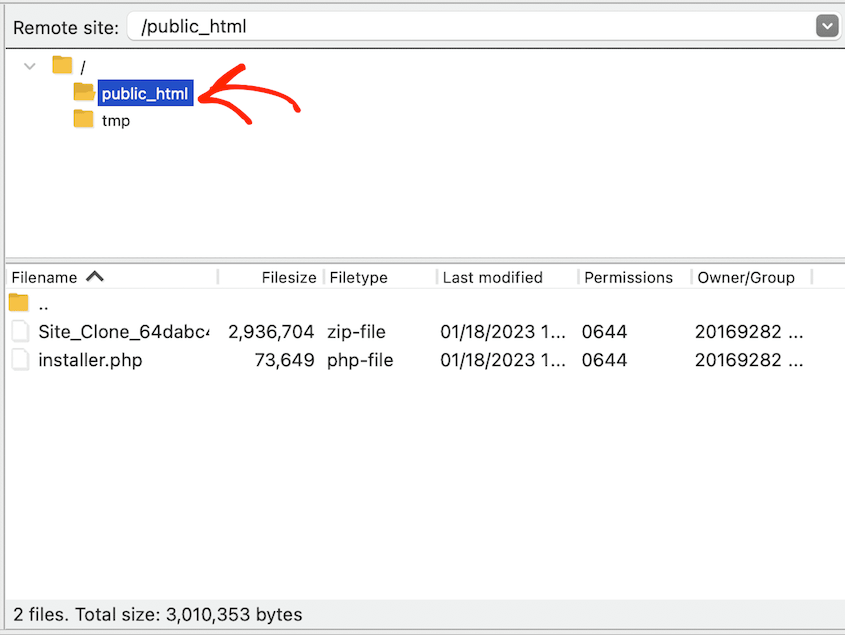 After this, search for this URL in a new browser: yournewdomain.com/installer.php
This will automatically launch the Duplicator installer. You can follow the step-by-step walkthrough on installing your package.
Once you can access your new site, be sure to delete the installer file. As we mentioned earlier, it's also important to redirect old content and notify search engines about the update.
What is the best WordPress migration plugin?
The best WordPress migration plugin is Duplicator. It allows you to back up your website, save your data to the cloud, and move your files anywhere that can host WordPress. With Duplicator, you'll be able to simply drag and drop your old website files into your new rebranded site!
Conclusion
Hopefully, this tutorial helped migrate your WordPress site to a new domain!
Did you run into an error during the migration process? Check out our WordPress tutorial on restoring your website from a backup.
You can avoid manually migrating all your WordPress files and database information. Download Duplicator Pro to quickly drag and drop your site data to a new domain!