Are you looking for a WordPress migration plugin to help you move your website?
If you're planning on moving your WordPress website to a new host, server, or domain name, it can be helpful to use a migration plugin. This tool can package your files and database and safely transfer them to another location.
In this article, we'll list the best WordPress migration plugins so that you can choose the right one for your goals.
What to Look For in a WordPress Migration Plugin
Does your current hosting plan have too much downtime? You might need to migrate your website to a new web hosting provider.
WordPress is very user-friendly when it comes to creating blog posts or managing comments. However, moving your entire site to a different location can be a difficult task.
During a manual migration, you'll need to be familiar with your site files and database. This process always comes with the risk of downtime, data loss, or decreased Search Engine Optimization (SEO) rankings.
As a beginner, you can easily move your site with a WordPress migration plugin. These migration tools are designed to package your data and safely transfer the site to a new domain, host, server, or directory.
Here are some main features to look for in a website migration plugin:
Simple and easy-to-use interface
Transfers site files and database
Manual and automatic backups
Cloud storage locations
Restores saved backups
Support for large websites and WordPress Multisite networks
Before you install any new plugin, you'll want to make sure it has good customer reviews. It's also a good idea to avoid migration plugins that haven't been updated recently.
9 Best WordPress Migration Plugins (Expert Pick)
Even once you know what to look for, you might struggle to narrow down all of the WordPress migration plugins. To help you find the right one, let's compare them!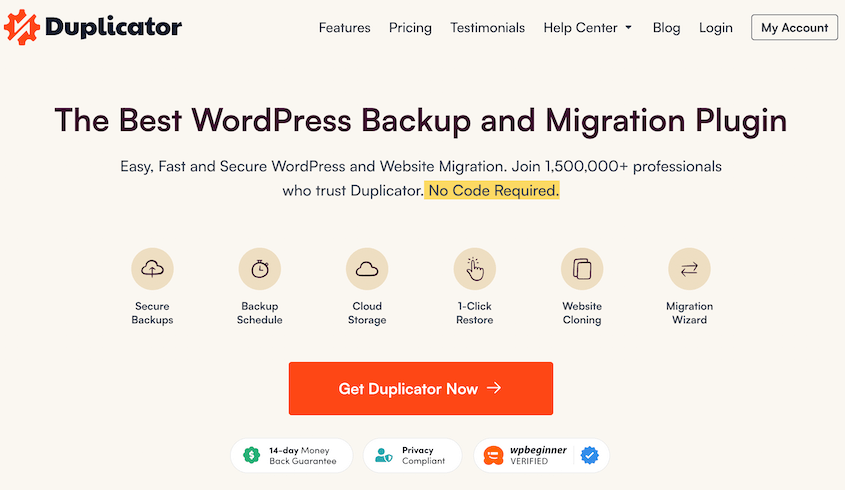 Duplicator is the best WordPress migration plugin. This comprehensive tool allows you to migrate your WordPress site to another host or domain without any downtime.
When you start using Duplicator, you can create packages of your site. Essentially, these will bundle all of your WordPress files, content, plugins, themes, and database into a zip file. If you want to pick and choose what data is saved, you can also customize your site package: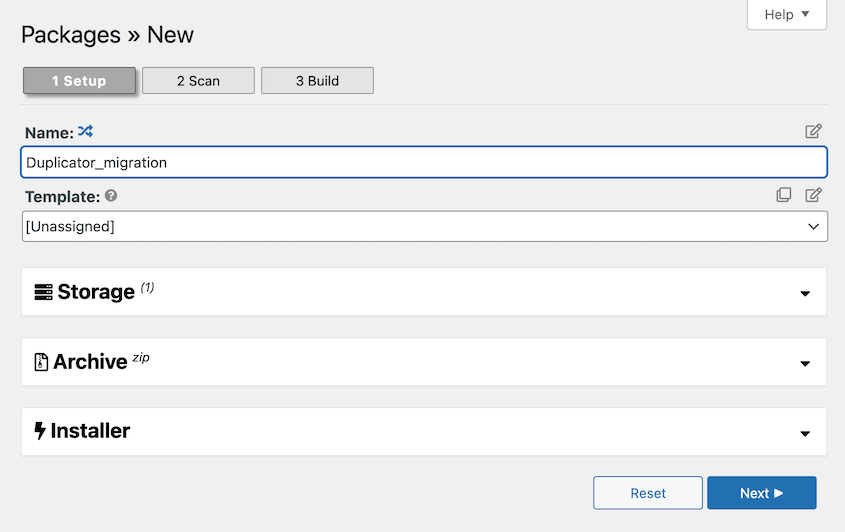 Once you have a package, this can be moved to any location that hosts WordPress. With Duplicator Pro, you can simply drag and drop your archive package into the new website. This will immediately import your old site: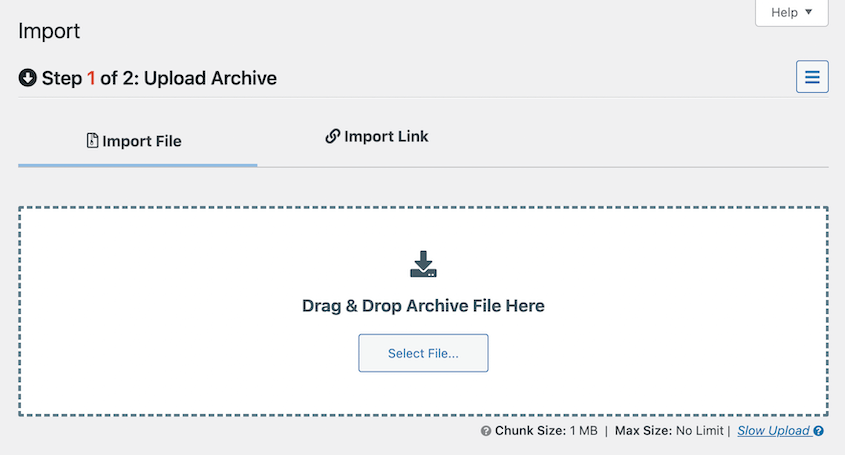 Duplicator is also useful for creating backups. You can manually build and download packages or set up an automatic backup schedule. Then, you can easily restore a recent backup with Duplicator's step-by-step recovery wizard: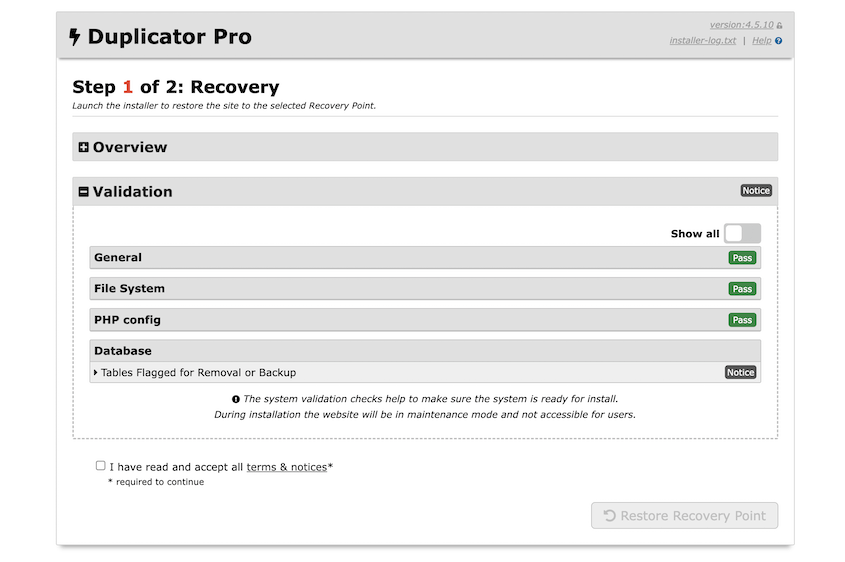 Here are some of the best features included in Duplicator:
Drag and drop migrations
Cloud storage to Dropbox, Google Drive, Microsoft OneDrive, Amazon S3, and FTP/SFTP
A two-step streamlined installer mode
Recovery Points for fast emergency site restores
Support for managed hosts such as WordPress.com, WPEngine, GoDaddy Managed, and more
Multi-threaded to support larger websites & databases
Pricing: Duplicator is available as a free WordPress plugin. However, Duplicator Pro has helpful advanced features like drag-and-drop installs and cloud storage options. Subscriptions for the premium version start at $49.50 per year.

Another popular plugin for WordPress migrations is UpdraftPlus. Although it is mainly used for backups, the premium version comes with a Migrator add-on. This can migrate or clone a website.
With the UpdraftPlus Migrator, you can easily move your content to a different URL. After the migration is complete, it'll delete any mention of your old website's URL from your database. Plus, UpdraftPlus supports unlimited migrations.
Key features:
Migrating and cloning
Cleans database of old URLs
Backup and restore options
Cloud storage to Amazon S3, Rackspace, Dropbox, Google Drive, OneDrive, and more
Support for Multisite
Pricing: You can install the free version of the plugin and add on the Migrator feature for $30. Alternatively, UpdraftPlus Premium includes all of the add-ons. These subscriptions start at $70 per year.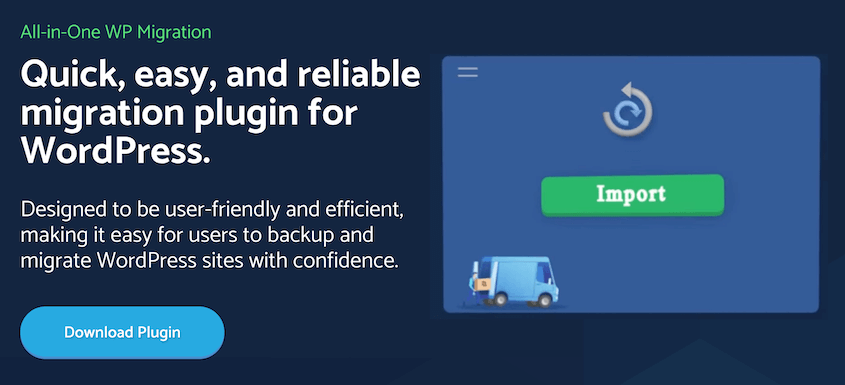 As you might expect, All-in-One WP Migration was created specifically for migrating websites. With over 5 million active installations, it's one of the most popular WordPress migration plugins available.
If you're a beginner, you'll find the All-in-One WP Migration plugin very easy to use. You can quickly export your files, plugins, themes, and database into a single file. Then, you'll be able to simply drag and drop this file into your new WordPress dashboard.
Key features:
Drag and drop migration
Cloud storage
Automatically replaces website URL during import
Premium extensions for Multisite support, increased WordPress upload size limits, and more
Compatible with many WordPress hosting providers
Pricing: The core plugin is free. However, you'll need to purchase a premium extension to give you more advanced functionality. For example, the Unlimited Extension removes any upload limits for $69 per year.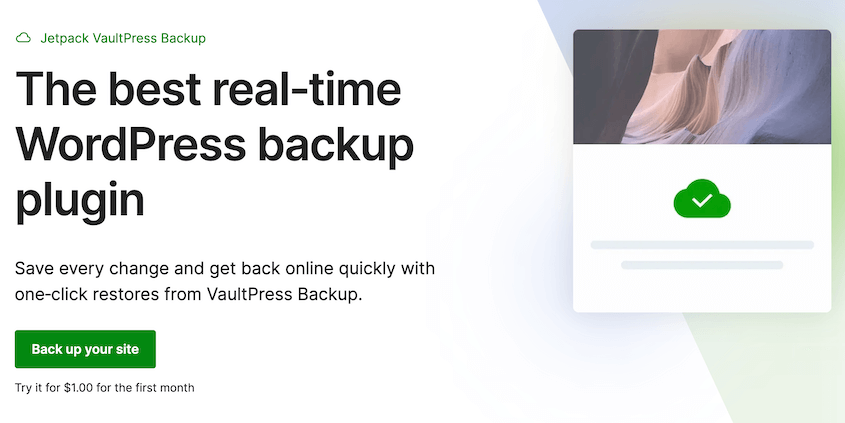 Jetpack is a comprehensive plugin suite with tools to back up, clone, and migrate websites. Previously known as VaultPress, Jetpack allows you to regularly save backups of your content. When you need to, you can easily clone or migrate this backup to another location.
Plus, Jetpack can be useful for restoring a backup after an error or crash. It provides an activity log with all of your recent backups. After finding the right backup, you can restore it with one click.
Key features:
Cloning and migration
Automatic backups
One-click restores
Cloud storage
Archive and activity log
Pricing: You can purchase Jetpack Backup for $1 for the first month. Alternatively, it is included in a security bundle along with helpful features like brute force protection and downtime monitoring. This plan is $20 per month.
If you're looking for a basic WordPress migration plugin, Migrate Guru might be right for you. This is a free alternative to BlogVault, its parent company, that focuses on quick and easy migrations.
Since Migrate Guru runs on BlogVault's servers, it doesn't put any strain on your hosting plan. You'll also be able to avoid any timeout issues while you're migrating a larger site.
However, keep in mind that this plugin is more limited than the other options on this list. It doesn't work as a WordPress backup plugin. Additionally, Migrate Guru doesn't support local host migrations.
Key features:
One-click migration
Supports large sites up to 200GB
Automatic search and replace
Multisite migrations
Offsite storage
Pricing: Migrate Guru is completely free to use.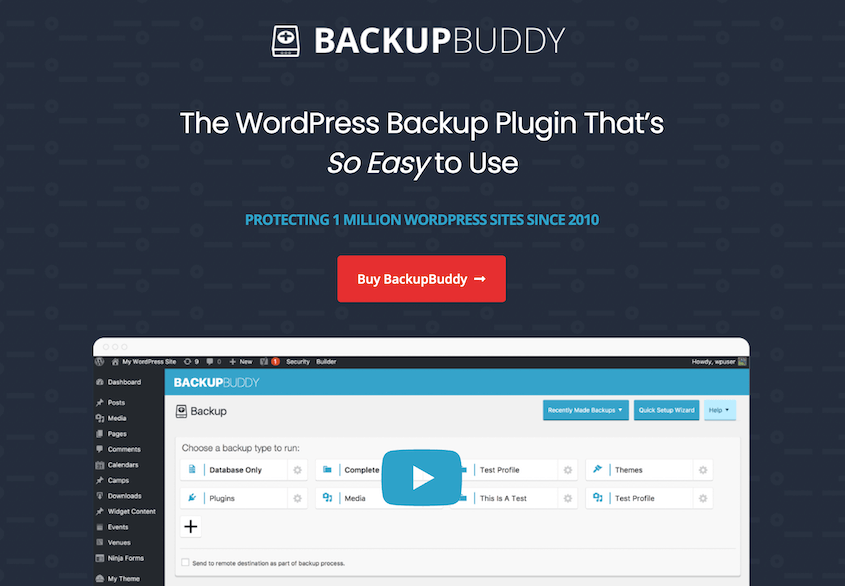 BackupBuddy doesn't just back up your WordPress website. Along with its backup service, there are built-in solutions for you to change your domain, host, or server. After your migration, your URLs will automatically be updated.
As a developer, BackupBuddy can help you set up a staging site. You can clone your client's site and migrate it to a local server. Here, you can safely make edits and push them to the live site when you're ready.
Key features:
Migration to a new server or host
URL replacement
Complete, database-only, and files-only backups
Scheduled backups
Remote storage
ImportBuddy restore tool
Pricing: BackupBuddy is a premium plugin that starts at $99 per year. This includes support for a single site and 1GB of backup storage space.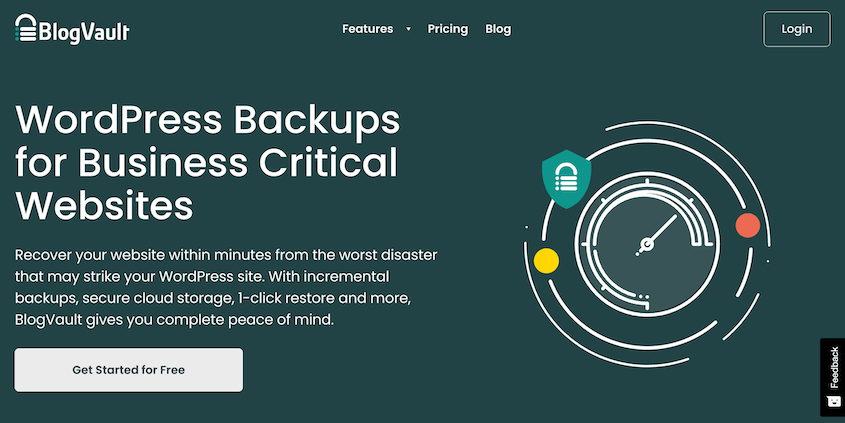 If you need a more comprehensive solution than Migrate Guru, you can use BlogVault. This premium plugin allows you to create backups, save them to cloud storage, and even migrate your site to another location.
BlogVault can also help you migrate selective parts of your site. If you don't need to move all your data, you can choose specific WordPress files, plugins, or database tables to include in the migration.
Plus, BlogVault has effective restore options. If something goes wrong during the migration, you can restore the original site with one click. BlogVault also provides an Emergency Connector to get a crashed site back online.
Key features:
One-click migration
Selective migration
Automatic search and replace
Support for large sites and WordPress Multisite
Pricing: To start using BlogVault, you'll have to purchase a subscription. These start at $89 per year for a basic license.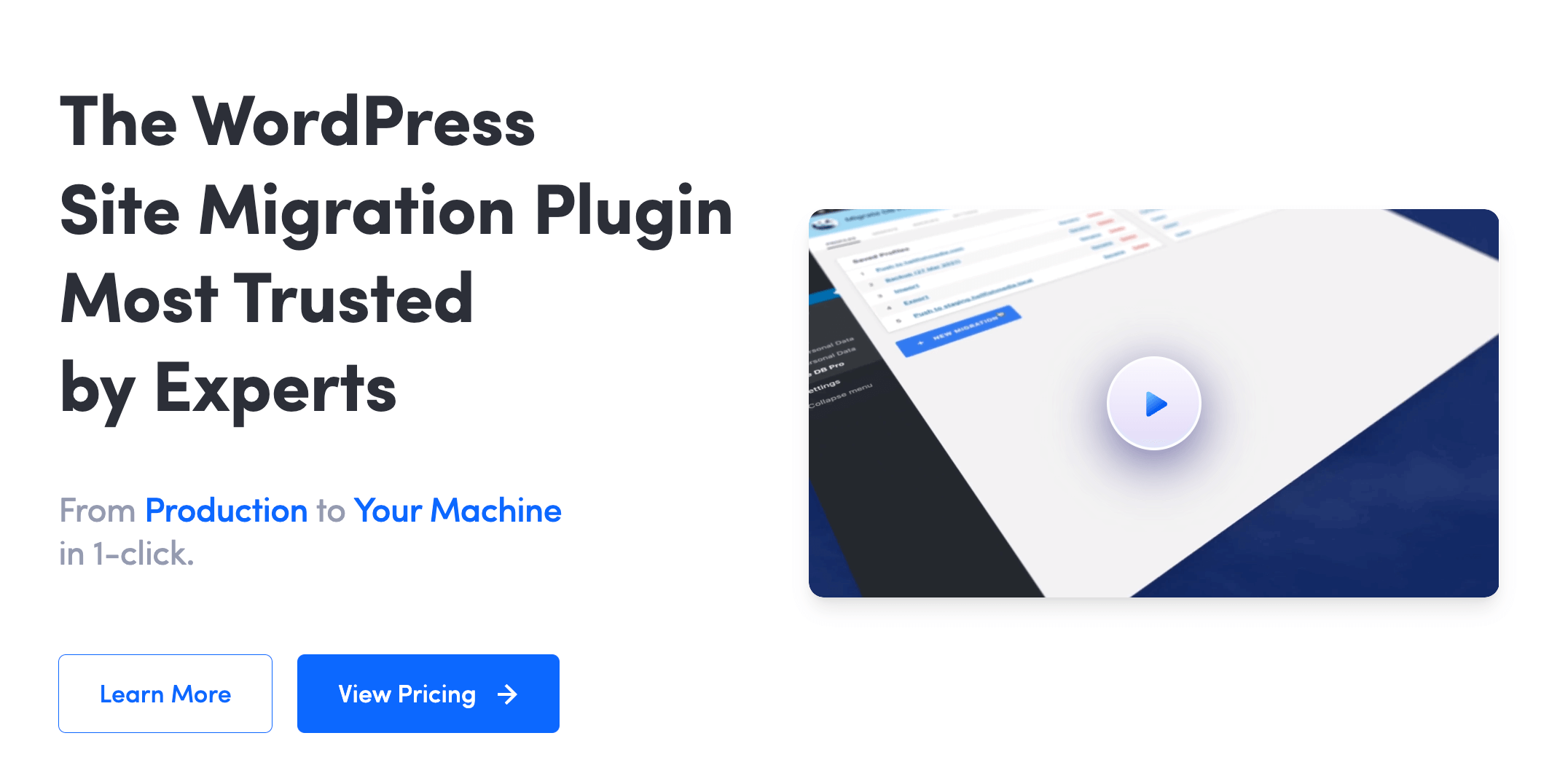 As a developer, you may need a migration plugin that easily moves a website between a local and live server. With WP Migrate, you can do just that.
WP Migrate simplifies migrations from development to production (and vice versa). You can use it to push a staging site to production or pull a production website to your local computer. During the migration process, you can customize exactly which files and database tables are included.
Keep in mind that WP Migrate was created with developers in mind. If don't have technical knowledge about the WordPress database and files, consider installing a more user-friendly plugin.
Key features:
Full-site exports
Database migrations
Find and replace operation
Database backups
Supports Multisite
Sync media files between two sites
Pricing: There is a free version of WP Migrate that is capable of full-site and database migrations. If you want to directly transfer content between two WordPress sites, the Pro version starts at $49.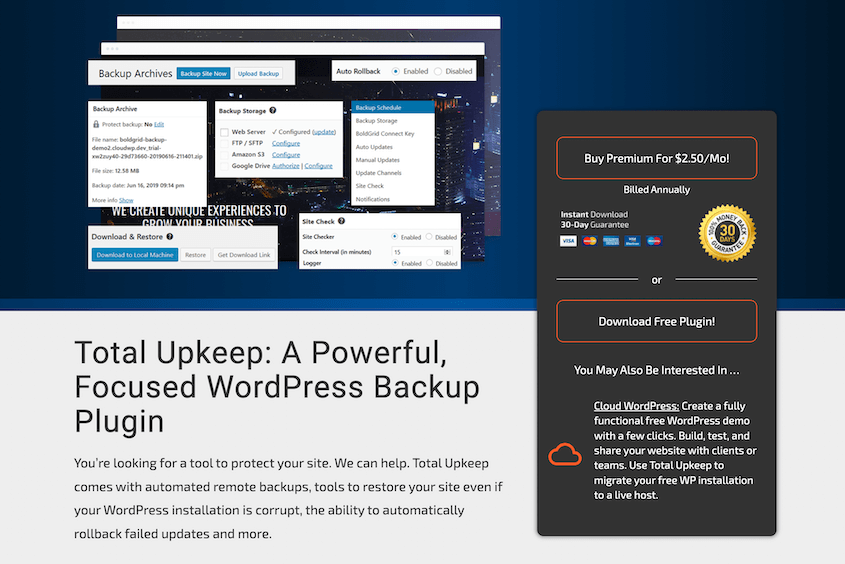 Similar to the other plugins on this list, Total Upkeep by BoldGrid can back up, restore, and migrate WordPress sites. If you need to move your content, you can install Total Upkeep on a second site. Then, restore a recently saved backup of your original site.
The benefit of Total Upkeep is that you don't have to download or migrate any bulky zip files. You can simply copy and paste the restore URL to upload your backup to the new location.
Key features:
Migrate, clone, or duplicate a website
Manual and automatic backups
Site Check with error notifications
Automatic backups before updates
Remote backup locations
Pricing: Total Upkeep has a free version with migration features. If you need cloud storage services or other advanced features, the premium version starts at $2.50 per month.
Decision Time: Which Is the Best WordPress Migration Plugin?
Duplicator is the best WordPress migration plugin for beginners and advanced users alike. You can use Duplicator to package your website into a zip file and simply import it into a second location.
We hope that this comparison guide helped you find the right WordPress migration plugin for your site. If you're ready to start moving your content, check out our guide on how to migrate your WordPress site.
Do you want to avoid manually migrating your files and database? Download Duplicator Pro for quick and easy site migrations!