Do you want to know how to migrate your large WordPress site?
When migrating a large website on a budget hosting account, PHP timeouts can prevent you from compiling all your data into a single zip file. Using Duplicator Pro, you can bypass any timeout issues and successfully migrate your site from the old host to a new one.
In this tutorial, we'll show you how to migrate a large WordPress site!
Potential Problems When Migrating a Large WordPress Site
There are many reasons why you might need to eventually migrate your WordPress website. As your site grows, your original WordPress hosting plan may not be able to support it. In this case, it's time to upgrade your plan or move to a new hosting provider.
Here are some more reasons to migrate your site:
If you own a small website, it's fairly easy to migrate to a new server, domain, or host. However, larger sites like ecommerce stores can face unique challenges.
During the migration process, you'll have to package your website's files and MySQL database into a zip file. This makes it easy to transfer to another server, but compiling all of the data on a large site can be difficult.
Usually, budget web hosting servers configure PHP scripts to time out quickly. If you only have 30 seconds to create a large zip file and dump your WordPress database, it will time out. This makes it difficult to package your current site before migrating it to another server.
Fortunately, you can avoid this problem. By using the right tools, you'll successfully package your large website and migrate it to a new location!
How to Migrate a Large WordPress Site
Migrating a large WordPress site can be a daunting task. However, even as a beginner, you can easily move your website and avoid any timeout issues from your server.
Step 1: Install Duplicator
If you receive timeouts every time you try to migrate your large website, you might consider moving small chunks of data at a time. Here at Duplicator, we created an easier solution for migrating large sites!
Most website owners install a WordPress migration plugin to easily transfer their site files and database to another location. However, not all of these tools are built for large WordPress site migrations.
Duplicator Pro is a migration and backup plugin that makes it easy to migrate a large website. In fact, it's capable of migrating sites as big as 100GB: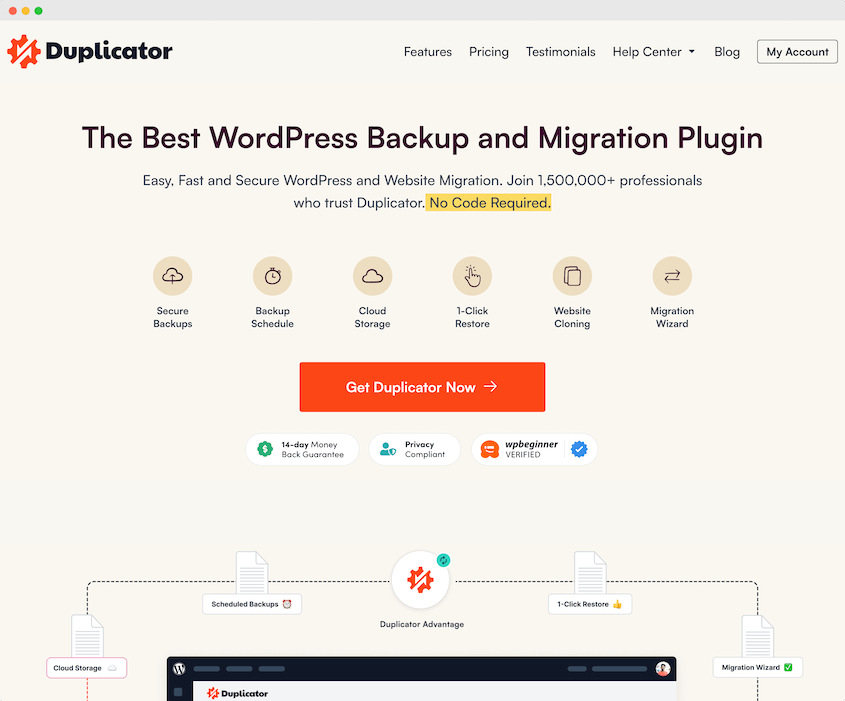 Unlike other options, this plugin can package your site in a DupArchive. This is a custom file format built for large sites.
Using chunked systems, Duplicator will create your site package in multiple parts. Since this doesn't compile a large zip file all at once, it'll allow you to bypass the server timeout problem. The plugin also supports multi-threaded SQL mode, which will chunk your database script over multiple requests.
Here are some more features that make Duplicator the best migration plugin:
Drag-and-drop import functionality for quick migrations
Cloud storage integrations to Dropbox, Google Drive, Amazon S3, and more
Doesn't require WordPress to be installed
Supports WordPress Multisite
Recovery points to quickly restore backups after WordPress errors or hacks
No extra add-ons to access premium features
Dedicated customer support
To get started with Duplicator, choose a subscription for the premium version. This will give you advanced options like a multi-threaded PHP dump and the DupArchive file format.
Once you finish your purchase, download Duplicator Pro. In your WordPress dashboard, install and activate it. For a step-by-step guide on this, check out this guide on installing plugins.
You'll also need to activate your license key. To do this, find Duplicator Pro » Settings » Licensing: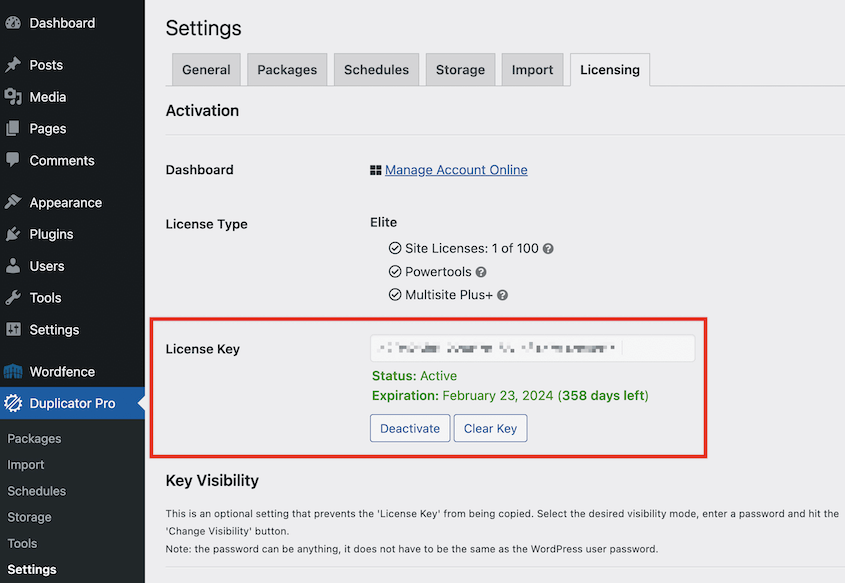 Paste your license key. After you click Activate, you'll be able to start using Duplicator!
Step 2: Update Your Package Settings
Duplicator is a migration tool that compiles your WordPress files and database into a zip package. Although the default settings are effective for most websites, you'll need more support for a large migration.
First, it's important to update your package settings. Head over to Duplicator Pro » Settings » Packages. Here, be sure to select the Basic Settings option: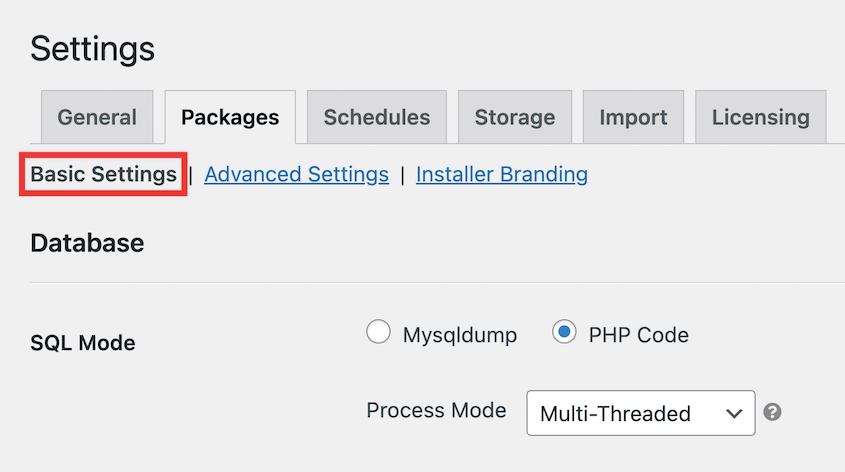 Then, find the Database section. As we mentioned earlier, large WordPress site migrations can benefit from a multi-threaded SQL mode. So, set the SQL Mode to PHP Code and the Process Mode to Multi-Threaded: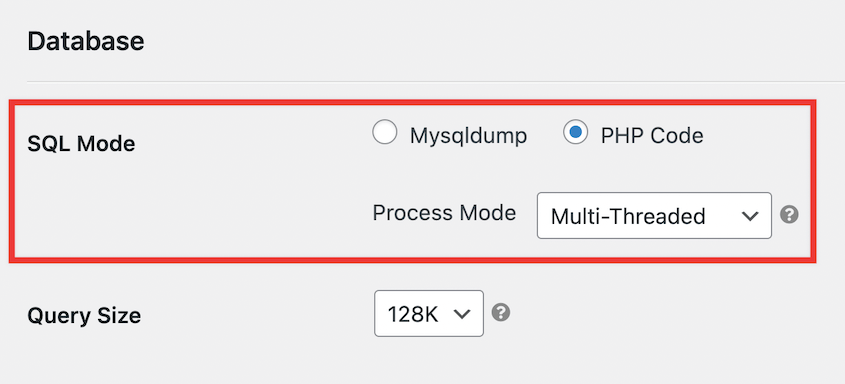 You'll also need to adjust the Archive settings. Under Archive Engine, choose DupArchive. This is the custom file format designed for large sites:

After this, click on Save Basic Package Settings.
Step 3: Create a Package
Next, you can create a package of your website. This will bundle all of your files, plugins, themes, database, and other content. To do this, go to Duplicator Pro » Packages » Create New: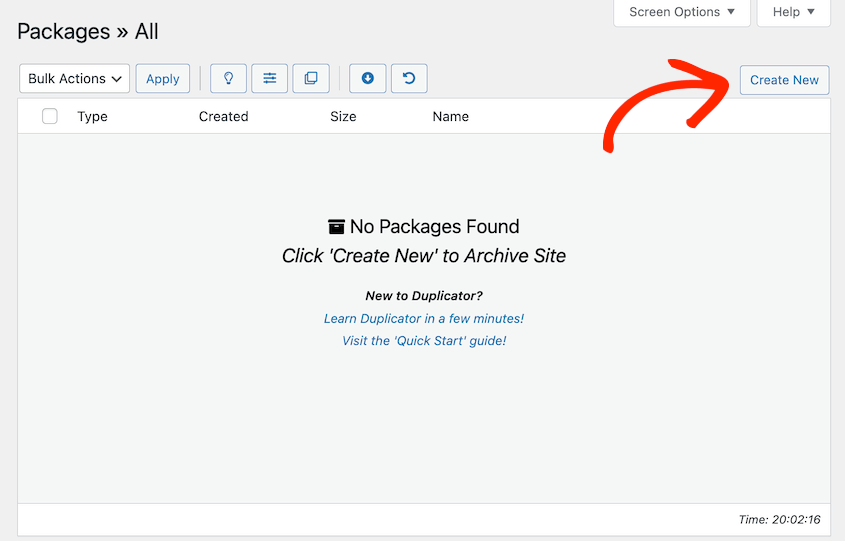 At the top of the page, name the package or use the default package name. Then, feel free to change the storage location. However, keep in mind that cloud storage services may not support files big enough for large sites: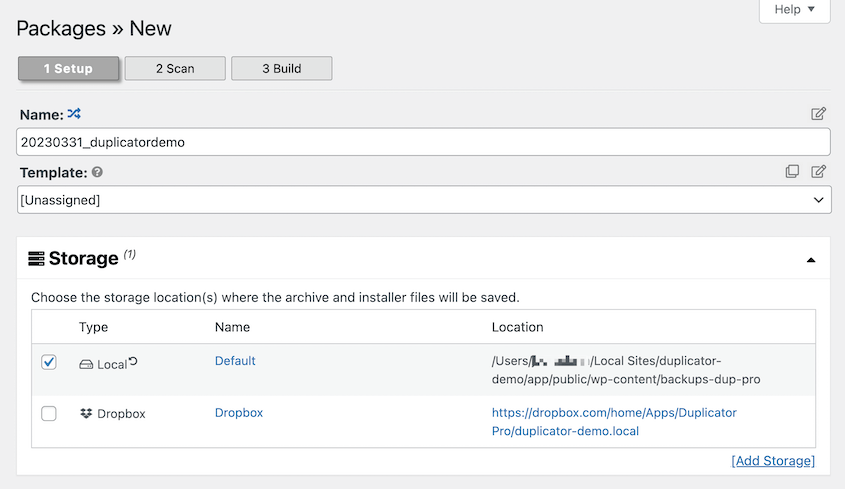 You'll see that the Archive file is in a DAF format instead of ZIP. This is the custom DupArchive for large websites. If you want to exclude certain data from the migration, feel free to add filters before continuing with the build: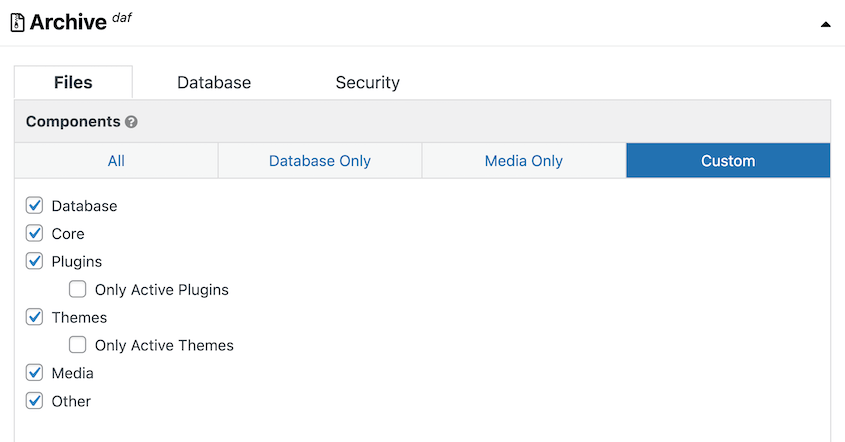 This can help you clean up your site during the migration. You can only include active themes, plugins, or other important files to set up your new site without unnecessary data.
After you click on Next, Duplicator will scan your site. If there aren't any issues, you'll receive all Good notices: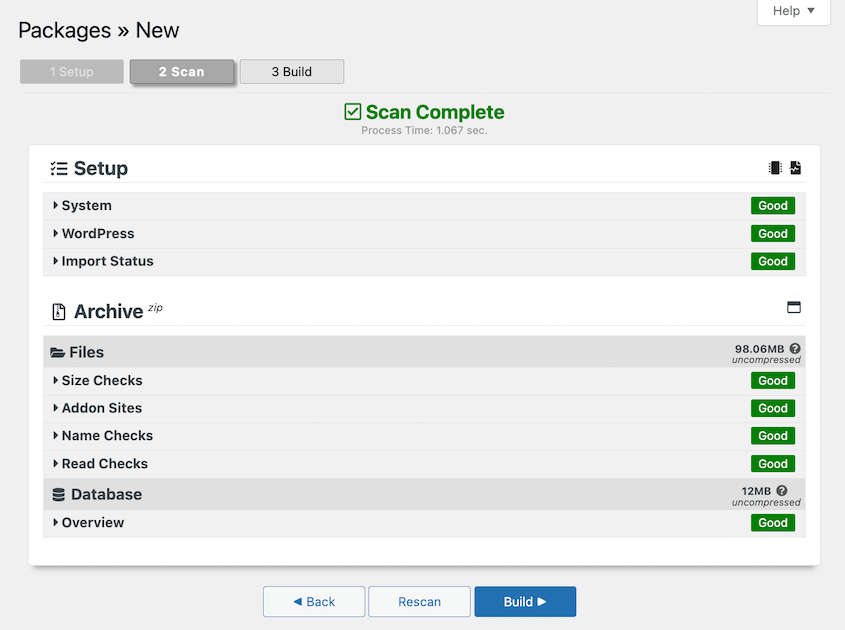 Then, hit Build. This will automatically start compiling your large site into a single archive file.
Tip: If you want to achieve zero downtime, consider updating your hosts file with the new IP address.
Step 4: Import Your Website
Once you build a package, you'll see it on the Packages page. To migrate it to another location, click on Download » Archive (daf):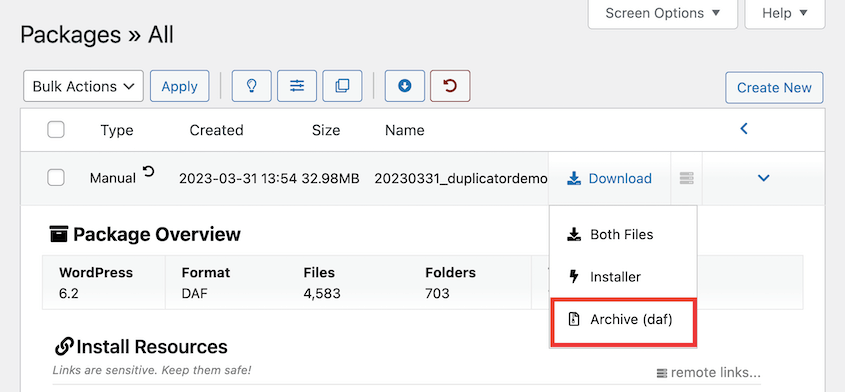 If you're manually moving your site using a File Manager like cPanel or an SFTP/FTP client like FileZilla, you'll need to download the installer file too. However, Duplicator Pro allows you to simply drag and drop the archive file into the new WordPress website.
First, you'll need to find your WordPress login information from your new web host. On the second site, be sure to install and activate Duplicator Pro.
After you activate your license key, navigate to Duplicator Pro » Import: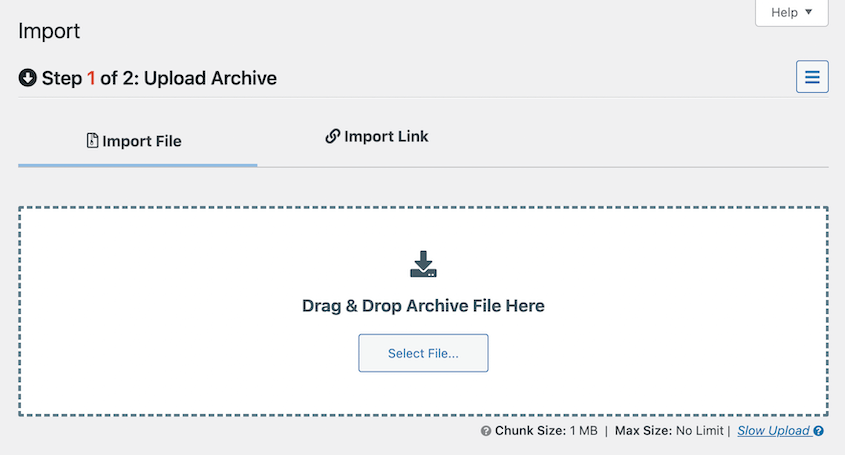 Next, drop the DupArchive file into the import box. After it uploads, you'll see some details about the old site: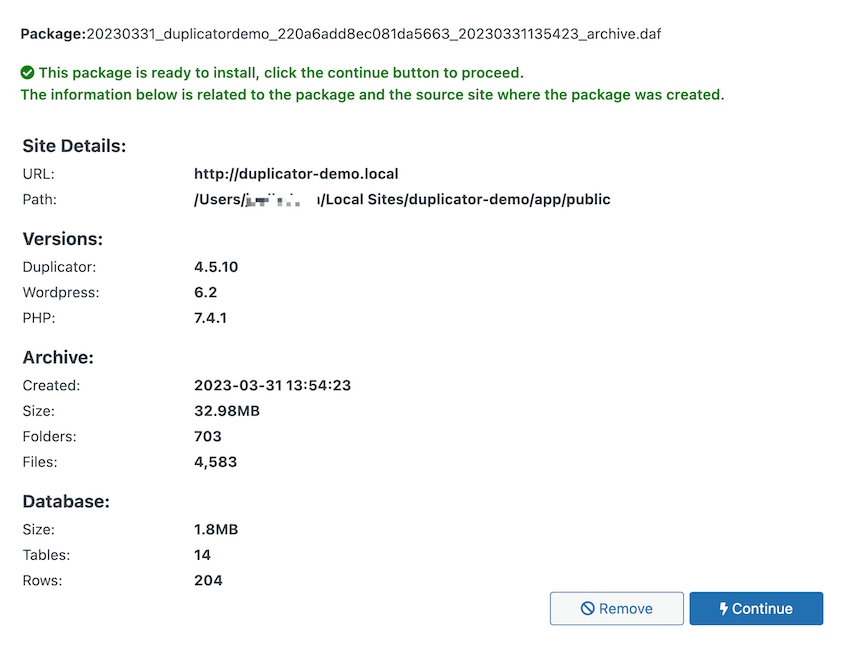 Since you're working with a new WordPress installation, you likely won't need to set a recovery point. However, you can create a package of the new site to restore it later if needed: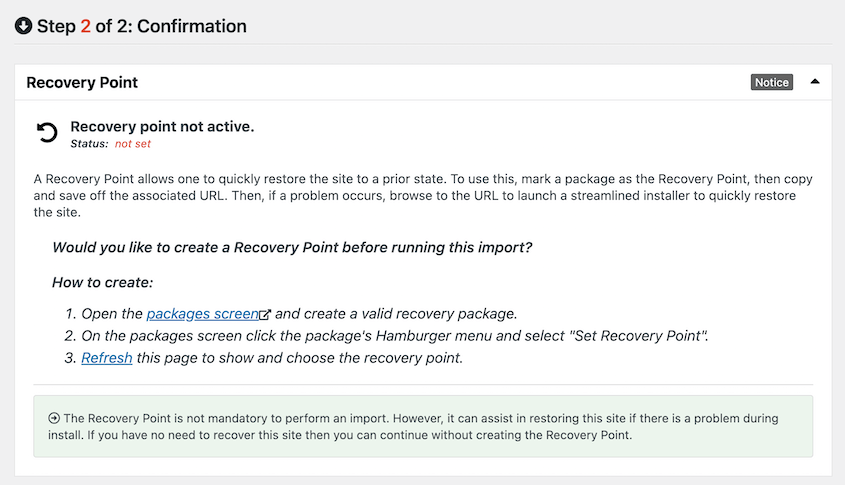 If you scroll down the page, you'll see an overview of the current site. Then, click on Launch Installer to start the import:

Now you'll see options to deploy your uploaded package. The Install Type should be a Full install single site: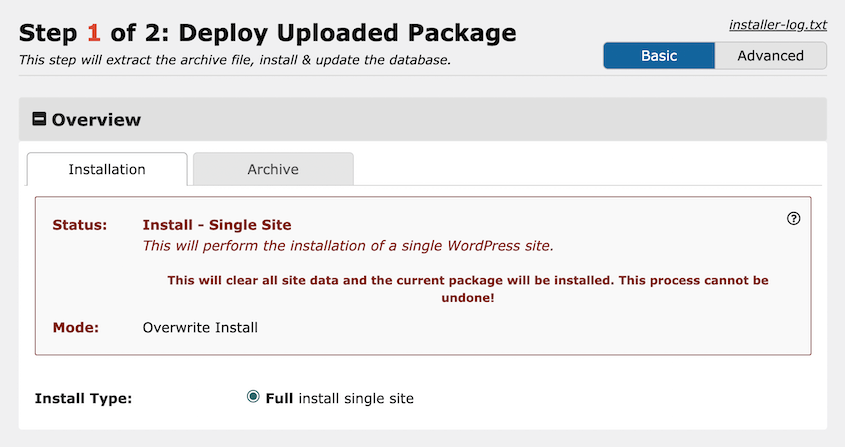 Under Validation, Duplicator will review the import for any problems. Be sure to review any of these notices. To continue, accept the terms and notices and hit Next: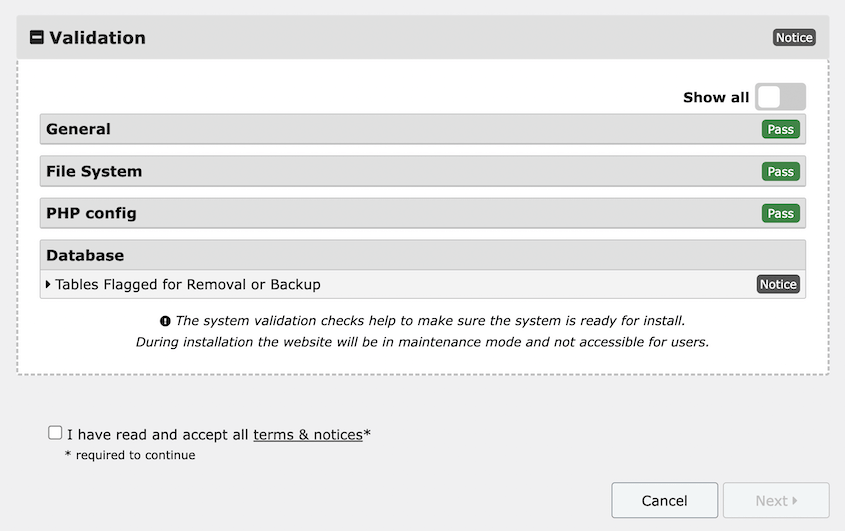 Lastly, a pop-up will ask you to confirm the installation. Once you click on OK, the import will run: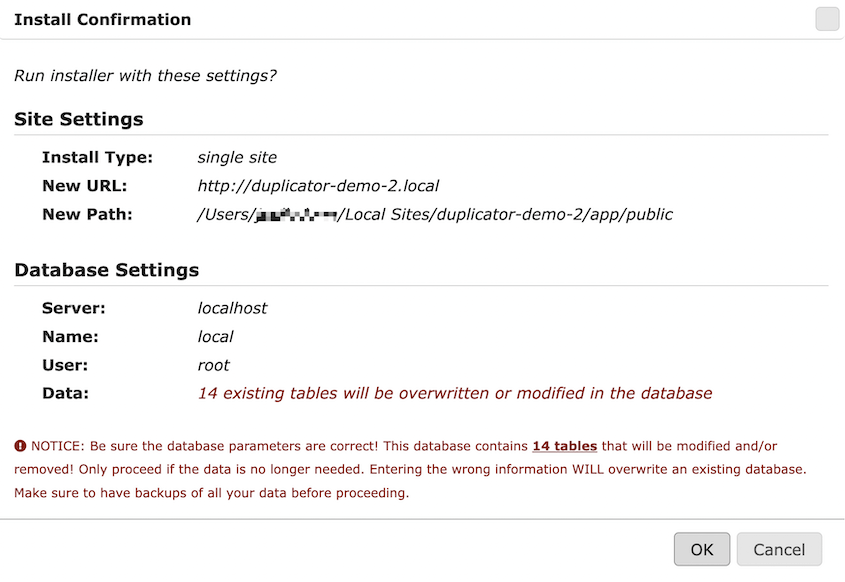 If the migration is successful, you'll see an Admin Login button. Before clicking on this, check the box next to Auto delete installer files: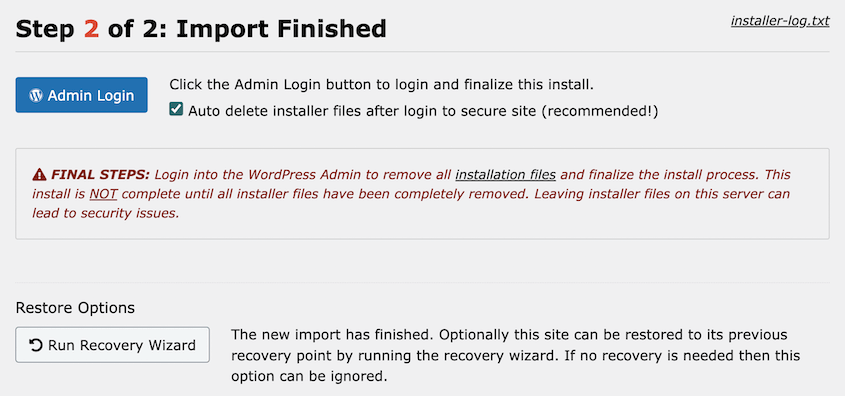 You can now log back into your wp-admin page!
Note: To finish the migration, be sure to update your Domain Name Server (DNS) to point to the new location.
Frequently Asked Questions (FAQs)
By now, you'll have all you need to migrate a large WordPress site. To make sure you're fully prepared for the task, let's answer some frequently asked questions!
How do I transfer a large WordPress site?
You can transfer a large WordPress site by creating a DupArchive package with Duplicator Pro. This will avoid any PHP timeout issues with your current server. Then, use the Import tool to seamlessly migrate your website to another location.
How can I move a large WordPress site for free?
You can do a free migration of a large site by using an FTP client to manually download all the files in your root directory, or public_html folder. Usually, your hosting service provides your FTP login credentials in your control panel. After this, upload this as a zip file to your new site.
Next, create a new database on the new server. Now you'll need to download your original database. Although you could export your database as a SQL file in phpMyAdmin, it's easier to build a database-only package with Duplicator Lite.
Take the upload files generated by Duplicator and add them to your new root folder. Lastly, open http://yoursite.com/installer.php in a browser window and go through the steps shown in the Duplicator installer wizard.
This two-part installation can be effective for websites with a large media library. However, keep in mind that you may still experience problems performing a database dump.
For the best results, consider creating a DupArchive in Duplicator Pro. Pricing for the premium version starts at just $49.50 per year, which is more affordable than other migration plugins or services.
What is the best WordPress migration plugin?
Duplicator Pro is the best WordPress migration plugin for any type of website. This tool supports drag-and-drop migrations so you can move your WordPress site without any downtime. Plus, you can use Duplicator to regularly back up your website.
Alternatives: UpdraftPlus, All-in-One WP Migration, and Migrate Guru are capable of performing migration services. However, Duplicator's custom DupArchive file format makes it easy to migrate large sites and Multisite networks.
How much does it cost to migrate a WordPress site?
The cost of migrating a WordPress site will depend on how and why you're moving your website. To quickly move to a new WordPress host or server, you can purchase a WordPress migration plugin like Duplicator Pro for as little as $49.50 per year.
However, you'll also have to consider the cost of setting up the new hosting account. Many WordPress hosting providers support free migrations, but you'll have to purchase a hosting plan first.
If you're moving to a new domain name, you'll have to buy a new domain. These usually cost between $9 to $14.99 yearly.
To see more hidden costs in WordPress migrations, check out our comprehensive guide!
Conclusion
You've just migrated your large WordPress site!
Do you want to redesign your large site in a safe environment? Check out our guide on website cloning!
Are you ready to migrate your large WordPress site? Download Duplicator Pro to easily transfer your content without any errors!