Do you want to send your WordPress backup to Dropbox?
Dropbox is a cloud storage service that allows you to save and organize files. Using a backup plugin like Duplicator, you can send your backup files to Dropbox. This can reduce the strain on your server and protect your site from data loss.
In this tutorial, we'll show you how to back up a WordPress site to Dropbox!
Why You Should Back Up Your WordPress Site to Dropbox
Whether you run a small blog or WooCommerce store, you've probably considered backing up your website. When you create a backup, you'll save a copy of your WordPress files and database. If your site ever experiences a fatal error, you can restore this backup.
You can save your backups on your server, but this might not be the best option. Your server might get hacked or become corrupted. In this case, you could lose your backups.
If you want peace of mind that your backups will be secure, consider using cloud storage. When you save a backup to a third-party storage location, you'll know you can always access a functional copy of your site.
Plus, storing your backups off-site can reduce strain on your server. Cloud backups won't require resources from your hosting provider.
There are many different cloud storage solutions, so you might not know where to start. However, Dropbox is a popular option. This tool provides a central hub for storing, organizing, and recovering your site backups: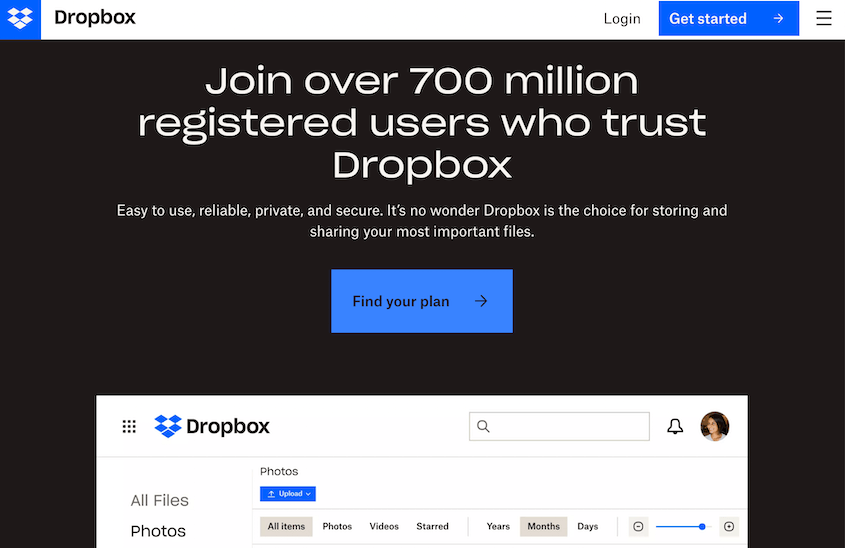 Dropbox might be right for you if you want free cloud storage. You can sign up for a free account and access up to 2GB of storage space. If you need more, there are many different pricing plans available starting at $9.99 per month.
How to Back Up a WordPress Site to Dropbox
Dropbox can be an effective backup solution for your website. Let's discuss how to link WordPress to Dropbox!
Step 1: Install Duplicator
Although you could manually create a backup and upload it to Dropbox, this can waste valuable time. To make this process easier, consider installing a WordPress backup plugin. Duplicator Pro is one of the best options, with built-in cloud storage capability: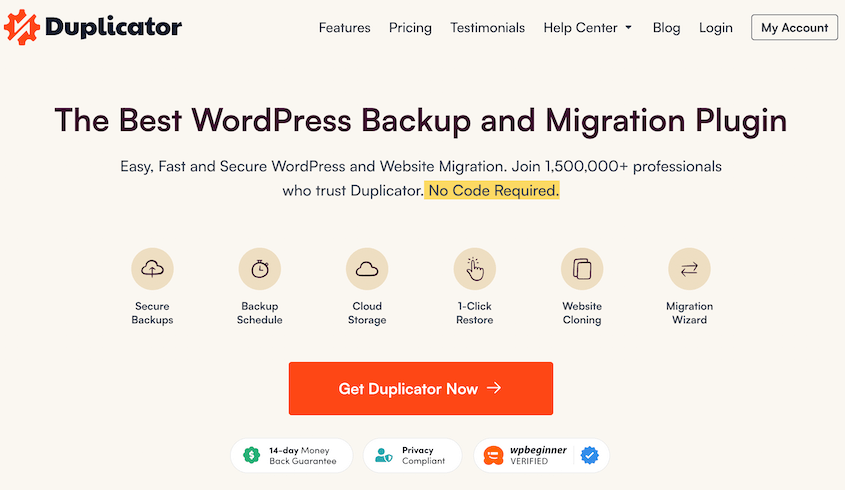 With Duplicator, you can create backups and automatically push them to cloud storage. Here are all of the remote storage options supported by the plugin:
Dropbox
Google Drive
Amazon S3
OneDrive
FTP
SFTP – SSH
To get started, choose a subscription for Duplicator Pro. Although there is a free version, the premium plans include cloud storage integrations.
Once you purchase Duplicator, download the plugin. You'll also need to copy your unique license key.
Then, open your WordPress dashboard and install and activate Duplicator. If you need help with this process, check out this step-by-step guide on installing WordPress plugins.
Lastly, go to the Duplicator Settings tab. Then, find Licensing. Here, paste the license key that you received with the plugin and click on Activate: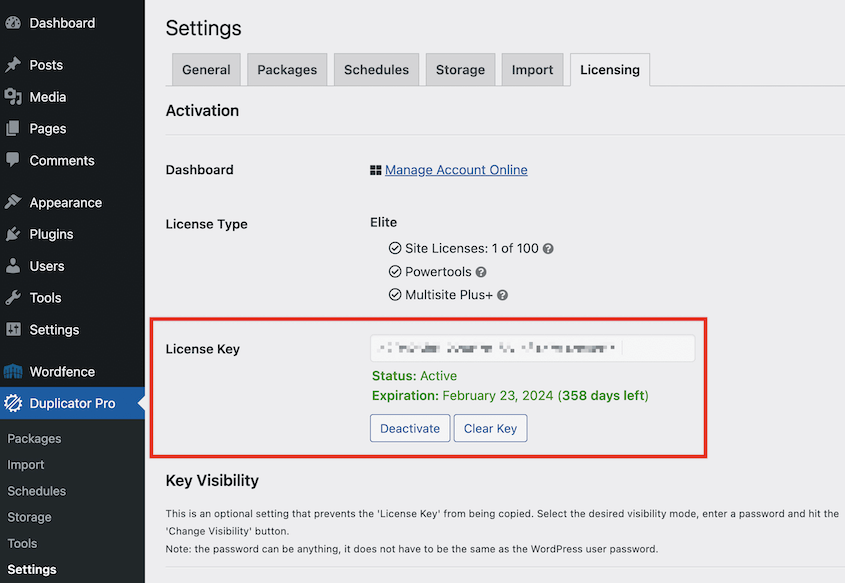 Now you've set up Duplicator! You can continue to the next step to link Dropbox to your website.
Step 2: Connect Your Dropbox Account
By default, Duplicator will save your backups to your local server. If you want to start using cloud storage options like Dropbox, you'll need to connect your third-party account.
First, find Duplicator Pro » Storage. Here, you'll see the local storage option. To add Dropbox, click on Add New:

At the top of the page, name the storage location so that it's easily identifiable later. You can also add any notes if needed:

Under Type, select Dropbox. Then, hit Connect to Dropbox:

Now you'll see new steps for connecting your Dropbox account. Click on Authorize Dropbox to open Dropbox in a new tab:

If you're not already, sign in to your Dropbox account. You can also create a new one: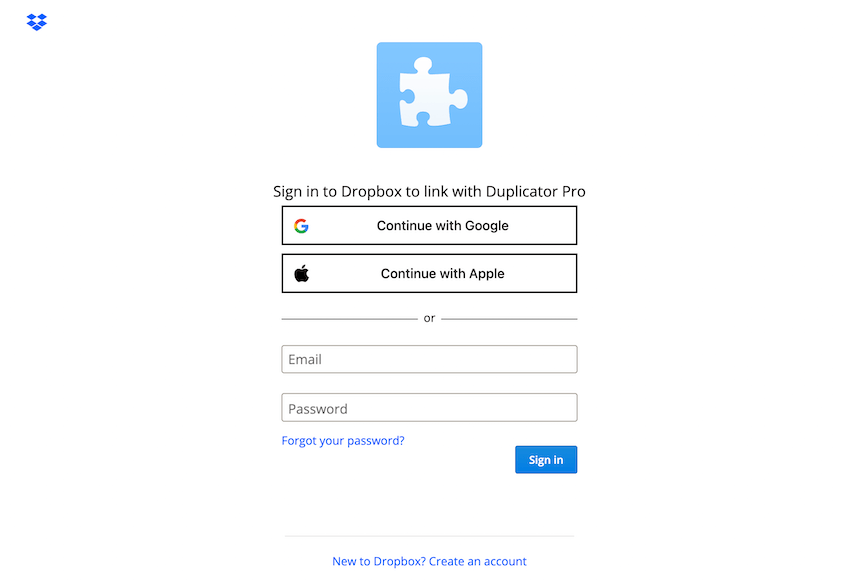 After you're logged into your account, you'll be prompted to authorize the connection. Simply hit Allow to let Duplicator make changes to your Dropbox account: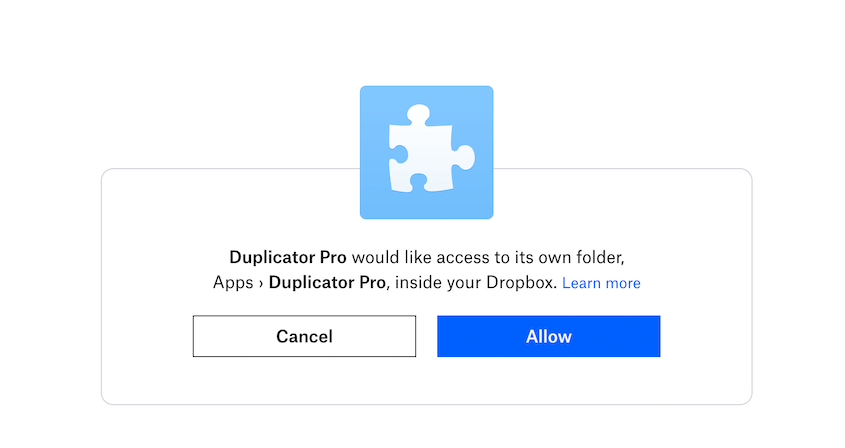 Dropbox will then give you an authorization code. Copy this and go back to your WordPress dashboard: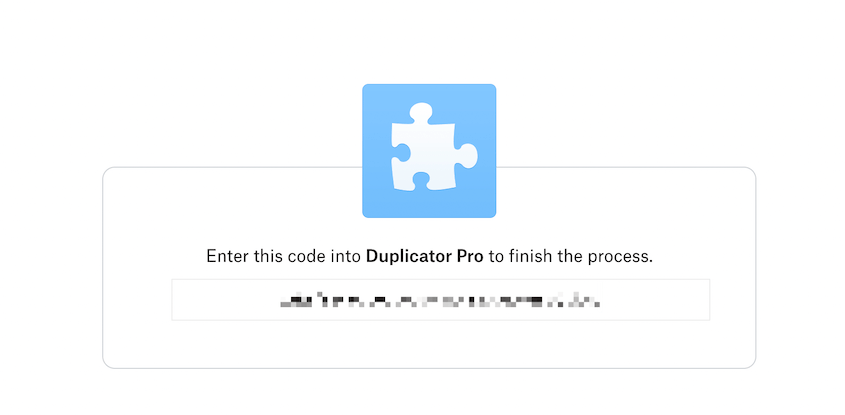 For Step 2 of the Authorization section, paste the authorization code. Then, click on Finalize Setup:

This will add Dropbox as a new storage location for your backups!
Step 3: Create a Dropbox Backup
After you configure Dropbox as a storage location, you can create a cloud backup of your website. To do this, navigate to Duplicator Pro » Packages » Create New: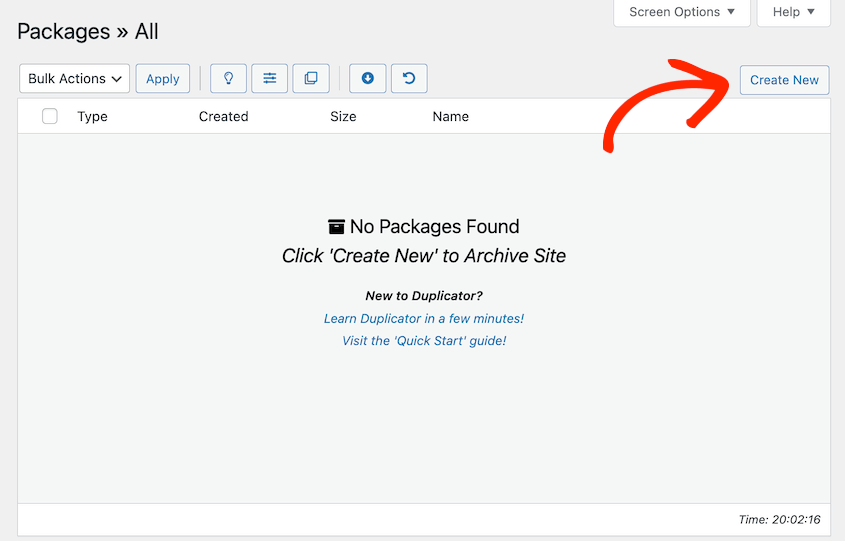 Feel free to give the backup a unique name. Alternatively, Duplicator will automatically generate one using your site's name:

Then, open the Storage section. You'll see all of the cloud storage options that you've activated for your website. To back up your package to Dropbox, select it:

You'll also see settings for the archive and installer files. The archive will package your site's content, plugins, themes, database, and files. If you want to only save certain data, you can use filters to exclude folders, files, and file extensions: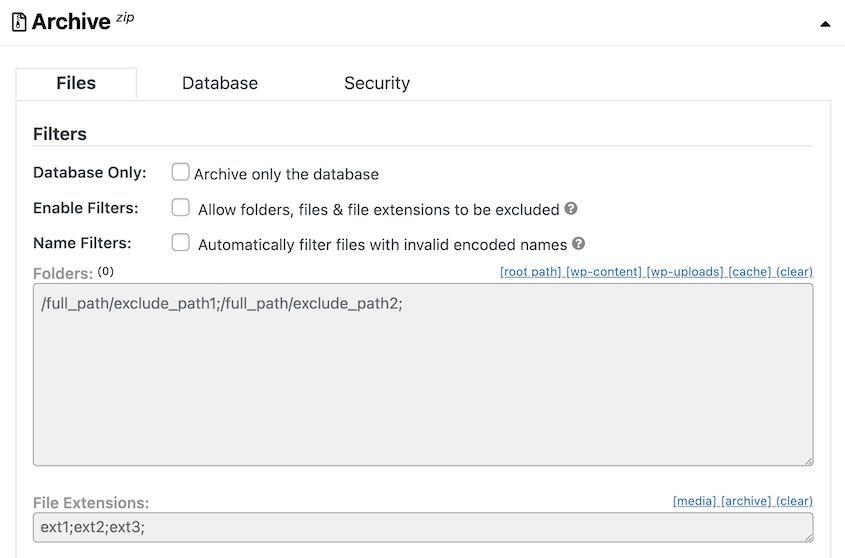 If you want to take a complete backup of your site, however, don't make any changes. After you click Next, Duplicator will scan your website. You'll receive notices if there are any issues: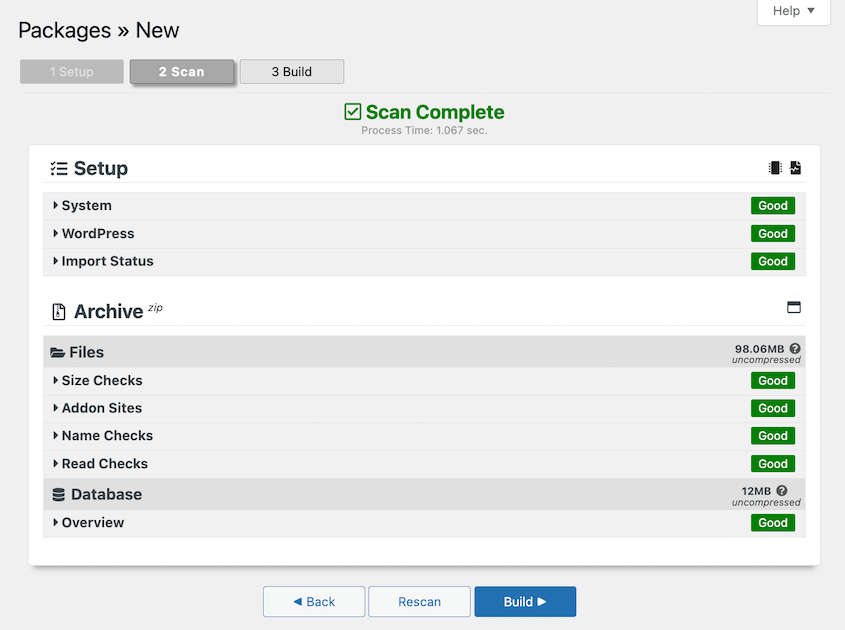 To finish your backup, hit Build. Your package will be built on the local server first and transferred to Dropbox.
Step 4: Set Up Automatic Backups
To protect your website from any vulnerabilities, we'd recommend backing it up on a regular basis. Although you could always do manual backups, you might want to dedicate more time to creating blog posts or selling products. If you want an easier way to back up your site, consider setting up automatic backups.
With automatic backups, you won't have to ever worry about creating backups. You can simply choose a schedule that meets your needs and your WordPress website will be backed up for you.
Fortunately, Duplicator Pro supports automatic backups. To set up a schedule, head over to Duplicator Pro » Schedules » Add New: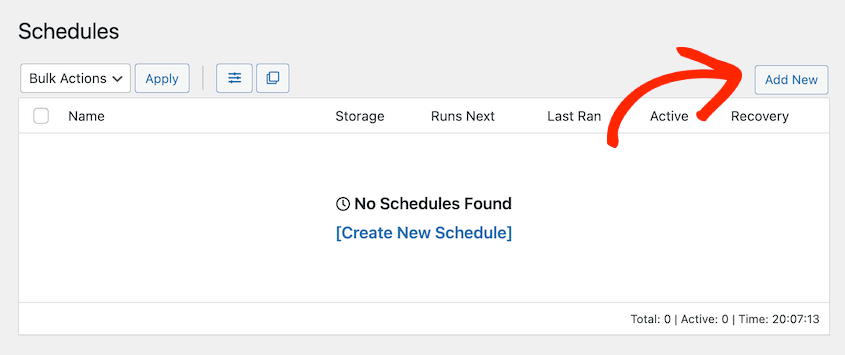 Start by naming your backup schedule. If you want to perform full backups, choose the Default package template: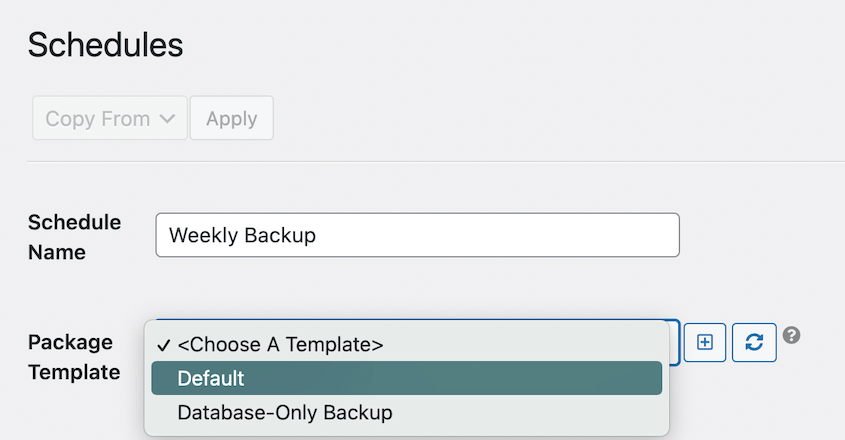 Note: Keep in mind that you can create a new template if you want to make changes to the archive or installer files. This can allow you to schedule database backups or other custom backups.
Then, go to the Storage section. Here, select Dropbox:

You can select how frequently you want to back up your site. Duplicator supports monthly, weekly, hourly, and daily backups. Once you select one of these options, you can customize exactly when the backup runs: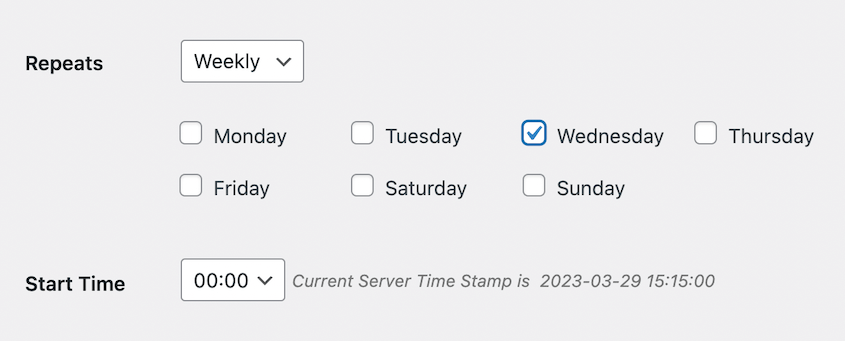 At the bottom of the page, check the box next to Enable This Schedule: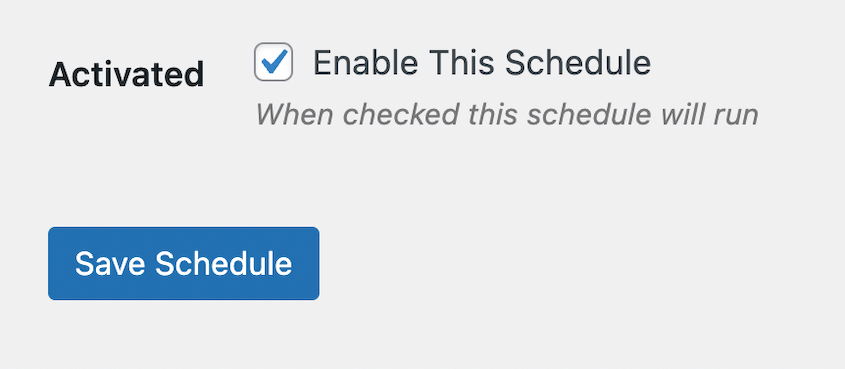 After you save this new schedule, Duplicator will automatically back up your site at the scheduled time. Plus, these backups will be saved to Dropbox.
How to Restore Your Dropbox Backup
Once you send regular backups to Dropbox, you'll always have a functional copy of your site on hand. If there are serious errors or data loss, you can easily restore the most recent backup. This will immediately get your website back to normal.
To restore your backup, open your Dropbox account. Then, find the folder that stores your Duplicator backups:

You'll see both an archive and an installer file. Click on the archive zip file and download it: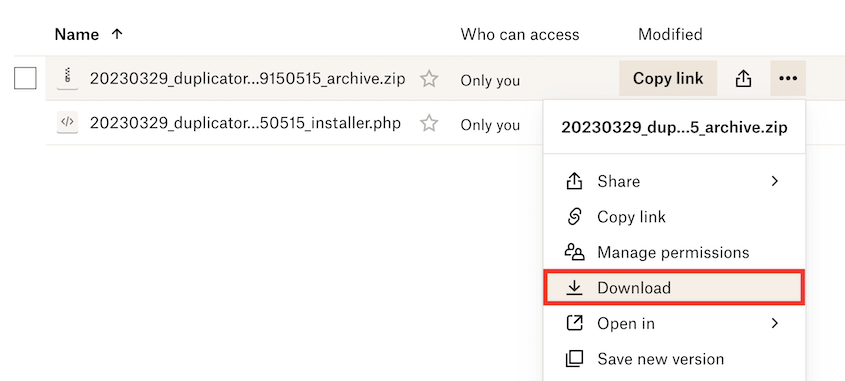 With Duplicator Pro, you can simply drop this archive file into your WordPress dashboard to restore your site. Go to Duplicator Pro » Import and upload the archive: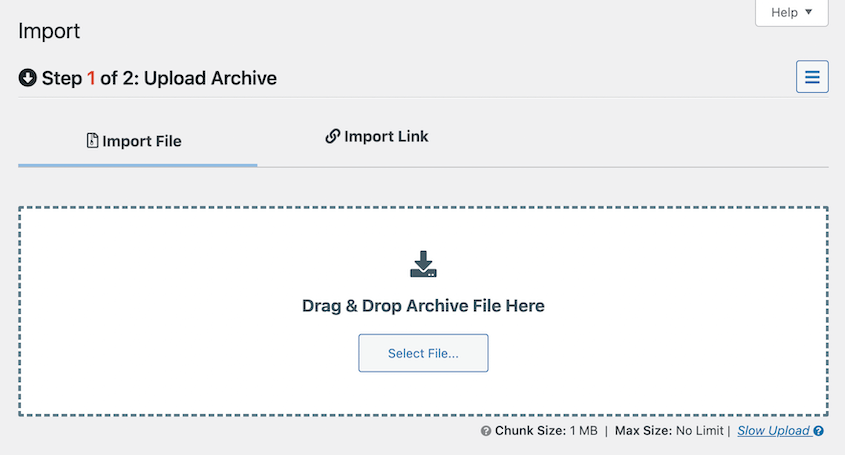 After it uploads, you'll see details about the archive. Next, click on Continue: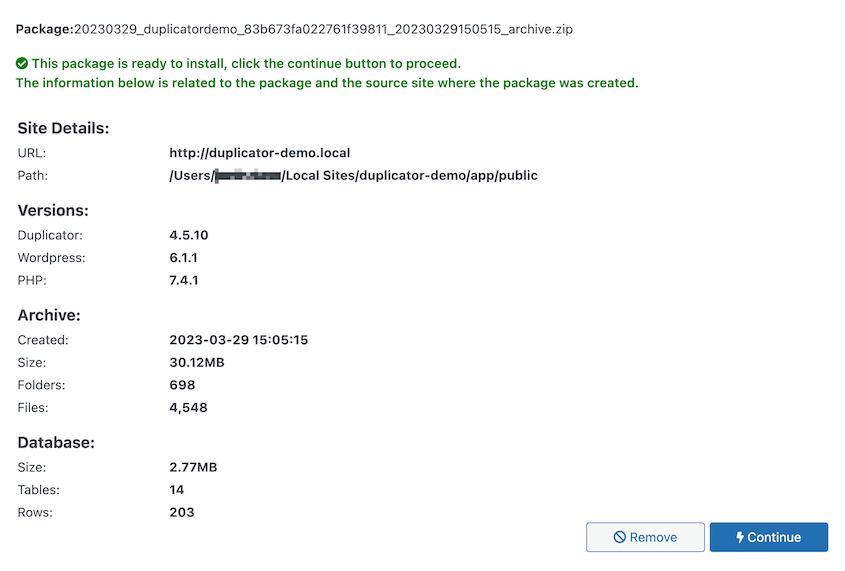 Now there will be an overview of your current site. You'll need to hit Launch Installer to start rewriting the site:

In the Duplicator installer wizard, select Restore single site. Then, click Validate to check your website for any problems: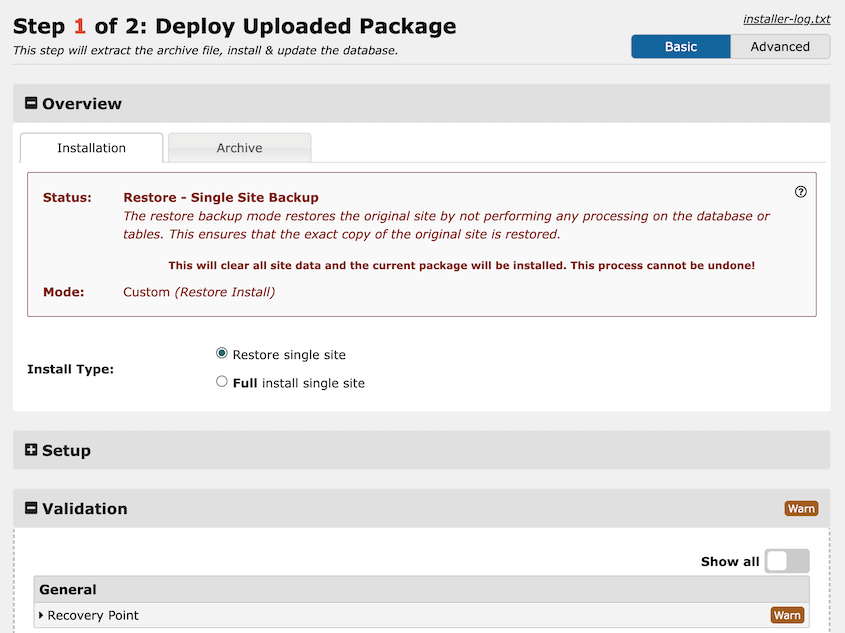 You'll also need to accept the terms and notices. After this, confirm the site and database settings in the pop-up window: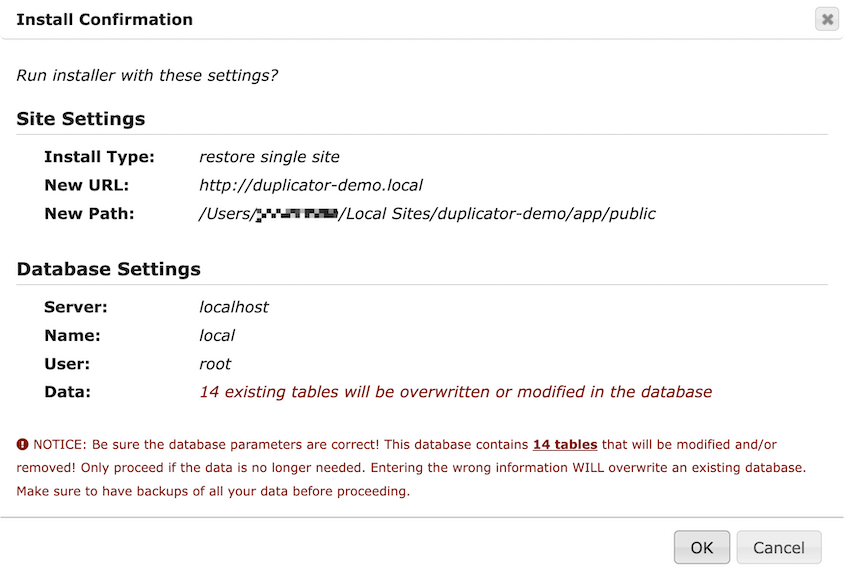 After this, Duplicator will extract the archive and restore your backup. When the import is finished, log back into your website.
Conclusion
By following these steps, you'll successfully save your WordPress backup to Dropbox!
Are you backing up your website before a migration? Check out our comprehensive guide on migrating a WordPress site!
Looking for the best WordPress Dropbox plugin? Download Duplicator Pro to use cloud storage services like Dropbox, Google Drive, and more!