Do you need to compare BlogVault vs BackupBuddy vs Duplicator?
When it comes to website backups, using a reliable WordPress plugin is crucial. Popular options like BlogVault, BackupBuddy, and Duplicator can safeguard your website and avoid any data loss. However, you may not know which one to choose.
In this article, we'll do an in-depth comparison between BlogVault, BackupBuddy, and Duplicator so you can find the best backup plugin for your needs!
What Is a WordPress Backup Plugin?
A WordPress backup plugin is a tool designed to create copies (backups) of a WordPress website's content, files, and database. In the event of a website crash or data loss, a backup plugin enables users to easily restore their site to a previous working state, ensuring minimal data loss.
What to Look For In a WordPress Backup Plugin
Although a WordPress backup plugin can offer easy ways to protect your website data, there are many different options to choose from. To narrow down your choices to only the best software, here are a few factors to consider:
Reliability: It's best to choose a backup plugin with a solid reputation and positive user feedback. Be sure to check out the reviews and ratings on WordPress.org.
Backup solutions: Ensure the plugin provides reliable backup options, including both manual and automatic backups, as well as off-site cloud storage.
Flexibility: Look for options to schedule automated backups so that you can simply set and forget about your backups. Additionally, you may need to filter specific files or databases from a backup, so pick a customizable backup plugin.
Storage Options: You'll want to check if the plugin supports popular cloud services or remote server backups. This allows you to instantly send backups off-site and keep them safe from server errors.
Easy Restoration: Choose a plugin that simplifies the restoration process for hassle-free recovery.
Support and Documentation: The best backup plugins will have responsive customer support and thorough documentation.
By considering these factors, you can find a WordPress backup plugin that is reliable, flexible, and easy to use. This will provide the protection and peace of mind your website deserves!
BlogVault vs BackupBuddy vs Duplicator: Compared
When you start looking for a WordPress backup plugin, three main options will probably stand out: BlogVault, BackupBuddy, and Duplicator. But which is the best one? Let's find out!
Features: BlogVault vs BackupBuddy vs Duplicator
First, let's take a look at the main backup features of BlogVault, BackupBuddy, and Duplicator. This way, you'll know exactly which plugin is right for your site!
Duplicator Features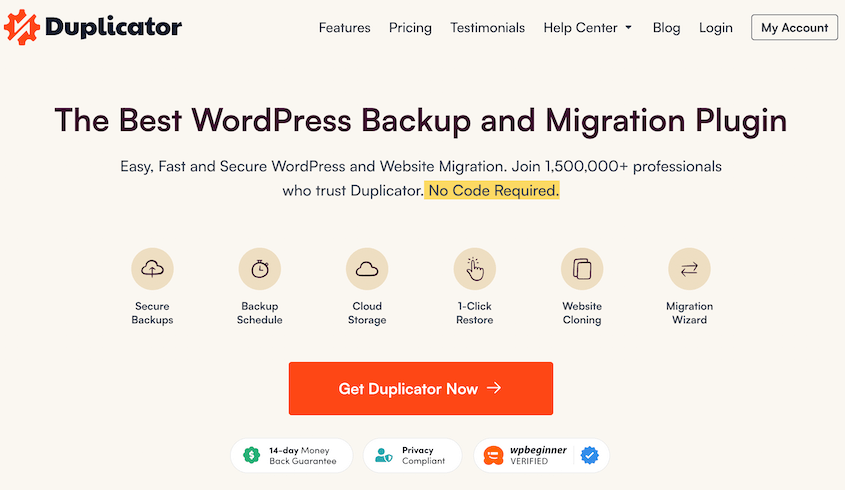 Duplicator Pro is a powerful WordPress plugin designed to simplify the process of migrating, backing up, and cloning websites. It offers a range of features that make managing WordPress sites more efficient and secure.
With Duplicator Pro, you can easily create complete backups that include all your files, themes, plugins, and database tables. Then, you can set recovery points to instantly restore your backup in the case of an emergency.
And that's not all! Here are some great features you can expect from Duplicator Pro:
Manual and automatic backups
File and database filters
Supports migrations of large sites and Multisite networks
Recovery points for quick site rollbacks
Cloud storage integrations
Server-to-server imports
Step-by-step migration wizard
Drag-and-drop migrations
WordPress installation not required
Set up pre-configured sites
BlogVault Features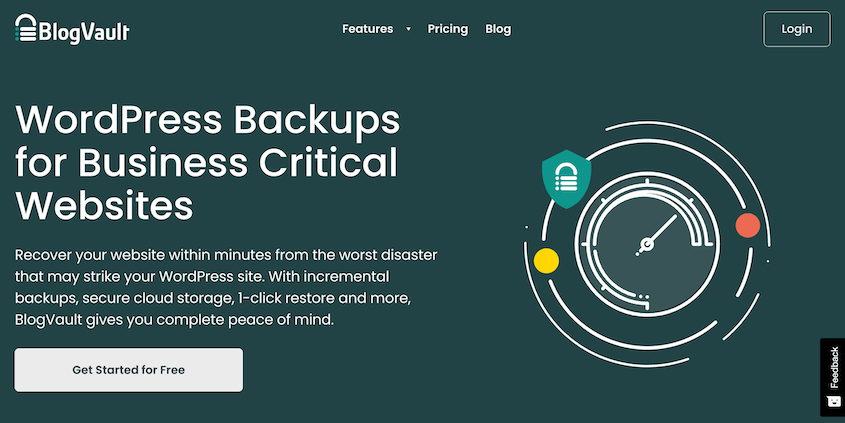 BlogVault is a comprehensive backup and security service that gives WordPress users a reliable way to protect their sites. It offers automated backups, real-time backup syncing, and one-click restoration, ensuring that your website's data is always secure and easily recoverable.
Here are some of BlogVault's main features:
Complete and incremental backups
Off-site backup storage
Enterprise-grade backup encryption
One-click restore
One-click staging
Migration to a new web hosting provider or domain
Large site and WordPress Multisite support
BackupBuddy Features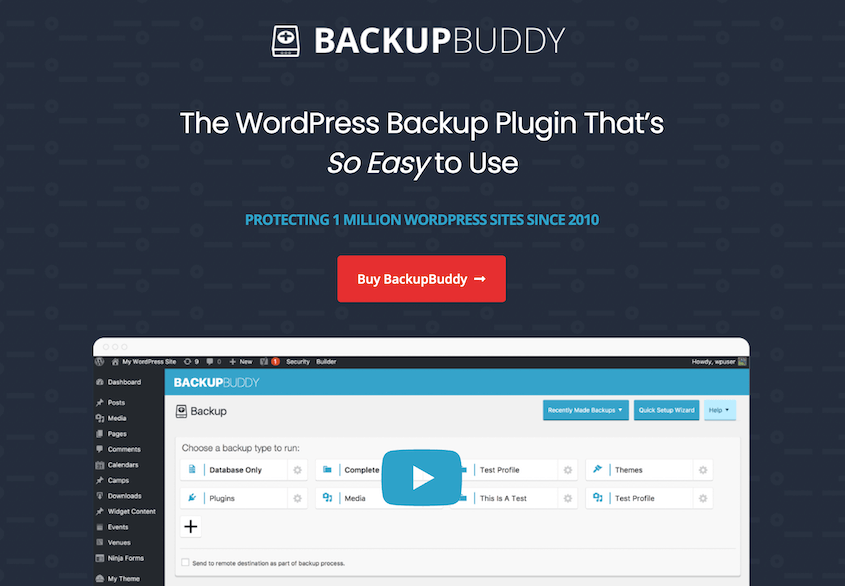 BackupBuddy is another third-party backup service that can save copies of every piece of data on your WordPress website. As a website owner, you can use this tool to run scheduled backups, roll back your site after a bad update, and even migrate your content to a different location. 
Here are some features you'll get with BackupBuddy:
Complete WordPress backups
Scheduled backups
Remote storage to BackupBuddy Stash
Restore options
Migrations and cloning
URL replacement
Ease of Use: BlogVault vs BackupBuddy vs Duplicator
A backup plugin will only be helpful to you if it's easy to use. Let's see how easy it is to create backups with BlogVault, BackupBuddy, and Duplicator.
Duplicator Ease of Use
Duplicator boasts a user-friendly interface, guiding you through backups and migrations step by step. To create a backup, all you'll need to do is build a new package. This will compile your files, plugins, themes, and database into a zip file: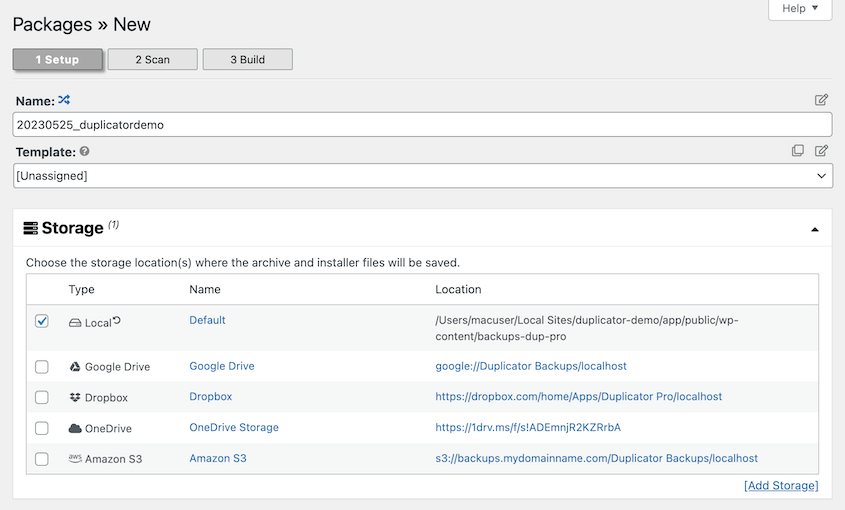 After you name the package, feel free to select a cloud storage service. Once the package is built, Duplicator will automatically send your backup to this location.
Here are all the storage options you can use with Duplicator Pro:
Backblaze B2
Wasabi
Google Cloud
FTP
SFTP – SSH
To customize your backup, you can make changes to the archive file. Fortunately, Duplicator makes this as easy as checking a box. You'll be able to decide whether to include/exclude the database, core WordPress files, plugins, themes, and media files: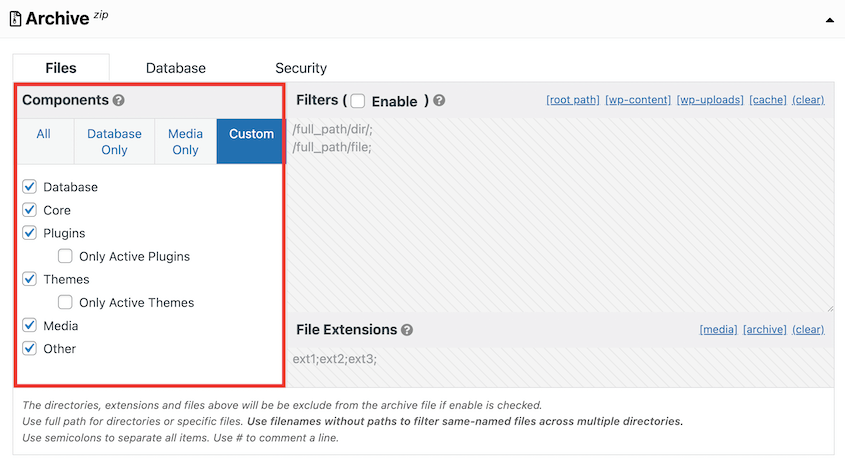 Then, hit Next. You'll see that Duplicator scans your site for any issues: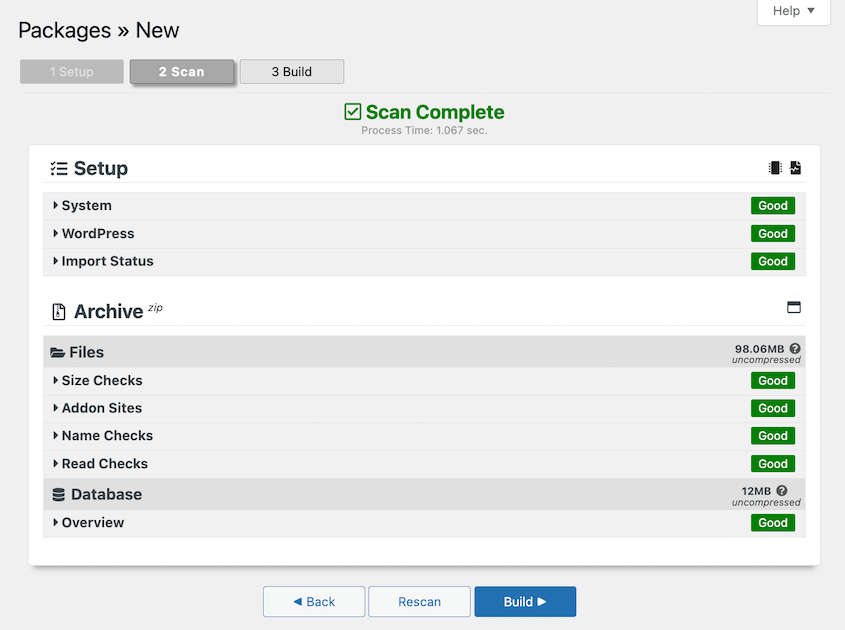 Once you continue, Duplicator will back up your site! You'll see your new backup on the Packages page:

If you hit Download, you'll be able to save copies of the archive and installer files. Essentially, the archive contains a copy of your WordPress site while the installer deploys it. By downloading these backup files, you can easily restore a backup later or move a copy of your site to a different location.
You can also save time and set up automatic backups. To do this, find the Schedules page and hit Add New: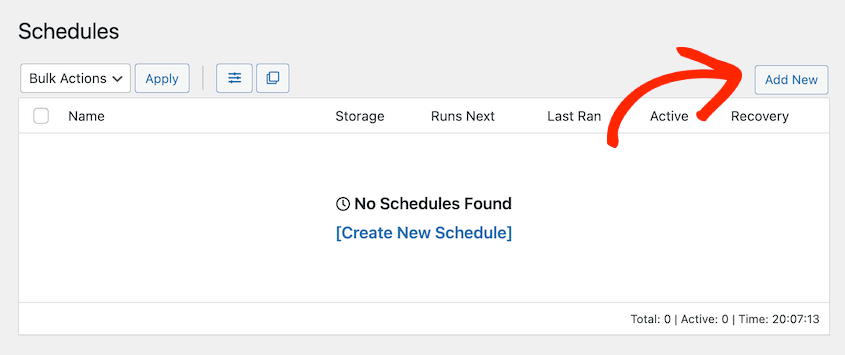 Give your backup schedule a name. Then, select a storage location: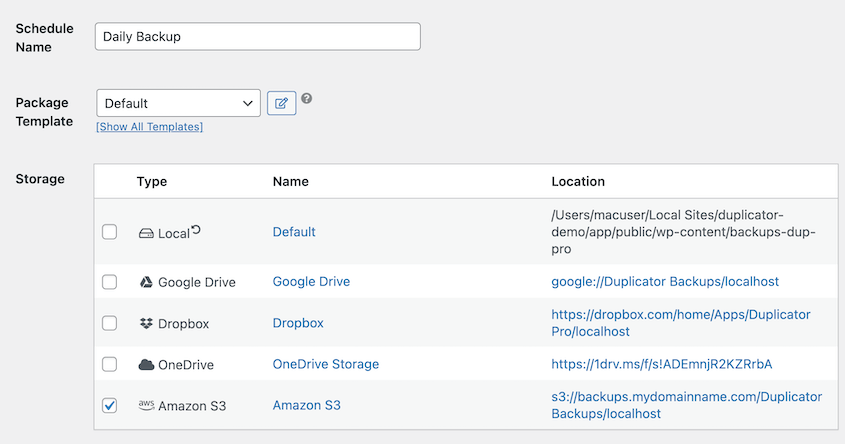 Duplicator allows you to schedule weekly, monthly, hourly, or daily backups. Choose one of these options and specify a start time:

Lastly, enable the schedule. This will ensure your site is always backed up and secure from any unexpected errors!
BlogVault Ease of Use
To start using BlogVault, you'll simply have to install the plugin and enter your email address. This will automatically send you to the BlogVault dashboard: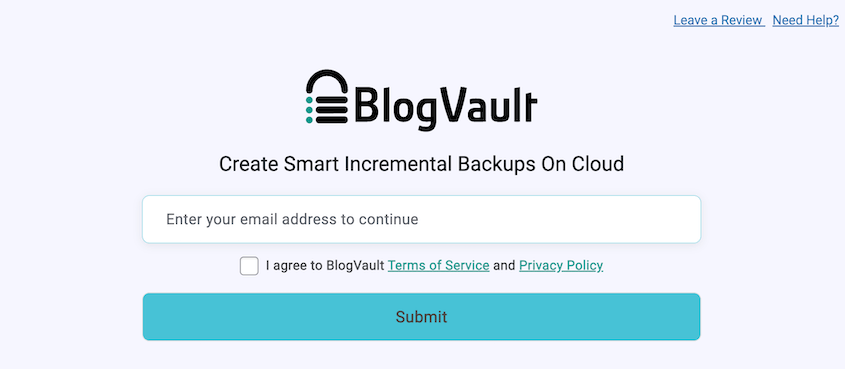 After it syncs with BlogVault, your site will automatically be backed up. To create a manual backup, simply sync your site again:

If you want to back up your site on a schedule, open the settings for your site. Click on Sync Time and update it: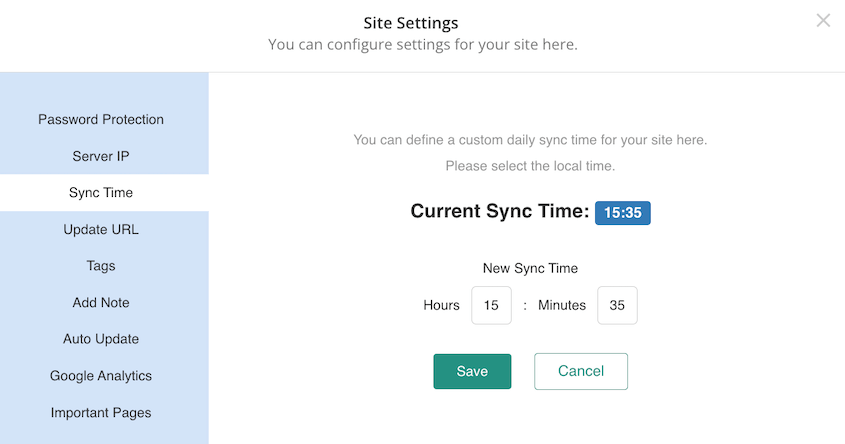 BlogVault also allows you to automatically update your themes, plugins, and WordPress version. This WordPress maintenance service can be an effective time-saver for your ecommerce site.
BackupBuddy Ease of Use
Like Duplicator and BlogVault, BackupBuddy makes it easy to create and schedule backups. After you sign up, you'll fill out a form where you can customize your backup options. By the end, BackupBuddy will start backing up your site.
Since many users prefer automated schedules to manual backups, BackupBuddy provides this alternative. You can choose your backup interval, date, time, and remote storage location: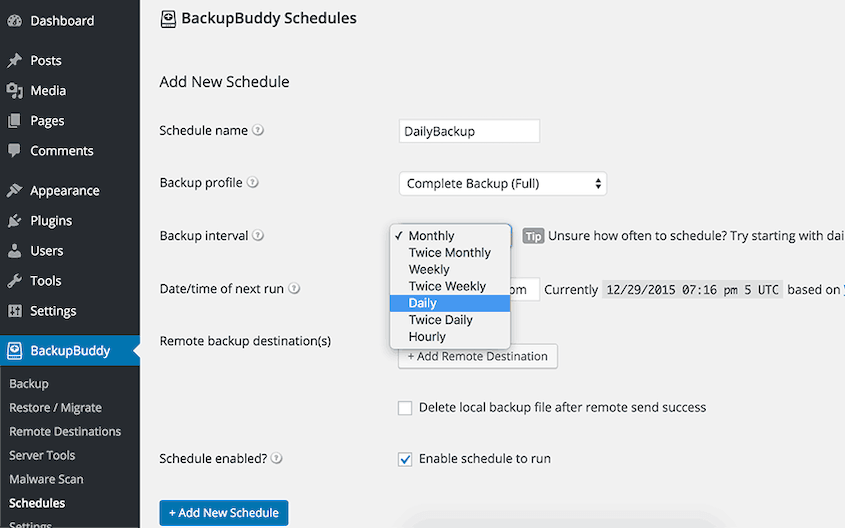 Using BackupBuddy, you'll even be able to set up multiple backup schedules. You could save your database every month, but perform a full backup every week. This can remove the hassle of manually backing up every part of your site.
Migrations: BlogVault vs BackupBuddy vs Duplicator
Many WordPress backup plugins can also migrate your website. If you want to limit the number of plugins installed on your site, it's best to find one that also functions as a migration plugin.
Duplicator Migrations
Often, moving to a new domain name or hosting plan can be a complicated process. With Duplicator, it's easy. This plugin supports drag-and-drop migrations, so even complete beginners can migrate their websites without technical experience.
After you create a backup with Duplicator, download its archive file. Then, make sure Duplicator Pro is installed and activated on a second site. Find the Import page and upload your backup: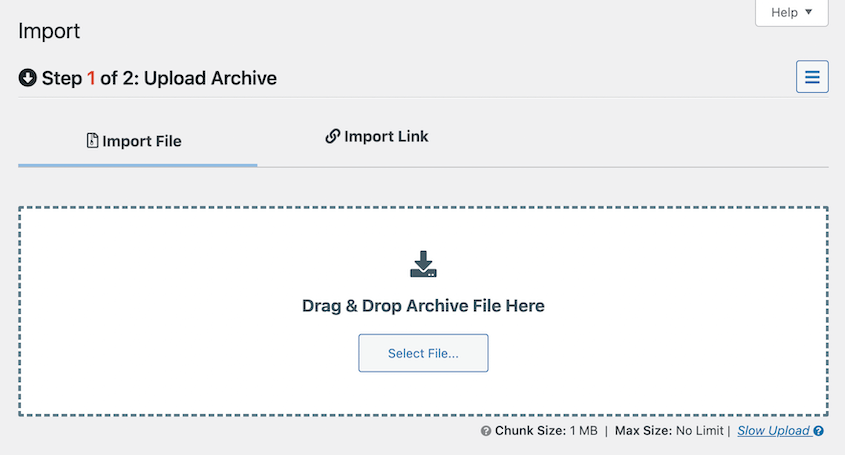 Duplicator will then walk you through the steps of importing your original website. Your old site will still be live while you get the new one set up. Since there's no downtime, you can migrate your site to a new WordPress host without damaging your Search Engine Optimization (SEO) ranking!
BlogVault Migrations
To migrate your site with BlogVault, find a recent backup and hit the Migrate button: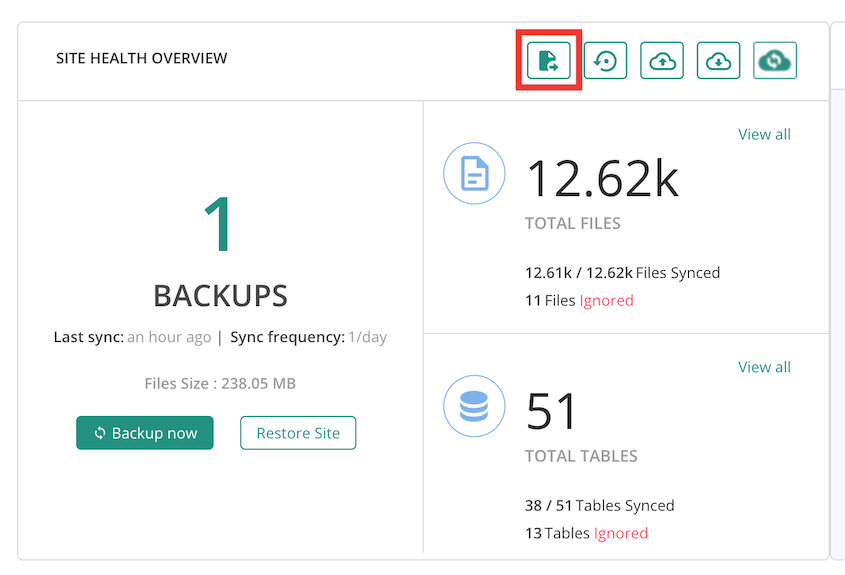 You'll then have to fill out your new URL, FTP details, and database credentials: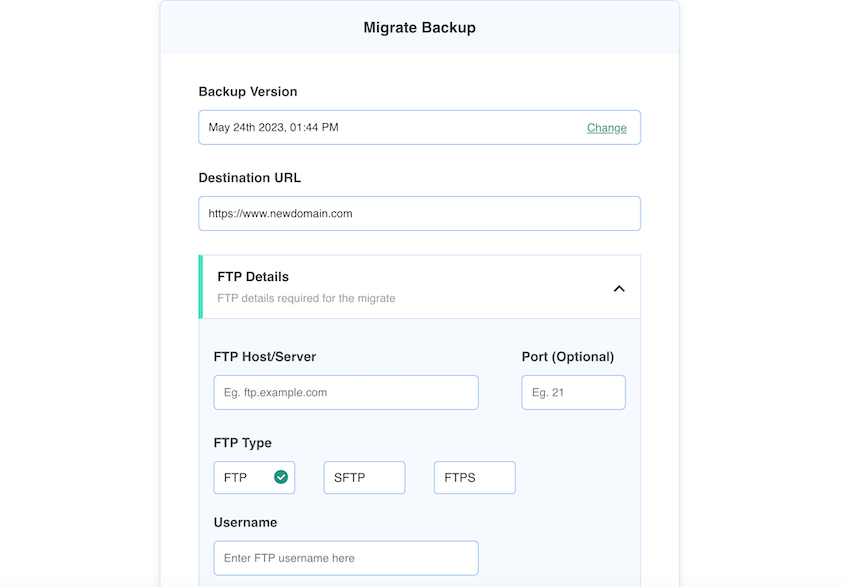 If you want to, you can choose to only migrate specific files or database tables: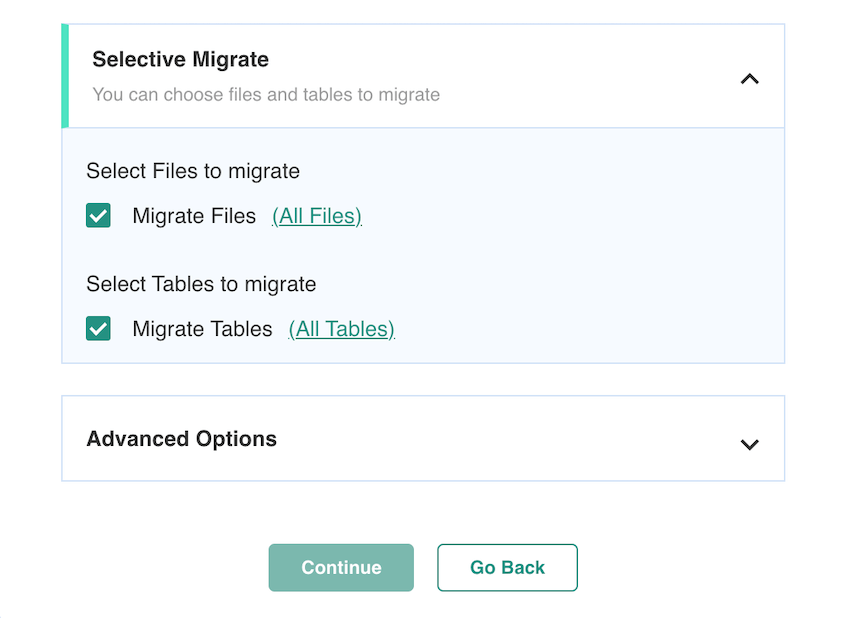 After this, BlogVault will transfer your WordPress website over to the new location.
BackupBuddy Migrations
With BackupBuddy, you'll start the migration process by creating a full backup of your site. When BackupBuddy generates your backup zip file, download it.
You'll also need to download the ImportBuddy.php file. Then, upload both of these files to your new server. You can do this with cPanel or a File Transfer Protocol (FTP) client.
To finish the migration, run the ImportBuddy script. This will show you the final steps you need to take to move your website to the new location.
Restore Options: BlogVault vs BackupBuddy vs Duplicator
Your backups will only be useful if you can easily recover them. Let's see how BlogVault, BackupBuddy, and Duplicator compare in terms of restore options.
Duplicator Restore Options
Unlike other backup plugins, Duplicator allows you to restore site backups without needing to use your WordPress dashboard. This can be an extremely helpful feature if you're ever locked out of the wp-admin area.
To make sure your backup can easily be restored, you'll need to set it as a recovery point. First, find your most recent backup. Then, expand its details and hit Recovery Point: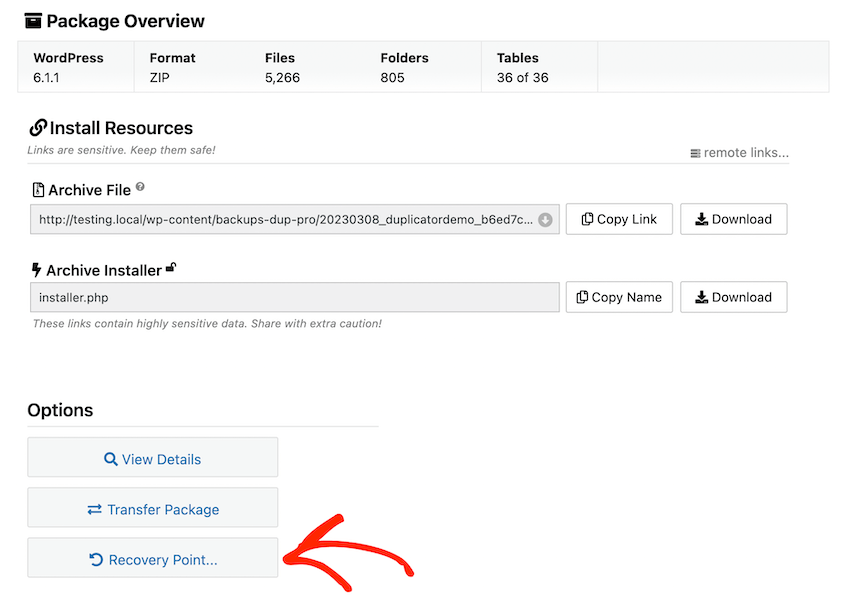 In the pop-up window, select Set to Recovery Point: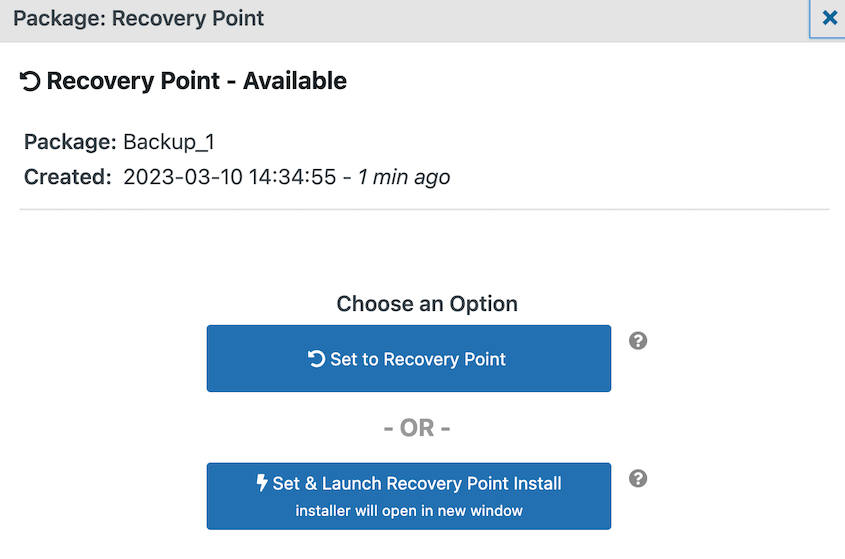 Once your recovery point is active, you'll see a new circular arrow icon next to your backup. Click on this to copy your recovery point URL:

Be sure to save this URL in a safe location. If your site ever crashes, you can simply paste this into a new browser window. Even if you can't log into WordPress, this will automatically launch the Duplicator recovery wizard: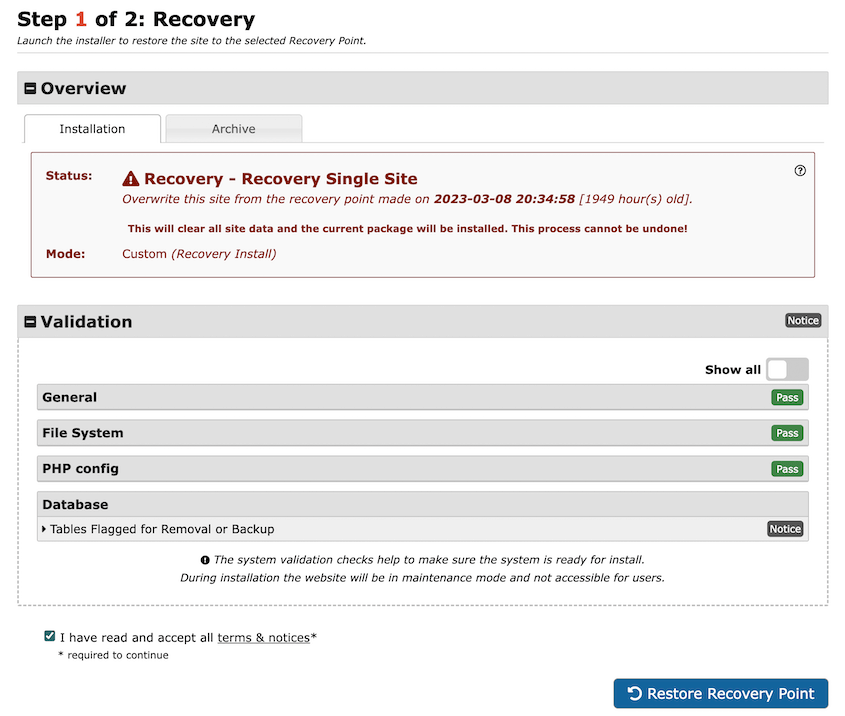 You can then walk through the provided steps to recover your backup. You'll get your site up and running again in a few minutes!
BlogVault Restore Options
To restore your site with BlogVault, you'll need to find the Restore Site button: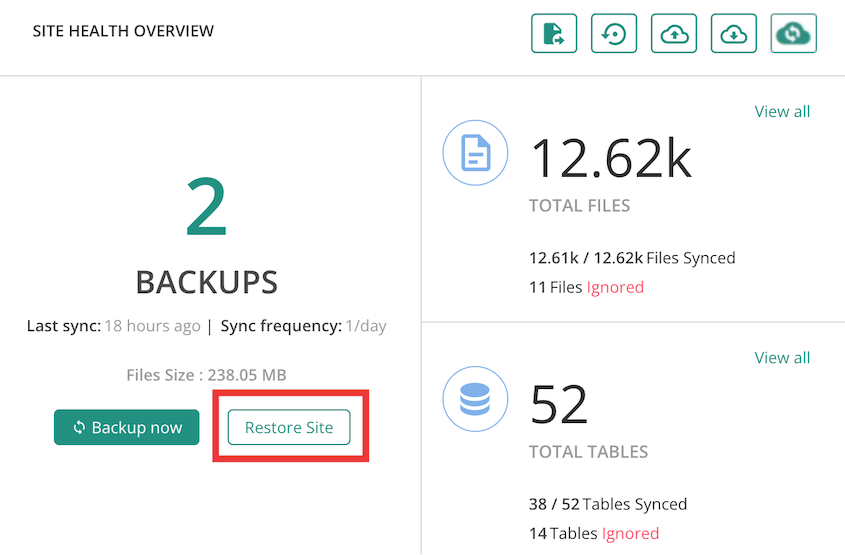 Next, select the backup you want to restore. Since BlogVault supports selective restores, you can also exclude specific files and database tables from the restoration: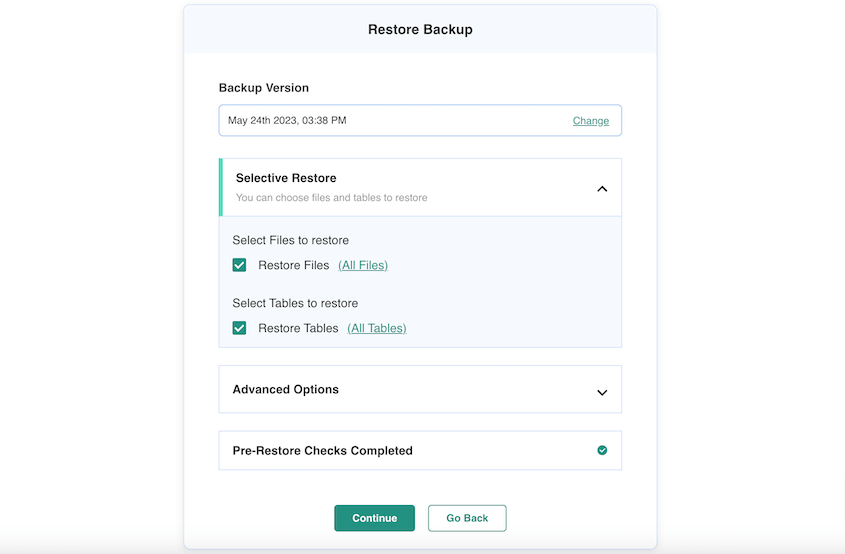 After this, BlogVault will convert your site to a previous version.
BackupBuddy Restore Options
Restoring a website with BackupBuddy is very similar to the migration process. You'll start by downloading your backup, along with the ImportBuddy.php file.
Instead of uploading these files to a new server, add them to your current site. This will replace the currently broken website with a functional saved copy.
Pricing: BlogVault vs BackupBuddy vs Duplicator
To make sure your new small business website is successful, you'll want to find the most cost-effective tools. Let's compare the value of these backup plugins and see if they're worth their price.
Duplicator Pricing
Duplicator offers a free version with basic features for website backups, migrations, and cloning. You can use this tool to back up your site and even transfer it to a different server: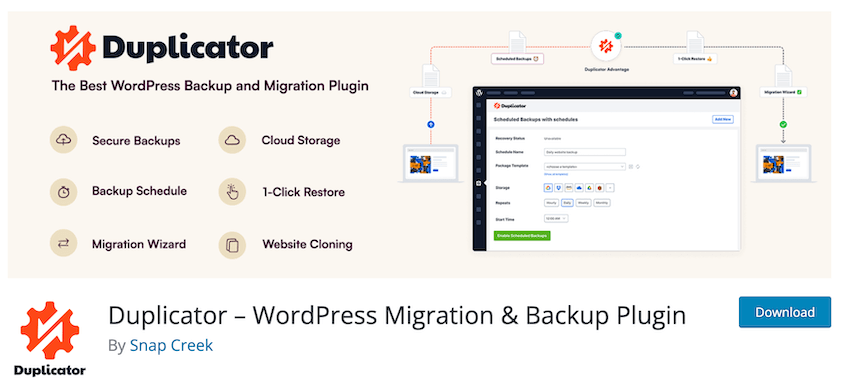 However, Duplicator Pro can make site management much easier. It comes with automated backups, drag-and-drop site migrations, cloud storage, and much more: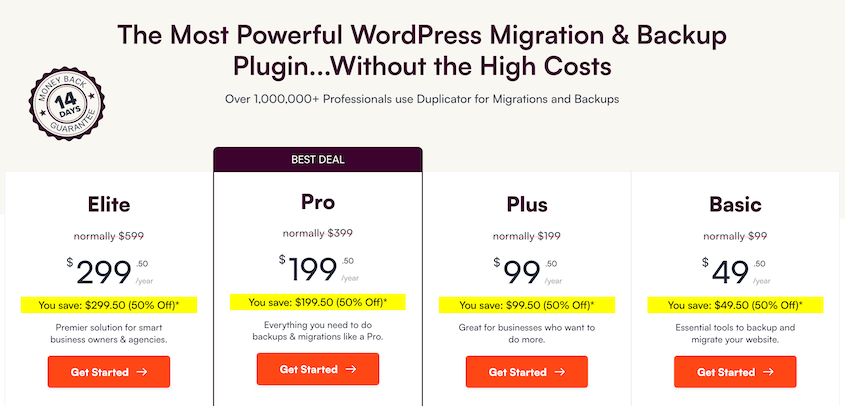 Pricing for Duplicator Pro starts at just $49.50 per year. Even the basic plan will give you access to unlimited backups and migrations.
BlogVault Pricing
Although you can find the BlogVault plugin for free on the WordPress.org directory, it is a paid backup service. Once you download the plugin, you'll have to sign up for a premium plan. However, you can try out BlogVault for free for 7 days.
After your free trial, BlogVault starts at $89 yearly. You'll get daily automatic backups, a staging site, and visual regression testing: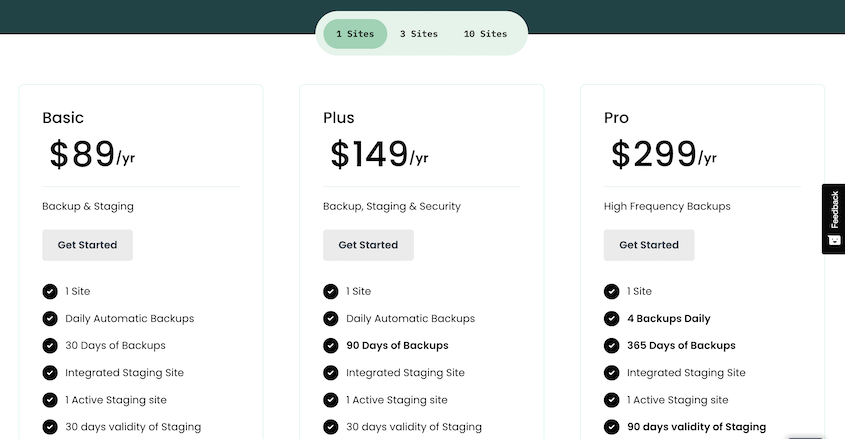 Unlike other backup plugins, BlogVault offers many different plans designed for specific use cases. For example, you might want a higher frequency of backups. For this case, BlogVault will back up your site four times a day for $299 per year.
BackupBuddy Pricing
BackupBuddy is a premium backup plugin that starts at $99 per year. A basic plan will only back up one site and provide 1GB of storage space: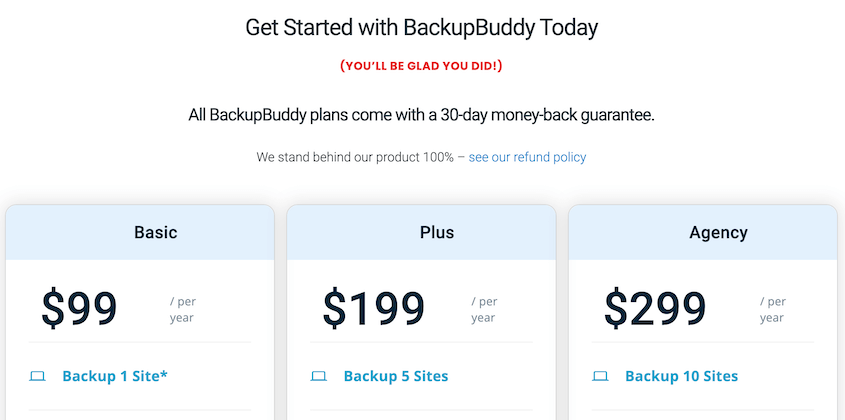 Alternatively, you can purchase a BackupBuddy in a bundle with other security plugins or multiple site management tools. For example, BackupBuddy and iThemes Security Pro are available in the Essentials bundle, which you can upgrade to for $199.
BlogVault vs BackupBuddy vs Duplicator: Pros and Cons
Now let's quickly recap the pros and cons of BlogVault, BackupBuddy, and Duplicator!
Duplicator
Pros:
Backup, migration, and cloning features
Easy-to-use interface
Simple drag-and-drop migrations
Provides a recovery point URL to restore backups after critical errors
Can back up and migrate large websites and Multisite networks
Automatic backup schedules
Many cloud storage integrations
Free version available
Affordable premium version
Email notifications for timeouts or other backup updates
Cons:
No built-in malware scanning or other security scans
BlogVault
Pros:
Incremental backups for improved efficiency
7-day free trial
Uptime monitoring
Visual regression testing
WordPress security features like malware removal and a Web Application Firewall (WAF)
Off-site dashboard
Cons:
Backup process can take a long time, especially for large websites
No live chat support
No free version
Limited cloud storage options
BackupBuddy
Pros:
Backup, migration, and cloning tools
Individual file restore options
Easy staging and deployment
Database rollbacks
Can bundle BackupBuddy with other tools like iThemes Security Pro
Cons:
Difficult manual restore process
Expensive plans
No free version or free trial period
BlogVault vs BackupBuddy vs Duplicator: Which Should You Choose?
| | | | |
| --- | --- | --- | --- |
| Feature | BlogVault | BackupBuddy | Duplicator |
| Quick backups | No | Yes | Yes |
| Easy restore process | Yes | No | Yes |
| Staging | Yes | Yes | Yes |
| Automatic backups | Yes | Yes | Yes |
| Migrations | Yes | Yes | Yes |
| Cloud storage | Yes | Yes | Yes |
| Free version | No, 7-day free trial | No | Yes |
| Affordable premium plans | No | No | Yes |
While all three plugins – BlogVault, BackupBuddy, and Duplicator – offer valuable features, Duplicator emerges as the top choice for WordPress backup and migration needs. Its user-friendly interface, efficient backup package creation, and migration capabilities make it an excellent option for both beginners and experienced users.
And the best part? You can get all of these features without an expensive subscription. Unlike BlogVault and BackupBuddy, Duplicator offers a completely free version of its plugin. If you need to upgrade, there are affordable payment options.
When securing your WordPress website, choosing the right backup plugin is crucial. By opting for Duplicator, you can ensure the safety of your data. Plus, it'll simplify the backup and migration processes, enabling you to focus on what matters most – creating exceptional content for your audience.
Frequently Asked Questions (FAQs)
Finding a backup tool can sometimes seem like a daunting task. Let's answer some common questions to ease your concerns.
What are the best WordPress backup plugins?
The best backup plugin for WordPress is Duplicator Pro because of its comprehensive backup, migration, and cloning features. Other alternatives include BlogVault, BackupBuddy, UpdraftPlus, Jetpack Backup (VaultPress), and BackWPup.
What is the best free way to back up a WordPress site?
The best free way to back up a WordPress site is by downloading Duplicator Lite. With this free plugin, you can package your entire site into a zipped backup archive. Then, you can download this file to your computer so it's available if anything goes wrong with your website.
Which is the best plugin for automatic backups?
The best plugin for automatic backups is Duplicator Pro. You can schedule your site backup to be run hourly, daily, weekly, or monthly. Plus, you can customize a start time for the backup and even specify a preferred cloud storage location.
How do I back up my WordPress database without plugins?
You can back up your WordPress database by exporting it in phpMyAdmin. This will download your database into a SQL file. If you want an easier way, consider using Duplicator Pro to create database backups.
What is the best free backup for WordPress?
The best way to back up your WordPress site for free is to install the Duplicator Lite plugin. This tool allows you to back up, clone, and even migrate your entire website. To create a backup, you'll simply have to build a new package and then download it.
Is UpdraftPlus worth it?
UpdraftPlus is another WordPress backup and migration plugin. Although it has a beginner-friendly interface and flexible add-ons, it is more expensive than similar options like Duplicator. Plus, its restoration features are only accessible from the WordPress admin dashboard.
For a full review, check out our comparison between UpdraftPlus and Duplicator!
Conclusion
We hope this review helped you choose between BlogVault vs BackupBuddy vs Duplicator!
Need help backing up your website for the first time? You may also like our step-by-step tutorial on how to back up a WordPress site.
Are you ready to start using an affordable but feature-packed WordPress backup plugin? Download Duplicator Pro today!