Want to back up your WordPress site manually?
As a site owner, it's important to regularly back up your site to ensure the security and integrity of your hard work. Although many backup plugins have this functionality, you may prefer the flexibility of manual backups.
In this tutorial, we'll show you how to back up your WordPress site manually!
Why You Should Back Up Your WordPress Site
As a site owner, you might want to focus your energy on creating captivating content or increasing sales. However, you'll also need to safeguard your hard work against unexpected issues. This is where backups come in handy.
A website backup is a copy of all your WordPress site's files, databases, and content. This acts as an insurance policy, protecting your valuable data from cyber attacks, server crashes, human errors, or conflicts caused by updates.
Here are the main benefits of backing up your site:
Protection from human error
Restore a functional version of your site after a crash
Remove malware from hacks
Rollback website after bad updates
And more!
You never know what could happen to your website. It's a good idea to regularly back up all your data before disaster strikes.
However, there are a few ways to create backups. One of the easiest solutions is to install a WordPress backup plugin.
This tool will instantly compile your site's data into a downloadable zip file. Plus, many backup plugins include helpful features like automatic backups, cloud storage, and backup encryption.
Sometimes, you may want to back up your site manually instead. You might have too many plugins installed or simply want to be the one in charge of your data backups. If that's the case, you can easily download a copy of your WordPress website!
How to Back Up a WordPress Site Manually
Let's show you how to back up your WordPress site manually, step-by-step!
Note: This process involves handling your website files and database. If you're new to WordPress, we'd strongly recommend using a backup plugin to handle all of your backup needs.
Step 1: Download Your WordPress Files
If you want to save a backup of your site, you'll need two parts: the files and the database. Your WordPress files contain this valuable information:
WordPress core files
Plugins
Themes
Image files
JavaScript, PHP, and CSS files
Static web pages
To get started, you'll need to download all of the files on your website. You can do this with cPanel or a File Transfer Protocol (FTP) client. Be sure to check your hosting account to see which tool you should use.
Method 1: Back Up Your Files with cPanel
Many WordPress hosting providers offer cPanel so that you can easily edit site files, manage your server, and perform other tasks. To back up your files with cPanel, find the Files section and hit Backup: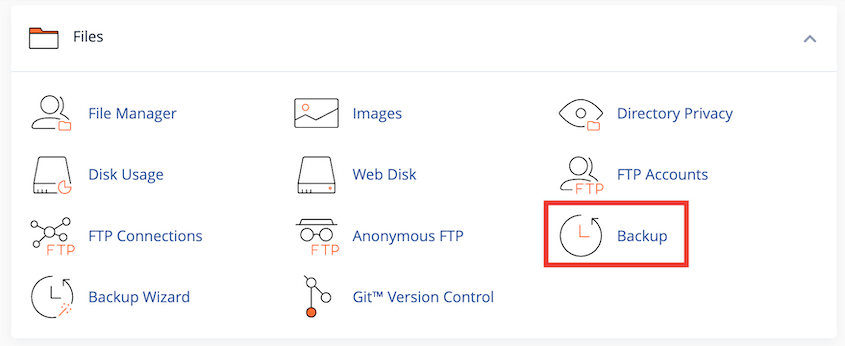 Under Partial Backups, download a copy of your home directory. This will save all of the files in your public_html folder:

If you have other directories on your website, you can download them too. To do this, find the option to Download a Full Account Backup: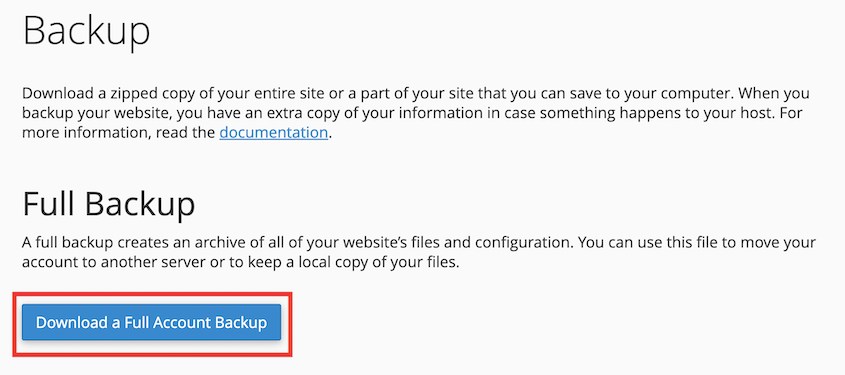 Now you'll have a locally stored file backup!
Method 2: Back Up Your Files with an FTP Client
If you want to use an FTP client, we'd recommend FileZilla. This is a free tool that allows you to manage your site's remote files: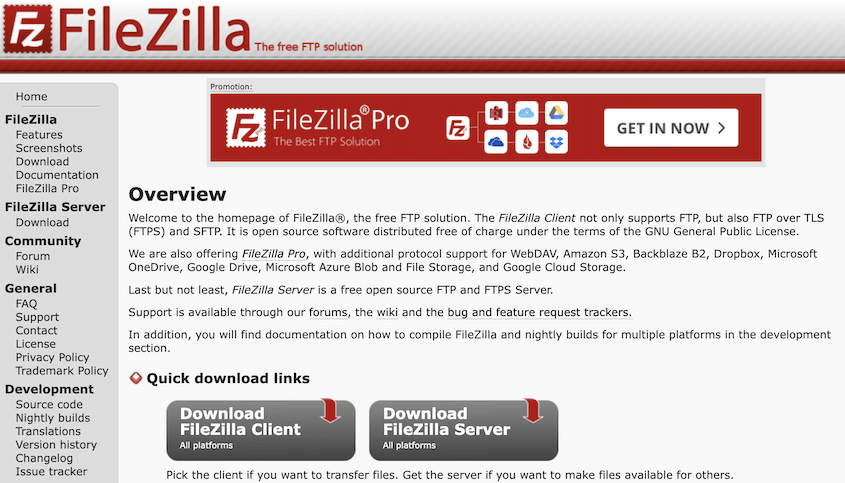 First, download FileZilla. At the top of the page, add the host name, username, password, and port number for your website. These credentials will be listed in your hosting control panel:

Then, hit Quickconnect. After FileZilla connects to your host, you'll see your site's files in the Remote site box. Here, open the root directory called public_html: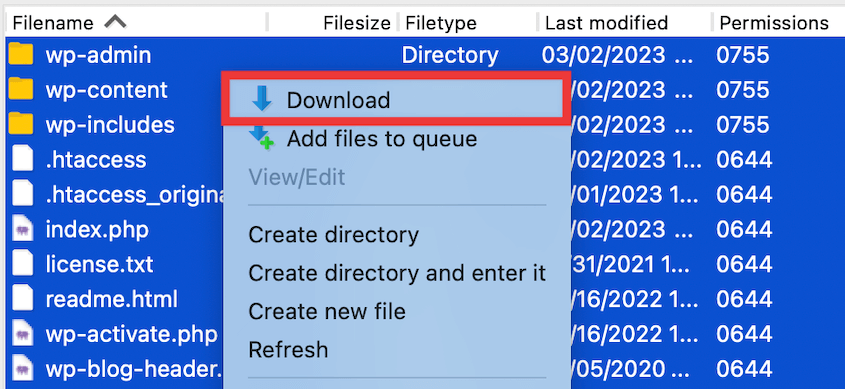 Select all of the files in this folder, right-click, and download them. Alternatively, you can create a new directory in the Local site box and drag and drop your site's files into it.
Note: If you're using a custom file manager, this will be a similar process. You'll have to locate your public_html folder and download all the files in this directory.
Step 2: Download Your WordPress Database
As we mentioned earlier, you'll also need to manually download your database. Similar to the first step, there are two ways to do this!
Method 1: Back Up Your Database with cPanel
One easy way to back up your database is to visit the Backups page in cPanel. Then, go to Download a MySQL Database Backup:

Click on the name of your database to start the download. If you ever need to restore your database, simply upload it under Restore a MySQL Database Backup.
Method 2: Back Up Your Database with phpMyAdmin
PhpMyAdmin is a popular web-based database management tool that's commonly provided by your web hosting company. It allows you to easily download your database in just a few steps.
First, log into phpMyAdmin. Then, select your database name and hit Export:

Choose SQL in the file format dropdown menu: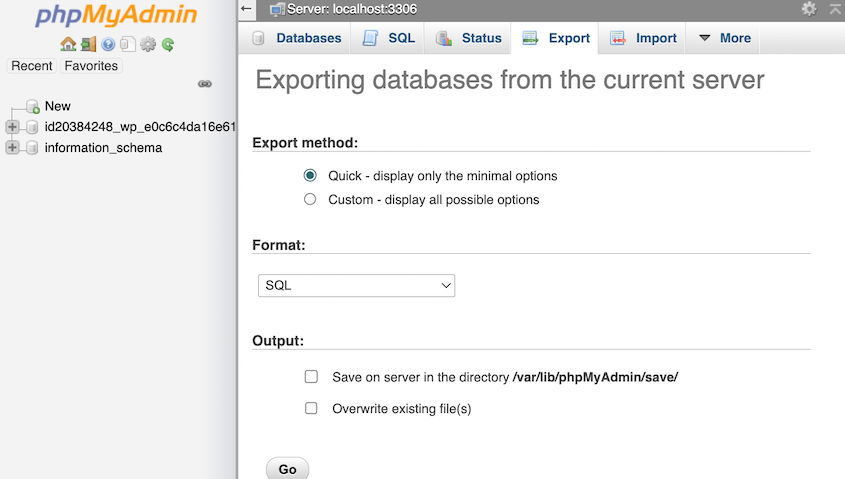 Lastly, click on Go. Your database will automatically be downloaded as a SQL file.
Why You Might Not Want to Manually Back Up Your Site
If you're a developer or WordPress expert, you might not mind going through the hassle of manual backups. However, let's talk about why the manual backup process might not be the best option for safeguarding your site.
Manual Backups Are Time-Consuming
Picture this: it's a beautiful Sunday morning, and you're eager to tackle exciting new content for your WordPress site. But, hold on! Before you can dive into creativity, you must devote precious hours to manual backups.
It's like being stuck in traffic during rush hour – time-consuming and frustrating! Ultimately, a WordPress backup plugin can take care of the mundane tasks while you focus on what you do best – creating amazing content.
Manual Backups Leave Room For Human Error
Let's face it – we're only human! Manually backing up your WordPress site involves you taking the reins. While you might be a pro at multitasking, there's always a chance that you'll forget a crucial step or miss an essential file.
One missed click or incorrect file path, and your backup could be utterly useless! All your hard work goes down the drain in the blink of an eye.
Inconsistent Manual Backups
Manual backups can be as predictable as a rollercoaster ride, with schedules that vary depending on your availability and memory (and we all know how forgetful we can be!).
Consistency is key to safeguarding your site against potential disasters. With automated backups, you can set it and forget it – no more rollercoaster of doom! Schedule regular backups, sit back, and relax, knowing your website's safety net is always in place.
Duplicator: An Easier Way to Back Up WordPress
Anyone can manually back up their site with the right steps. However, there's a much easier way that you might want to consider. Enter: Duplicator!
Duplicator Pro is the best WordPress backup plugin on the market. This flexible tool eliminates the need to manually download your files and database on your own. Instead, you can create full backups through your WordPress dashboard: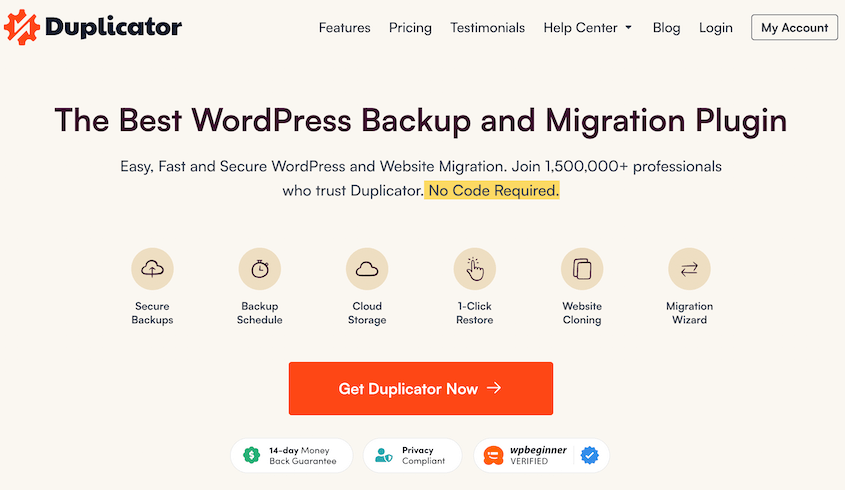 As a beginner, you can back up your site by creating a new package. Rather than searching through an FTP client for the right files, you can simply select the parts of your site you want to back up: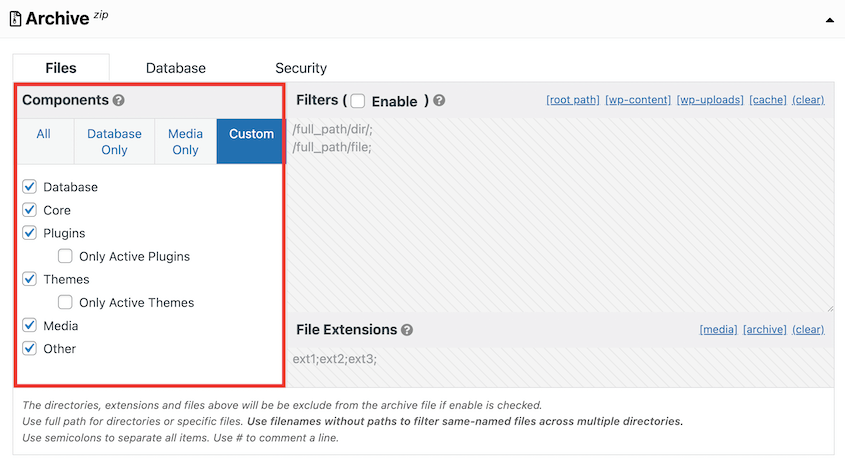 You'll also be able to save your backup off-site in a cloud storage service. Here are all of the third-party storage options available with Duplicator:
Backblaze B2
FTP
SFTP – SSH
Plus, Duplicator supports automatic backups. You can create hourly, daily, weekly, and monthly scheduled backups and start saving the right data at the right time: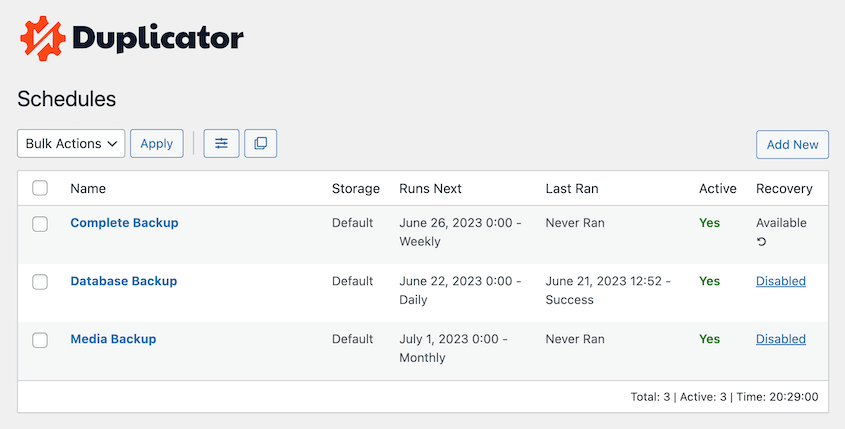 If your site ever crashes, you can restore a backup. Simply choose your most recent backup file and set it as the recovery point. Then, you can launch the Duplicator recovery wizard even if you can't access your admin dashboard: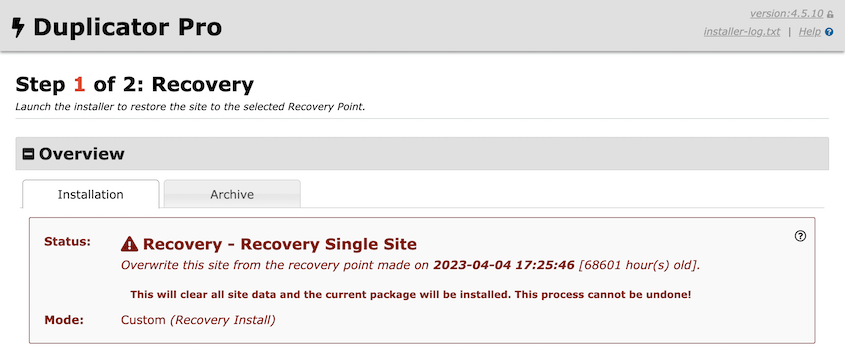 Unlike other backup plugins, Duplicator can handle large sites and WordPress multisite networks. It also simplifies migrations, making it easy to move to a new domain name, web host, or server without downtime.
Frequently Asked Questions (FAQs)
How do I do a manual backup in WordPress?
You can do a manual WordPress backup by downloading copies of your site's files and database. Your files will be accessible in cPanel or through an FTP client. To download your database, use phpMyAdmin.
How do I manually back up and restore my WordPress site?
To manually back up your WordPress site, access your hosting server's control panel, navigate to the WordPress root directory, and download all its files. Export your site's database through phpMyAdmin or a similar tool.
For restoration, compress your site's downloaded files into a single zip archive. Then, upload the compressed file to your server and extract it. Next, create a new database and import the downloaded database file.
Finally, update the wp-config.php file with the new database details. You'll also need to update the site URL settings via the WordPress dashboard or by running SQL queries on the database.
What are the two parts to backing up your WordPress site?
Backing up your WordPress site involves two main parts:
Files backup: This includes saving all the files and folders of your WordPress installation, including themes, plugins, media uploads, and the core WordPress files.
Database backup: You'll export and save your site's database, which contains all the essential content, settings, and configurations of your website.
Together, these two components allow you to restore your WordPress site in its entirety in case of any data loss.
How do I back up my entire WordPress site?
You can back up your entire WordPress site by creating a package with Duplicator Pro. Make sure the archive file contains all of your plugins, themes, media files, WordPress files, and database tables. Then, download the backup or send it to cloud storage.
How do I export my WordPress site locally?
What is the best WordPress backup plugin?
The best WordPress backup plugin is Duplicator Pro. This backup solution can compress your entire site into a single zipped archive file. Its flexible functionality can allow you to set up automatic daily backups, send backups to cloud storage, and even move your site to a new location.
Alternatives: UpdraftPlus, BackupBuddy, BlogVault, and Jetpack Backup (formerly VaultPress) can also back up your WordPress website. Options like BlogVault or Jetpack offer real-time and incremental backups.
Conclusion
That's it! You've just learned how to back up your WordPress site manually.
Are you backing up your site before a migration? You may like this helpful guide on how to move a WordPress site to a new host.
Do you want to save time and effort during your website maintenance? Download Duplicator Pro to easily customize backups, set up automatic backups, and even integrate cloud backup storage!