Want to create your first cloud WordPress backup?
In this digital age, where cyber threats loom large, relying on traditional local backups may not be sufficient. Embracing cloud-based backup solutions can elevate your WordPress website's security, minimize downtime, and offer peace of mind.
In this tutorial, we'll show you how to create a cloud WordPress backup!
The Benefits of Cloud WordPress Backups
One of the most important security precautions for your WordPress website is a backup. As a site owner, you'll need to regularly back up your website to make sure you always have a healthy copy to fall back on. If you unexpectedly face a cyber attack or critical error, you can simply restore one of your backups.
If you want to start backing up your site, there are many ways to do it. You could download a website copy to your computer, a local server, or even send them to an off-site cloud storage service.
Here are some benefits of using cloud services like Google Drive or Amazon S3:
Enhanced security: By storing your data in off-site servers, it'll be safe from server crashes, malware, and hacks. Some cloud storage providers also use encryption, ensuring the security of your backups.
Scalability: As your WordPress website grows and gains more data, cloud storage can seamlessly accommodate the increasing backup size. If you have a large e-commerce site, you won't have to worry about overloading your hosting plan with huge backup files.
Accessibility: Using the cloud, you can access your backups from anywhere, at any time. This accessibility is particularly valuable when you need to restore your website quickly because of accidental data loss, security breaches, or website updates gone awry.
Ultimately, cloud backups can be a great way to safeguard your online presence. You'll have the good feeling of knowing that your data is safe and sound in the cloud!
How to Create a Cloud WordPress Backup
Now that you know the benefits of backing up your WordPress site to the cloud, you'll probably want to know how to do it. Let's walk through the step-by-step process of creating a cloud WordPress backup!
Step 1: Install Duplicator Pro
When it comes to creating cloud backups for your WordPress website, there's one tool that truly stands out: Duplicator Pro. This WordPress backup plugin seamlessly integrates with popular cloud providers, making it a snap to store your backups in the cloud: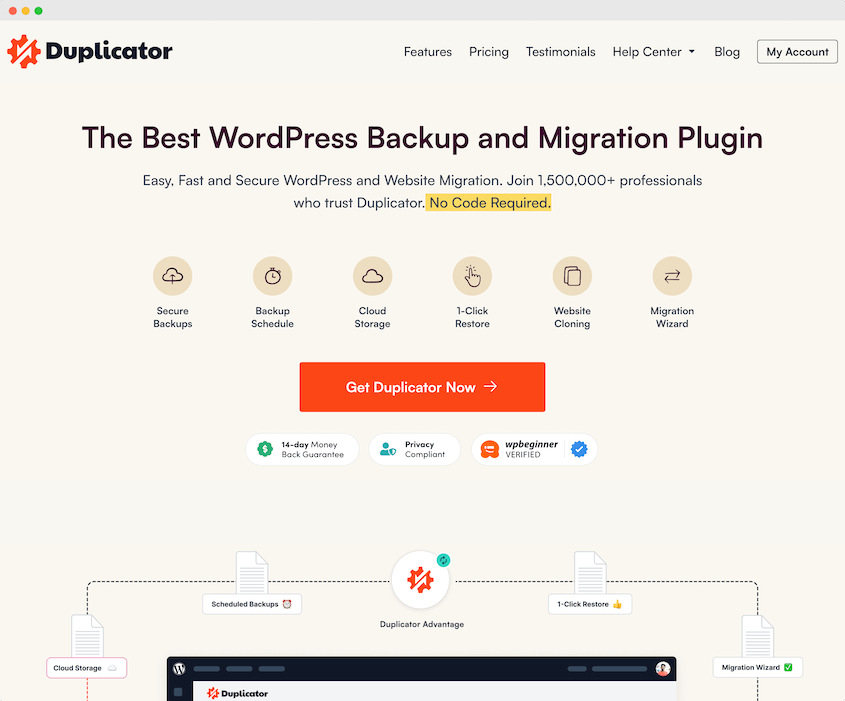 No matter which cloud service you plan on using, Duplicator can support it. You can store backups in any of the following locations:
Backblaze B2
Wasabi
Google Cloud
Local server
FTP
SFTP – SSH
Duplicator Pro works by creating compact backup archives of your WordPress site. This means you can save valuable space in the cloud without sacrificing any critical data.
Plus, you can also use Duplicator as a migration plugin. With just a few clicks, you can clone or migrate your site, including all its files, database, plugins, and themes. If you save your backups in the cloud, you can always access and move them to another WordPress installation if you want to.
To get started, select a subscription for Duplicator Pro. Although there is a free version of the plugin, a premium plan will give you everything you need to connect your WordPress site to an external cloud storage location. Pricing for this premium version starts at just $49.50 per year.
Then, open your WordPress dashboard and install Duplicator. For more details on this process, check out this beginner-friendly tutorial on how to install and activate WordPress plugins.
Before you start using Duplicator, you'll need to activate your license key. To do this, go to Settings » Licensing: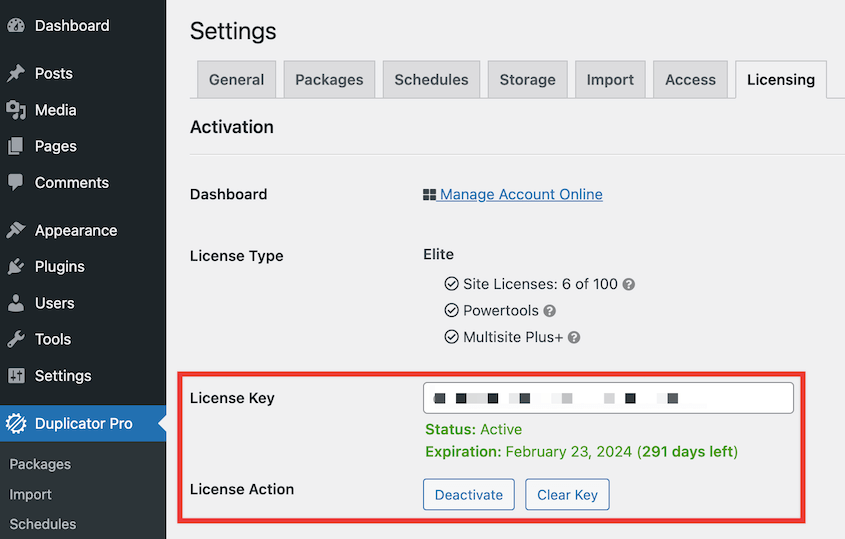 Paste the license key you received with your purchase. Finally, hit Activate.
Step 2: Connect a Third-Party Cloud Service
As we mentioned earlier, you can start saving your backups to a variety of different cloud storage locations. Once you choose the right one for your needs, it's time to connect it with Duplicator. This way, every backup will automatically be sent over to your off-site account.
First, find Duplicator Pro » Storage. Here, you'll see that the default backup location is your local server. To set up cloud WordPress backups, click on Add New:

On this page, give the new storage location a name. Using the Type dropdown, choose your preferred cloud service: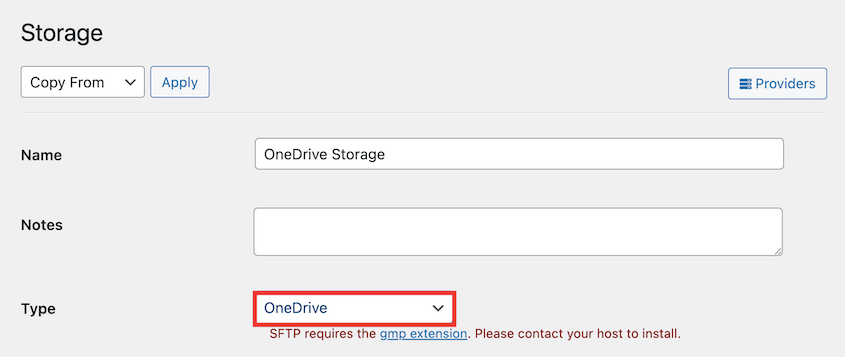 Note: For this tutorial, we'll be using Microsoft OneDrive. These connection steps will vary slightly depending on the cloud storage provider.
After you select your provider, you'll need to authorize Duplicator to save backups onto your cloud account. Scroll down to the Authorization section and click on Connect to OneDrive (or the different service you chose):

Now, new authorization steps will appear. Click on Authorize OneDrive to finish setting up the connection:

You'll be sent to the off-site cloud service. In the pop-up window, be sure to give Duplicator full access to your account: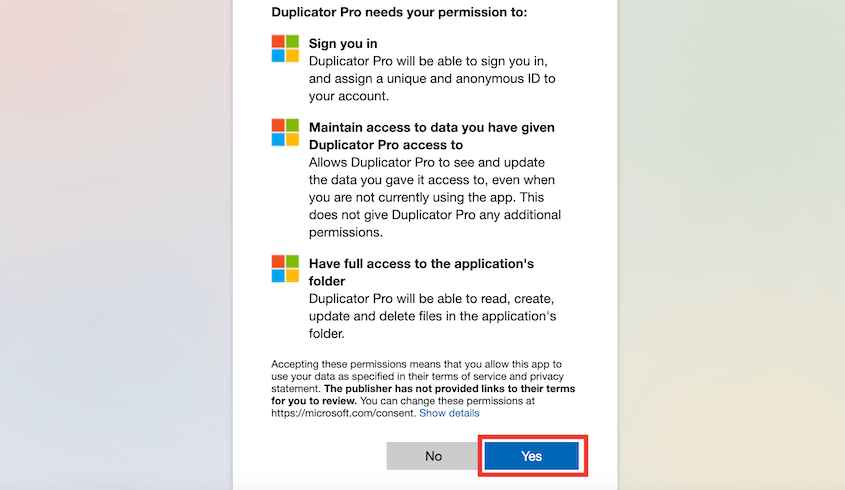 Once you do this, you'll get an authorization code. Copy this and go back to your WordPress dashboard. Next to Step 2, paste the code: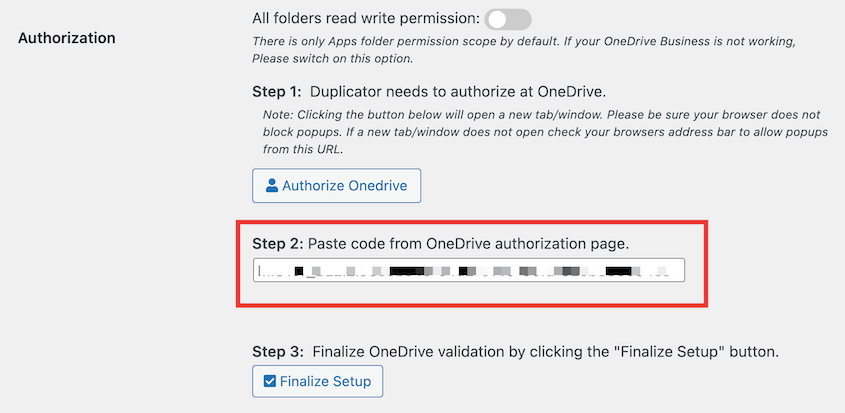 For the last step, hit Finalize Setup. Your cloud account is now linked to Duplicator!
Step 3: Create a Cloud Backup
When you want to create a cloud WordPress backup, all you need to do is build a package with Duplicator. This will bundle all of your plugins, themes, core WordPress files, and database tables into a single zip file. Then, Duplicator automatically sends this to the cloud.
To start the backup process, head over to Duplicator Pro » Packages » Create New: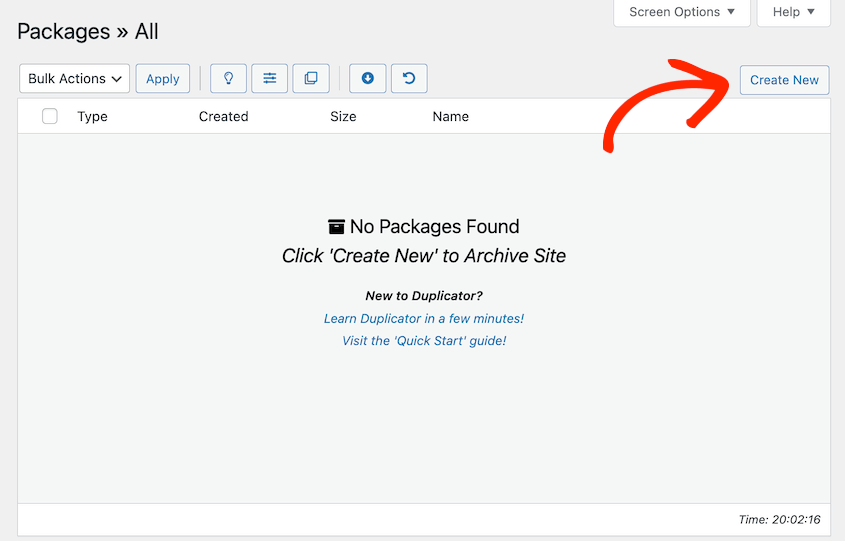 Duplicator will give your package a name, but feel free to change this so the backup is more memorable:

Then, open the Storage settings. Select OneDrive or whichever cloud service you prefer: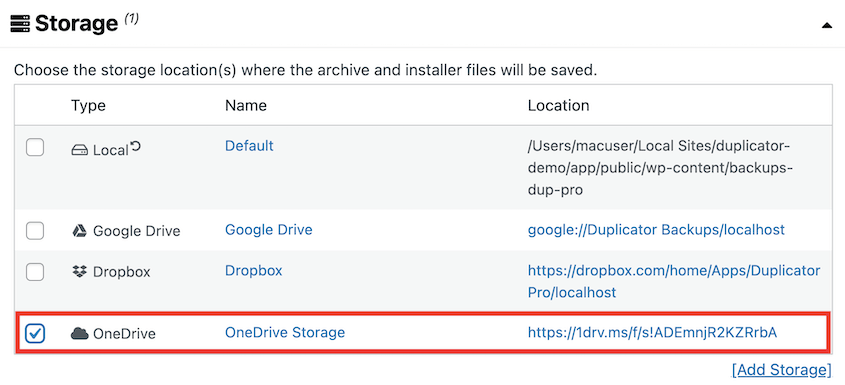 For a complete backup, you don't need to make any changes to the archive file. However, you can easily perform a database backup instead or exclude unnecessary files from the backup: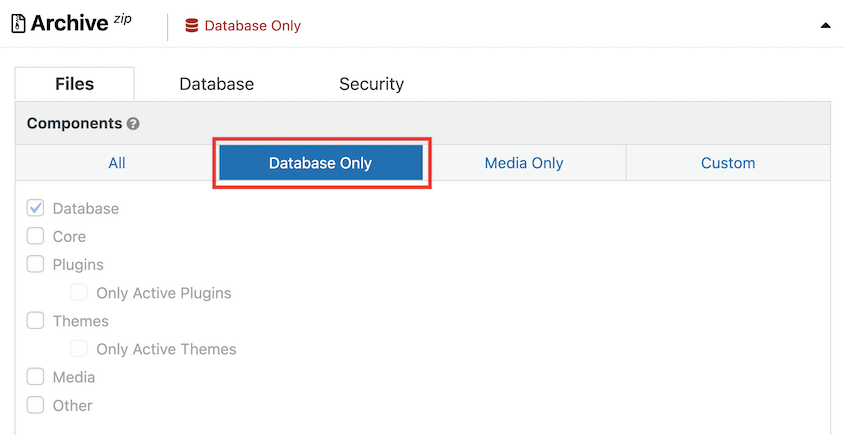 Next, Duplicator will scan your entire site. You'll see all Good notices if your site can be backed up successfully: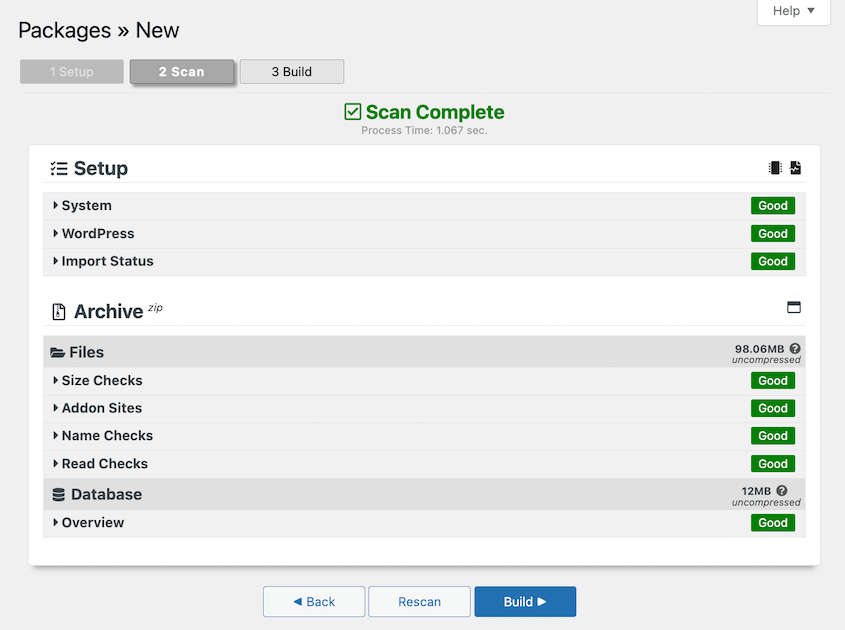 After you hit Build, your website backup will be instantly created. Without needing any extra help from you, Duplicator will send your backup files straight to the cloud!
Step 4: Schedule Automatic Cloud Backups
By now, you know how to create manual cloud WordPress backups. To reduce your maintenance tasks and optimize your time, consider setting up automatic backups instead.
Fortunately, Duplicator Pro already supports this backups feature! First, create a backup template by heading over to Duplicator Pro » Tools » Templates » Add New.
Then, you can decide what data you want Duplicator to save in the automatic backup. For example, you might want to clean up your backups by only including active plugins and themes: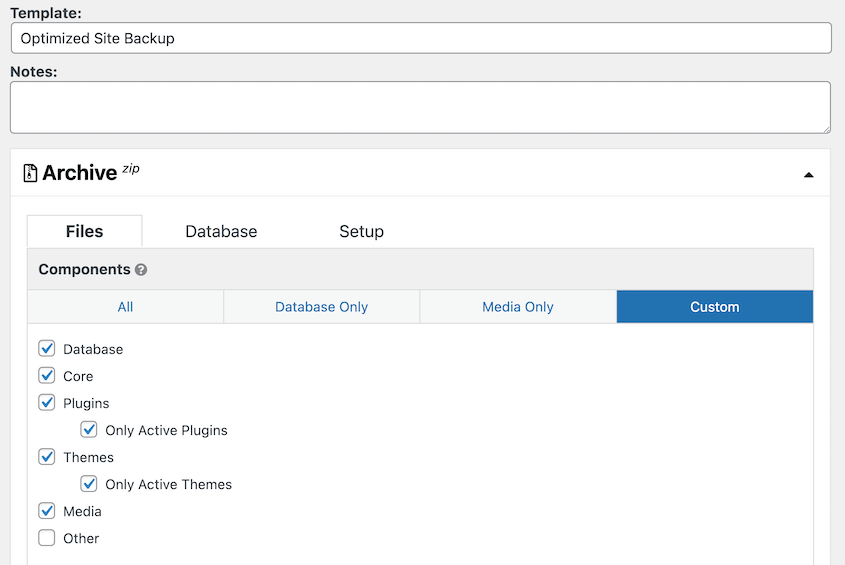 If you want to back up your entire site, be sure to select All under the archive components. Then, save your changes.
Now you can schedule backups! Go to Schedules » Add New. Name the new automatic backup schedule and select the template you made earlier:

To automatically send your WordPress backups to the cloud, you'll need to choose a cloud storage location:

Finally, you can customize what time to schedule backups for. Duplicator can run monthly, weekly, hourly, and daily backups: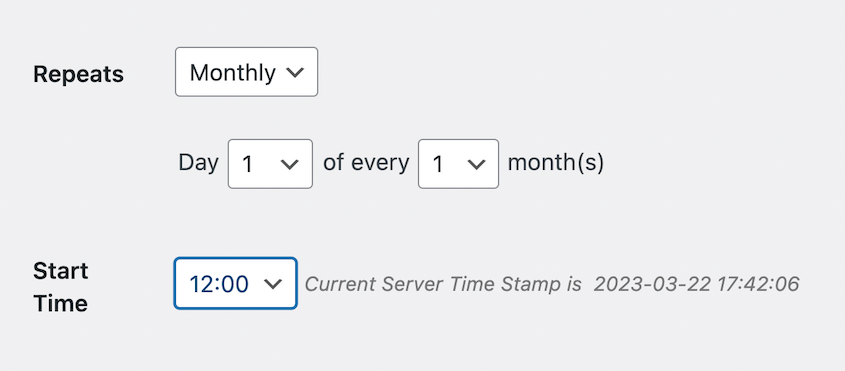 Then, enable the schedule and save it. Feel free to add as many schedules as you want. You'll see all of them listed on the Schedules page: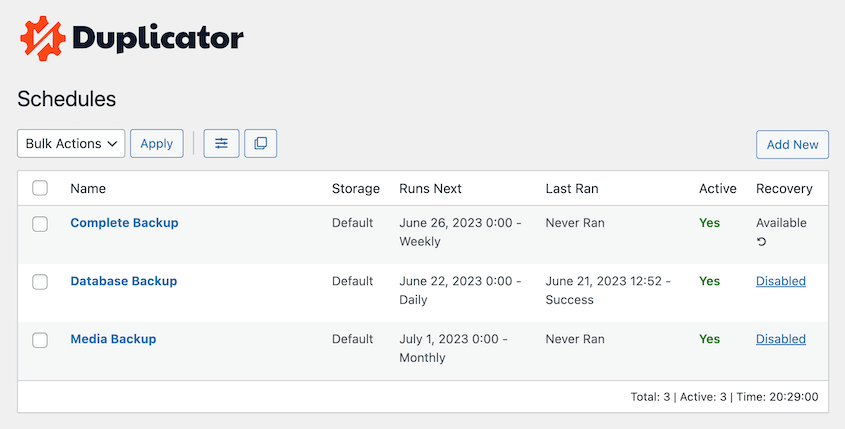 This will show you when your backups last ran and when they'll run next. You'll also see whether each automatic backup schedule allows you to restore backups of your WordPress site.
Frequently Asked Questions (FAQs)
You might still have some pressing questions about cloud WordPress backups. Let's answer them!
What is the best way to back up WordPress?
The best way to back up WordPress is to install a backup plugin like Duplicator. Using Duplicator Pro, you can easily create new backups and instantly save them to cloud storage locations. It can also be helpful to set up scheduled backups to save time during website management.
How do I automatically back up WordPress to Google Drive?
To automatically back up WordPress to Google Drive, first install and activate Duplicator Pro. Then, add Google Drive as a new storage location. Finally, create a new backup schedule and select Google Drive under the Storage settings.
Does WordPress do automatic backups?
By itself, WordPress does not support automatic backups. However, your web hosting provider may support daily backups and one-click restore options. If not, a WordPress backup plugin can easily add this functionality to your website. With Duplicator Pro, you'll be able to create new backup schedules and stop worrying about manual backups.
What are the best backup plugins for WordPress?
The best WordPress backup plugin is Duplicator Pro. This will allow you to create real-time backups of your website and even set up automated backups. Without needing any add-ons, you can use off-site cloud services to store your backups.
Alternatives: Jetpack Backup (VaultPress), UpdraftPlus, BlogVault, BackupBuddy, and BackWPup are also popular plugins with backup and restore options. However, Duplicator Pro is more well-equipped to handle large sites like WooCommerce stores and WordPress Multisite networks. 
Conclusion
You've just created your first cloud WordPress backup!
Here are some extra WordPress tips and tricks to get the most out of your website:
Are you ready to start sending your WordPress backups to the cloud? Download Duplicator Pro to instantly save backups to a cloud storage service!