Are you looking for the best WordPress membership plugin?
A WordPress membership plugin is a tool that allows you to easily create and manage membership-based plans. These plugins can be useful when you want to set up a paid subscription model, offer exclusive content to specific members, restrict certain areas of your website, or build a community of members with shared interests.
In this article, we'll show you exactly what key features to look for in a WordPress membership plugin. Then, we'll round up the best options!
What to Look For In a WordPress Membership Plugin
When you're looking for a WordPress membership plugin, there are a few things you should keep in mind to ensure it fits your needs. A membership plugin is what you'll use to create and manage your membership site, control who can access certain content, and handle all the subscriptions and payments.
So, here's a rundown of what you should consider when picking a WordPress membership plugin!
Membership Levels and Content Restriction
Look for a plugin that lets you create different membership plans. That way, you can offer varying levels of access to your content and customize your offerings based on what each member gets.
User Registration and Management
Check if the plugin makes it easy for users to sign up, log in, and manage their membership accounts. It's always a plus if it offers cool features like customizable registration forms, the option to log in with social media accounts, and user profile management.
Payment Integration
You'll need your membership plugin to handle member subscriptions and payments securely. It's also important to check if it supports recurring billing, international payments, and trial periods or discount codes to attract new members.
Content Dripping and Time-Based Access
This nifty feature lets you release content to your members gradually over time or based on specific intervals. It's super handy if you want to provide structured courses, exclusive content, or create a sense of progression for your members.
Integration with Email Marketing Services
If you're into email marketing (and you probably should be), see if the plugin integrates with popular email marketing services. That way, you can automate your email communication with members, send welcome emails, and segment your email list based on membership levels.
Community and Engagement Features
Depending on the vibe of your WordPress website, you might want features like forums, discussion boards, private messaging, or member directories. So, check if the plugin includes these community-building functionalities or easily integrates with other plugins that provide these features.
Analytics and Reporting
It's always handy to have detailed analytics on how your membership site is doing. Look for a plugin that gives you insights into member growth, retention rates, and revenue. These stats can help you make informed decisions and improve your strategies.
Scalability and Flexibility
If you have big plans for your membership site's future, check if the plugin can handle a growing number of members. It's also great to have a membership plugin that offers flexibility, allowing you to customize the design, integrate with other tools, and add new features as your site evolves.
By considering these factors, you'll be well on your way to building an awesome WordPress membership site!
7 Best WordPress Membership Plugins
Without further ado, let's take a look at some of the best membership plugins. Here's our definitive list of tools that will help you build a membership site:
| | | |
| --- | --- | --- |
| Membership Plugin | Pricing | Best For |
| MemberPress | $179.50/yr | Beginners looking to start and grow their membership site |
| Thrive Apprentice | $299/yr | Creating a course-selling business |
| MemberMouse | $199.50/yr | Small business owners |
| Easy Digital Downloads | $99.50/yr | Selling downloadable products |
| WishList Member | $149.50/yr | Bloggers and teachers |
| LearnDash | $199/yr | Integrating an LMS into a membership site |
| aMember Pro | $149/lifetime | MemberPress alternative |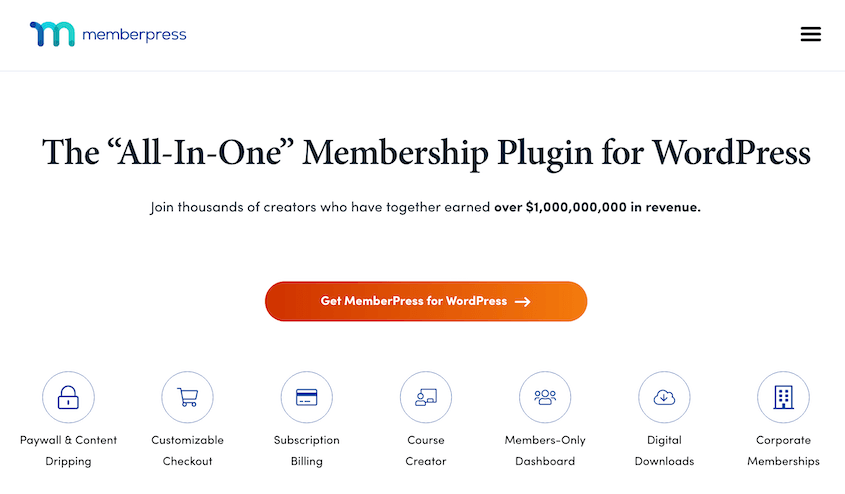 MemberPress is the best WordPress membership plugin. It offers a range of powerful features that make it a top choice for building and managing membership sites.
First of all, MemberPress makes it a breeze for beginners to set up and configure their first membership site. Once installed, you can use it to quickly create online courses, paywalled blog posts, and other premium content. With MemberPress, you'll be able to effortlessly set up multiple membership tiers, customize access rules, and tailor the content experience for different member groups.
Whether you plan to sell software or monetize your blog, MemberPress allows you to get your membership website up and running. This is a flexible all-in-one membership plugin that integrates with Easy Affiliate, MonsterInsights, WooCommerce, and many more helpful tools for your business.
Key features:
Unlimited memberships
Unlimited members
Online course builder
Community forums
Access rules to control memberships
Paywalls
Drip content
Customizable front-end pricing pages
Payment gateways
Automated subscription billing
Customizable coupon codes
Email notifications
Custom widgets and shortcodes
Integrates with ChatGPT, Mailchimp, Zapier, BuddyPress, and more
Rest API for developers
Pricing: MemberPress is a premium plugin that starts at $179.50 yearly. Even with the basic plan, you can create unlimited courses and manage unlimited members. This makes MemberPress a powerful tool that stands out from its competitors.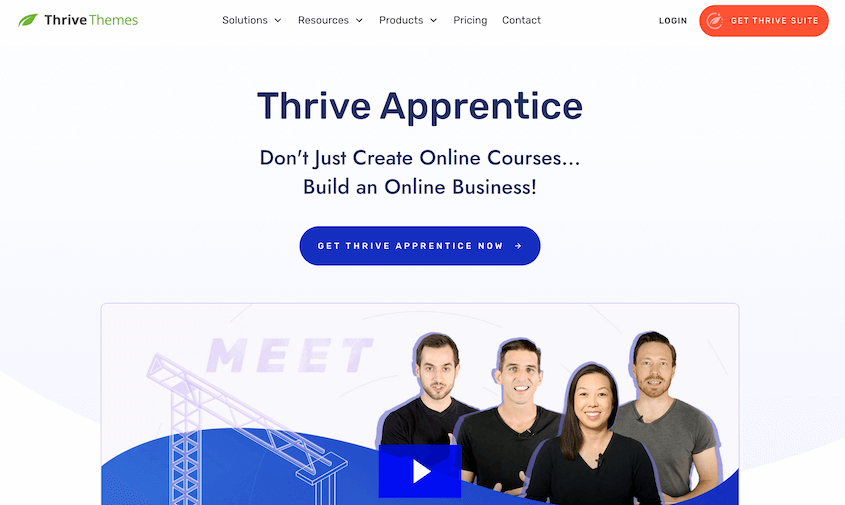 Thrive Apprentice is an LMS WordPress plugin that was designed to create and manage online courses. Using its drag-and-drop course builder, you can effortlessly structure your specialty content, including lessons, modules, quizzes, and assignments.
Plus, Thrive Apprentice can also handle your paid memberships. It has flexible drip functionality which allows you to unlock new lessons for your students. This ensures that you're always giving valuable content to your members and furthering their education.
With Thrive Apprentice, you can sell access to any content on your website. Instead of just monetizing courses, visitors can pay to view valuable blog posts, pages, videos, tagged content, and more. You can even combine any of these products into one premium membership so your students can learn in different formats.
Key features:
Drag-and-drop course builder
Visual editor
Organize courses with modules, chapters, and lessons
Embed media for video or audio courses
Customizable course overview page
Pre-designed lesson templates
Drip content
Evergreen and scheduled lesson repeating
Conditional display
Compatible with any WordPress theme
Membership management dashboard
Pricing: You can purchase Thrive Apprentice as a part of the complete Thrive Suite, which comes with a theme builder, plugin automator, comment moderator, and more. You can get all of these tools starting at $149 per quarter or $299 for an entire year.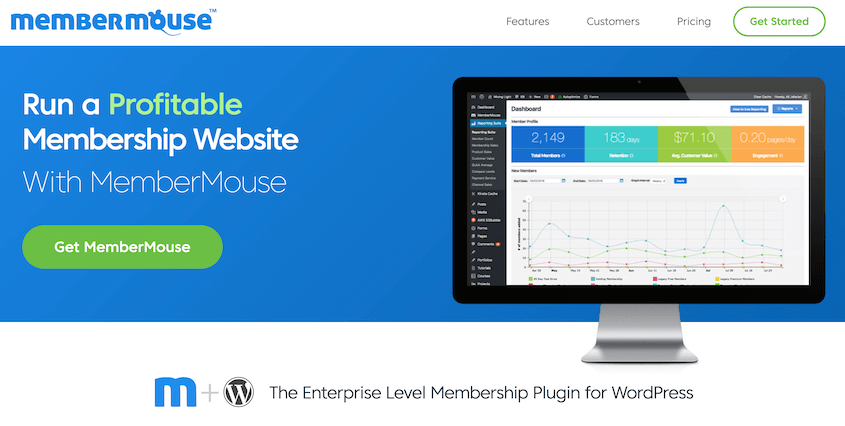 MemberMouse supports membership websites for teachers, entrepreneurs, artists, musicians, and other business owners. It offers features to not only sell virtual products but manage members and start increasing profits.
To ensure your members trust you, it's important to have security measures in place for your membership site. Fortunately, MemberMouse will limit login attempts, automatically lock shared accounts, and protect any of your paid membership content.
You can also use MemberMouse to send welcome emails, overdue payment reminders, and custom push notifications. This can notify certain WordPress users or user roles to renew or even upgrade their subscription level.
Key features:
Drag-and-drop course builder
Free and paid memberships
Recurring subscriptions
Customizable checkout pages
Upsell and cross-sell
Upgrades and downgrades
Members-only area
Protect posts, pages, categories, taxonomies, and custom post types
Drip content
Member and revenue analytics
Pricing: To use MemberMouse, its paid plans start at $199.50 per year.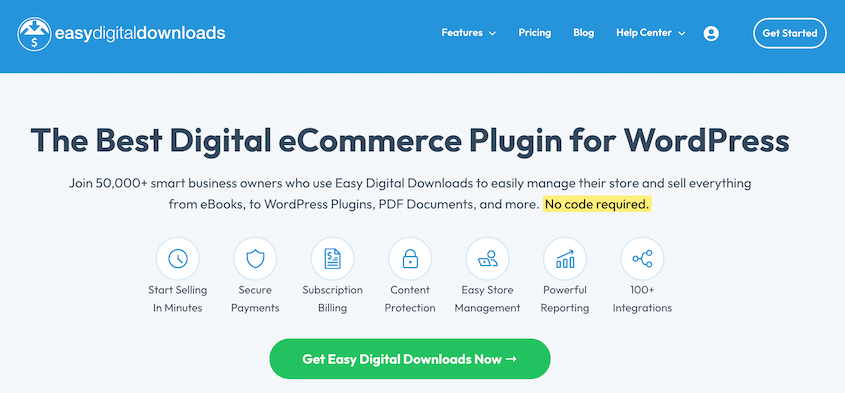 If you want to start selling products online, you can't go wrong with Easy Digital Downloads. This e-commerce plugin can help you monetize your music, artwork, videos, software, or other digital products.
One of the best parts of Easy Digital Downloads is that it supports unlimited file downloads. You'll be able to sell as many products as you want without worrying about extra fees.
With Easy Digital Downloads, your premium products will always be protected and only downloadable by paying members. By default, your files will be restricted to your members. If you're concerned that members will share your products without your permission, you can create limits on file downloads and set an expiration date for download links.
Key features:
File access control
Unlimited file downloads
No monthly fees
No listing fees
One-time payments or automatic subscription billing
Customizable shopping cart
Reports on customers and sales
Compatible with payment options such as Stripe, PayPal, EDD Wallet, Braintree, and more
Discounts
Pricing: There is a free version of Easy Digital Downloads. To extend the core features, you can purchase a premium pass, which starts at $99.50 per year.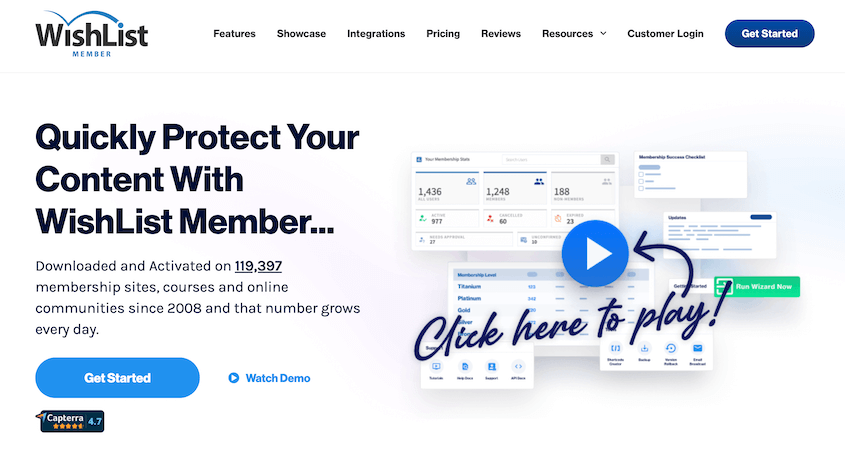 Another powerful WordPress member subscription plugin is WishList Member. Whenever you want to restrict a post or page from non-members, you can protect it with one click. To make sure you're pleasing all your customers, you can set up free, premium, and pay-per-post payment methods.
Additionally, WishList Member is compatible with many WordPress themes, page builder plugins, and LMS software. This makes it a flexible option that won't cause conflicts with other tools on your WordPress site.
Key features:
Drip content
Free, premium, or pay per post
Free, trial, and paid memberships
Partial display of paywall content
Payment gateways like WooCommerce, Authorize.net, 2CheckOut, and more
Integrates with email marketing services
Triggers for creating new posts or moving members to a different level
Pricing: WishList Member subscriptions start at $149.50 yearly. With any plan, you'll be able to build unlimited courses, set up membership levels, and add unlimited members to your community.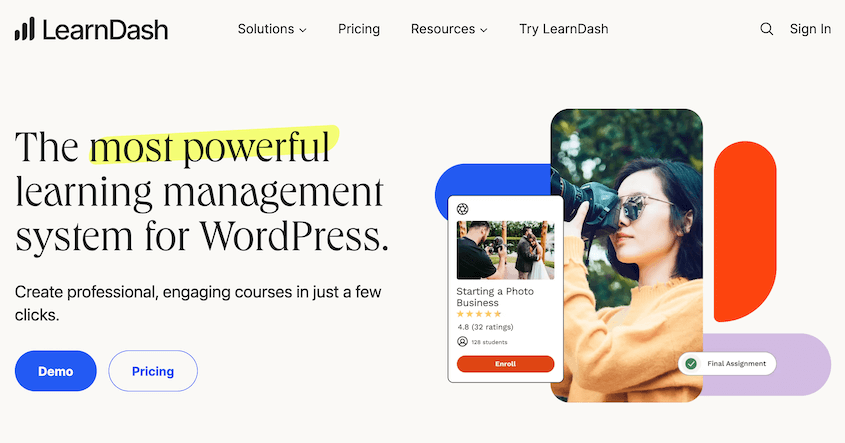 LearnDash is the most popular Learning Management System (LMS) plugin. It was originally developed by educators for other educators. This means that it's an easy-to-use tool for creating courses, onboarding students, and managing assignments.
With LearnDash, you can provide an excellent learning experience for your members. It supports badges, certificates, and points to reward students and motivate them to continue their education.
Key features:
Drag-and-drop course builder
Pre-designed course templates
Drip content
Recurring subscriptions
No additional fees
Bundle courses in one membership
Customizable prerequisites for courses
Compatible with many WordPress themes
Integrates with WooCommerce, Easy Digital Downloads, bbPress, MemberPress, and more
Pricing: LearnDash costs $199 per year for a single site license. There are higher subscription tiers if you manage 10 or more membership websites. You can also choose from a variety of add-ons to extend the plugin even more.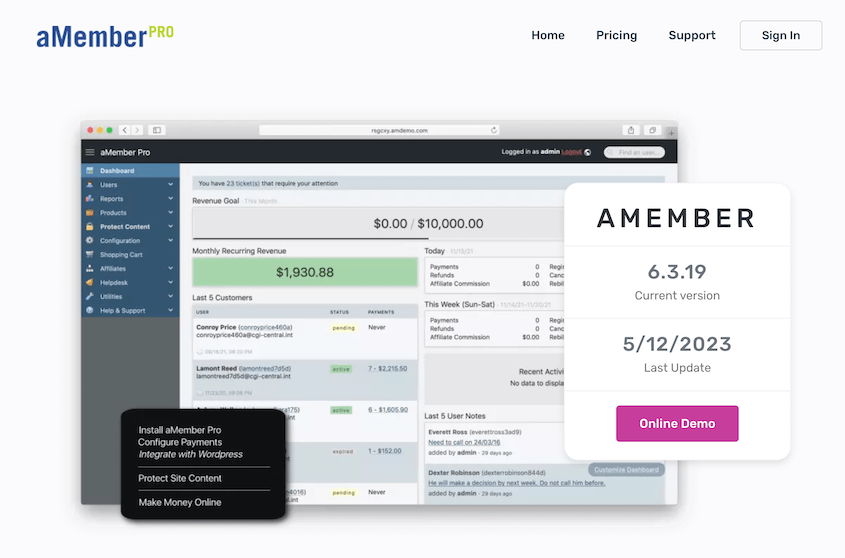 Unlike the other options on this list, aMember Pro is not a WordPress plugin. Instead, it's a PHP script that you can install and customize as you see fit. Once added to WordPress, you can use aMember Pro to sell paid member subscriptions, create a members-only area, and even manage your email list.
Keep in mind that aMember Pro may be incompatible with other themes or plugins on your website. With a native WordPress plugin, you'll ensure that your membership software has been tested with most WordPress software.
Key features:
Unlimited membership levels and products
Drip content
Flexible access control
Sharing prevention
Built-in affiliate program
Create opt-in email lists
Pricing: aMember Pro offers one-time fees starting at $149.
Frequently Asked Questions (FAQs)
You might still have some pressing questions about WordPress membership plugins. Let's answer them!
What are the best WordPress membership plugins?
Our top 3 picks for the best WordPress membership plugins are:
Alternatives: If you're looking for a membership plugin, you could use options like WooCommerce Memberships, Paid Memberships Pro, Restrict Content Pro, S2Member, wp-members, ARMember, Simple Membership, or Ultimate Member. We limited this list to the most user-friendly and feature-packed plugins for member management.
How do I create a membership plan in WordPress?
Is there a free membership plugin for WordPress?
You can use the core version of Easy Digital Downloads as a free WordPress membership plugin. This supports basic payment gateways like Stripe, PayPal, and Amazon Pay. However, we'd recommend upgrading to the Pro version to access content restriction and recurring payments.
Conclusion
We hope this guide helped you find the best WordPress membership plugin for your goals! 
Are you looking for more plugins to optimize your membership site? Check out our different comparison guides:
Do you want to customize your membership site before going live? Download Duplicator Pro to easily clone your site and move it to a safe staging area!