Are you looking for the best plugin to clone your WordPress site?
WordPress cloning plugins can help you save an operational copy of your site. This can easily be moved to a staging site, a new hosting provider, or an updated domain name.
In this article, we'll show you how cloning can be beneficial for your website. Then, we'll round up the best plugins to clone a WordPress site!
Why You Might Want to Clone a WordPress Site
When you first start a website, you'll set it up on your hosting company's server. However, there may be times when you want to make a copy of your site and move it to a new location. This is called cloning.
Cloning involves creating an exact copy of your site. Unlike a backup, a clone will be fully operational. You can make changes to this duplicate copy without affecting the live site.
Here's when you might want to clone your WordPress site:
Creating a staging site for safe testing
Saving a functional backup
Generating a pre-configured site to save time during development
Ultimately, creating a clone or duplicate of your site can help you perform many necessary tasks. If you need to perform an update or implement new coding, you can simply clone your site to a local server. This gives you a functional copy to edit without affecting the live site.
9 Best Plugins to Clone a WordPress Site (Expert Pick)
Since there are many WordPress cloning plugins available, you may not know which is best. To help you decide, let's compare some of the most popular options!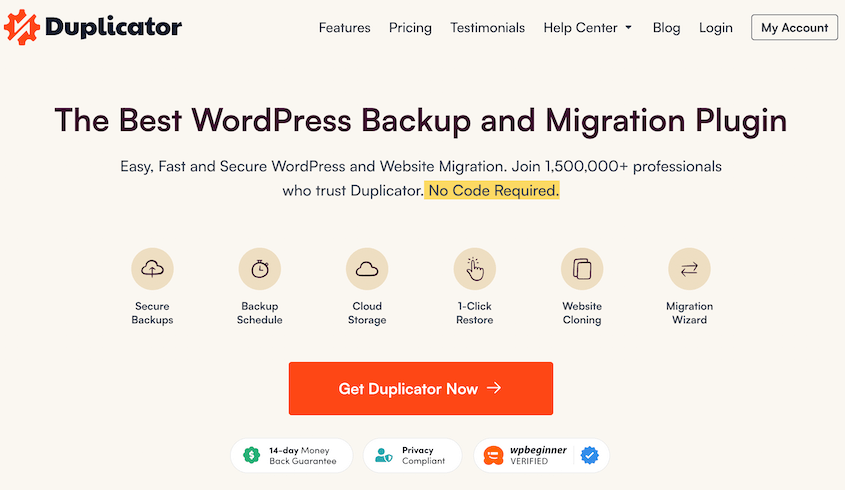 If you're looking for the best plugin to clone a WordPress site, we'd recommend Duplicator Pro. This feature-packed tool has everything you need to clone, migrate, and even back up your website.
When you want to make a copy of your site, simply create a new package. A package will compile your WordPress files, plugins, themes, content, and database into a single archive file. This instantly makes your website easy to move to a staging site, different host, or new domain name.
As you build your first package, you can choose a custom cloud storage location to save your clone off-site. If you'd like, you can also add filters to the archive file to only include necessary data from your site: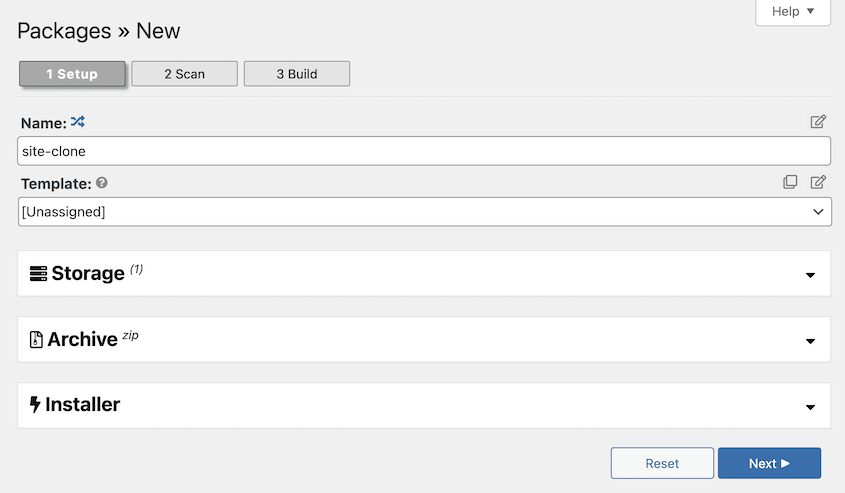 After this, Duplicator will automatically scan your site and report on any issues with the build: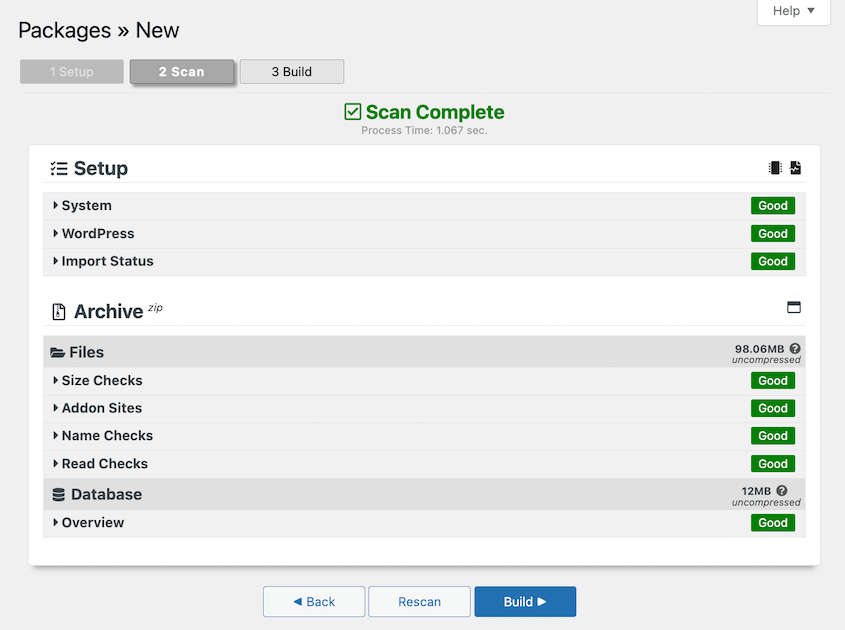 Once you build your package, you can download it and move it to another location. As we mentioned earlier, the archive file will contain all the data for your site. The installer will help redeploy the archive in cPanel or a File Transfer Protocol (FTP) client:

The Duplicator plugin also supports drag-and-drop migrations. After you create a package, download the archive file. Then, feel free to import it directly into another WordPress installation: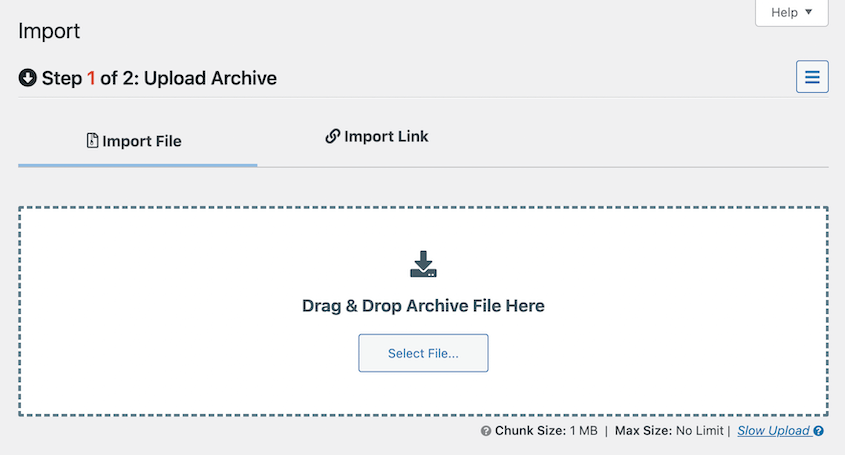 As you can see, Duplicator Pro is a capable tool for cloning websites without any downtime. Here are some additional features that come with the plugin:
Direct server transfers
Drag-and-drop migrations
Manual and scheduled backups
Recovery points to restore backup files
Large site support
Multisite network backup and migration
Streamlined installer
Storage to Amazon S3, Dropbox, Google Drive, OneDrive, FTP, and SFTP
Pricing: Duplicator is available as a free WordPress plugin. To access drag-and-drop site migrations, you'll have to upgrade to Duplicator Pro. This starts at $49.50 per year.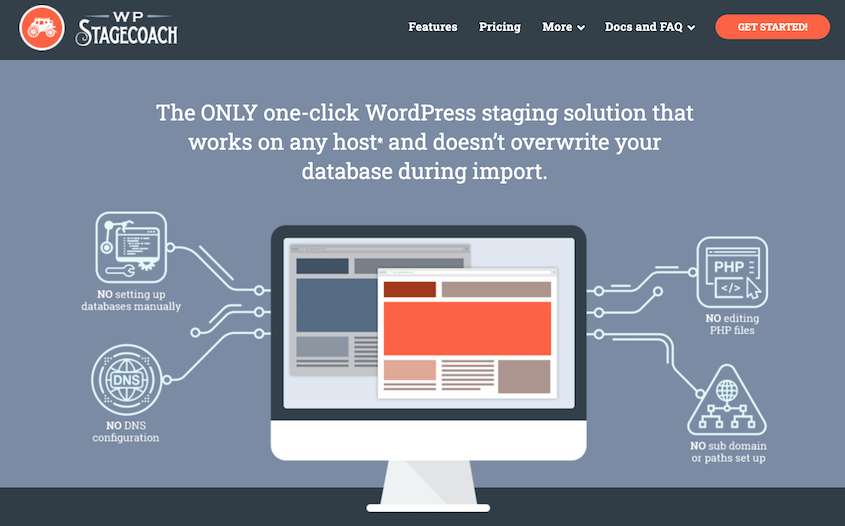 If you want to clone your website quickly, consider using WP Stagecoach. This plugin offers a staging solution that you can set up with one click.
Using your new WordPress staging site, you can perform updates without breaking your live site. If a plugin or theme update causes a critical error, you can safely troubleshoot it. This prevents publishing live broken links and other issues that could alienate your visitors.
As you're working on your staging site, your live website is likely adding new posts or receiving customer orders. When you make your staging site live, you won't want to overwrite your database and lose this information. What makes WP Stagecoach unique is that it merges your database, so these new updates will stay intact.
Key features:
One-click staging
Database merging
Selective migration
File and database imports
Password-protected staging sites
Pricing: WP Stagecoach is a premium plugin that starts at $99 per year. You can also try out the plugin using the 5-day free trial. If you purchase WP Stagecoach and regret it, you'll be able to get a full refund.

Another plugin with cloning and migration features is UpdraftPlus. With the premium version, you'll be able to use the UpraftClone add-on. This allows you to set up a cloned site by simply selecting the version of WordPress and PHP that you want to use.
UpdraftPlus is useful for cloning your live WordPress site to a sandbox, where you can test new changes safely. This testing site is hosted on UpdraftPlus's servers, so you won't have to worry about setting up a new hosting account.
Keep in mind that the UpdraftClone feature operates on a token system. You can create a 24-hour sandbox with one token and extend it for 7 days for another token. You'll receive some free tokens with UpdraftPlus premium, but you may need more.
Key features:
Temporary cloned sites hosted on Virtual Private Servers (VPS)
Customizable WordPress and PHP version
Manual and scheduled backups
Multisite compatible
Cloud storage
Backup restore options
Migration add-on
Pricing: You can get the UpdraftClone feature with the free version of UpdraftPlus. However, you'll need to purchase tokens to start using it. These start at $12 for 5 tokens. Alternatively, UpdraftPlus Premium comes with 10 UpdraftClone tokens and starts at $70 per year.
Migrate Guru is a cost-effective cloning plugin created by the same developers behind BlogVault. It was designed as a free, beginner-friendly tool to migrate and clone WordPress sites.
Since Migrate Guru will handle website transfers on BlogVault's servers, it won't put any strain on your own server. This means you won't overload your WordPress hosting plan during the migration process.
Plus, Migrate Guru is capable of cloning or migrating large sites. Hosting the migrations off-site means that you won't experience server import limits from your personal hosting account. Using Migrate Guru, you can clone a site as big as 1GB in under 30 minutes.
Although the plugin has some benefits, you won't be able to move a site to and from a localhost server. You're also limited to 5 migrations every month.
Key features:
One-click migrations
Compatible with any web host
No required storage space
Automatic search and replace
Multisite compatible
Real-time email notifications for website migration status
Pricing: Migrate Guru is a free WordPress plugin.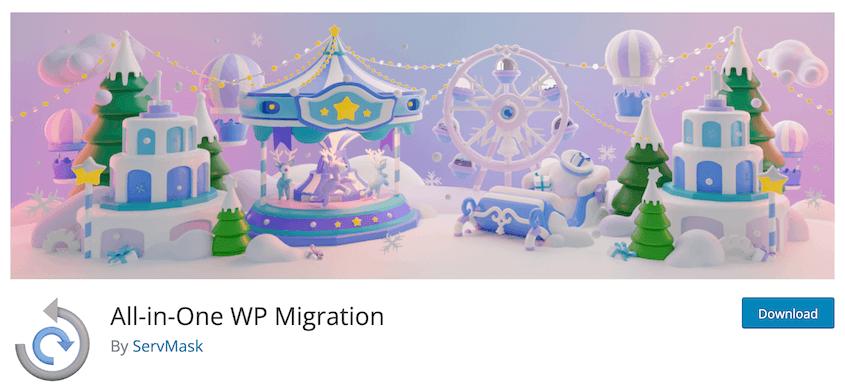 A well-known plugin for performing WordPress migrations is All-in-One WP Migration. With over 5 million active installations, it's one of the most popular WordPress cloning solutions you can find.
The All-in-One WP Migration plugin was designed with beginners in mind. With one click, you can export your website and clone it to a different location. Similar to other WordPress migration plugins, All-in-One WP Migration also comes with backup and restore features.
Since it doesn't have dependencies, All-in-One WP Migration is supported by many different hosting providers. However, this tool might not be best for large migrations. The free version is only capable of importing up to 512MB.
To increase this limit, you'll have to purchase an add-on. Likewise, other premium features like Multisite support are also limited to paid extensions.
Key features:
Drag-and-drop website migrations
Automatically saves backup during migration
Cloud storage locations
Multisite support
Automatic URL replacement
50+ language translations
Mobile device compatible
Pricing: There is a free version of All-in-One WP Migration. You can also purchase premium extensions to increase the WordPress upload limit and integrate cloud storage services. These add-ons start at $69.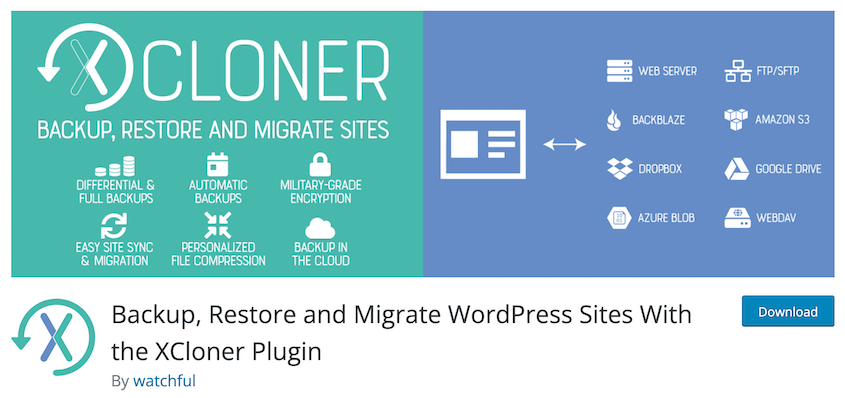 XCloner is a free plugin for backing up, migrating, and restoring websites. It supports both manual and automatic backups, so you can ensure that your site is secure. Unlike other backup plugins, XCloner can generate differential backups which only save changes after a certain time.
Using XCloner, you can sync a staging site to your live website. This tool can also be useful for migrating your content to a new host or domain name. If anything happens during a migration, there are rollback features to restore a backup without the error.
Before you install XCloner, it's important to note that it's not very beginner-friendly. You may need some technical knowledge to receive the full benefits the plugin has to offer.
Key features:
Full and differential backups
Automated backup schedules
Migration to a new host or domain
Staging site sync
Cloud backup storage
Rollback options
Pricing: You can download XCloner for free. If you want to pair the plugin with a web developer toolbox, you can integrate XCloner with Watchful. Watchful starts at $1.83 monthly for each site.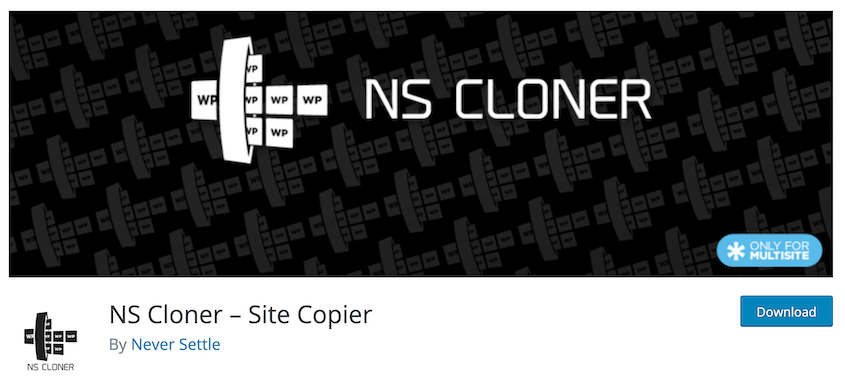 If you run a WordPress Multisite, you may not be able to find a cloning plugin that can support your network. With NS Cloner, you can solve this problem. This plugin can clone a subsite within your network and set it up as a new site with the same theme settings, plugin configurations, and content.
NS Cloner can be an effective tool for developers. You can create websites for your clients in your Multisite network that use your favorite configurations and plugins. When you're ready, you can move a client's site out of the network.
The basic version of NS Cloner is only compatible with WordPress Multisite. However, the premium plugin can also clone single sites.
Key features:
Supports Multisite
Copies settings, posts, pages, widgets, and more
Functions in subdomain or subdirectory mode
Custom search and replace
Saved preset configurations
Front-end cloning to create template sites
User cloning
Pricing: There is a completely free version of NS Cloner. You can also upgrade to a premium version starting at $298.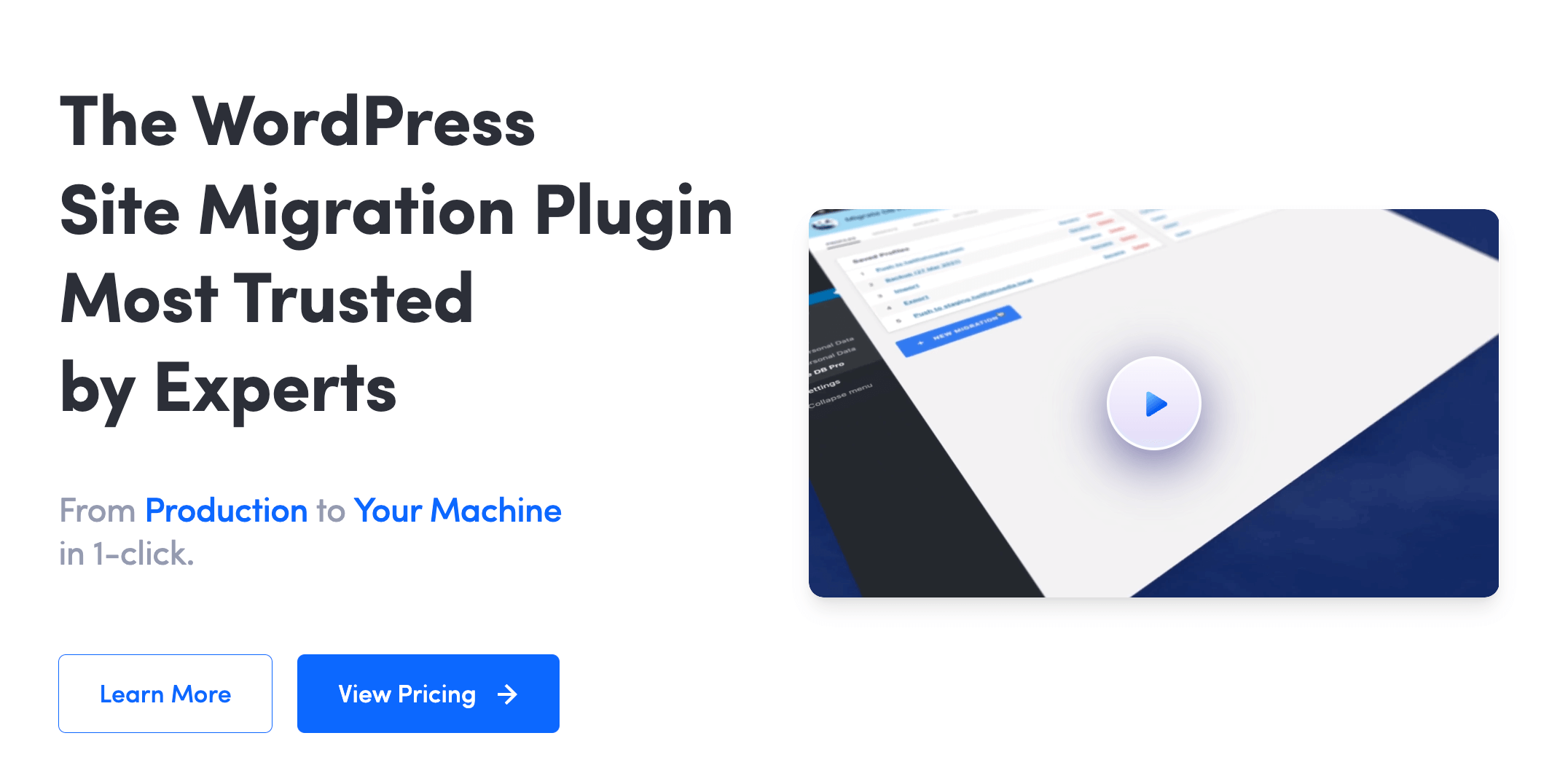 When you want to clone your live website to a staging site, you can use WP Migrate. This plugin can link your production and staging sites. Then, you can push and pull changes between them.
WP Migrate specializes in database migrations. Rather than having to manually export SQL files, this plugin makes it easier to export and import any database changes. Plus, it can also back up your database before migrations.
Unlike other migration tools, WP Migrate also allows you to sync your media library across different sites. You can choose to migrate the entire library or new uploads. This can save valuable time during development.
Key features:
Full site exports
Migrates database, plugins, themes, and Media Library between two WordPress installs
Database migration with custom tables and post types
Compatible with Local
Database backups
Find and replace
Support for Multisite
Pricing: WP Migrate is available for free. Alternatively, there is a premium version that starts at $49.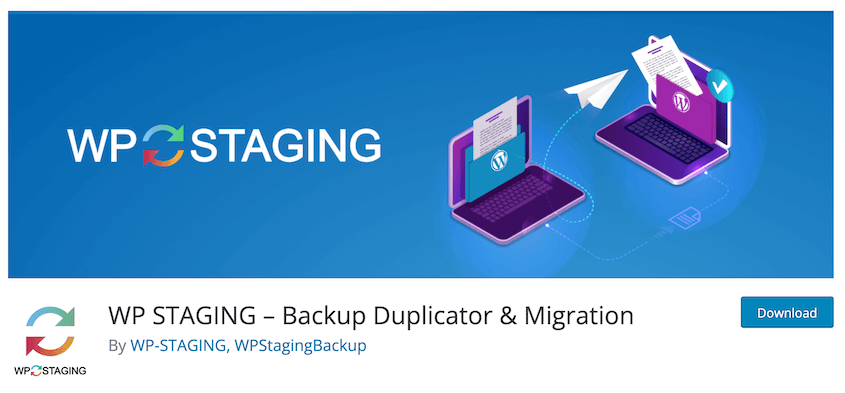 With WP Staging, you'll have a tool that supports website cloning, staging, backups, and migrations. It enables you to create a cloned copy of your website with one click.
When you clone your live site, WP Staging will create a staging site on a subdirectory of your domain. You can also clone a site to another database to keep it separate from your production site.
Additionally, you can use this plugin to transfer your data to a new host or domain. WP Staging automatically does a search and replacement of your URLs after the migration.
Key features:
Cloning and migration
Backup and restore options
User authentication for staging sites
Cloud storage integrations
Automatic search and replace
Support for Multisite
Pricing: The core plugin is free and comes with basic cloning features. However, you may want to clone a Multisite or migrate your website to a new server. To do this, you'll need to purchase WP Staging Pro, which starts at $7.99 per month.
Frequently Asked Questions (FAQs)
Now let's answer some common questions about cloning a WordPress site!
Is it possible to duplicate a WordPress page?
You can duplicate a page or parts of a page using SeedProd. This page builder allows you to copy specific content and paste it onto a new page. Plus, you can even export a page as a template, which can be used on a different WordPress site.
How do I clone an entire WordPress site?
You can clone your entire site by creating a package with Duplicator Pro. Then, you'll need to download the archive file that contains your site files and database. After this, simply drag and drop the zip file into the new website.
Decision Time: Which WordPress Cloning Plugin is Best?
Duplicator Pro is the best plugin to clone a WordPress site. It allows you to easily package all of your site's content, themes, plugins, and database information into a single zip file. Then, you can simply drag and drop this package into another WordPress installation to clone your site.
If you're looking for a simple way to duplicate a WordPress page, we'd recommend installing SeedProd. With this page builder, you can save pages as templates and export them as needed. This can save you valuable time as a designer.
Conclusion
We hope that you now have all you need to find the best plugin to clone your WordPress site!
Want to try out a different domain name? Check out our comprehensive tutorial on cloning your website to a new domain.
Are you ready to clone your WordPress website? Download Duplicator Pro today!