Behind the scenes, we've been working hard to bring you the latest and greatest update for our backup and migration plugin. And, we're thrilled to announce that it's finally here!
Are you a freelancer or an agency owner looking for a go-to maintenance tool for your clients? Introducing Duplicator Pro's new advanced permissions! This update will allow you to offer WordPress maintenance services with Duplicator without giving your clients full access to our features.
Here's the bottom line: when you restrict user access to your management tools, you'll have better security and peace of mind. Your clients don't have to see what's behind the curtain when it comes to managing their WordPress websites.
Curious to learn how advanced permissions will affect your workflow? Read on to see all the details and use cases for our Duplicator Pro 4.5.11 update!
Offer Backup Services to Your Clients
Sometimes, backing up a website can be a hassle. Without the right tools, you'll likely have to manually download the database and all the core files. If you update the site very often, you'll also need to create backups consistently.
To have more time to grow their audience or customer base, many website owners look for third-party backup services. If you're looking to launch a business, you can easily start offering WordPress maintenance plans.
If you're not sure where to start, Duplicator can help! By installing Duplicator Pro on your client's website, you can create full backups, set automatic backup schedules, and even connect third-party cloud storage locations.
However, what if you don't want clients to access Duplicator directly? Once you purchase a paid subscription, you won't want others using Duplicator features without your permission.
Enter: our new advanced permissions. When you upgrade to Duplicator 4.5.11, you can customize exactly which users or user roles can access specific features.
For example, you might want to be in charge of creating and managing backups on your client's site. You can provide this as a paid service to your clients while taking full advantage of Duplicator as a backup tool.
To do this, install and activate the updated version of Duplicator Pro in WordPress. Then, go to Duplicator Pro » Settings » Access. Here, you'll see a list of our main features and who can use them: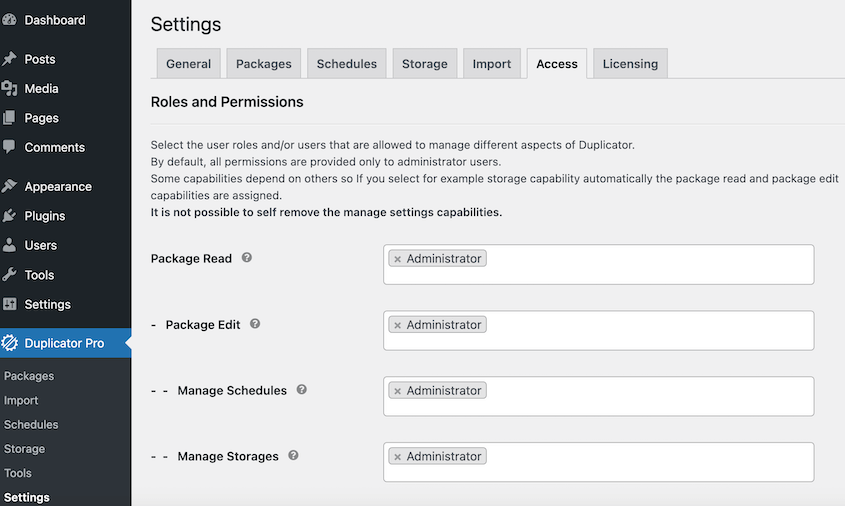 Using Duplicator, you can package a client's site as a backup. If you want to take sole responsibility for this task, find the Package Read setting. Set this to your specific user role or user email:

Note: When you first open the permissions, all of the settings will be set to Administrator by default.
Once you update this capability, Duplicator won't be visible to any other users. You're free to back up the website while your clients can sit back and relax!
Allow Clients to Use Duplicator For Backups
Alternatively, you might want clients to be able to use Duplicator as a backup manager. Although it can also handle site migrations and cloning, you won't want random users to be able to copy your client's site.
To limit Duplicator to just backups, you can disable its import and export functions. Scroll down to the Package Import and Package Export options. Enter an administrator role or tag a specific user that you want in charge of these features:

Say there is a content writer that has access to your client's site. Using these advanced permissions, this user won't be able to download a copy of the whole website. Plus, they can't overwrite the entire site completely.
Ultimately, this can boost security. Plus, it'll increase trust between you and your clients. When your clients know that their site is in good hands, they'll likely recommend your maintenance services to others!
Manage Your Client's Cloud Backups
When you're in charge of a client's site backups, they may want these packages stored off-site. If too many backups are stored on the server, they can overload it.
To prevent any issues with your client's hosting plan, you can send backups to your preferred cloud storage service. Plus, you can even offer this as an add-on service to help you increase your sales.
With Duplicator, you can connect any cloud service, from Google Drive to Dropbox. Once you do this, you'll want to hide your agency's cloud storage information from website administrators. This ensures that a client can't access your account.
Head over to the Access page and find Manage Storage. Make sure you're the only one with access to this setting:

Sometimes, clients will want to oversee their backups. If you add their user role in Package Read and Package Edit, they'll still be able to create backups with Duplicator:

After this, when your client creates a backup, they can see and select your cloud storage location: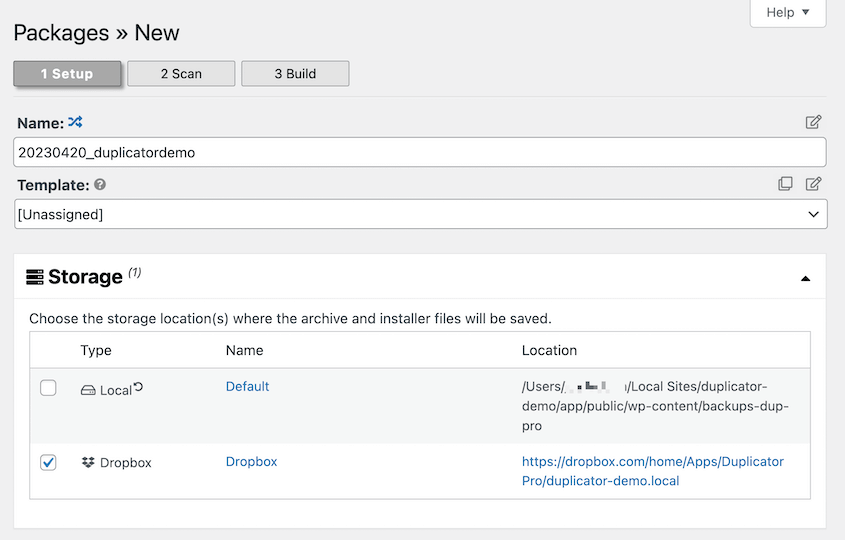 However, they cannot view the details of your cloud account. Plus, these settings won't allow clients to edit any storage options.
This keeps your off-site cloud service a trade secret. You won't end up compromising other client sites by publicly displaying this information.
Hide Your License Information
As we mentioned earlier, you can use Duplicator Pro to easily start offering WordPress maintenance services to clients. This involves installing our plugin on each site you're working on. Since you won't want clients to use your license key without permission, you could hide it.
Simply find Manage License Settings. Add only your user email or role:

Now any other user won't be able to view or edit your license information. You won't have to worry about random users installing Duplicator with your license key on their personal sites.
Note: You can also manage your license key's visibility on the Licensing page in Duplicator's settings. Here, feel free to protect the key with a password. However, the new advanced permissions completely remove these settings from a client's dashboard.
Prevent Your Client's Website From Being Overwritten
After someone purchases your web maintenance services, it would be a nightmare if their website was overwritten on your watch. Once you install Duplicator Pro, any logged-in user can not only create backups but completely replace the site with uploaded files.
To prevent this from happening, you can limit the use of the Package Import feature. In the same Access settings, make sure to only include your role and any other trusted users:

In your client's dashboard, they won't see any option to import a package into the site. Unauthorized users won't be able to break the website by overwriting it without permission.
If the site breaks for another reason (like an unexpected error or cyber attack), the client can request that you restore a recent backup. Alternatively, you can also assign them to the Restore Backup capability:

Clients will then be able to set backups as recovery points and recover them in the case of an emergency: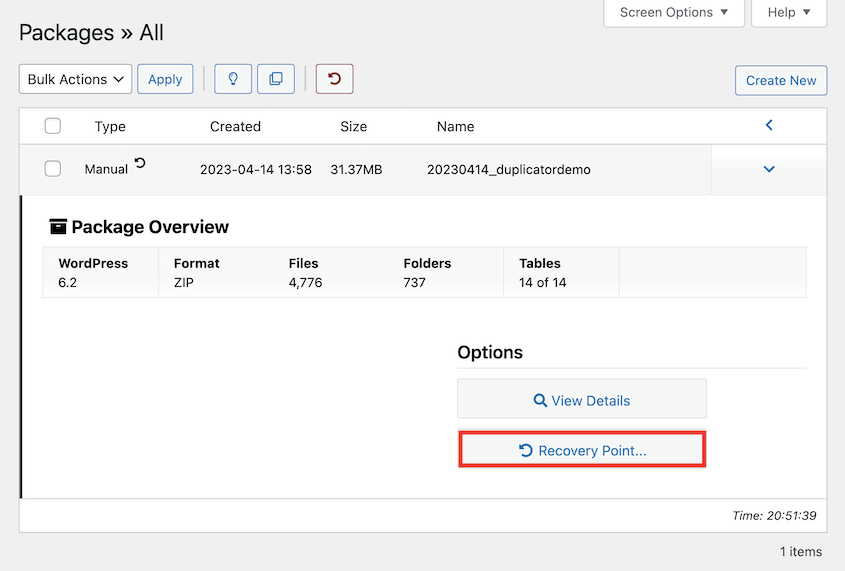 However, keep in mind that once a client creates a recovery URL, they could share this with unauthorized users. It's important to explain to your clients that this should be for their eyes only. To further protect your business, you could also have new clients sign a terms of service agreement.
Make Duplicator Your Go-To Maintenance Tool
And that's just the tip of the iceberg! We're so excited for you to try out these new advanced permissions. So, be sure to update Duplicator to the 4.5.11 version to start better managing your clients' websites.
Remember, these advanced permissions are only included in the Duplicator Pro or Elite licenses. If you think these features will benefit your agency or freelance business, consider upgrading your subscription.
As always, we deeply appreciate your support and feedback. If you run into any snags or suggestions about this update, please contact our dedicated support team! We're always here to help.