Do want to send your WordPress backup to Google Drive?
Saving your site backups to a cloud storage service like Google Drive can keep your data secure from server errors or hacks. When you use off-site storage, you'll always be able to access your website.
In this tutorial, we'll show you how to back up a WordPress site to Google Drive!
Why You Should Back Up Your WordPress Site to Google Drive
One of the best ways to keep your WordPress website secure is by backing it up. When you create regular backups, you'll have saved copies of your site.
Usually, a WordPress backup includes your site's files and database. You'll be able to save everything that makes your website function correctly. Plus, it'll have your unique theme, plugins, and other custom data.
It's important to have a backup in case something unexpected happens to your site. You might be the victim of a hack or server crash. Thankfully, you can easily restore an error-free backup.
Your web hosting provider will likely provide a way to back up your website. However, it can be useful to have a third-party backup service.
In case you can't access your WordPress dashboard, you can send your backups to a cloud storage location such as Google Drive. Since your backups will be saved off-site, it also won't use any resources on your hosting plan.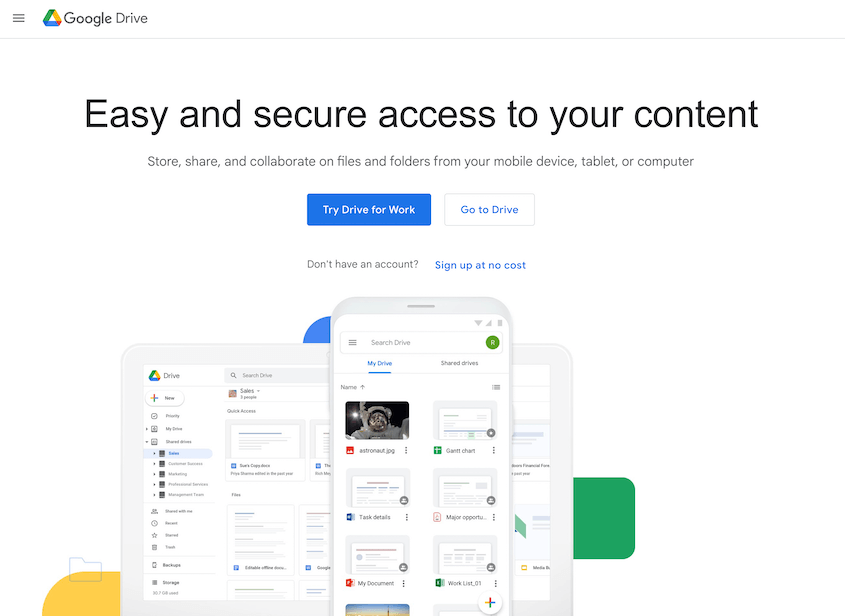 Here are some key benefits of backing up your WordPress site to Google Drive:
Off-site backup storage for easy disaster recovery
Encryption to protect against malware, spam, ransomware, and phishing
Free up to 15GB
Automatic syncing across multiple devices
Access backups from anywhere with an internet connection
Opportunities for team collaboration
Community forums to help recover files and solve other problems
Google Drive can be a good option if you run a smaller site like a blog. With a free account, you'll be able to use 15GB of storage space for your backups. You can also upgrade to 2TB for $12 per month. 
How to Back Up a WordPress Site to Google Drive (Easily)
Once you decide to start backing up your website to Google Drive, you might not know how to do it. Fortunately, we'll walk you through every step along the way!
Step 1: Install Duplicator
By default, WordPress doesn't have a backup solution for your website. Fortunately, you can install a backup plugin like Duplicator. With Duplicator, you can save a copy of your entire website, including its WordPress themes, plugins, content, database, and files: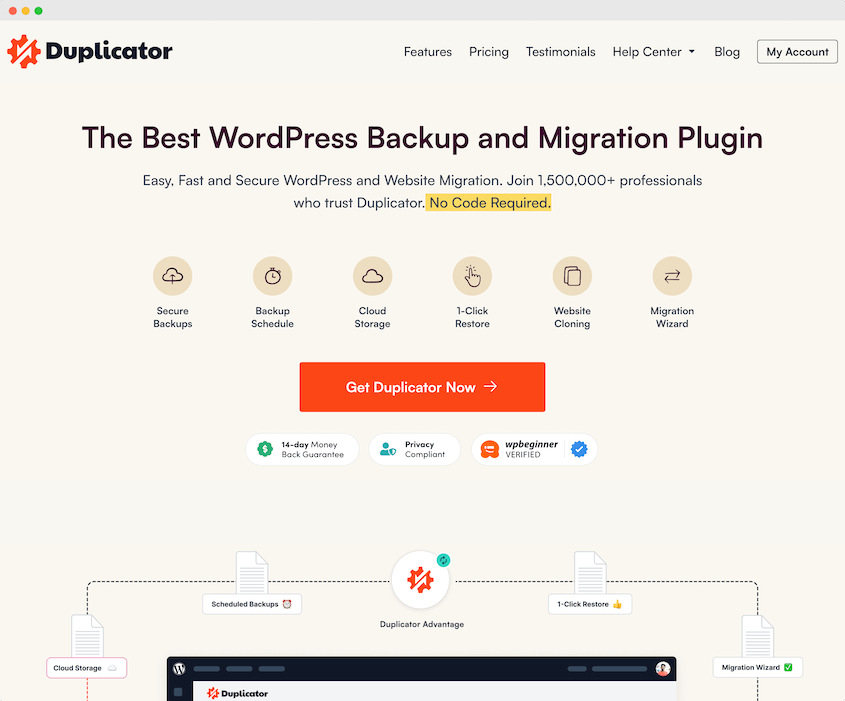 Additionally, Duplicator makes it easy to migrate your website to a new hosting provider or domain name. Once you create a backup, this can be transferred to any location that supports WordPress.
To get started, choose a subscription for Duplicator Pro. Although it is available as a free plugin, you'll need to upgrade to access remote storage options like:
Google Drive
Backblaze B2
Wasabi
Google Cloud
FTP
SFTP – SSH
After purchasing the plugin, download it and save your custom license key. Then, install and activate Duplicator in your WordPress dashboard. If you need a step-by-step guide on this process, check out this tutorial on installing new plugins.
Now you'll need to activate your license key. Navigate to the Duplicator Settings page and click on the Licensing tab: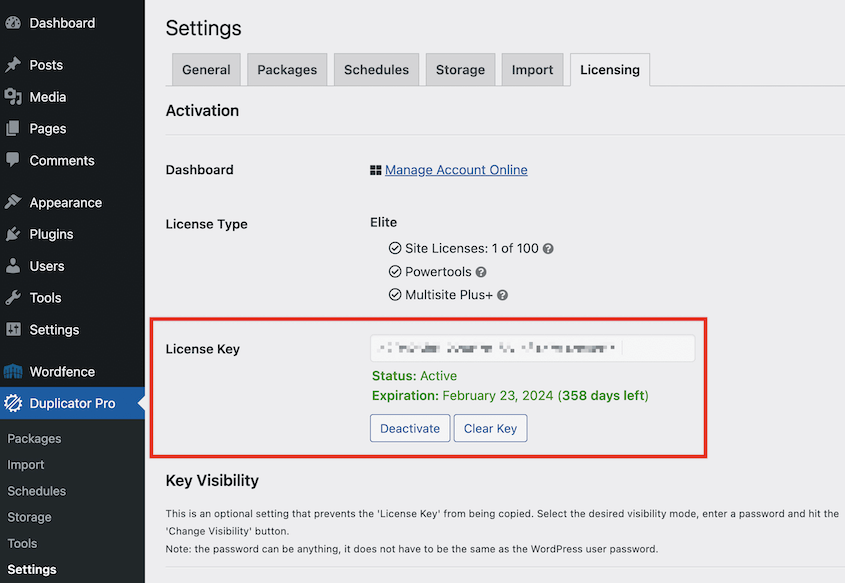 Paste your license key and hit Activate.
Tip: Once you update to Duplicator 4.5.10, you can make your license key invisible! If you run a website with many users, this can help you keep your plugin information private. Under your license, select License Invisible and protect it with a password that only you know.
Step 2: Connect Your Google Drive Account
Duplicator supports cloud storage services like Google Drive, Dropbox, Amazon S3, and OneDrive. To back up your website to the cloud, you'll need to connect your third-party accounts.
Using another plugin, you might need to create a new project in the Google API console. However, Duplicator allows you to connect to Google Drive directly in WordPress.
First, go to Duplicator Pro » Storage. On this page, you'll see that the default storage location is your local server. This will save your website backups to this URL path: wp-content/backup-dup-pro/recovery.
To start using Google Drive, hit Add New:

Then, name the new storage location. Using the Type dropdown menu, choose Google Drive: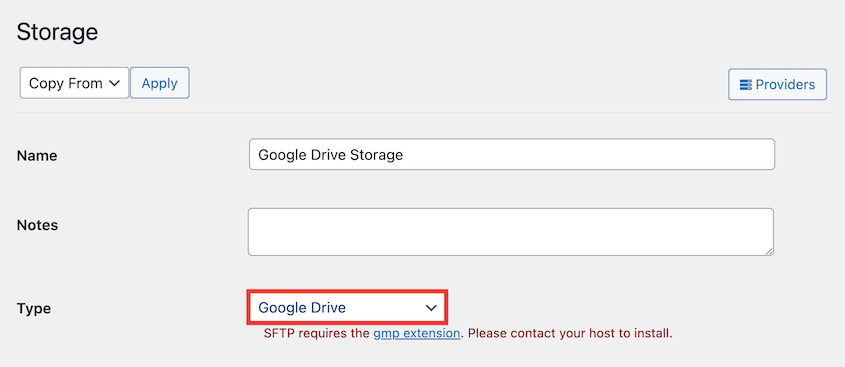 After this, you'll see an option to Connect to Google Drive:

New steps will appear to walk you through the setup process. First, hit Authorize Google Drive:

This will open a new tab, where you'll need to sign into your Google account using your Gmail address. You should also authorize the connection between Google and Duplicator. Once you do, you'll get a unique code:

Copy this and go back to your WordPress dashboard. Then, paste the Google Drive API code into the Step 2 text box:

Lastly, click on Finalize Setup. If the connection is successful, you'll see details about your Google account and quota usage:

Before you create a backup, you can authenticate this connection. Go to the bottom of this page and hit Test Google Drive Connection. This will send a small file to and from your account:

You can also consider adjusting the Max Packages setting. This will be the number of backups that are allowed in your Google Drive account at one time. If you're using a free account, you'll have to avoid exceeding 15GB of backups.
Step 3: Create a Google Drive Backup
Now that you've added your Google Drive account as a cloud storage location, it's time to create your first cloud backup. You can do this by finding Duplicator Pro » Packages » Create New: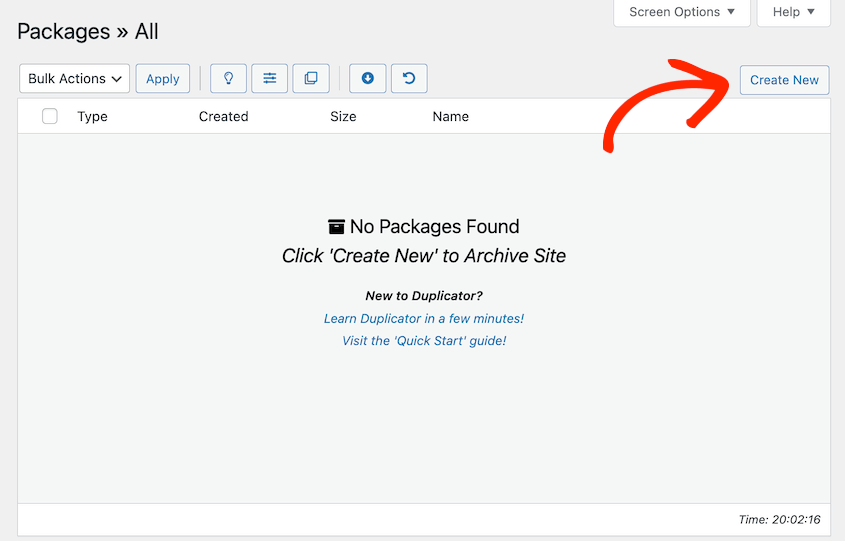 Duplicator will automatically generate a name for your backup package. However, you can also rename it so it's more memorable for you. This will make it easy to find if you need to restore it later:

Next, expand the Storage settings. Here, you'll see that Google Drive is now listed as a backup option. Be sure to select it:

Usually, you'll want to do a full backup of your WordPress site's files and database. This will save the complete setup of your site.
To create a full backup, don't make any changes to the archive or installer files before hitting Next.
However, you can easily edit the archive file to only include certain data in the backup. For example, feel free to do a database backup if you just want to save data like customer information, posts, or pages: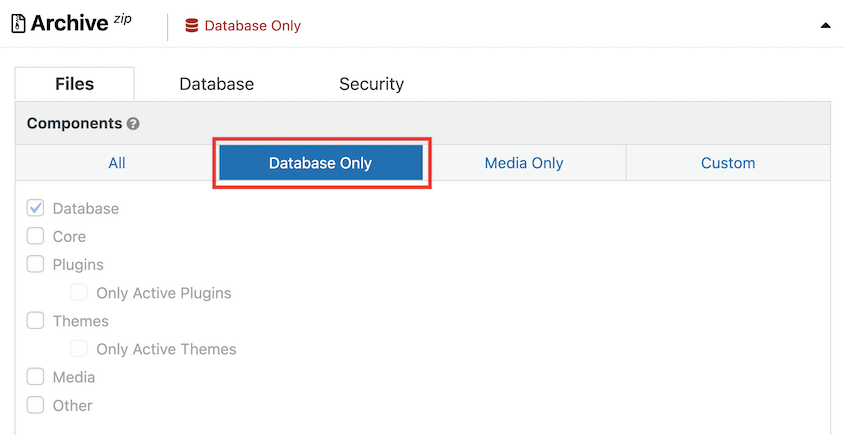 After you configure your backup, Duplicator will scan your website. You can look over this evaluation for any issues. To continue, click on Build: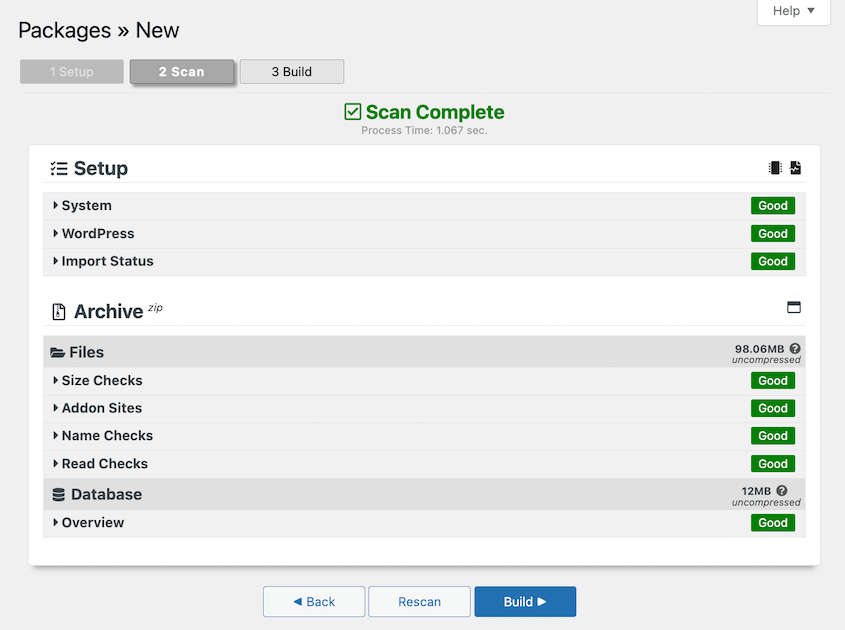 When Duplicator finishes building your package, it will be transferred to your Google Drive folder.
Step 4: Set Up Automatic Backups
As a website owner, you'll know how important it is to regularly back up your website. If you always do manual backups, you may not save your data as often as you should. To make this process easier, you can set up automatic backups.  
If you create an automatic backup schedule, your website will be backed up at a certain time. This ensures that you always have a copy of your site on hand in case of an emergency.
To set up automatic backups in Duplicator, go to Duplicator Pro » Schedules. Then, click on Add New: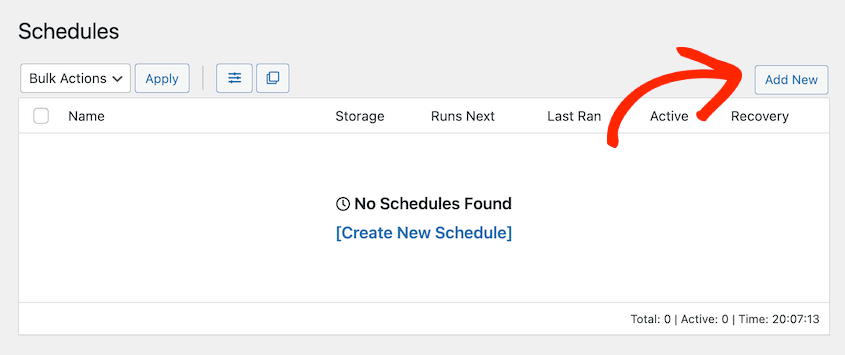 You can name your schedule at the top of the page. If you want to make customizations to the default package settings, consider creating a package template. Alternatively, Duplicator will simply perform a full backup: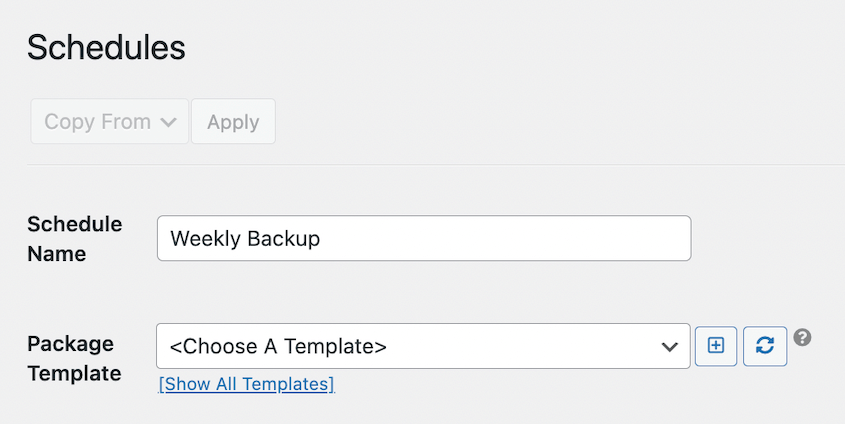 Under Storage, select Google Drive. This will send every automatic backup to the cloud:

Then, choose a schedule for your automatic backups. Duplicator supports monthly, weekly, daily, and hourly backups. For each of these options, you'll be able to customize when you'd like the backup to start:

You can also select a Start Time for the schedule. Lastly, select the checkbox next to Enable This Schedule: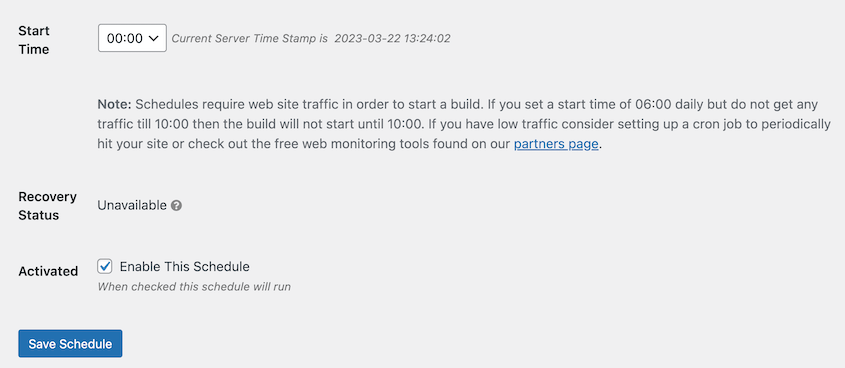 After you save this scheduled backup, your website will be automatically backed up to Google Drive!
How to Restore Your Google Drive Backup
If you accidentally make a coding mistake or experience an unexpected WordPress error, you'll need to restore a backup. To do this, open your Google Drive account and find the folder with your Duplicator backups: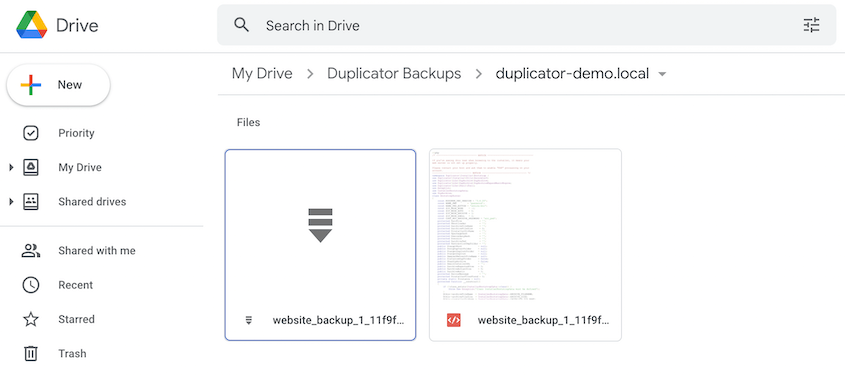 Here, you'll see your recent backup files. Select your archive file and hit Download: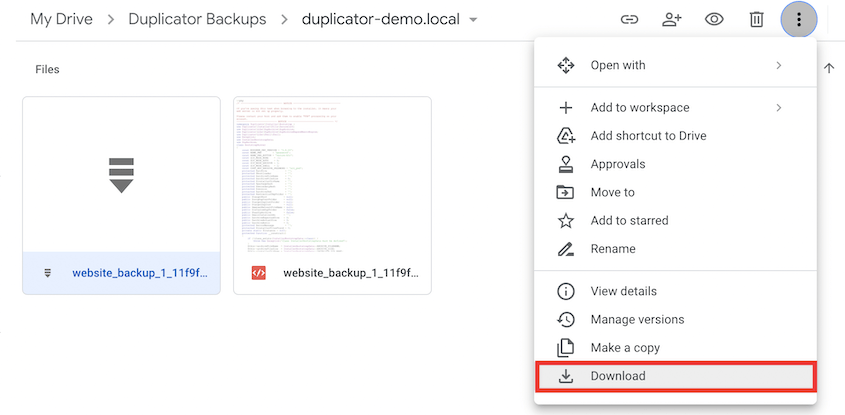 Then, open your WordPress dashboard and go to Duplicator Pro » Import. Instead of manually uploading the file to a File Manager or File Transfer Protocol (FTP) client, you'll be able to directly import your backup: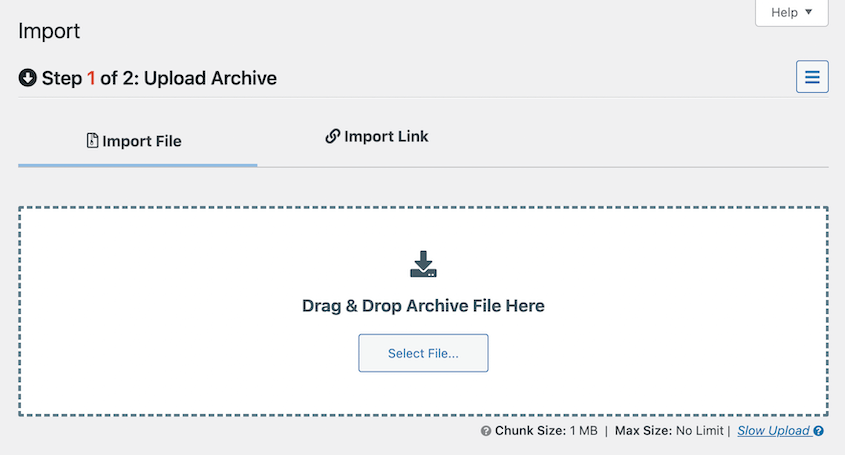 Drag and drop your archive file into the upload box. After it uploads, you'll see information about the backup. If everything looks correct, continue to the next page: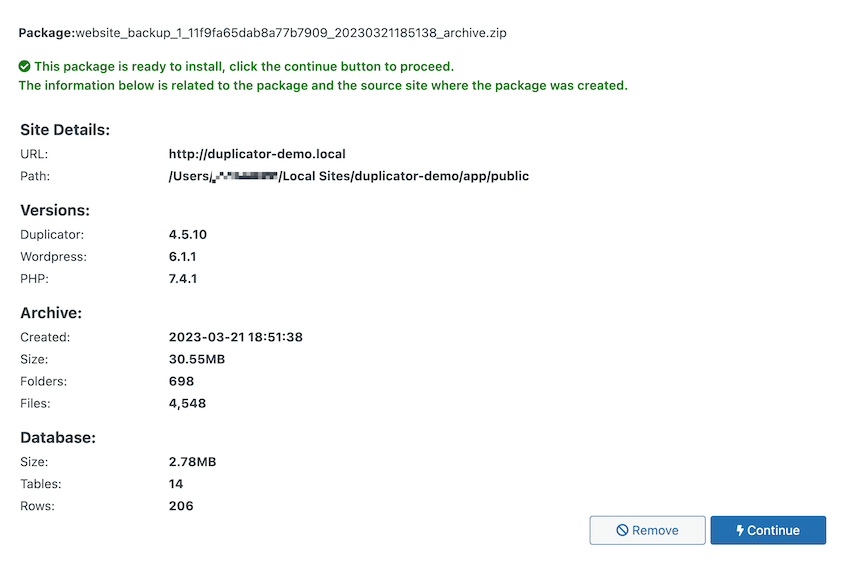 Now you'll see an overview of your current site. To rewrite it with the uploaded archive, click on Launch Installer:

Then, the Duplicator recovery wizard will walk you through the process of restoring a backup. First, be sure to select Restore single site as the Install Type: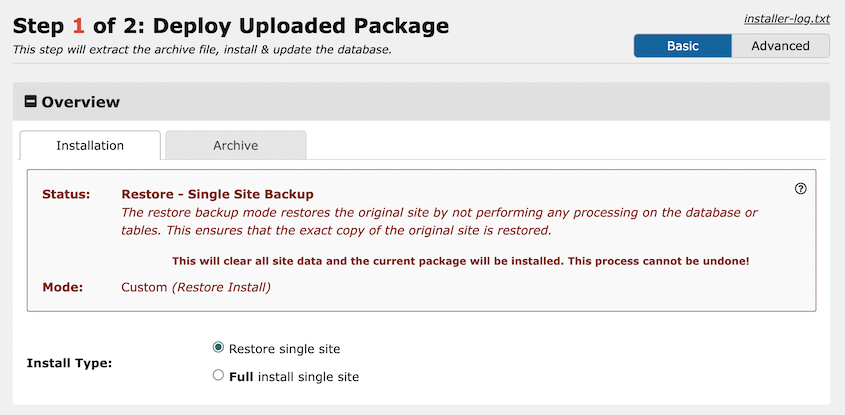 Next, hit Validate. Duplicator will provide warnings if there is anything wrong with the installation. To continue, accept the terms and notices and click on Next: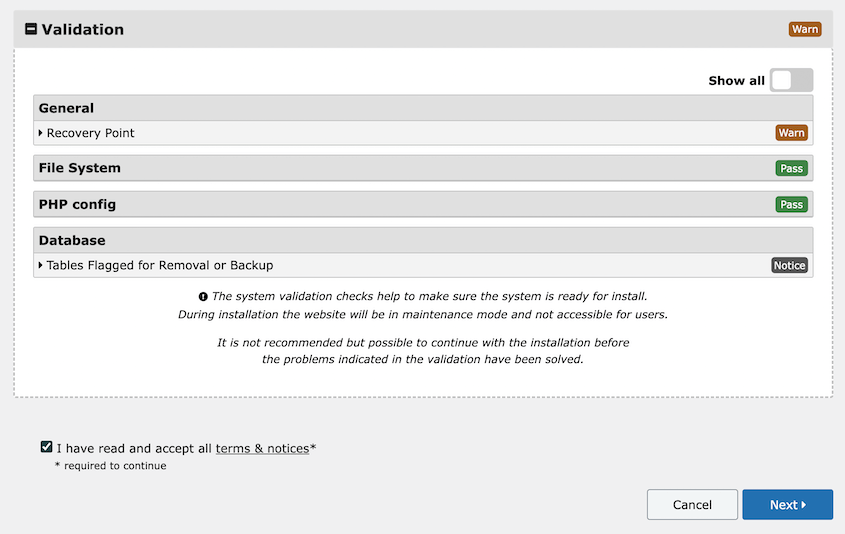 As a final step, confirm that you want to proceed with the backup restoration: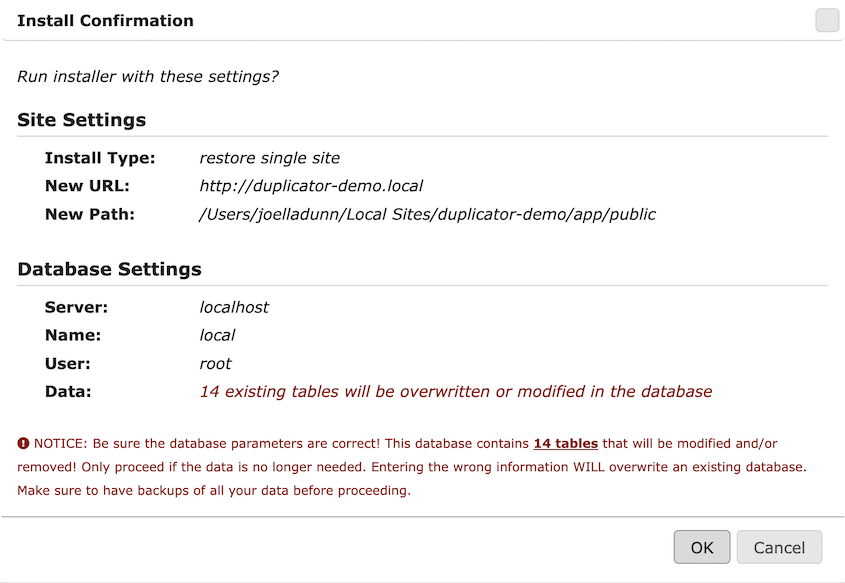 Duplicator will automatically replace your current site with the saved backup. Once finished, you'll see an Admin Login button: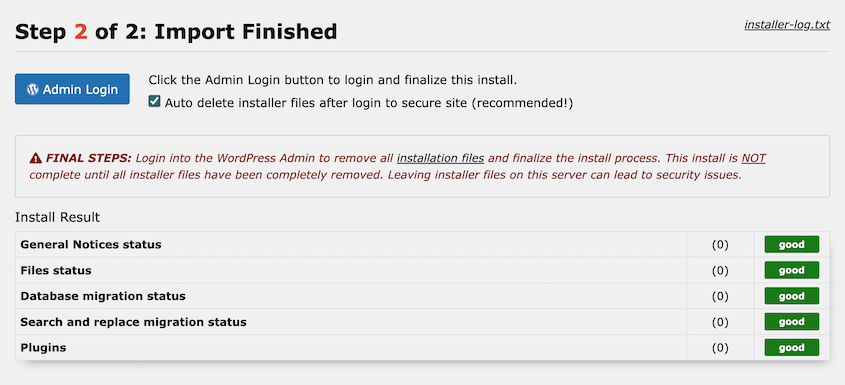 Now you can sign back into your restored website!
Frequently Asked Questions (FAQs)
Can I back up my website on Google Drive?
Yes, you can back up your website on Google Drive. Start by installing Duplicator Pro and adding Google Drive as a new storage location. Then, create a new package and select Google Drive under the storage options.
Keep in mind that there is a free version of Duplicator that supports basic backup and migration features. However, you'll need to upgrade to start sending backups to third-party cloud storage services.
How often should I back up my WordPress site?
You should back up your WordPress site at least once a week. However, this frequency will depend on how often you're making significant changes to your website.
If you're uploading new content daily, it might be best to schedule daily backups. Alternatively, static sites may only need monthly backups.
How do I back up all my WordPress data?
You can back up all your WordPress data by installing Duplicator Pro. Then, create a new package without making any changes to the archive or installer files. After downloading your package, you'll have a saved copy of your WordPress files and database.
What is the best WordPress backup plugin?
The best WordPress backup plugin is Duplicator Pro. This tool can help you create backups of your website and send them to cloud storage locations like Google Drive, Amazon S3, Dropbox, and OneDrive.
Alternatives: The UpdraftPlus plugin can also back up your site to Google Drive. You'll have to open the Settings tab and connect your Google Drive account to your UpdraftPlus backups. BackWPup is another popular option, but you'll have to create a Google Drive API key manually and enter this information into the plugin settings.
Conclusion
By following this guide, you'll successfully save your WordPress backup to Google Drive!
While you're here, you may also enjoy these extra WordPress tips and tricks:
Cloud backups are within your reach. Download Duplicator Pro to easily save your WordPress data to Google Drive!