Are you not sure how to choose between UpdraftPlus vs Duplicator?
As a website owner, backups are an essential part of keeping your site safe from data loss. At some point, you may also need to completely move your website to a new server. Using the right plugin, you can back up and migrate your website without any struggle.
This post will compare two popular WordPress migration and backup plugins: UpdraftPlus and Duplicator!
What to Look for In a WordPress Backup and Migration Plugin
If you want to start backing up or migrating your website, there are plenty of WordPress plugins available to you. To get the best one, here's what you should look out for:
Manual and automatic backups: A beginner-friendly plugin will make it easy to create website backups. You'll also be able to set schedules to automatically back up your site at a certain time.
Cloud storage: To reduce strain on your hosting plan, you can send backups to off-site locations like Google Drive, Dropbox, or OneDrive.
Restore options: Backups are of no use unless you can restore them. The best plugin will allow you to replace a broken site with an error-free saved copy.
Simple migration features: Although migrations can be daunting, the right plugin will perform this service in just a few steps.
Support for Multisites and large websites: A basic WordPress migration plugin will only be equipped to handle small to medium-sized sites. If you're planning to migrate a larger site, the plugin will need to easily package large files.
Like with any plugin, you'll also want your software to come with stellar customer support. This way, if you experience any difficulties you can quickly get answers.
UpdraftPlus vs Duplicator: Compared
With all of the different backup and migration plugins out there, it can be difficult to narrow down your options. If you need help deciding between UpdraftPlus and Duplicator, we have your back. Let's compare these two popular plugins so you can decide which one is right for you!
Features: UpdraftPlus vs Duplicator
First things first, you'll want to know what each plugin does. Let's take a look at the main features included in UpdraftPlus and Duplicator.
Duplicator
Duplicator is a comprehensive tool for backing up, migrating, and even cloning websites. Because of its capabilities, Duplicator is used by over 1.5 million users: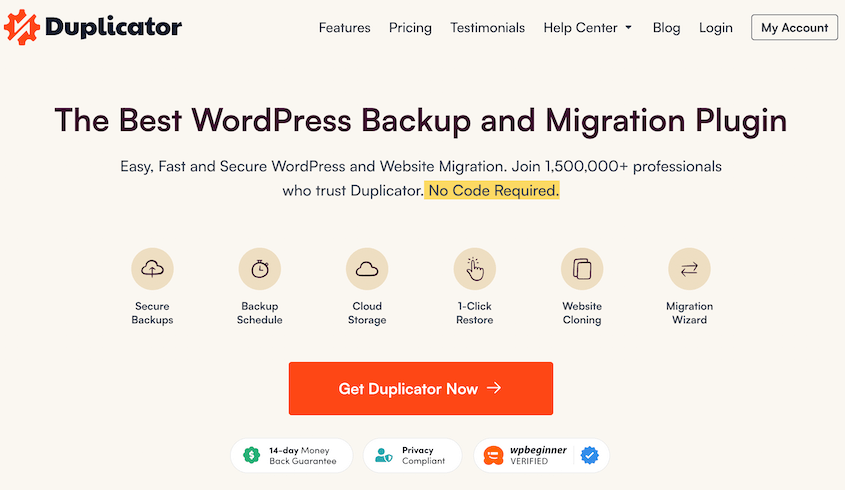 Here are just a few of the features included with Duplicator:
Complete WordPress backups
One-click backup restore
Cloud backup storage to Google Drive, Dropbox, Amazon S3, Microsoft OneDrive, FTP/SFTP, and more
Drag-and-drop site migrations
Supports Multisite networks and large sites
Custom search and replace
cPanel integration
Server-to-server imports
Compatible with managed web hosting providers
UpdraftPlus
Similar to Duplicator, UpdraftPlus can perform backups and migrations. It's a popular tool for beginners to handle WordPress maintenance without any complex coding: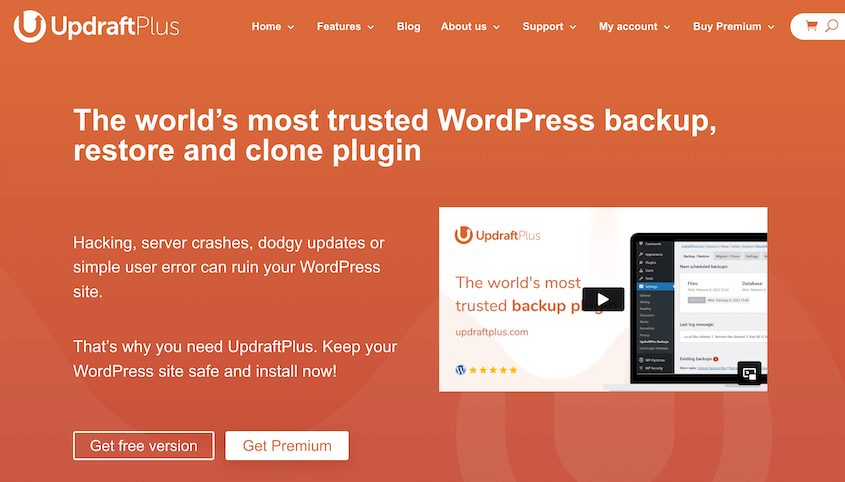 Here are some of the main features of UpdraftPlus:
Scheduled and manual backups
Incremental backups
Backup restore options
Remote storage options to Rackspace Cloud Files, Microsoft Azure, Amazon S3, and more
Cloning and migration
Pre-update backups
Supports Multisite
Ease of Use: UpdraftPlus vs Duplicator
Especially if you're a beginner, it's important to only install plugins that are easy to use. This way, you won't waste time trying to figure out how to back up or migrate your website. Let's compare UpdraftPlus and Duplicator to see which has more user-friendly functionality.
Duplicator Ease of Use
One common maintenance task you'll need to perform is a website backup. With the Duplicator plugin, you can easily create a copy of your website whenever you need to. This is called a package, which will contain all your WordPress files and database information.
Simply navigate to Duplicator Pro » Packages » Create New. Give the backup a name and select a storage location. If you want to save the backup off-site, Duplicator supports many third-party cloud services:

Then, feel free to customize the archive file. Essentially, this is the file that compiles your database, plugins, themes, and core WordPress files: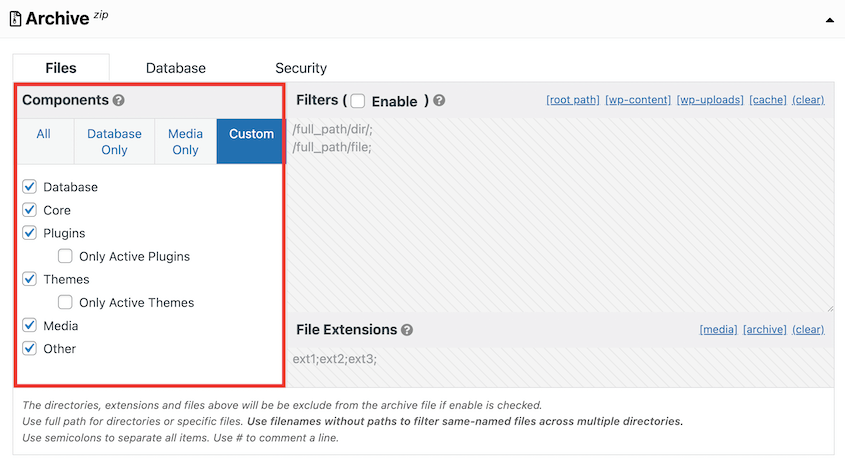 Tip: Editing the archive file is a useful step when you want to limit what data is saved in a backup (like a database backup). For entire site backups, don't make any changes.
After you hit Next, Duplicator will scan your site. This ensures that your content will be backed up successfully. If there aren't any issues, continue with the build: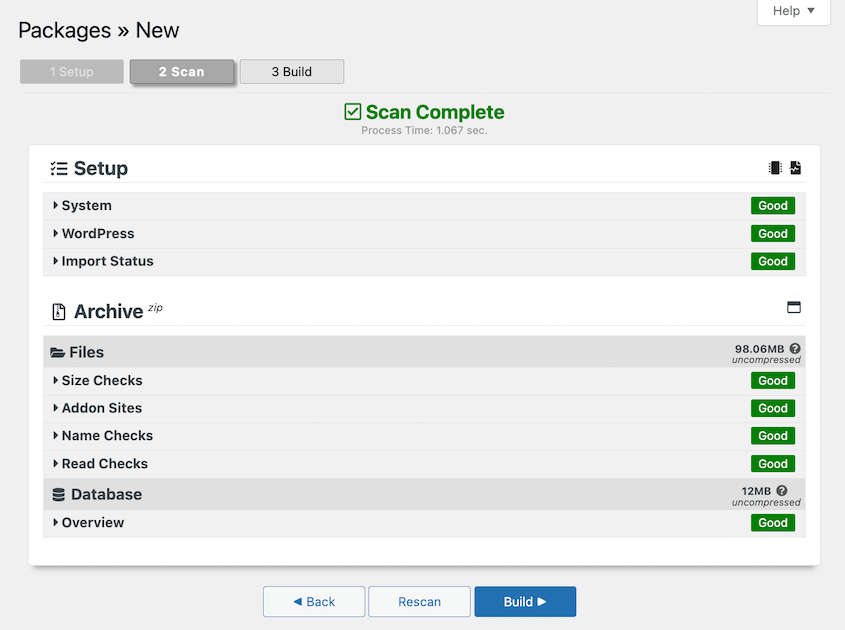 Now you've backed up your WordPress website! To download it, find the Packages page and click on Download » Archive (zip):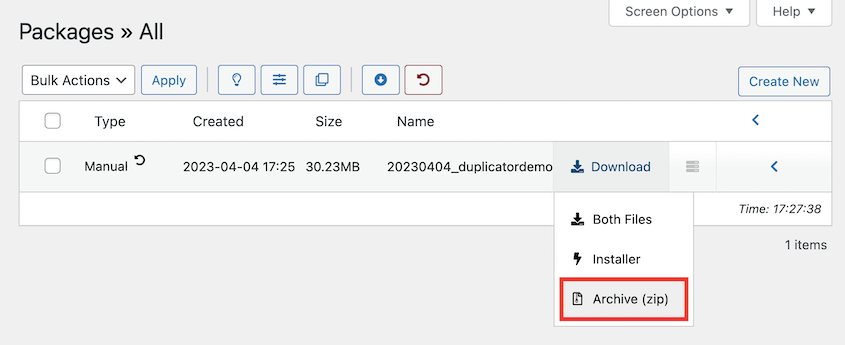 You'll then have a moveable copy of your site downloaded onto your computer. This can easily be migrated to another location or simply saved as a backup in the case of an emergency.
UpdraftPlus Ease of Use
UpdraftPlus also has built-in backup options. Once you install the plugin, go to UpdraftPlus » Backup/Restore and click on Backup Now: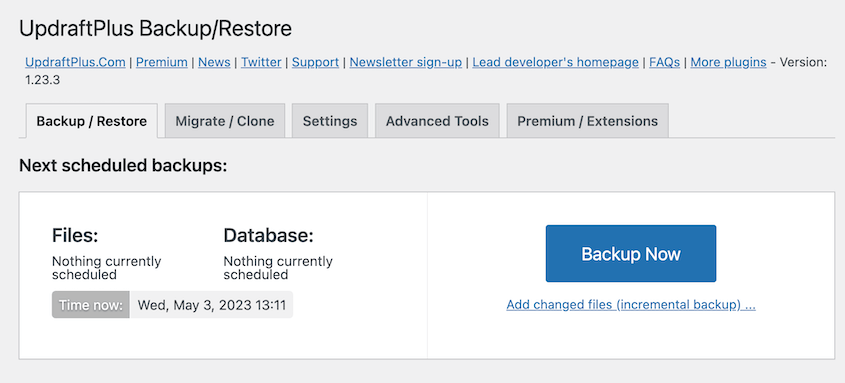 Then, you'll have a few options to customize the backup. If you'd like, exclude the database or your WordPress files: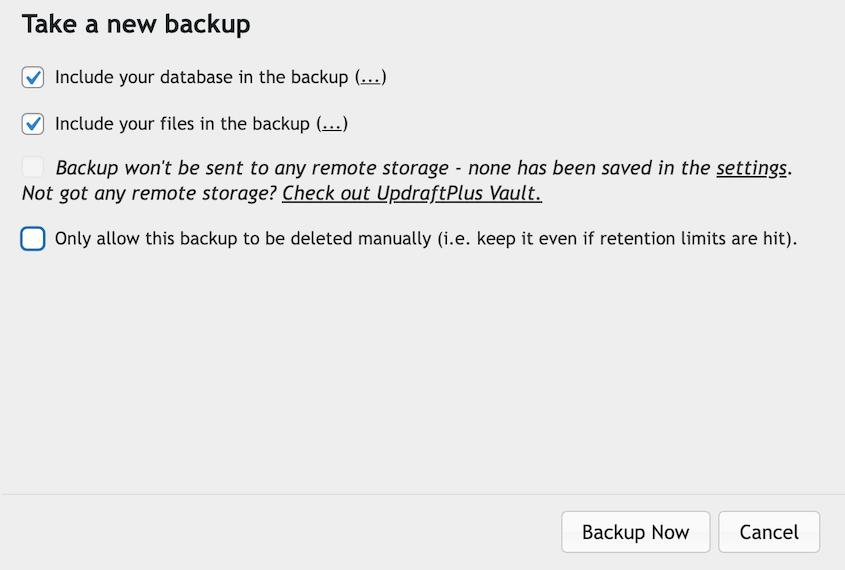 After creating a backup, it'll be listed under Existing backups:

You'll see different options for downloading your backup. You can save copies of your database, plugins, themes, or uploads.
Both UpdraftPlus and Duplicator have beginner-friendly backup solutions. Although UpdraftPlus provides fewer steps in the backup process, you won't have as many opportunities for customization. Plus, Duplicator provides a useful site scan that ensures your website is backed up correctly.
Backup Restore Options: UpdraftPlus vs Duplicator
At some point, you might accidentally lose data to an unexpected error, server crash, or hack. Although this can be scary, a backup plugin can help you quickly restore your website to normal.
Duplicator Backup Restore Options
To restore a backup with Duplicator, you can set a recovery point. First, expand your backup using the arrow on the right-hand side:

Under Options, click on Recovery Point: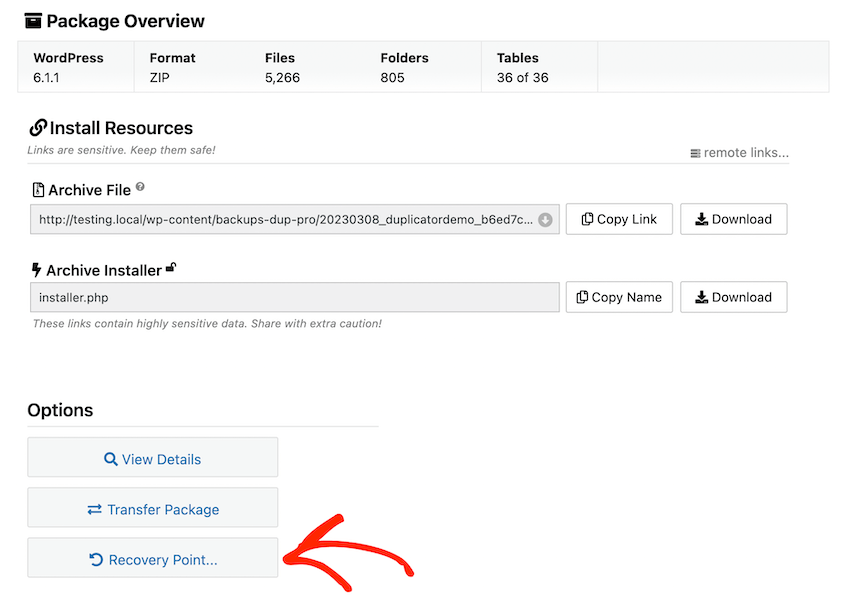 This will open a new pop-up window. Here, select Set to Recovery Point: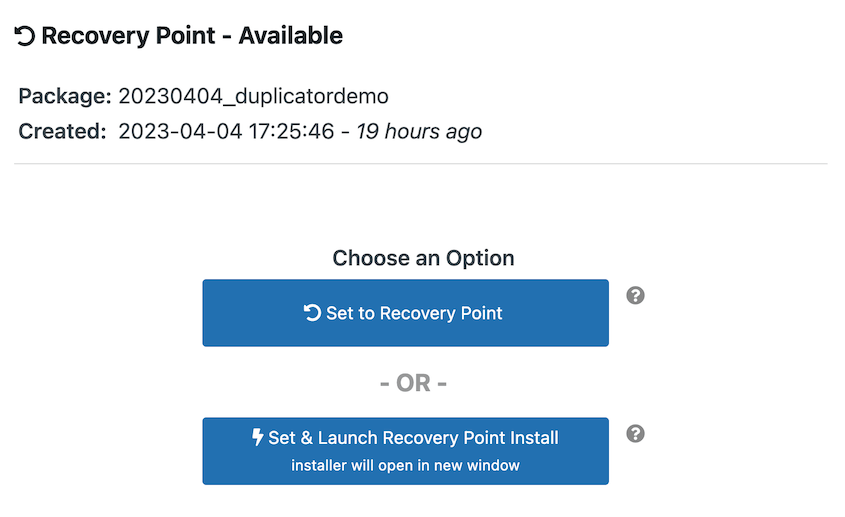 Now your backup will have a new recovery icon next to it. Click on this to copy the backup recovery URL:

Be sure to save this URL in a secure location. Whenever something goes wrong on your site, simply paste it into a browser window. This will launch the Duplicator recovery wizard even if your website is down: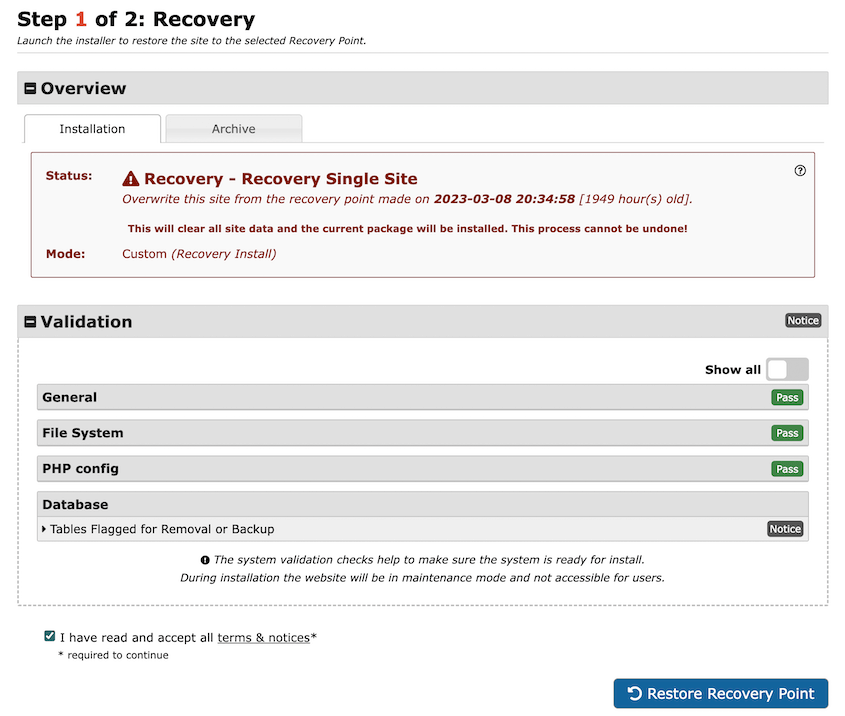 After accepting the terms and conditions, hit Restore Recovery Point. You'll need to confirm that you want to install this older version of your site: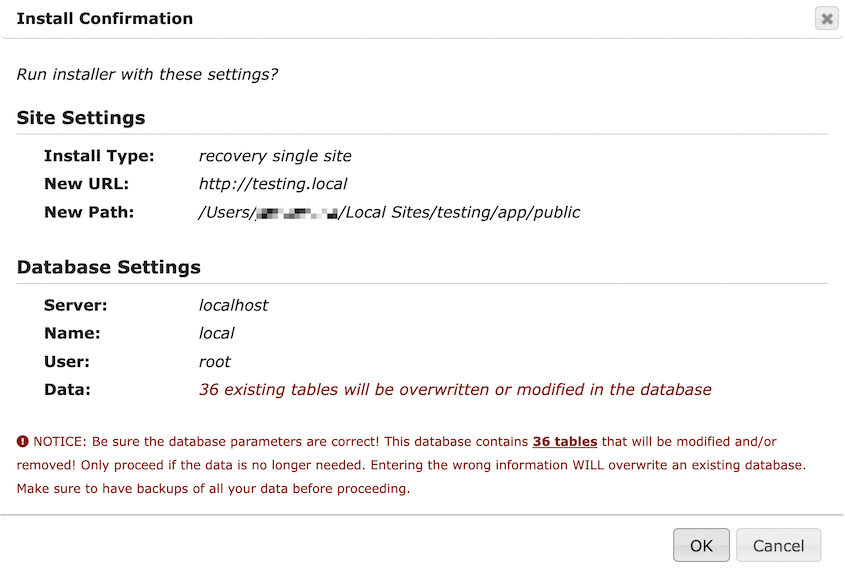 Then, simply use the Admin Login button to access your site again: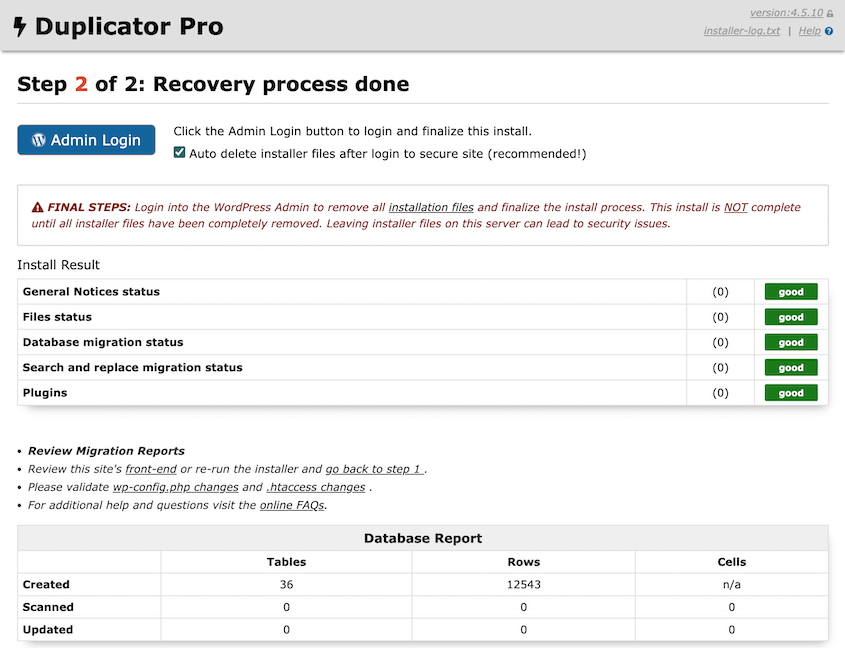 You'll notice that Duplicator replaced the broken website with an error-free WordPress backup!
UpdraftPlus Backup Restore Options
With UpdraftPlus, you'll only be able to restore your backup from the WordPress admin dashboard. To do this, click on Restore next to the most recent backup:

Then, select the data you want to restore. UpdraftPlus will give you the option to deselect any plugins, themes, uploads, or database information:

If needed, you can choose which database tables to exclude from the restoration. Next, hit Restore again: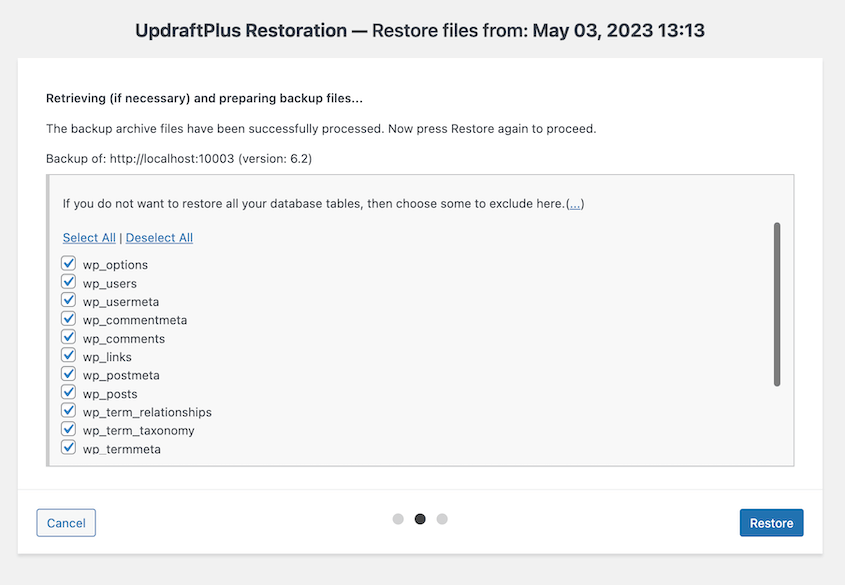 Now UpdraftPlus will restore your backup. It'll notify you if it's successful: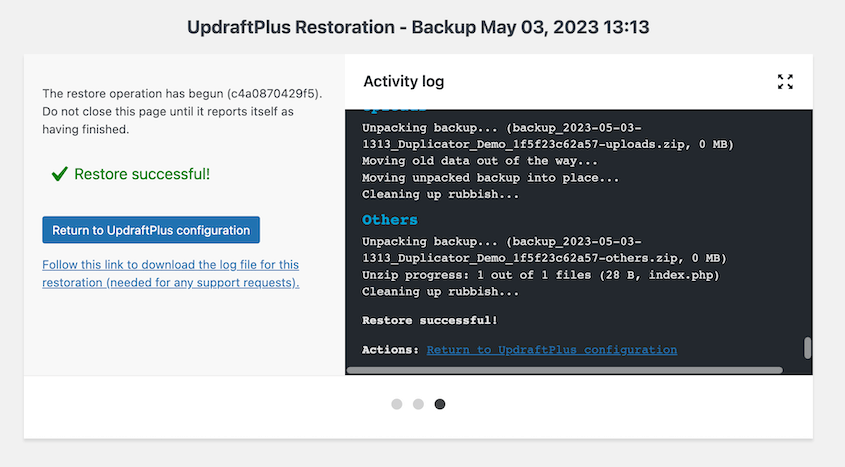 You can click on Return to UpdraftPlus configuration to go back to your restored WordPress dashboard.
Although UpdraftPlus provides a simple way to restore your website, it won't be useful after critical errors. If you want to make sure your data is always safe, we'd recommend using Duplicator to generate recovery URLs. This will allow you to recover a backup even if you can't open your dashboard.
Migrations: UpdraftPlus vs Duplicator
Duplicator and UpdraftPlus are both capable of moving your website to a different server or domain name. But which one is better?
Duplicator Migrations
Fortunately, Duplicator makes migrations very simple. Start by creating a package of your site. Then, download the archive file the same way you saved a backup earlier.
On a second site, install and activate the Pro version of Duplicator. After this, navigate to the Import page. You can then drag and drop your archive file into the import box: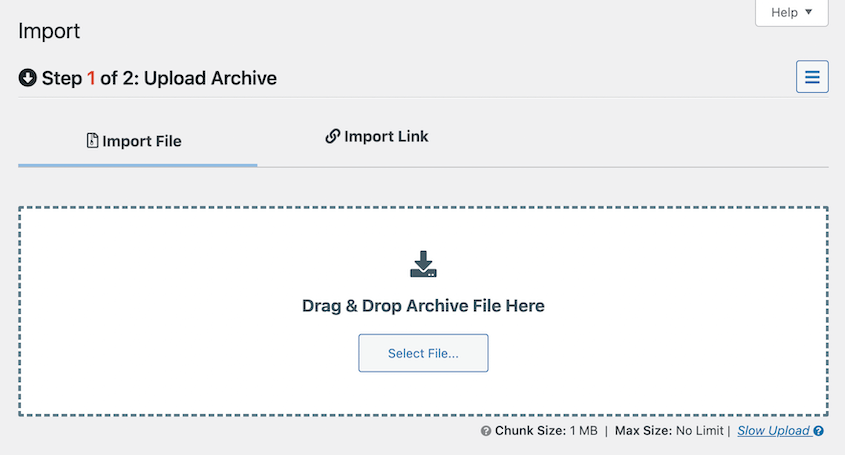 Once the package is ready to install, click on Continue: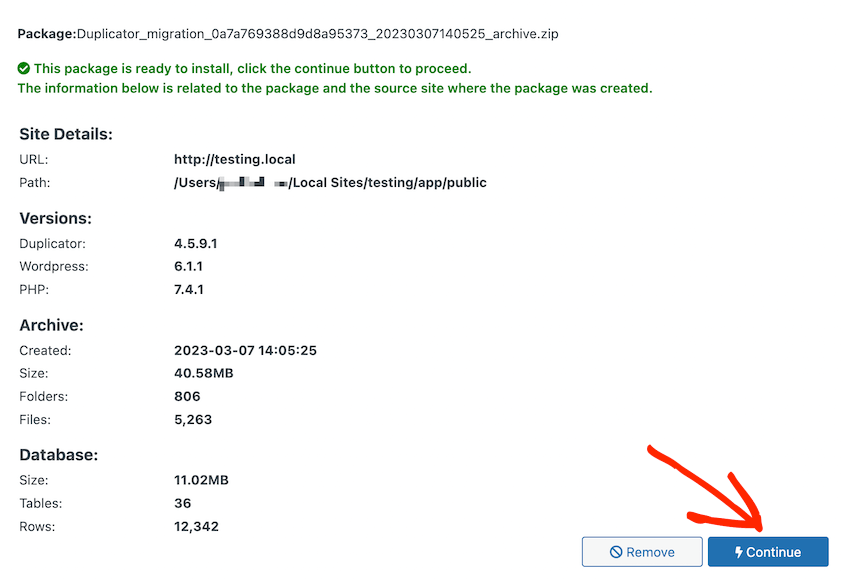 Then, hit Launch Installer to start the migration:

Now Duplicator's installation wizard will walk you through the rest of the migration process!
Alternatively, you don't even need WordPress installed. After downloading both the archive and installer files, upload them to the new website's root directory:

Then, all you'll need to do is paste this URL in a browser window: https://your-domain/installer.php
Be sure to edit this to include your new site's domain. This URL will launch Duplicator's installer: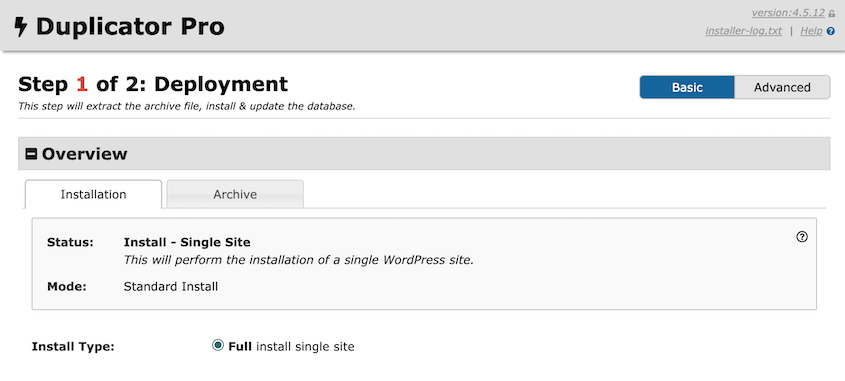 You can then follow the step-by-step instructions on how to install your original website. This process can be useful if you're setting up a local site without installing WordPress first. If you develop websites for clients, you can quickly migrate them to any server whenever you need to.
UpdraftPlus Migrations
If you want to migrate a site with UpdraftPlus, you can restore a backup on a different WordPress installation. First, create a backup of your live site and download it. You'll have to manually download each part of the backup:

Then, install UpdraftPlus on the second site. Find Existing backups » Upload backup files. Here, upload your original site's backup files:

Now you'll see the backup listed at the bottom of the page. You can hit Restore to replace the default WordPress installation with your saved backup.
For a direct server-to-server transfer, you'll have to purchase the UpdraftMigrator add-on. This is included in UpdraftPlus Premium.
However, you won't be able to migrate your site right away. First, you have to connect the two websites and give them permission to send data to each other. This process can take more time than Duplicator's simple drag-and-drop migrations.
Pricing: UpdraftPlus vs Duplicator
Even if one plugin does everything you need it to do, it may be out of your price range. Especially if you're a blogger or small business owner, it's important to compare the cost of UpdraftPlus vs Duplicator. Let's take a look!
Duplicator Pricing
You can download a free version of Duplicator from the WordPress Plugin Directory. Duplicator Lite has over 1 million active installations and a 4.9-star rating: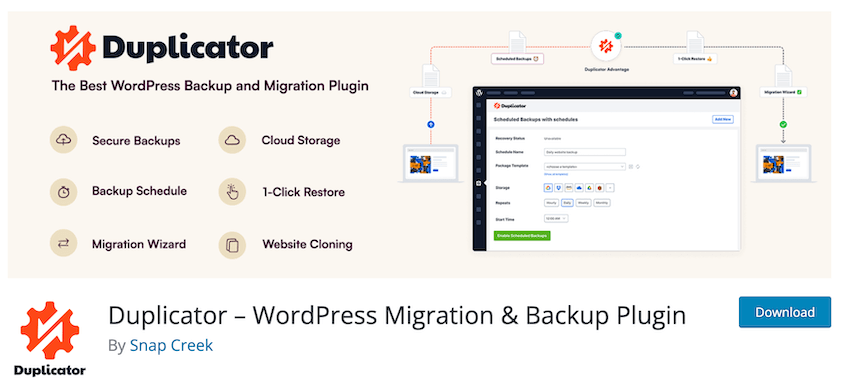 With this version, you'll be able to back up your site. By uploading the archive and installer files to a new server, you can also easily migrate or clone your website.
If you need more advanced features, Duplicator Pro starts at $49.50 per year. Even this basic plan supports unlimited backups and migrations. You'll also take advantage of scheduled regular backups, recovery points, cloud storage, drag-and-drop migrations, and more.
UpdraftPlus Pricing
Like Duplicator, UpdraftPlus provides a free plugin. You'll have backup and restore options, as well as automated backup schedules: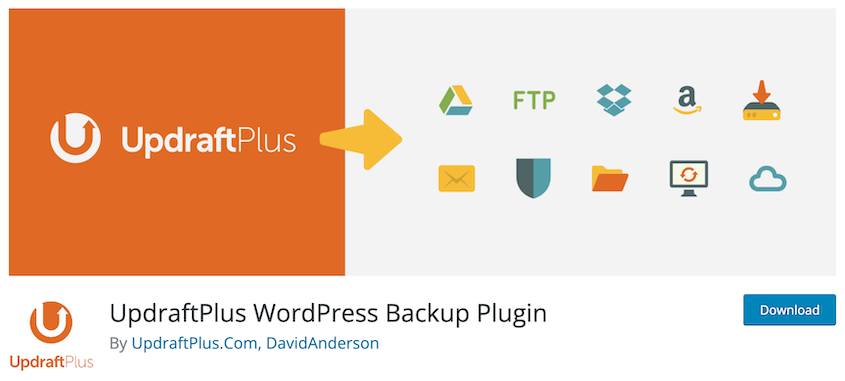 However, UpdraftPlus Premium costs a minimum of $70 per year. With the basic personal plan, you'll only get one UpdraftClone token. If you want to clone your site often, you'll have to purchase additional tokens.
UpdraftPlus vs Duplicator: Pros and Cons
Let's round up a quick overview of UpdraftPlus and Duplicator so you can compare them!
Duplicator
Pros:
Migration, cloning, and backup features
Automatic backup schedules
Free version
Easy drag-and-drop migrations
Compiles all website data into a single zip file
Many cloud storage integrations
Recovery point URLs for restorations without dashboard access
Supports Multisite and large sites up to 100GB
Developer hooks
Smart migration wizard
Cons:
The free version requires some technical expertise since you'll have to upload files to a File Transfer Protocol (FTP) client.
Duplicator Pro is a powerful and useful plugin for anyone who manages a WordPress site. It provides simple ways to back up and migrate your data. This makes it a great option for complete beginners.
Plus, Duplicator has many features designed for developers and users with more technical experience. It provides developer hooks, custom search and replace, and regenerate salts so you can customize the plugin to do whatever you need it to.
UpdraftPlus
Pros:
Beginner-friendly interface
Free version
Migration, cloning, and backup features
Automated backup schedules
Multisite support
Cons:
Separate backup files for database, themes, plugins, and uploads
No developer features
More expensive than competitors
Limited UpdraftClone tokens
Restore options only available from the WordPress dashboard
UpdraftPlus can be an effective backup and migration plugin if you're new to WordPress. Without too many customization options or extra steps, you can easily create copies of your site and move them to other locations.
Although it might initially seem like a good option, UpdraftPlus isn't as flexible as Duplicator. You can get more advanced features with the premium version, but the plans are generally pricier than similar plugins. 
UpdraftPlus vs Duplicator: Which Should You Choose?
Now that we've fully compared UpdraftPlus and Duplicator, let's decide which one is best.
| | | |
| --- | --- | --- |
| Feature | UpdraftPlus | Duplicator |
| Automatic backups | Yes | Yes |
| Cloud storage | Yes | Yes |
| Restore options | Yes | Yes |
| Drag-and-drop migrations | Yes | Yes |
| Multisite support | Yes | Yes |
| Large site support | No | Yes |
| Empty site support | No | Yes |
| Off-site backup recovery | No | Yes |
| Free version | Yes | Yes |
| Developer features | No | Yes |
We'd recommend Duplicator Pro as the best backup, migration, and cloning plugin. It allows you to download your entire WordPress site as a zip file, which can then be saved as a backup or migrated to another server.
Although UpdraftPlus has some beginner-friendly features, its paid versions are expensive. Additionally, add-ons like UpdraftClone use a token system. If you're planning on cloning your website more than once, you'll need to purchase a higher-tier plan.
In comparison, even the cheapest Duplicator plan supports unlimited backups and migrations. There are also plenty of tools for developers to customize backups, set up staging sites, and more.
Frequently Asked Questions (FAQs)
You may still have some pressing questions about UpdraftPlus and Duplicator. Let's answer them!
What is the alternative to UpdraftPlus?
Duplicator Pro is the best alternative to UpdraftPlus. This plugin includes comprehensive features to create backups and migrate websites. It even offers advanced developer support and drag-and-drop migrations at a much lower price.
Alternatives: BackWPup, BackupBuddy, BlogVault, WPvivid, and Jetpack (VaultPress) are some of the best WordPress backup plugins. For migrations, you could consider All-in-One WP Migration.
Is UpdraftClone free?
No. You can start using UpdraftClone by purchasing tokens. Alternatively, UpdraftPlus Premium comes with tokens, but these plans start at $70 per year.
What is the best backup plugin for WordPress?
The best backup plugin for WordPress is Duplicator Pro. You can use it to create manual backups or automate hourly, daily, weekly, or monthly backups. It supports a variety of cloud storage locations, allowing you to secure your data against critical errors or hacks.
Conclusion
We hope this guide gave you everything you need to choose the best backup and migration plugin.
Are you not sure a plugin can transfer all of your website's data? Check out our guide on migrating a large WordPress site.
Want to easily move your website with a simple drag-and-drop interface? Download Duplicator Pro today!