Are you looking for an in-depth Duplicator review?
At some point, you might need to back up, migrate, or clone your WordPress website. Duplicator Pro is a flexible tool that can do all of these maintenance tasks, but is it really worth it?
In this post, we'll review Duplicator's main features and ease of use to see if it's the best backup and migration plugin!
What Is the Duplicator Plugin?
Duplicator Pro is a WordPress plugin that empowers you to effortlessly back up, clone, and migrate entire websites with minimal hassle. Using this tool, you won't have to fret over data loss during site transfers or losing precious hours manually setting up a new website.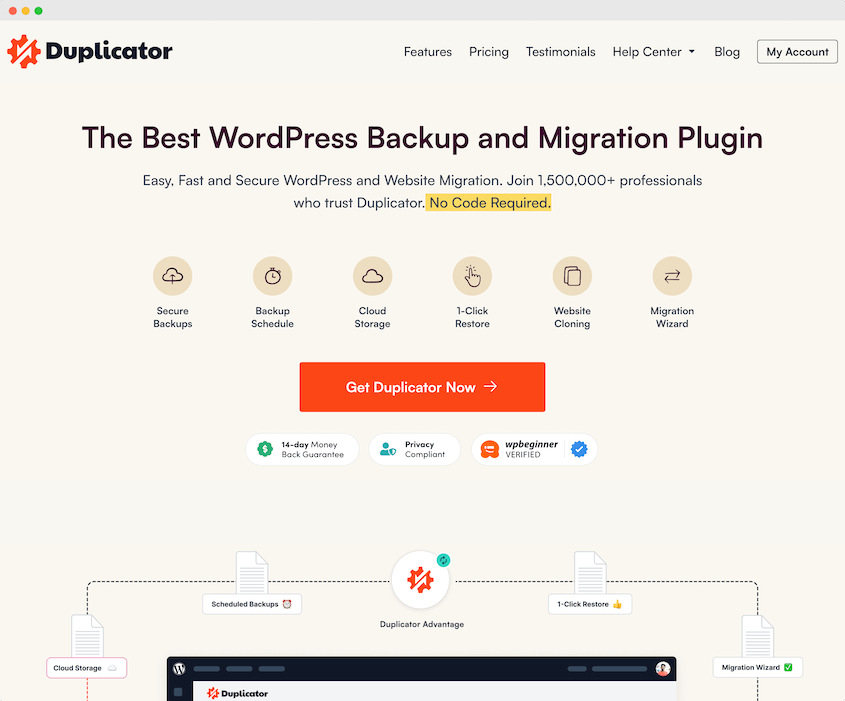 With over 3,500 five-star customer reviews, Duplicator Pro is one of the most popular backup and migration plugins. It offers a robust set of features that cater to both beginners and experienced developers alike.
How Does Duplicator Work?
Duplicator works by packaging your entire WordPress website into a single archive file. This contains all of your WordPress files, plugins, themes, media files, and database tables.
Along with an archive file, you'll get an installer.php script. If you ever need to migrate your site to a new host, server, or domain name, you can upload the archive and installer files to the new location.
Additionally, you can use Duplicator as a backup tool. Once you create a package, you can save it on your local server or a third-party cloud storage location. Using Duplicator, you'll also be able to recover a backup whenever your site goes down.
Duplicator Review: Why It's the Best Backup and Migration Plugin
Now that you have an idea of what Duplicator is and what it does, let's dive into some specific features. This way, you'll decide whether it's the best backup and migration plugin for your website!
1. Customizable WordPress Backups
Duplicator Pro gives you the freedom to create tailor-made backups that suit your specific needs. All you'll need to do is create your first package and expand the Archive section. Here, select specific site components you want to include in the backup: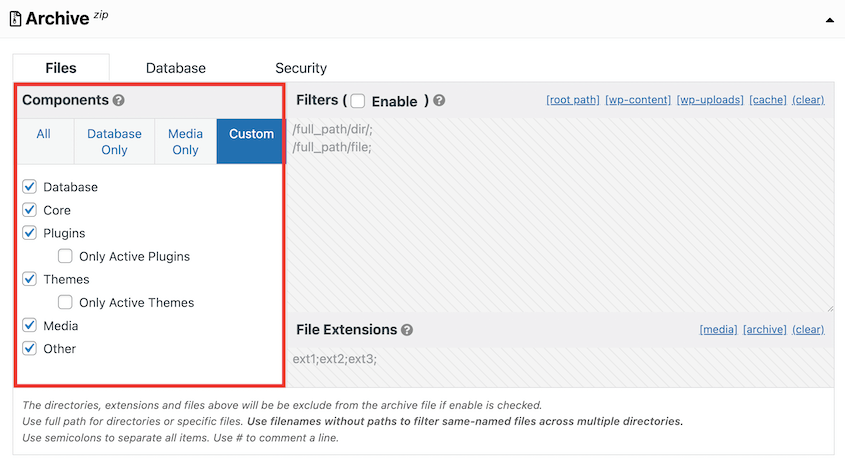 This will help you easily filter out certain files, directories, or database tables, allowing for efficient use of storage space. Plus, it can reduce backup time.
It also can be a great way to clean up your WordPress site during a migration. You'll create a copy of your website without any unnecessary folders, database tables, plugins, or themes. Once you move this package to another location, the new site will be optimized!
2. Automated Backups
Without a backup plugin, you might waste a lot of time manually downloading your files and database. Fortunately, Duplicator allows you to automate your backups, so you never have to worry about forgetting to back up your site.
When you add a new backup schedule, you can choose a package template. This will specify what data should be saved:

You can also pick a custom storage location for the automated backups. If you select cloud storage, Duplicator will automatically build packages and push them to your third-party account.
With Duplicator, you'll be able to customize the frequency of your backup schedule. Here are the different options:
Hourly backups
Daily backups
Weekly backups
Monthly backups
Feel free to also select a start time. This will fully set up routine backups at your preferred interval: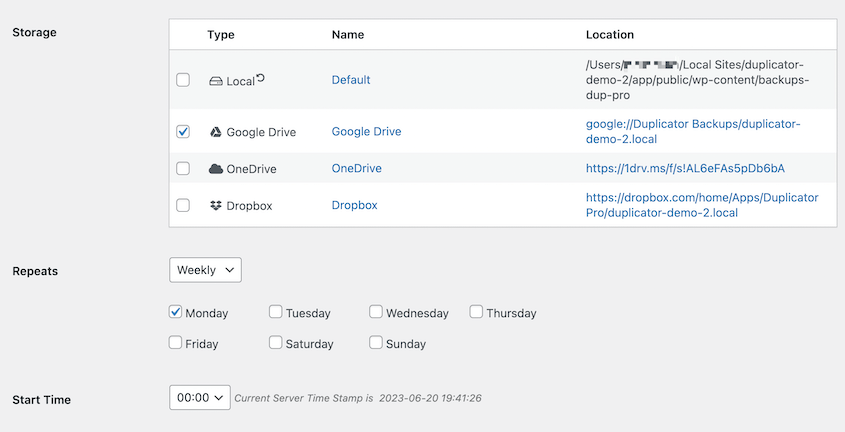 Duplicator can also run multiple schedules at one time. Using this feature, you can back up different parts of your site at the right times: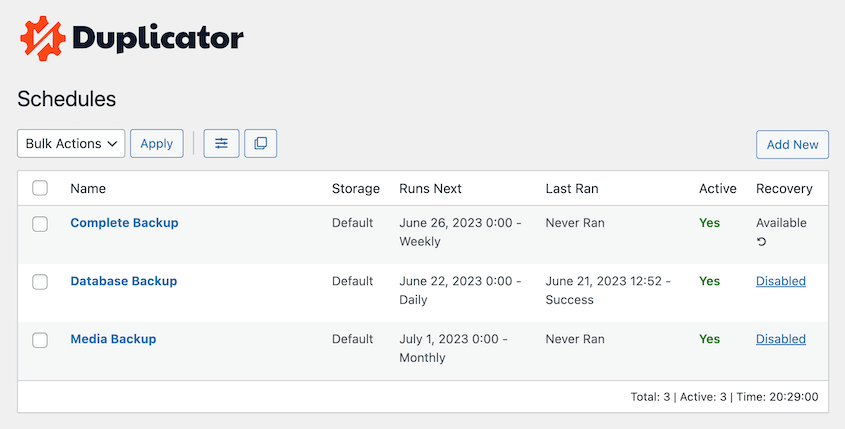 By setting up automated backups, you'll know that your website is continuously protected, even during your busiest days!
3. Easy Backup Restore Options
Accidents happen, and sometimes websites encounter unexpected issues. With Duplicator Pro, restoring your backups is a breeze. The plugin's intuitive interface guides you through the restoration process step-by-step, ensuring that your site will be up and running again in no time.
After creating a new backup, you can set it as the recovery point. This informs Duplicator that it should recover this backup should anything happen to your site: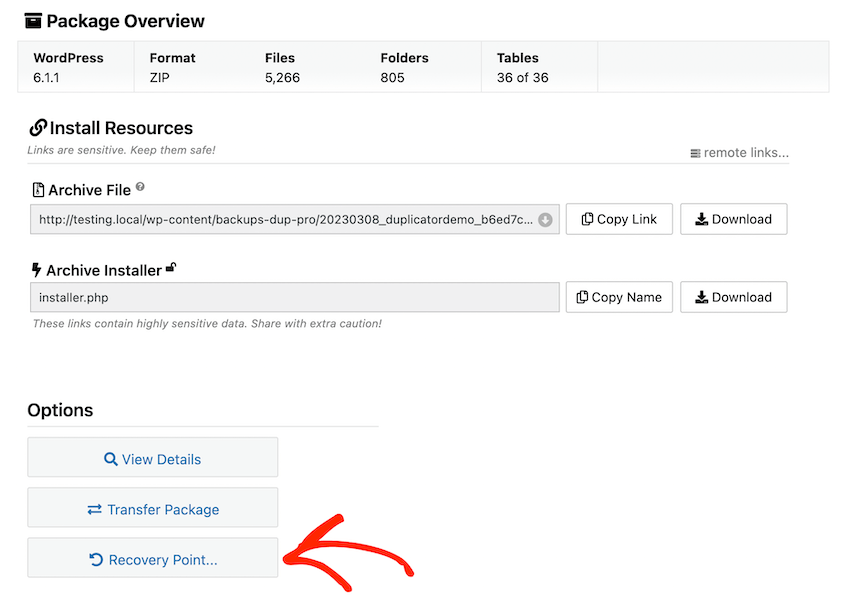 Once a recovery point is set, copy the recovery URL. Save this in a safe location so that it can be used to roll back your site in the case of an emergency:

If an error or cyber attack corrupts your data, paste this URL into a new browser window. Duplicator will then walk you through the steps to recover the backup of your site: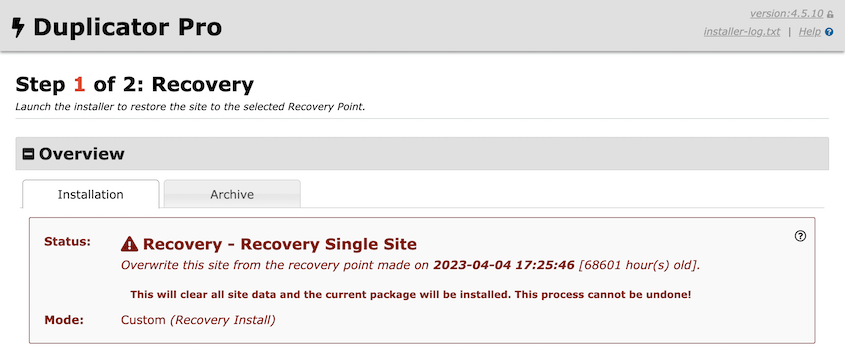 Unlike other backup plugins, Duplicator can recover your site even when you're locked out of your WordPress dashboard. The recovery URL will automatically launch the recovery point wizard, making it easy for beginners to always secure their site data.
4. Cloud Storage
By default, Duplicator will build backups and store them on your local server. However, it also seamlessly integrates with popular cloud storage services. You can store your backups securely in the cloud, reducing the risk of data loss due to hardware failures or other on-site disasters.
Here are all of the different third-party cloud storage providers supported by Duplicator:
Backblaze B2
Wasabi
Google Cloud
Additionally, you can save backups to FTP, SFTP, and SSH storage. If you need to add a new storage location, simply select the type of provider: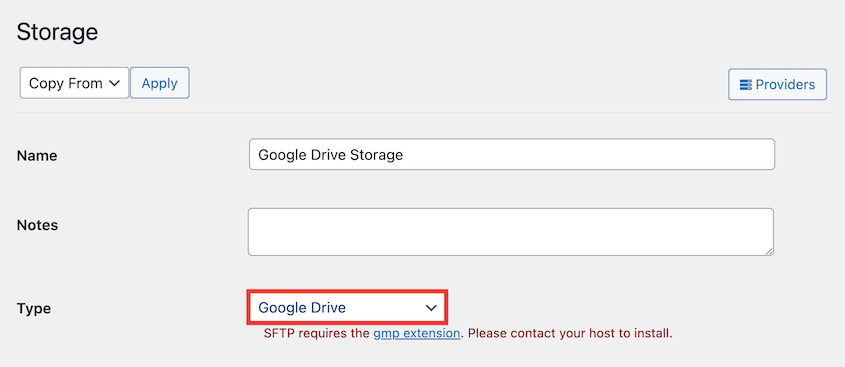 Then, you'll need to authorize Duplicator to make changes to your cloud storage account. Once you hit Authorize [Provider], sign into your account and paste the generated authorization code:

Once you set this up, you can test the connection. You'll also be able to customize the maximum number of packages stored in the cloud. This prevents you from overloading your storage:

When you create a backup, you'll see all of the authorized storage locations. Simply select one to automatically push the package to the cloud:

For more details, check out this helpful guide on how to create a cloud WordPress backup!
5. Quick Site Migrations
Migrating your WordPress site to a new domain or hosting provider can be a daunting task. If you decide to take on a manual migration, you'll have to be familiar with file managers and phpMyAdmin.
However, Duplicator Pro takes the complexity out of the equation. Its user-friendly migration wizard streamlines the entire process, making it swift and straightforward.
If you already have another WordPress installation set up, you can use the import tool. On this page, simply drag and drop the archive file from the original site: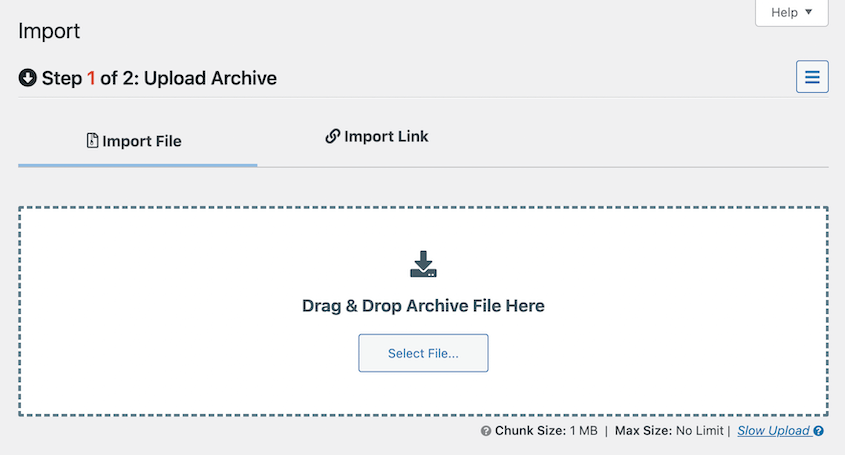 Then, follow the instructions shown in the step-by-step recovery wizard. You'll see options to search and replace URLs in your database, map multisite domains, and more.
6. Support for Large Sites and WordPress Multisite
Some backup and migration plugins struggle with large websites or WordPress multisite installations, but not Duplicator Pro. This plugin rises to the challenge and handles large-scale sites and multisite networks with ease.
If you're migrating a large site, you can transition the archive engine from a shell zip to a DupArchive. This custom file format was built specifically for larger websites struggling to package all their content into a single file:

Although there are many backup plugins available, not all of them support WordPress multisite. With Duplicator, you can easily back up your entire network.
As you're building a package, you can customize backups by only including necessary sub-sites. Alternatively, include all of them for full backups: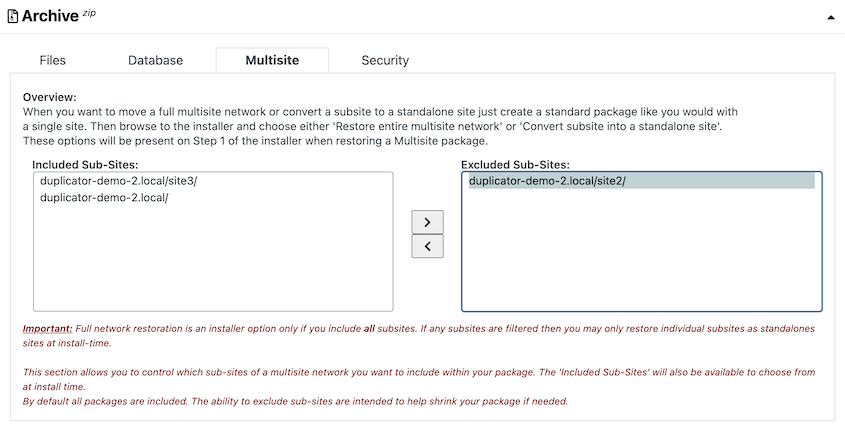 Duplicator also makes it easy to migrate sites into and out of a multisite network. You'll be able to transition standalone sites into a subsite or move subsites onto their own servers. 
What Is the Difference Between Duplicator and Duplicator Pro?
Duplicator Pro is the premium version of the popular Duplicator plugin. While the free version offers basic site migration and backup functionalities, Duplicator Pro takes things up several notches.
Here are some advanced features you'll get with Duplicator Pro:
Scheduled backups
Cloud storage integrations
Backup recovery points
Server-to-server imports
Streamlined installer
Large site and multisite support
Developer hooks
Email notifications for timeouts or other backup issues
And more!
Ultimately, Duplicator Lite can be an affordable but flexible backup and migration tool. However, the Pro version provides the full suite of tools needed for professional website management.
If you're considering upgrading, here is a cost breakdown for Duplicator Pro:
Basic: $49.50 per year, supports up to 2 sites
Plus: $99.50 per year, supports up to 5 sites
Pro: $199.50 per year, supports up to 20 sites
Elite: $299.50 per year, supports up to 100 sites
Compared to other backup and migration plugins, Duplicator Pro offers affordable premium plans. Here are a few examples of competitor pricing:
UpdraftPlus Premium: starts at $70 per year
All-in-One WP Migration: premium extensions cost at least $69 each
BlogVault: starts at $89 per year
Is the Duplicator Plugin Free?
Duplicator Lite is a free plugin with basic features to back up, migrate, and clone WordPress websites. With this tool, you'll be able to create copies of your site called archives, which you can save as backups. It'll also give you a standalone installer that will help you unpack your content in a new location.
How to Migrate a Site with Duplicator
As your site grows, your hosting provider may not provide enough resources for your expanding needs. Fortunately, you can easily migrate your website with Duplicator.
First, build a package of the original site. This process will be the same as creating a full backup. Then, download the backup archive file.
For beginners, you can go ahead and install WordPress on the new host. Once you set up the new site, install Duplicator and import the backup of the old site.
After it imports, you'll see details about the package: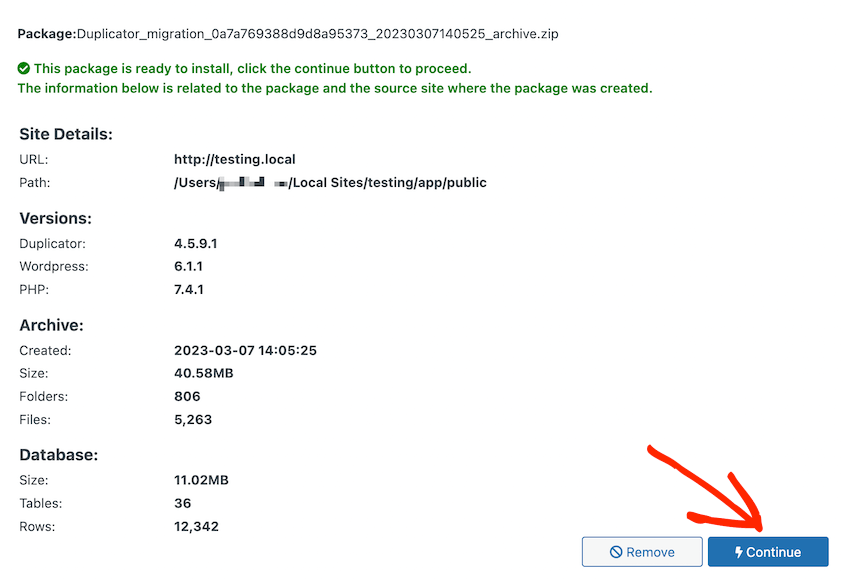 Hit Continue. On the next page, click on Launch Installer:

In the Duplicator migration wizard, make sure the Install Type is Full install single site: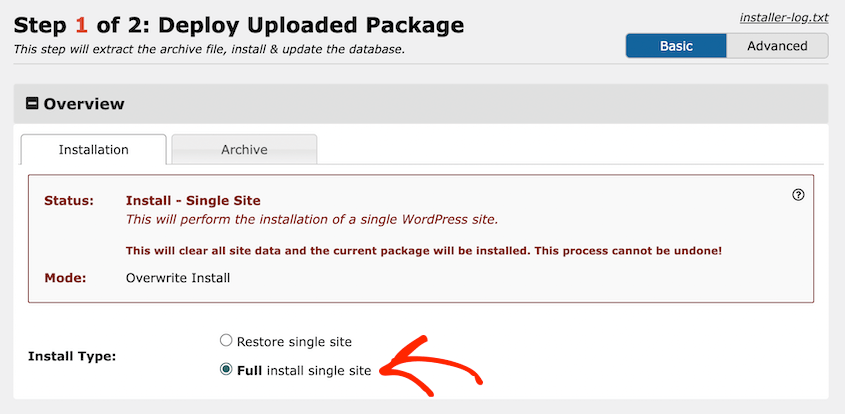 At the bottom, click on Validate. Then, accept the terms and notices and continue: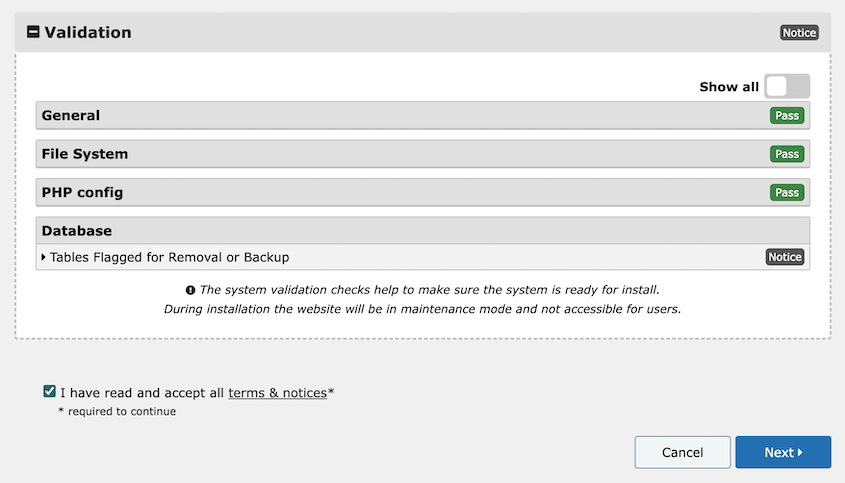 Finally, confirm the installation in the pop-up window: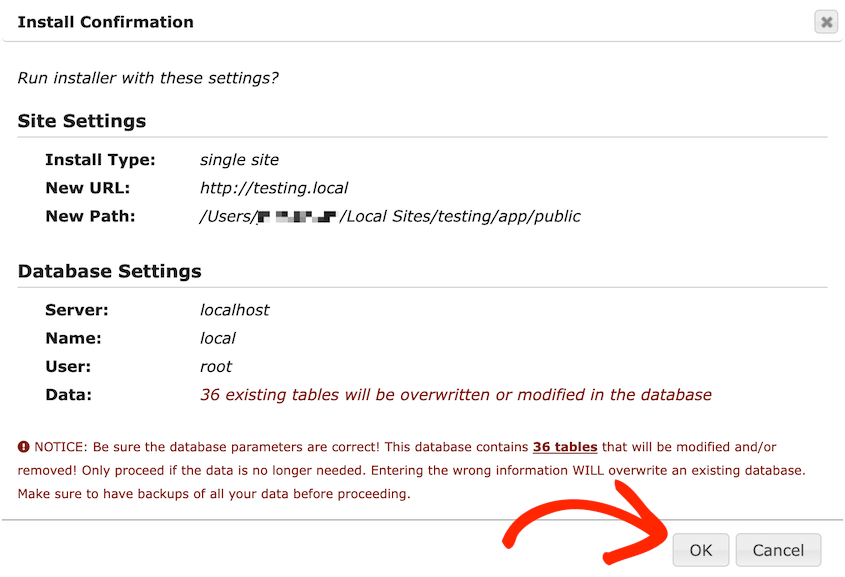 Duplicator will automatically migrate your old content to the new location. Once finished, use the Admin Login button to access your new dashboard.
If you're using Duplicator Lite, you'll need to use an FTP client to upload your archive and installer files to the new root directory:

After creating a new database on your new host, launch the Duplicator installer using this URL:
https://your-domain/installer.php
Enter your new database information under Setup: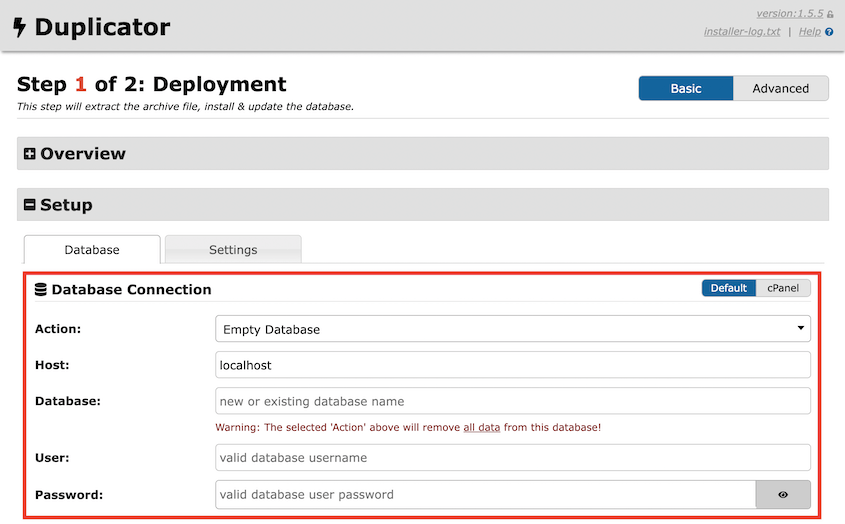 Then, continue with the installation as normal!
How to Back Up a Site with Duplicator
If you want to back up your site, you'll have to create a package. To do this, go to Duplicator Pro » Packages » Create New: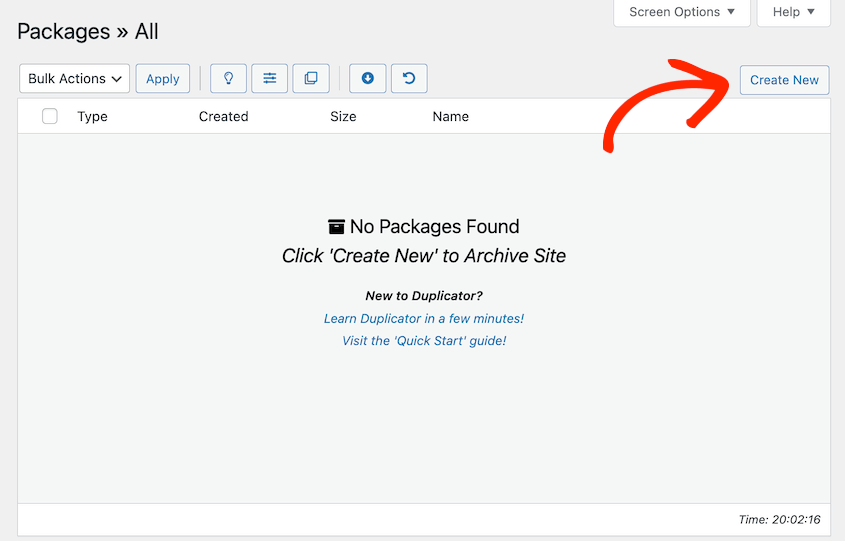 Name the backup and choose a storage location. As we mentioned earlier, you can customize the archive file if you want to exclude certain files or database tables.
Once you click Next, Duplicator will scan your site. Be sure to review any notices before hitting Build: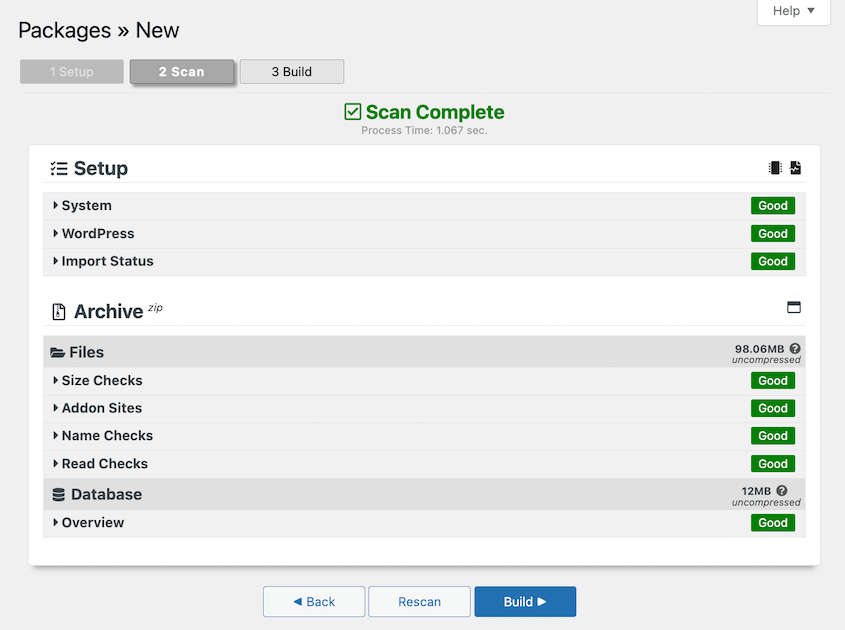 After this, your backup will be listed on the Packages page. To save it, click on Download » Both Files:

Now you have a full backup of your website!
What Is the Size Limit for Duplicator?
In the free version of Duplicator, there is a soft size limit for creating packages, which depends on the server you are using. This means that if you have a very large website, the PHP script used to create the package might take too long to finish, causing a timeout issue.
However, there is no strict maximum size imposed by Duplicator itself. On servers with no timeout settings, you can create larger packages even with the free version, but this might not be possible on shared hosting.
In the Pro version of Duplicator, there is no size limit issue because it uses a piecewise system to create the package. However, keep in mind that there may still be a limitation when it comes to closing the ZIP archive.
The time it takes to close the archive increases with the size of the archive. So, although the Pro version is much less restrictive than the free version, there can still be some theoretical limitations due to the way ZIP archives work.
To overcome these potential limitations, the developers of Duplicator have introduced the DupArchive, which doesn't have these issues and doesn't have a theoretical size limit. This means you can create very large archives (up to 100GB!) without any problems.
What Are the Requirements to Use Duplicator?
Duplicator Pro is designed to be compatible with most standard WordPress hosting environments. However, to avoid potential conflicts or issues during the process, it's essential to meet the following requirements:
WordPress 4.0+
Duplicator Lite: PHP 5.3.8+, Duplicator Pro: PHP 5.6.20+
MySQL 5.0+, MariaDB 10.0+
Web Servers: Apache, LiteSpeed, Nginx, Lighttpd, IIS, WebServerX
Most WordPress hosts will automatically meet these requirements. Duplicator Pro also supports managed hosts like GoDaddy and WP Engine.
For more detailed information, check out Duplicator's system requirements.
What Is the Alternative to Duplicator?
We'd recommend using Duplicator because of its flexible backup, migration, and cloning features. However, you might want to fully explore your options.
Here are some of the best alternatives to Duplicator:
UpdraftPlus: A backup and migration plugin with a user-friendly interface, cloud storage, and automated backups.
All-in-One WP Migration: A beginner-friendly WordPress migration plugin with one-click transfers and auto-URL replacement.
BlogVault: A WordPress backup plugin with real-time and incremental backups.
If you're trying to find the best backup and migration tools for your site, check out these in-depth comparison guides:
Decision Time: Is Duplicator the Best Backup and Migration Plugin?
Duplicator Pro shines as a top-tier backup and migration plugin for WordPress. Its customizable backups, automated processes, cloud storage integrations, and seamless site migrations make it an excellent choice for users of all levels of expertise.
However, it's essential to acknowledge that other backup and migration plugins may also be viable options. You'll need to evaluate your individual preferences and requirements to find the best tool for your website.
In the end, Duplicator stands as a reliable and powerful tool, ready to safeguard your website and streamline your WordPress management tasks. Download Duplicator Pro today if you want your site in safe hands!