Need to find a tool to manage multiple WordPress sites?
Managing multiple WordPress sites can be a challenging task, but with the right tools, you can streamline your workflow and ensure the smooth operation of all your websites.
In this post, we'll explore the benefits of using a multi-site management tool and discuss the best options available!
The Benefits of Using Tools to Manage Multiple WordPress Sites
Whether you're a developer, designer, or agency, you'll likely have to manage multiple websites. Each of your clients will have a different website that requires updates, backups, and other WordPress maintenance.
To help you save a lot of time, you can use a WordPress management tool. With the right software, you'll be able to centralize various WordPress dashboards and streamline tasks.
Here are the advantages of using tools built to manage multiple WordPress sites!
Time Efficiency
WordPress site management can often be time-consuming. Using the right tools, you can simultaneously perform tasks across multiple sites, saving you valuable time and effort.
Centralized Control
You can use a single dashboard or control panel to oversee all your WordPress sites from one location. This eliminates the need to log in to each site individually, simplifying the management process.
Updates and Backups
Multi-site management tools can simplify updating themes, plugins, and core WordPress software across multiple sites. They often automate backups, ensuring the safety of your data.
Security Monitoring
Many of these tools come with security features such as malware scanning and vulnerability detection. This allows you to monitor the security of your clients' sites and take immediate action if any issues arise.
Performance Optimization
Some tools offer performance optimization features, including caching, image compression, and minification. These features can enhance the speed and overall performance of your WordPress sites.
Ultimately, multi-site management tools help you keep an eye on different websites without switching dashboards. This will ensure that each of your clients receives the same routine maintenance. Plus, it allows you to speed up your workflows and have more time to take on new clients.
9 Best Tools to Manage Multiple WordPress Sites
Now, let's explore some of the best tools to manage multiple WordPress sites!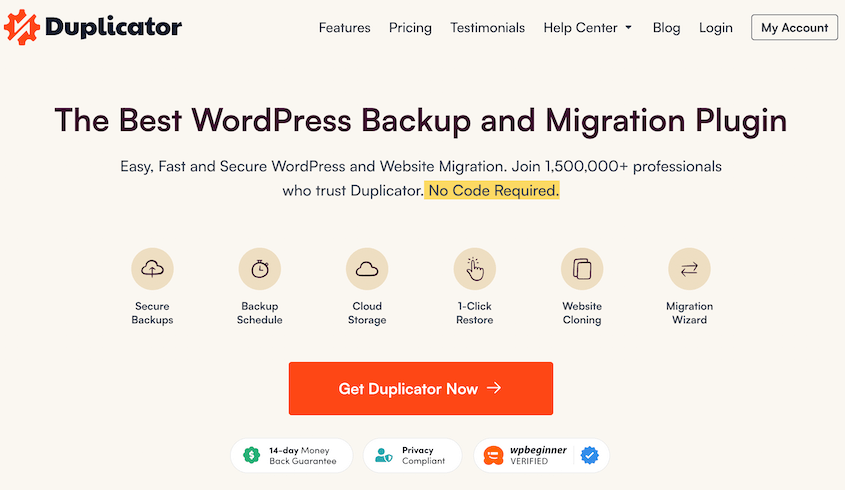 Duplicator Pro is a powerful plugin that provides advanced site migration and backup solutions. With its user-friendly interface, you can easily clone, move, or duplicate WordPress sites.
Unlike its competitors, Duplicator supports WordPress Multisite. Essentially, this is a network of many different websites on a single WordPress installation. Once you set up a Multisite, you can use Duplicator to run backups for the entire network.
To make sure you never lose data from your subsites, it's important to create backups. With Duplicator, you won't have to manually back up every website. Instead, you can build a package that saves all of the themes, plugins, files, and database information for the network: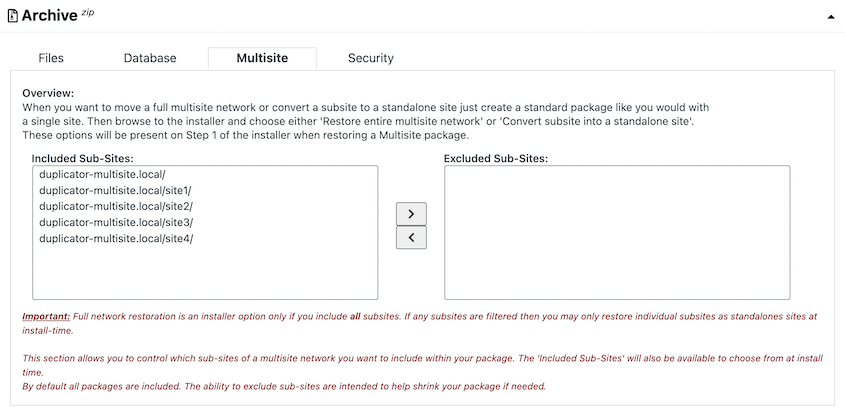 If you don't want to take a backup of a subsite, simply move it to the Excluded Sub-Sites box. However, you'll only be able to perform a full network restoration if you include every subsite.
In case your network ever crashes, you can set a recent backup as the recovery point. Then, Duplicator will walk you through the process of restoring your Multisite network: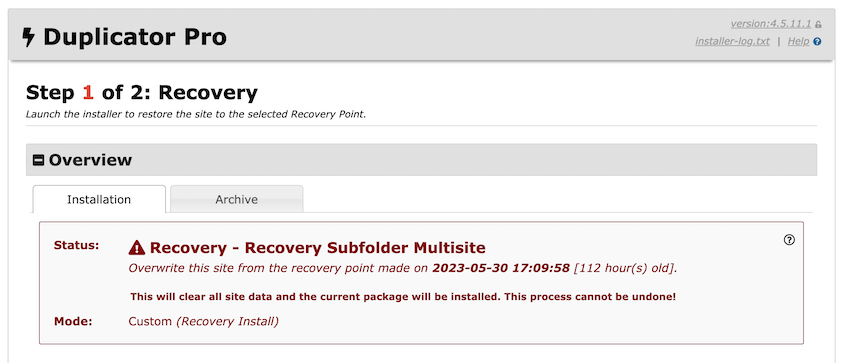 Plus, Duplicator Pro isn't limited to just backups. Using Duplicator, you'll also be able to migrate your entire network or single subsites. 
Here are some useful features you can find in Duplicator Pro:
Full Multisite network backups and migrations
Import single sites into a Multisite network
Migrate a subsite to a standalone site
Move a subsite into another network
Copy a subsite within a Multisite network
Supports large site migrations
Recovery points for quick restoration
Cloud storage to Amazon S3, Google Drive, Dropbox, and more
Set backup limits to avoid overloading cloud storage
Pricing: Duplicator has a free version of the plugin with basic backup and migration features. However, if you want Multisite support, you'll have to upgrade to Duplicator Pro. The Multisite features are available in the Pro and Elite plans, which start at $199.50 yearly.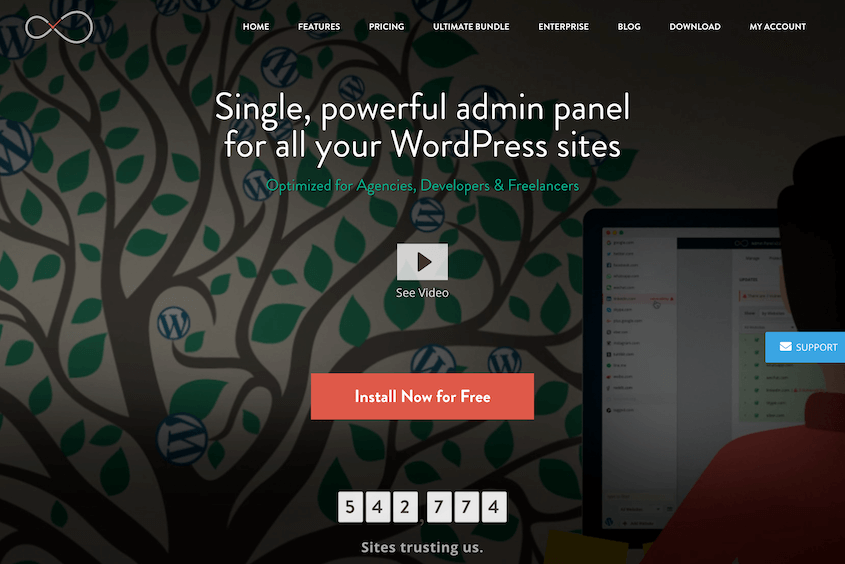 InfiniteWP is a tool that allows you to manage an unlimited number of WordPress sites from a centralized dashboard. It offers convenient updates, backups, and security management features.
Rather than being a SaaS application, InfiniteWP is a WordPress plugin. Once you install it on different websites, you can control all of them from one admin panel. Then, you can start easily updating your sites' plugins, themes, and WordPress core with just one click.
Key features:
One-click admin access
One-click updates for themes, plugins, and WordPress core
Scheduled backups
Restore options
Cloud storage integrations
Malware scanning
Uptime monitoring
Client reporting
Two-factor authentication
Pricing: You can download InfiniteWP's admin panel for free. This will enable you to back up, update, and even restore an unlimited number of websites. If you'd like premium features like malware scanning or uptime monitoring, InfiniteWP plans begin at $147 per year.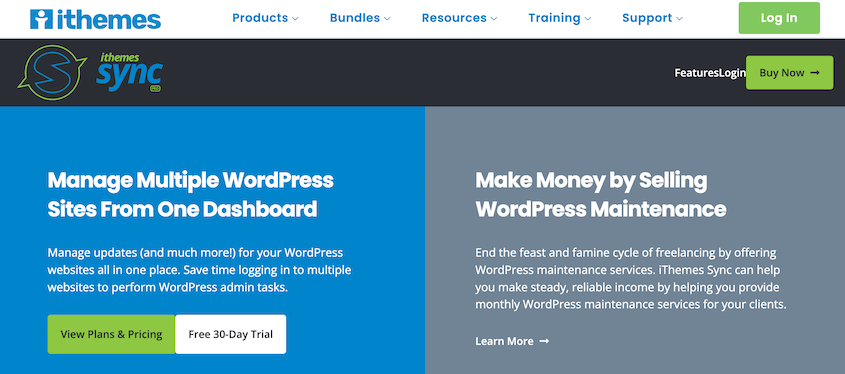 Another tool that simplifies WordPress updates is iThemes Sync. If you struggle to remember to update every plugin and theme on different sites, iThemes Sync can handle this for you. Along with updates, you'll be able to bulk install, activate, deactivate, and delete any plugins from your sites. 
Plus, iThemes Sync comes with an SEO checker and uptime monitoring. You'll also receive reports from Google Analytics and Google Search Console. To update your clients, you can easily send them reports of their site stats. 
Key features:
One-click updates
Theme and plugin manager
Uptime monitoring
Remote backups
Customizable WordPress dashboard
SEO checker
Google Analytics and Google Search Console reports
Pricing: iThemes Sync offers a 30-day trial period to try out this multi-site management tool. If you like it, you can upgrade to a premium plan for $69 per year. Keep in mind that you can only manage 5 websites with the basic plan, and none of the higher tiers support unlimited websites.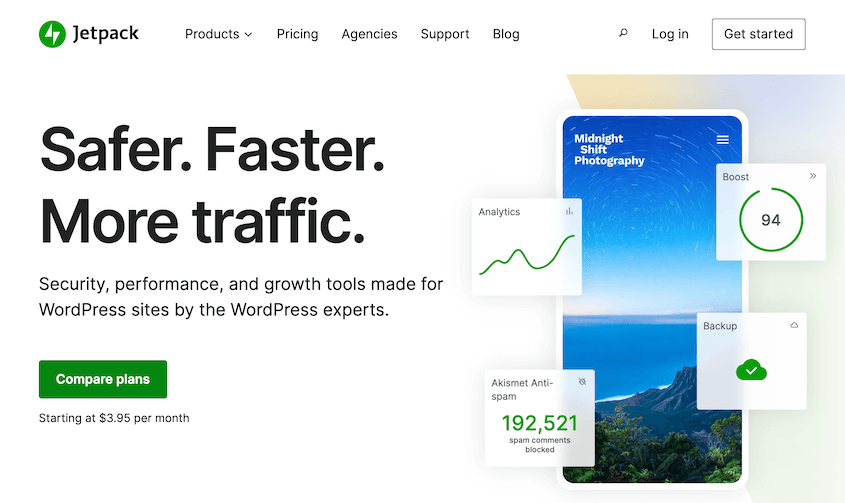 Jetpack is a plugin suite that was created by the developers of WordPress (Automattic). It has a full set of tools to boost WordPress security and performance, even across a bunch of different sites.
Using the Jetpack plugin, you'll connect your WordPress.org site to WordPress.com servers. This means that it requires you to have a WordPress.com account. Once you do, you'll be able to use one centralized WordPress.com dashboard to handle multi-site backups, updates, and more.
Key features:
Real-time backups
One-click restore
Web Application Firewall (WAF)
Brute force attack protection
Malware scans
Image Content Delivery Network (CDN)
Site stats and analytics
Pricing: The free version of Jetpack can handle basic backups and updates. To access more features, you can consider upgrading to the complete toolkit. This starts at $24.95 per month for the first year.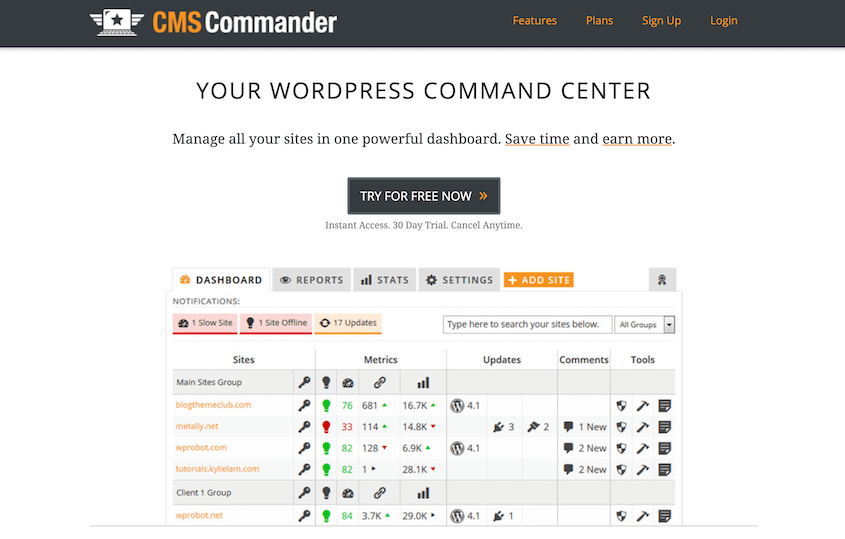 If you manage many different WordPress blogs, CMS Commander could be the right choice. This multi-site management solution allows you to easily control posts, comments, and users for different sites. For example, you can create blog posts in bulk, delete old users, and clear comment spam.
CMS Commander is also a useful tool for affiliate marketers. You can start monetizing any of your WordPress blogs by integrating affiliate programs like Amazon Associates, ShareASale, or Commission Junction.
Key features:
One-click updates
Bulk plugin installation
Bulk content posting
WordPress user management
Automatic backups
Cloud backup storage
Malware scans
Integrates with rewriting software
Pricing: CMS Commander provides a 30-day trial for any of its paid plans. When this is done, the software starts at $8 a month for 5 WordPress sites.
With over 2,000 5-star reviews, MainWP is one of the most popular tools for managing multiple WordPress sites. It offers extensive features for updates, backups, security, and content management.
Since the core plugin is completely free, it can also be an effective option for beginners. If you just started selling WordPress maintenance services, you can use MainWP to automatically update your clients' websites. Plus, there are tags for easy site organization and security features to always protect client information.
Key features:
Install, activate, and update plugins
Create client profiles
Bulk content management
Security scanning
Site importing or exporting
Auto-updates
Free and paid extensions
Pricing: MainWP is free to use. Its extensions come with a wide range of functionality to help you with SEO, marketing, monitoring, and other maintenance. You can get all of these premium extensions starting at $17 per month.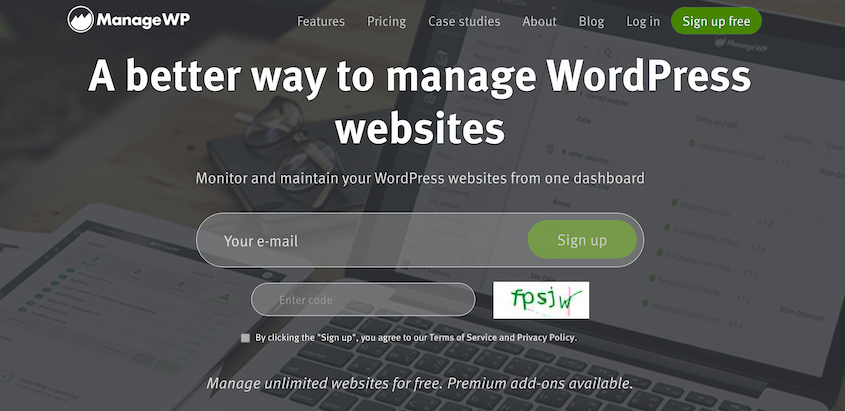 ManageWP is another popular platform that allows you to manage multiple WordPress sites efficiently. It provides a central dashboard that is hosted on ManageWP's servers.
With ManageWP, you can manage comments, check your SEO ranking, and update plugins and themes. After you complete any necessary management tasks, you can send your clients a report that details everything you've done.
One of ManageWP's best features is that it can support unlimited sites with a free plan. Having an affordable multi-site management tool can help you grow your business and take on new clients.
Key features:
One-click site access
Supports unlimited sites
On-demand backups
Migration and cloning
Uptime monitoring
Sets a restore point before updates
Sucuri Security check
White labeling
Pricing: Similar to MainWP, ManageWP offers a free tier. This will give you cloud backups, one-click logins, cloning, analytics, and more. Plus, there are premium add-ons available to extend the platform even more.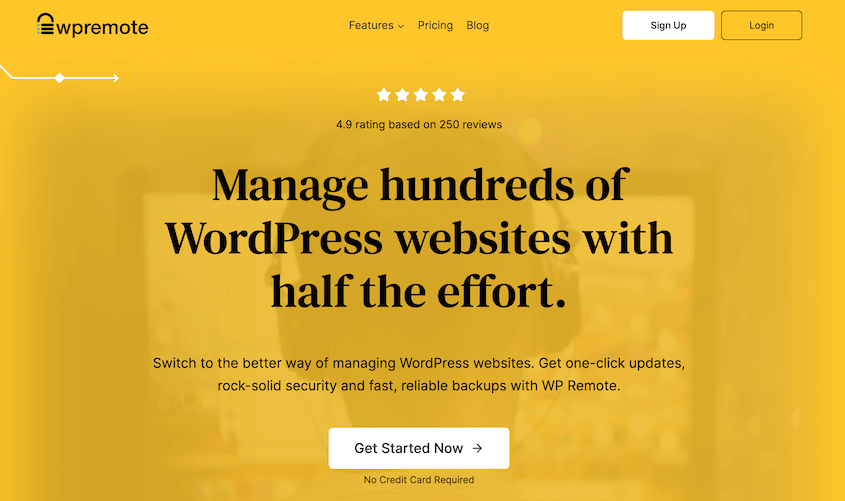 WP Remote is a simple and user-friendly tool for managing multiple WordPress sites. You'll just need to install the WP Remote plugin in WordPress to set up your personalized central dashboard.
Rather than creating them yourself, WP Remote automatically generates client reports. These will give your clients valuable insight into their site health. Since they're customizable, you can design these reports to fit the branding of your web agency or freelance business.
Key features:
One-click updates
One-click staging
Malware removal
Automated client reports
Automatic backups
Performance checks
Uptime monitoring
Pricing: WP Remote starts at $29 per month for a single license. However, there are many different payment options depending on how many sites you have and which features you prefer.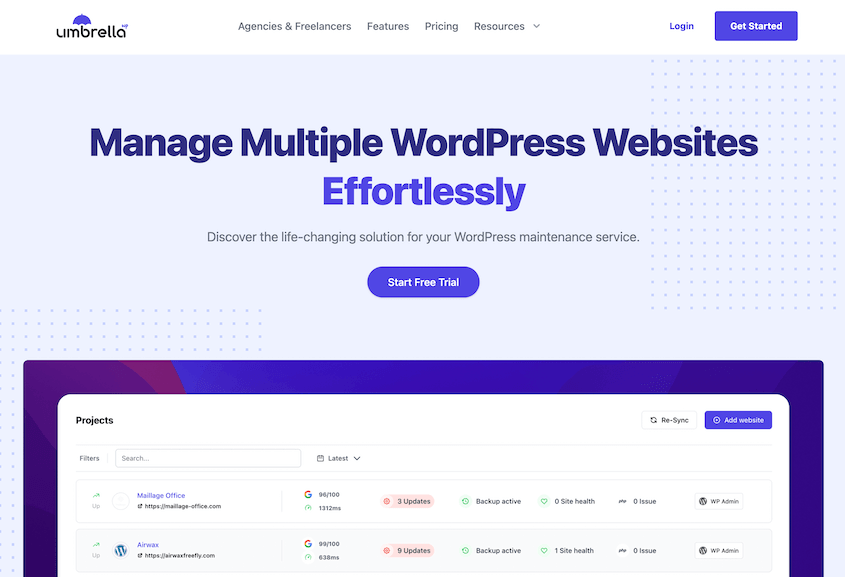 WP Umbrella is a multi-site management tool built specifically for WordPress agencies and freelancers. Its beginner-friendly User Interface (UI) allows you to connect different websites and perform updates in bulk.
The advantage of WP Umbrella is its notification system. Using metrics from Google PageSpeed Insights, WP Umbrella will evaluate your websites for any front-end issues. If there are glitches, you'll know instantly.
Key features:
One-click site access
Bulk update WordPress themes, plugins, and core software
Automatic backups
Uptime monitoring
PHP error monitoring
Google PageSpeed monitoring
Pricing: You can try out WP Umbrella for free for 14 days. After that, it'll cost $1.99 per site every month.
Decision Time: Which is the Best Tool to Manage Multiple WordPress Sites?
When it comes to managing multiple WordPress sites, choosing the right tool can make a significant difference in your efficiency and overall experience. While there are several excellent options available, one tool that stands out from the rest is Duplicator Pro.
Duplicator Pro offers a comprehensive set of features specifically designed to simplify the management of multiple WordPress sites. Once you set up WordPress Multisite, you can use Duplicator to schedule automatic backups, migrate subsites into and out of the network, and even create staging sites.
If you want to use a centralized dashboard without WordPress Multisite, we'd recommend InfiniteWP. This is a completely free tool that allows you to easily update plugins and themes, scan for malware, monitor your site's uptime, and more.
Frequently Asked Questions (FAQs)
Let's answer some common questions about WordPress website management!
How do I manage multiple WordPress sites for clients?
You can manage multiple WordPress sites for clients by creating a WordPress Multisite network. Then, install Duplicator Pro to handle backups, migrations, and cloning for the entire network. This will take care of many tedious management tasks that would take a long time to do manually.
What is the difference between MainWP and ManageWP?
While ManageWP is a third-party multi-site management tool, MainWP is a self-hosted plugin. ManageWP will give you an off-site dashboard, but you'll need to install the MainWP child plugin on your WordPress website. Both have free plans with premium extensions, but ManageWP requires you to pay for each individual add-on.
What are the benefits of WordPress Multisite?
WordPress Multisite is a powerful feature that allows you to create and manage multiple websites from a single WordPress installation. With this centralized dashboard, you can save time, effort, and resources while ensuring consistency across your network of sites.
Conclusion
We hope this guide helped you find the best tool to manage multiple WordPress sites!
Are you not sure which plugins to install on your clients' websites? Check out our comprehensive list of the best WordPress plugins for any type of site.
Want to save time backing up multiple WordPress websites? Download Duplicator Pro to set up automatic backups on your Multisite network!