Have you ever struggled to save specific parts of your WordPress website?
Good news! We've just launched an update for Duplicator that comes with custom package components. Instead of manually backing up your theme, plugins, or other files, you can easily select the exact data you want to include.
Let's take a closer look at this new update to see how it'll optimize your workflow.
Beginner-Friendly Custom Backups
By default, Duplicator will automatically do a complete backup of your site. If you wanted to customize what data was backed up, you'd have to manually filter out files, folders, and extensions.
To save you a lot of time and hassle, we added new custom package components! When you create a backup with Duplicator, you'll notice that we updated the archive editing options: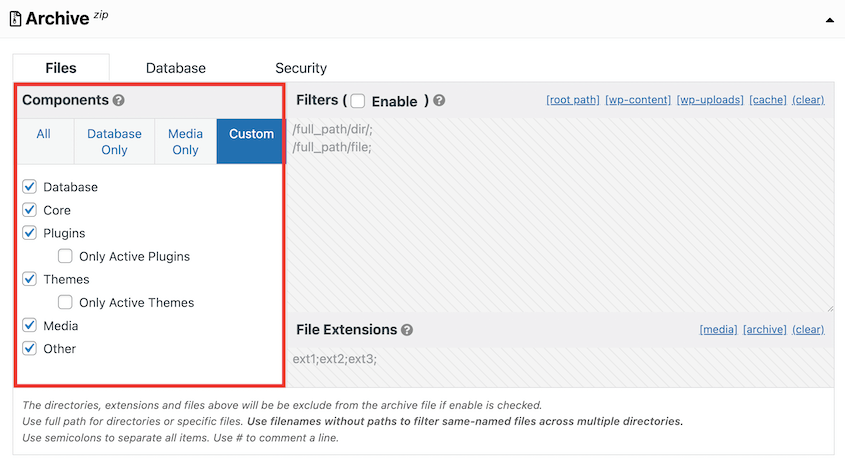 Now, you can effortlessly create database-only, media-only, and completely custom packages. With easy-to-use checkable boxes, you'll be able to quickly include (or exclude) different parts of your site.
Here are the different site components you can include/exclude from your backup:
Database
Core WordPress files
Plugins
Themes
Only active plugins
Only active themes
Media files
Other non-WordPress files and folders
Keep in mind that you can still use file filters along with the new custom package components. Utilizing both of these features, you'll be able to fully customize your backups with the exact data you need for a new project.
4 Great Ways to Use Custom Package Components in WordPress
Whether you want to create a custom backup or optimize your files before a migration, our new package components are a game changer. Let's show you four different ways you can use this feature to streamline your WordPress maintenance tasks!
Note: To start taking full advantage of custom package components, be sure to upgrade to a Duplicator Pro or Elite license.
1. Create Media-Only Backups
Instead of downloading all of your WordPress files, you can save a media-only backup. By checking the Media Only option, Duplicator will only package your images, videos, and other media files in your uploads folder: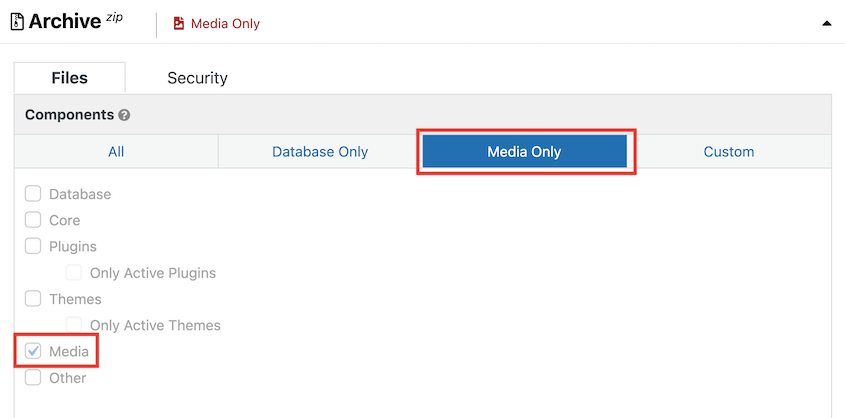 This can be helpful if you need to optimize all your images to speed up your website. Rather than manually downloading them one by one, Duplicator will create a zip file of your entire Media Library.
After optimizing all your images, you can reupload them to your site. With this update, you'll be able to import your media backup and extract its files without needing to connect to a database: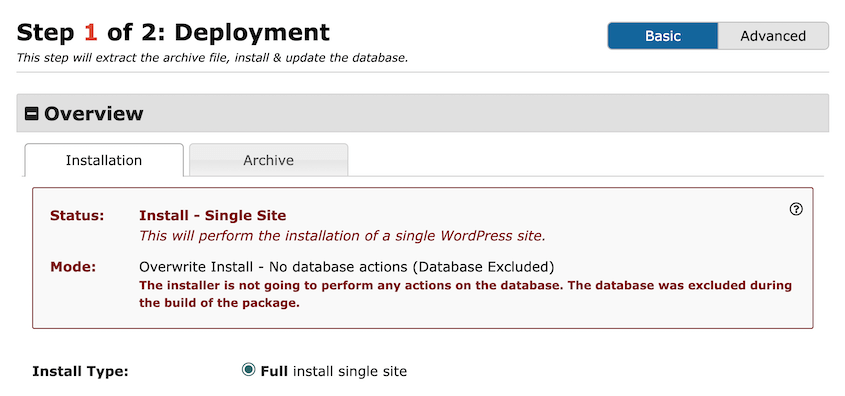 When you have a media-only backup, you can easily restore your media files if they ever become corrupted. You'll also be able to migrate to a Content Delivery Network (CDN), split up a large site migration into two installs, and much more.
2. Clean Up Your Website During a Migration
If you're moving to a new web host or domain name, you may want to consider cleaning up your website beforehand. This ensures that your newly migrated site has only the tools you actively use. Plus, it'll avoid the hassle of migrating large site files.
Fortunately, we added an easy way to instantly exclude inactive plugins and themes. When building a package or package template of the original site, select Only Active Themes and Only Active Plugins: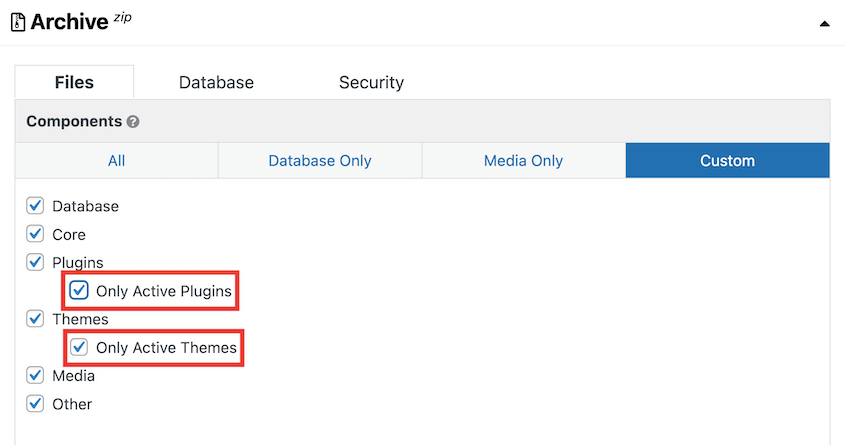 This will create a cleaned-up copy of your website that leaves behind any unnecessary plugins and themes. By reducing data clutter, your site will be ready to migrate to a new location.
You might want to do this if you're moving your local site to production. Using custom package components, you can get rid of any development tools that you don't need on your live WordPress dashboard. As a result, you'll have an optimized website without having to manually remove any plugins or themes!
3. Optimize Scheduled Backups
Since you can now build custom backups, you'll have more control over your automated backup schedules. You'll be able to set up targeted backups for each part of your site and consistently remove any data clutter.
For example, you can create a weekly backup for your entire website. To clean up these backup files, you could set up a schedule template that excludes any data from inactive plugins and themes.
Additionally, unchecking the Other option will exclude any non-WordPress files and folders. This can be helpful if there are other files and/or folders in the root directory of your WordPress site that you don't want to include in the backup: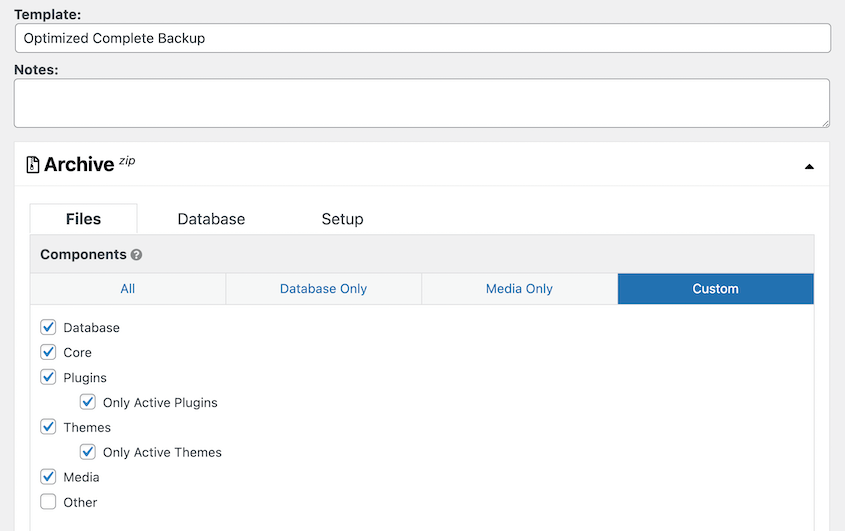 Along with complete backups, you can also set up separate backup schedules for your database, media library, or a custom combination of files. These automatic backups can be run at different times depending on your needs: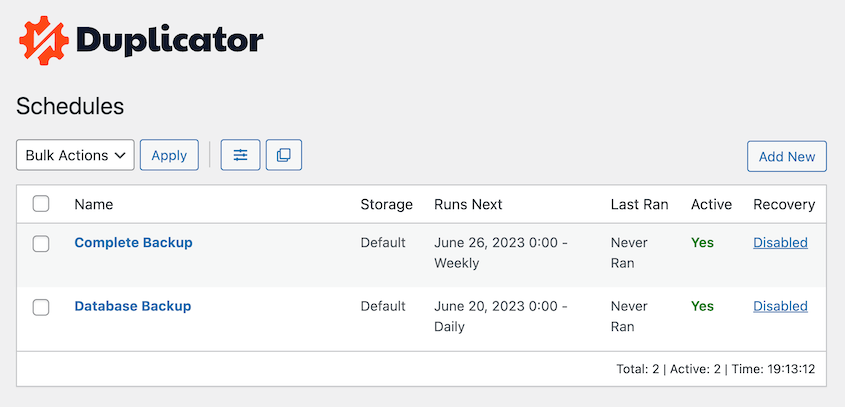 By segmenting your backups, you'll save the right data at the right time. You'll have consistent copies of updated site data without compromising your storage space.
4. Create an Optimized Copy of Your Site
If you build websites for clients, creating a pre-configured site can save a lot of time. However, your current project may be too large, making it difficult to build and migrate a copy to another location.
To quickly get your client's site up and running, you can customize a package in Duplicator. As we mentioned earlier, you can select your active plugins and themes to set up the same tools on the second site: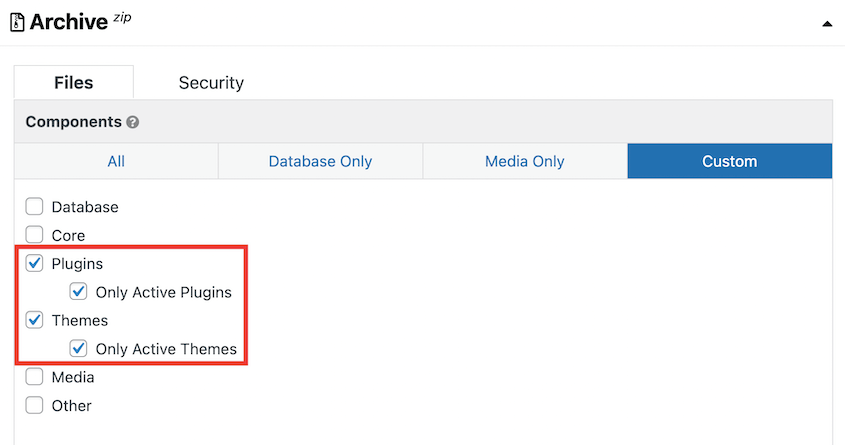 This prevents you from having to manually install new plugins and themes yourself. You can set them up once on a pre-configured website and then easily transfer this data to a new project.
To also migrate theme settings, user login information, posts, pages, and other data, you can also include the database in your package: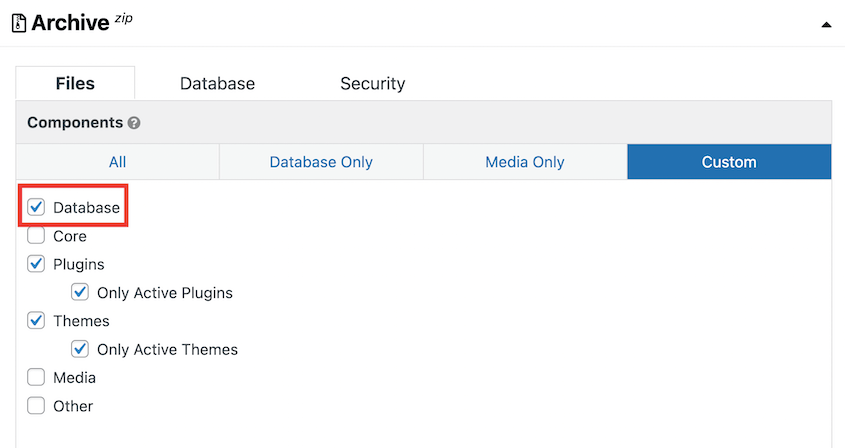 You'll then have a smaller copy of your website that you can use to set up your client's sites. This can speed up your development process and allow you to take on new clients!
Update Your Duplicator Plugin Today
We hope our new custom package components will help you take your backups to the next level!
What are you waiting for? Be sure to upgrade to a Duplicator Pro or Elite subscription to unlock unlimited backup customization and convenience.
As always we're very grateful for your ongoing support. If you have any questions or concerns about this update, feel free to contact our dedicated support team!