Are you looking for the best WordPress importer plugin?
A WordPress importer plugin can help you easily move all of your posts, pages, and other site content into another location. This can be useful if you're moving to a new server or domain name.
This post will round up our favorite WordPress importer plugins to easily migrate any type of website data!
Our Top Picks for Best WordPress Importer Plugins
Here's a quick overview of the importer plugins we'll review in this post!
How Does the WordPress Import Feature Work?
WordPress has a built-in import and export feature that allows you to move data without a third-party plugin. This can help you import content from another WordPress site or a different publishing platform like Blogger or Joomla.
To start moving your site's data, go to Tools » Export. You can choose to export all your content, or just pages, posts, or media files: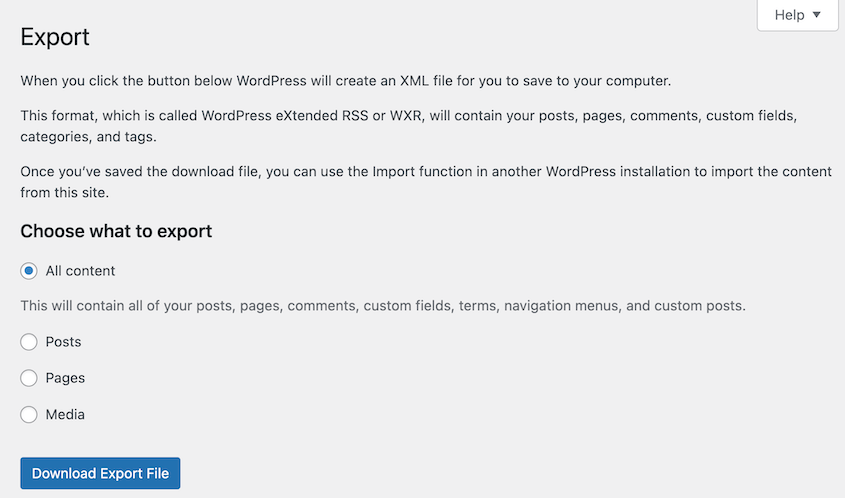 Then, download your content. This will give you an XML file that you can upload to another WordPress installation.
To do this, go to Tools » Import. If you're transferring content between two WordPress sites, hit Install Now next to the WordPress option: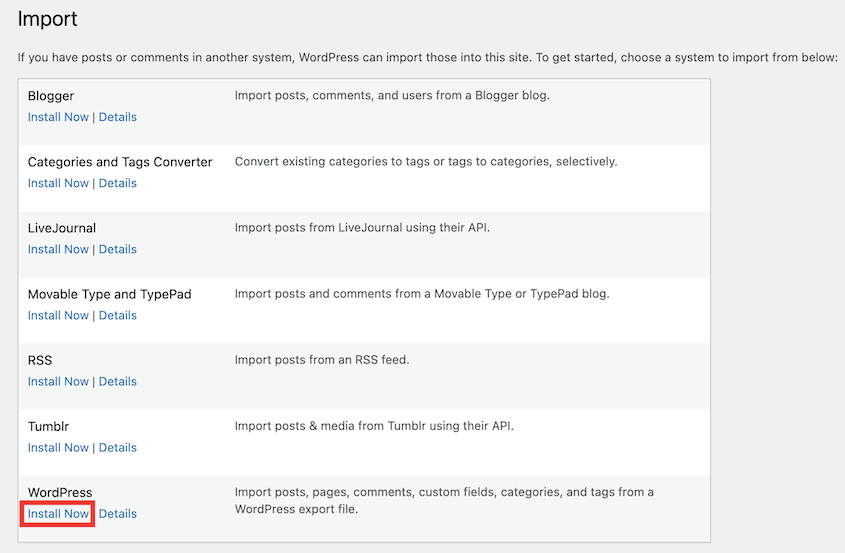 Next, click on Run Importer. Now you can simply upload the XML file you saved earlier:

However, the native WordPress import does have some limitations. Although it's easy to use, it's not the most effective migration tool.
When moving your Media Library, for example, the importer will only transfer the links to your media files. Once you delete the original files on the old site, these image links will break.
Plus, it's easy for the import to time out. To migrate a WordPress site, your compiled file will have a lot of data. Ultimately, the native import tool isn't well-equipped to process large files over 300MB.
You may also need to export widgets, plugins, or other important WordPress data. The WordPress importer won't be able to handle this type of migration.
What Is a WordPress Importer Plugin?
A WordPress importer plugin is a tool that helps you migrate website data from one WordPress installation to another. Depending on the plugin, you'll be able to migrate your entire site, or just posts, pages, widgets, or other specific data.
What to Look For In a WordPress Importer Plugin
The WordPress import feature can be useful for transferring blog posts or pages to a new site. However, moving your entire site will require a more powerful and flexible tool. In this case, it's time to install a WordPress migration plugin, otherwise known as an importer plugin.
Here's what you should look for in a WordPress importer plugin:
The best WordPress importer plugins will have a user-friendly interface that makes site migrations easy. You'll be able to package all of your website's data into one file and transfer it to a different location. With the right tool, you won't have to manually move your website and deal with complicated file and database exports.
9 Best WordPress Importer Plugins
Below, you'll find a list of our favorite WordPress importer plugins! You'll be sure to find a tool that simplifies site migrations so you can easily move to a new domain, host, or server!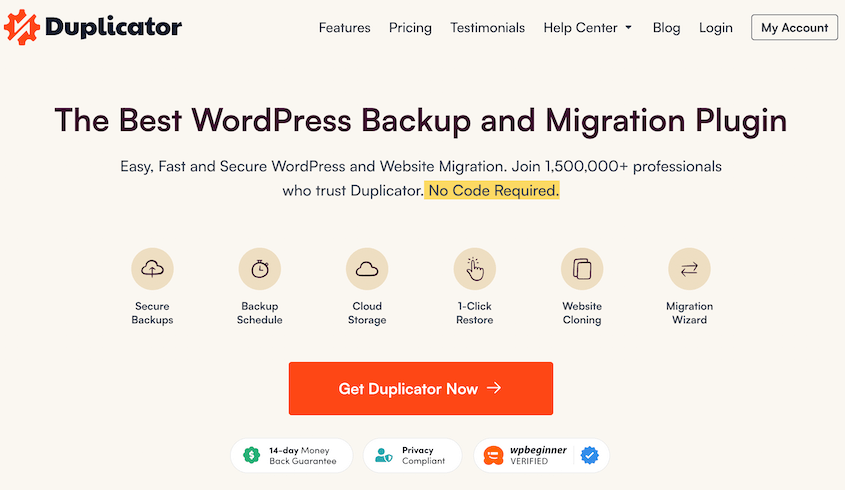 Duplicator Pro is the best WordPress importer plugin. This flexible tool can build packages of your site and smoothly move them to any location. Rather than being limited by the native WordPress import/export feature, Duplicator can help you migrate your entire website.
Using Duplicator, you can customize exactly what data you want to transfer to the new site. Simply expand the Archive section and add filters to the package. For example, you could choose to only archive the database or exclude certain files from the move: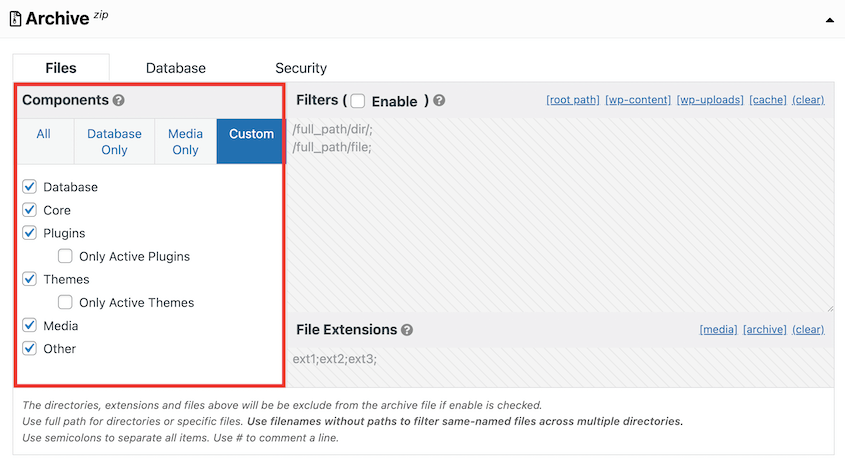 After you build and download the package, open your new website and find the Duplicator Import page. You can import files by dragging and dropping them here: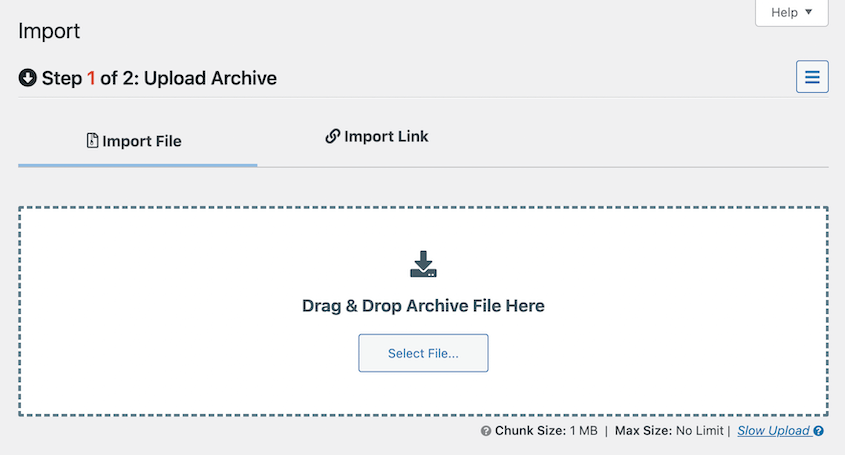 Then, Duplicator's installation wizard will walk you through the import process! It'll take less than 5 minutes to completely import the old site into the new one.
Unlike other plugins, Duplicator is well-equipped to import large sites. You'll be able to package a lot of data into a single zip file without overloading your server and causing time-out issues.
On top of this, Duplicator is much more than an importer tool. Here are some other features you can look forward to:
Export data in plugins, themes, and database
Supports managed hosting
Developer features
Backup encryption
Custom search and replace
Multisite compatibility
Pricing: Duplicator is available for free on WordPress.org. If you want drag-and-drop imports and a step-by-step migration wizard, you can upgrade to Duplicator Pro starting at just $49.50 per year.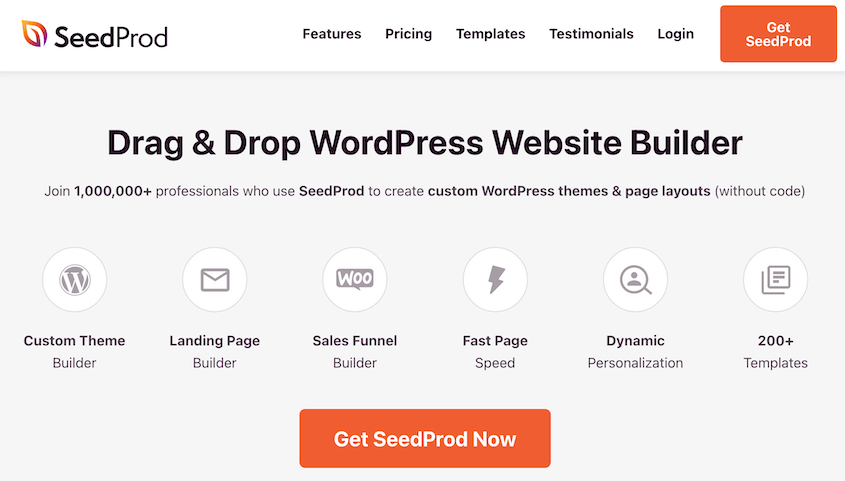 As a freelancer or designer, you may want to export your custom WordPress theme and use it on another website. Using SeedProd, you can do just that. 
SeedProd is a drag-and-drop page builder that allows you to easily design every part of your website. It comes with landing page templates, professional blocks, animations, and much more. You can even start with a theme template kit to start developing your WordPress theme without coding experience: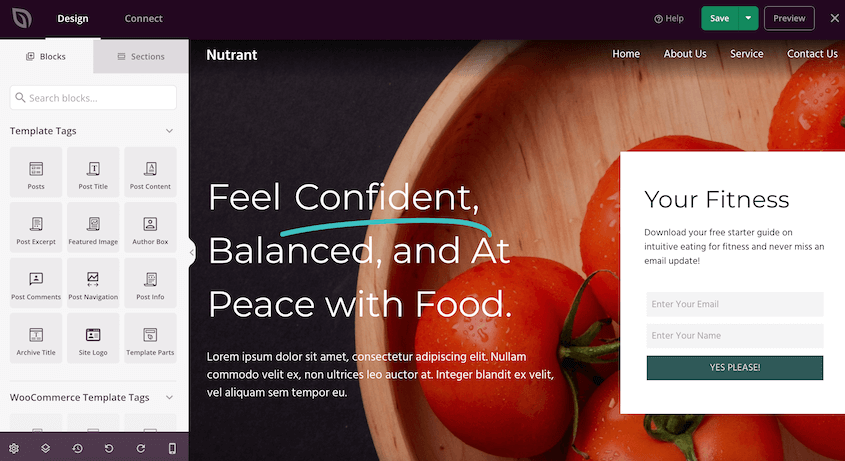 When you're ready, go to SeedProd » Import/Export and hit Export Theme Files: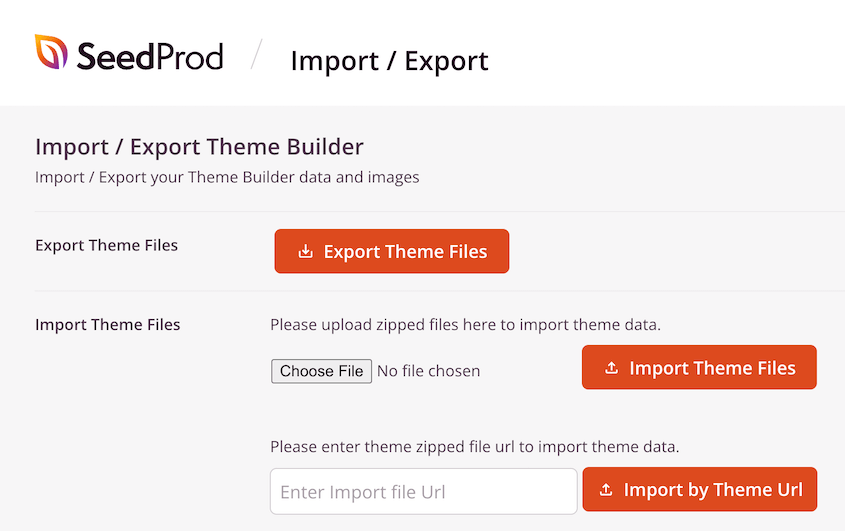 You can then open a blank WordPress installation and install SeedProd. Visit the same Import/Export page and import the theme you just downloaded. Your theme will automatically be applied!
Additionally, you may want to just reuse small sections of your page design. With SeedProd, you can simply copy and paste sections from your old site onto a different website.
Key features:
Drag-and-drop page builder
Theme builder
150+ landing page templates
90+ full website theme kits
90+ blocks
45+ animations
Save page templates, sections, and blocks
Copy and paste sections across different pages or different sites
Pricing: There is a completely free version of SeedProd. To start importing and exporting theme files, it's important to select a premium subscription. These start at $31.60 yearly.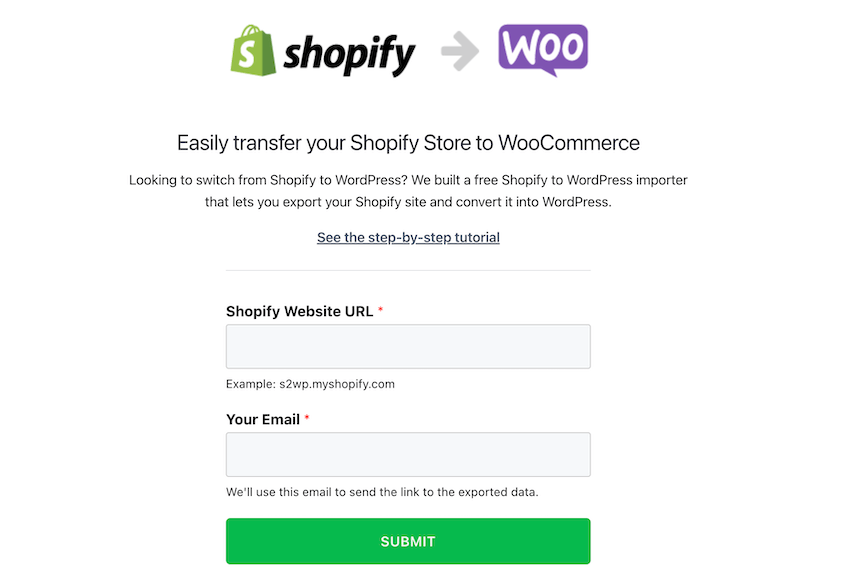 When you first start an online store, you might prefer Shopify because it is a fully hosted ecommerce platform that comes with less maintenance. However, WooCommerce is a better alternative if you want more flexibility and fewer transaction fees.
If you're moving your Shopify site to WooCommerce, we'd recommend using Shopify to WP. This importer tool is specifically designed for this type of migration. Plus, it avoids the need to hire an expensive migration service.
All you'll need to do is visit the Shopify to WP website. Paste your website's URL and enter your email. Then, you'll be redirected to your Shopify store, where you can start downloading your data for the migration.
When you import this file into WordPress, Shopify to WP will automatically convert your Shopify products into WooCommerce products. This can be a huge time-saver as you're setting up your first WooCommerce store.
Pricing: Shopify to WP is free to use.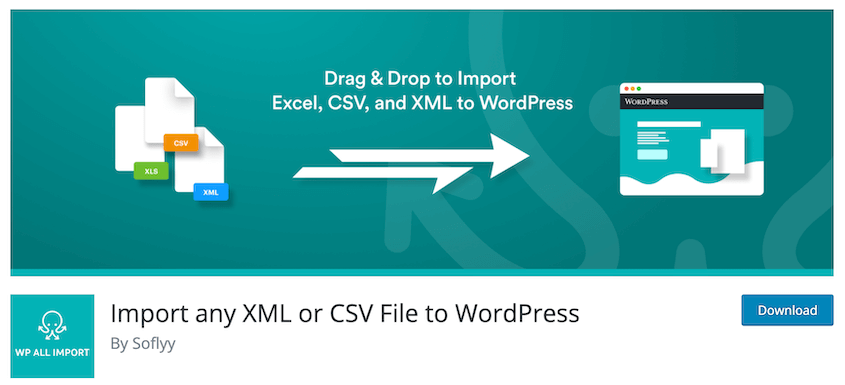 Another powerful import plugin is WP All Import. You can use this tool to import any XML, CSV, or spreadsheet file into your WordPress site. Plus, it'll work with large files and shared hosting plans.
With WP All Import, you can migrate WordPress posts, categories, image galleries, and more. The plugin will automatically detect any custom fields and taxonomies. Plus, you'll even be able to set up scheduled imports if needed.
Key features:
Drag-and-drop interface
XML, CSV, or Excel file formats
Import data into any plugin or theme
Import images from a server, FTP, or your computer
Automatically detects categories, tags, users, and products
Scheduled imports
Integrates with WooCommerce, WPML, and All-in-One SEO
Pricing: The basic plugin is free and the premium plans start at $99. You can also package WP All Import with WP All Export. Together, these plugins cost as little as $169.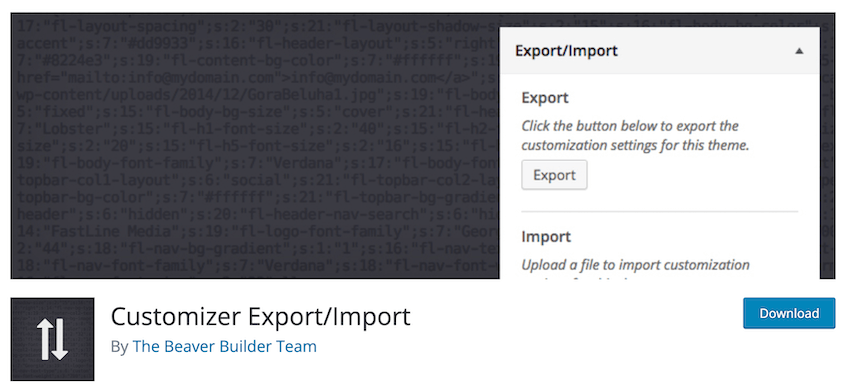 One way you can customize your WordPress theme is by making changes in the Customizer. If you plan on using the same custom theme again, you won't want to manually redo these edits. In this case, the Customizer Import/Export plugin may be the right choice for you.
Customizer Import/Export is a free tool that does exactly what you'd expect. After you install it, you'll see an option to export WordPress Customizer settings. This will download files for your custom theme.
On the new site, make sure you have the same theme activated. Then, open the Customizer and import your custom theme file. Customizer Import/Export will apply the same changes you added to your first website.
Key features:
Imports and exports Customizer settings
Exports settings saved as custom options
Choose whether to download and import images
Pricing: You can download Customizer Import/Export for free.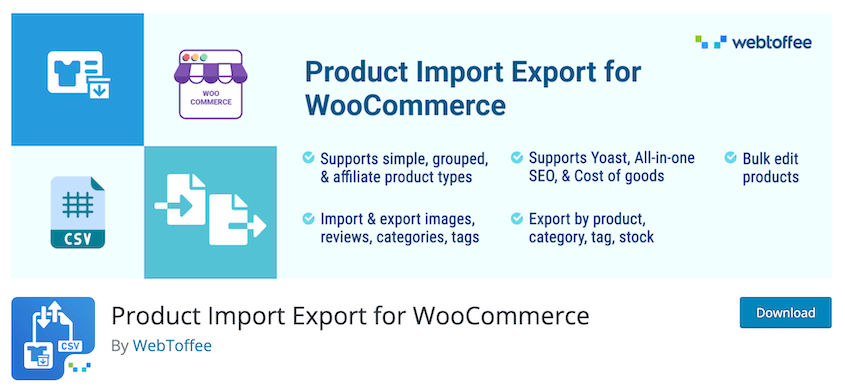 As you're planning the migration of your ecommerce site, you might be overwhelmed by the thought of manually exporting product information. Product Import Export for WooCommerce is a plugin that was designed to make this process easier.
With this tool, you can export your WooCommerce products as a CSV file. This can then be uploaded to another WooCommerce site, allowing you to import products in bulk.
Key features:
Export WooCommerce products into CSV file
Import CSV file into WooCommerce
Add products in bulk
Supports simple, grouped, and external/affiliate products
Export and import product reviews and ratings
Pricing: Product Import Export for WooCommerce is a free WordPress plugin.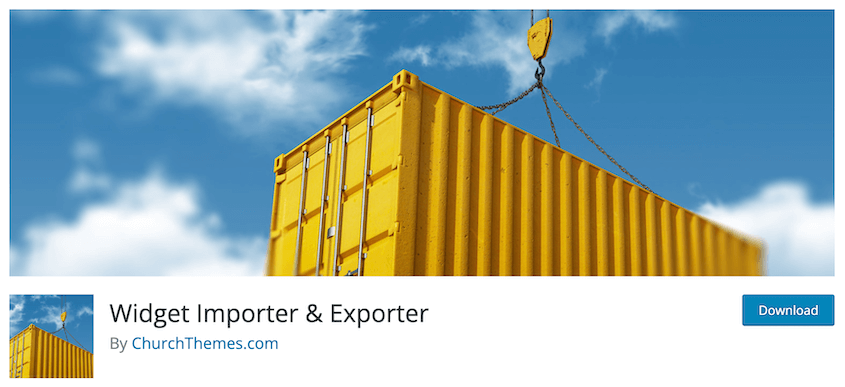 Widgets are pieces of WordPress content that can be added as a site's sidebar or footer. Since these have custom information like social icons or calendars, you might want to transfer them to another website. If you only want to migrate widgets, Widget Importer & Exporter can be a useful tool.
Essentially, Widget Importer & Exporter allows you to back up your custom widgets and move them between WordPress sites. After you upload a file, the plugin will explain that your widgets were imported, already existed in the widget area, or weren't supported by the current theme.
Key features:
Exports WordPress widgets in JSON format
Imports uploaded widget files
Reports on import status
Pricing: You can download Widget Importer & Exporter for free.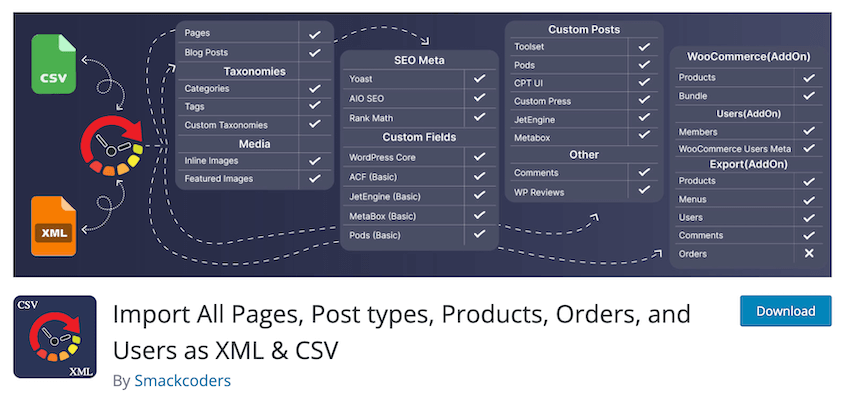 WP Ultimate CSV Importer works by using your old database as a source of information for a new website. When you import a file, you'll have the exact same pages, posts, and categories that existed on your original site.
Using WP Ultimate CSV Importer, you can import many different types of content from XML and CSV files. This includes blog posts, WooCommerce products, comments, media files, and more.
Key features:
Drag-and-drop data imports
Imports posts, pages, media, taxonomies, and custom fields
Upload zip files from PC, URL, or FTP/SFTP
Notifies front-end visitors when site is in maintenance mode
Pricing: The basic plugin is free, along with add-ons to import users and WooCommerce products. There is also a premium version that supports scheduled imports and bulk image uploads. This starts at $149.

You might prefer the native WordPress import, but it doesn't automatically include media files with your exported posts. To extend this feature, you can install Export Media With Selected Content.
This plugin will export all of the media attachments in your WordPress posts or pages. Rather than including all of your Media Library, your exported file will contain featured images and other media files embedded in the content.
Pricing: Export Media With Selected Content is a simple plugin that is 100% free.
Frequently Asked Questions (FAQs)
Let's answer some common questions about importing content into WordPress!
Which is the best WordPress importer plugin?
Here are our top 3 picks for the best WordPress importer plugin:
How do I import pages and posts into WordPress?
You can import pages and posts into WordPress using Duplicator Pro. Simply install it and create a package of your blog. Then, open the WordPress dashboard for your new site and drag and drop the archive file into it.
How long does a WordPress import take?
A WordPress import takes only a few minutes with the right tools. Using a plugin like Duplicator Pro, you can easily package your whole site and transfer it to a new location. Ultimately, this saves you hours of work spent manually importing your WordPress website.
How do I upload an entire website to WordPress?
You can upload an entire website to WordPress using Duplicator Pro. After installing the plugin, create a package of your site. Then, go to the new WordPress site and find Duplicator Pro » Import. Drag and drop your package here to start importing your old content.
Conclusion
We hope this guide helped you find the best WordPress importer plugin for your goals.
While you're here, you may also enjoy these extra WordPress tutorials and guides:
Are you ready to import your site into a different WordPress installation? Download Duplicator Pro to move your entire website in just a few minutes!