Are you using an older version of Duplicator? It might be tempting to overlook updates, but they are crucial to ensure your backups function correctly.
This guide will explain why it's essential to keep Duplicator up to date and provide instructions on how to upgrade to the latest version.
Improving Security
Keeping Duplicator updated is crucial, especially for security reasons.
We adhere to the best coding practices to maintain the security of our plugins. If we identify a security issue, we promptly address it. By keeping Duplicator up to date, you benefit from these security fixes.
Using an outdated version of Duplicator might expose your site to known security vulnerabilities that malicious individuals can exploit to harm your website or steal sensitive data.
Accessing New Features
If you don't update Duplicator, you'll miss out on the new features our latest plugin version offers. Plus, it could be more challenging to understand our guides or tutorials mentioning features you don't have access to.
Updated Bug Fixes
We precisely test every Duplicator release to ensure everything works as intended.
When we identify problems, such as malfunctioning features or unexpected outcomes, we promptly release a new version of our plugin to resolve these issues. Updating Duplicator grants you access to these solutions, ensuring everything functions as it should.
Ensuring Compatibility
Your WordPress site relies on various elements, such as:
Plugins like Duplicator
Your theme
WordPress itself
PHP, the coding language WordPress uses
For your website to function smoothly, all these components must be compatible. When one component updates, it can sometimes clash with others, causing issues.
To avoid errors and glitches, we provide updates to ensure Duplicator remains compatible with the latest versions of WordPress and PHP. If all your site's components are up to date, they should continue working seamlessly together.
Update Duplicator Plugin
Once you've verified your Duplicator license, you'll get automatic plugin updates, eliminating the need for manual actions to keep Duplicator current.
If you've disabled automatic updates, you can easily update to the latest Duplicator version with just one click. Simply log in to your WordPress admin area and navigate to Dashboard » Updates.

Scroll down to the Plugins section, select the checkbox following Duplicator, and then click the Update Plugins button.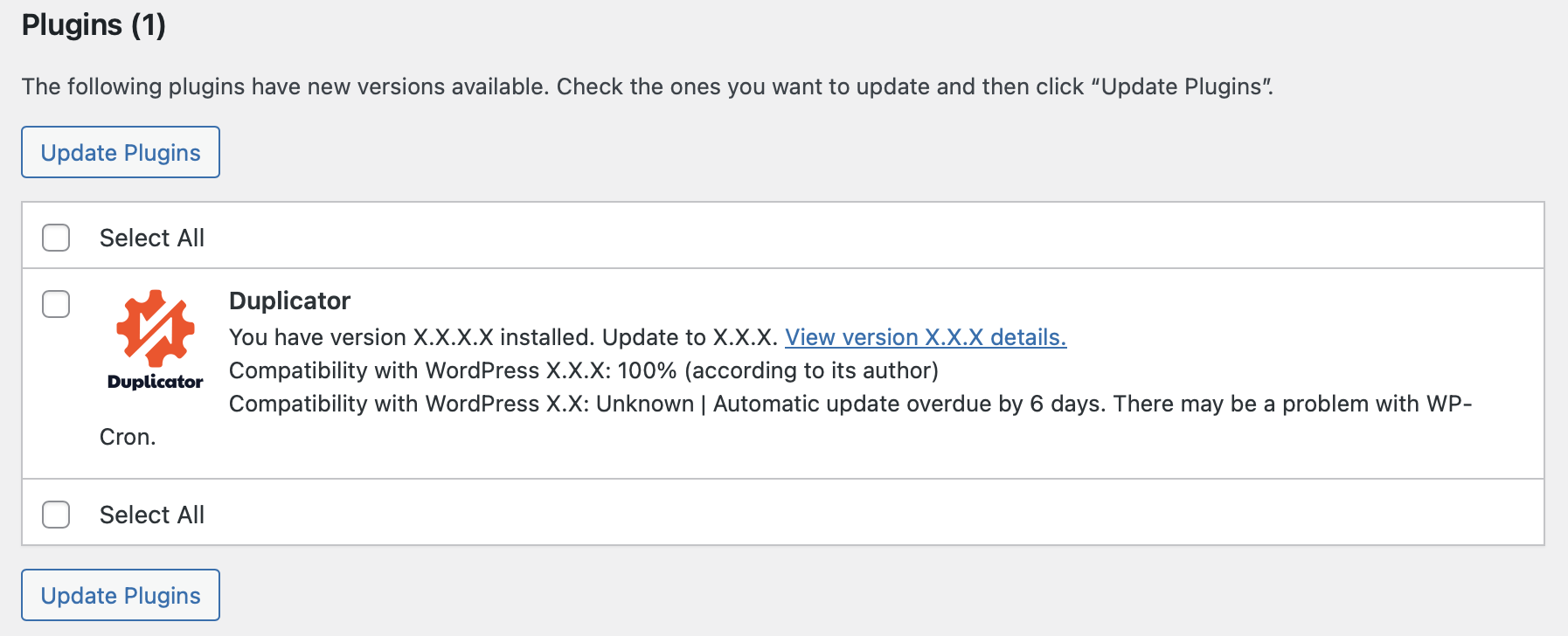 Or, you can go to the Plugins screen and click Update now in the notice below Duplicator.

The final method to update Duplicator is following the steps outlined in our installation tutorial. When you upload the plugin file from your Duplicator account, WordPress will prompt you to replace your old copy with the new one you're installing.
Click on Replace current with uploaded to complete the installation of the new Duplicator version.
That's it! Now you understand why it's essential always to use the latest version of Duplicator and how to update it.